NHL Prospects
Logan Cooley took a piece of Pittsburgh with him to Ann Arbor
Logan Cooley is a top-line centre for the NTDP. Scouts have him pegged as a first-rounder for the upcoming 2022 NHL Draft. A native of West Mifflin, a suburb of Pittsburgh, had him growing up a fan of the local teams.
Hockey is alive and well in the Pittsburgh area on every level.
"I think it's pretty good. That area is a good sports town. Being so close to Pittsburgh, everyone loves the Penguins. It's a great hockey town," Cooley said at the recent USHL Classic.
When Cooley was very young, he played for Sidney Crosby's Little Penguins program for young players ages 5-9. As busy as the captain is, he still has a good level of involvement in the program, even coming out to meet players,
"I was extremely young, to be honest. I don't remember too much. I believe I did meet him before," Cooley stated. "He has come to the games a good bit. Especially now, he's running the program now. He always goes out there and helps the kids."
The USHL Fall Classic was in Cooley's hometown. This is his rink and that can be a good thing and a bad thing. He noticed all the black jackets.
"Honestly, there was a tonne of people watching and I think that got into my head a little bit. I was thinking about the draft a good bit. I put the draft aside now focusing on getting better each day and the team. It helped me take my game to another level."
Pittsburgh isn't too far from South Bend, Indiana, which is where Cooley has decided to play his college hockey. He chose Notre Dame for a variety of reasons, but the respect Jeff Jackson's program has garnered is one of them.
"They have a really good staff. Great campus, great rink. They're known for their schooling too," said Cooley. "The thing that caught my eye the most is how many players they've put in the NHL. I would say that's the biggest part."
Cooley has an advanced two-way game. It's really improved from a year ago. Part of the change could be getting older and stronger but upon second glance it's more than that.
"It's evolved a lot. Honestly, that was one of my biggest goals coming into the program," Cooley said. "I strived to make my game a complete game. (USNTDP coach Adam Nightingale) has helped a lot. Just watching a ton of video every other week helps me get better each day."
As a potential top-six centre in the NHL someday, speed is important. He was fast last year but that ability has reached another level.
"Speed is the name of the game, I think," he said confidently. "It gives you such a better advantage being able to use your speed to take defenders wide. Everyone tries to get faster each year and that was a goal of mine."
When Cooley takes defenders wide, he attracts more attention and if the opposition attempts to clog his path to the net, he's more than capable of threading a pass to a teammate to set up a scoring chance on the other side. Asking the defense to pick your poison there is a tough choice. According to InStat, this talented centre has been getting 65 percent of his shots on net.
That creates great rebound opportunities as well, which is why Cooley is a player who could reach 70 points in the NHL someday.
One scout talked about Cooley's speed as well.
"He's an elite skating, 200-foot centreman. He flies, sets up teammates for scoring chances and he's competitive defensively. He's a complete centre, but he is undersized and light. However, he's one of the few natural centres in this class too, so that could bump him up to the near top of the draft."
Getting behind the defense is one thing. Catching a pass in stride and still being able to deke the goalie is yet another skill that this pivot has. NHL teams love this play and Cooley will get one or two of these opportunities in every game. He might be a bit undersized, but you never really say that when you're viewing him. He has a killer instinct and there's never any hesitation when he smells a scoring chance. (insert video)
Cooley's point total will more than double this season over last.
"Overall, just being more experienced with the program. Coming in you don't know too much about what to expect," he said. "Playing against older kids last year and being used against the bigger, faster, stronger kids this year helped a lot."
A training schedule has aided in his development this season and helped him stay in playing shape.
"Last summer our trainers gave me a little program to do. I worked out at a gym near me five days a week and skated three days a week," Cooley said. "During the summer I was trying to put on some weight, so they said it was alright to enjoy some ice cream here and there. But don't take it too far."
"The biggest grind of the season is the beginning of the year. The workouts are extremely hard to make sure everyone is getting back in shape coming off summer."
This schedule also helped him understand how and when to expend his energy.
"The next part is from playing college games to the USHL. When you play Michigan State and then we come back and play the Chicago Steel as an example, you have so much energy for that Michigan State game. Coming back to the USHL game it's hard to get some energy on."
It's the mental part of the season that is difficult. Adjusting from two different levels of competition is something the NTDP must do seamlessly. Players aren't robots. Now that Cooley has this experience, it will help him at this level,and it will help him the rest of his career.
You may also be interested in: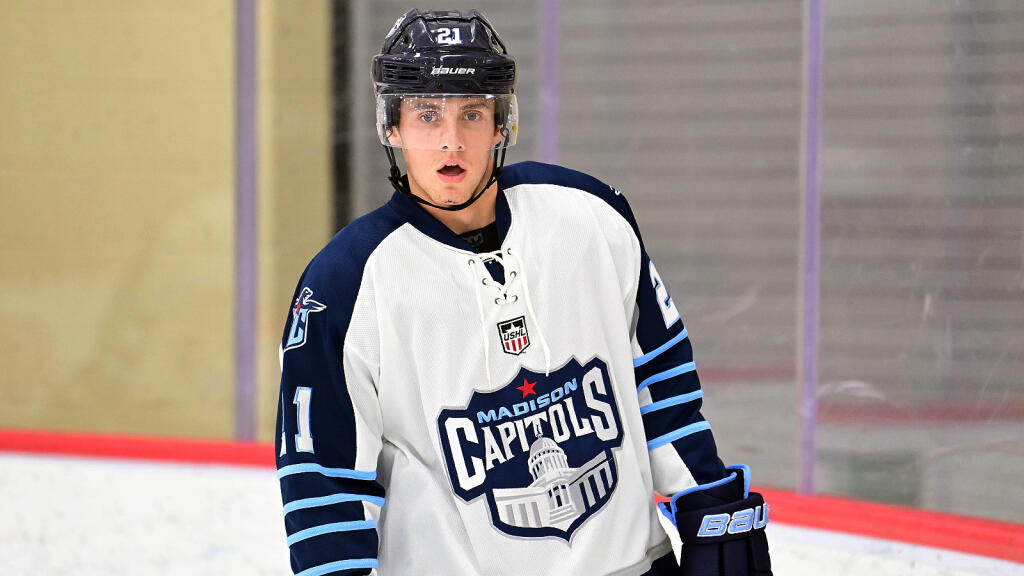 Anaheim Ducks prospect Kyle Kukkonen's journey is making him a better player
This article is about: