World Juniors 2022
Team Canada will be counting on Kaiden Guhle at the 2022 World Juniors
Kaiden Guhle is a physical force. That's one reason the Montréal Canadiens drafted him with the 16th overall pick in the 2020 NHL Draft. The main reason is that he's a quality hockey player, with skill as a puck-mover, and real play-stopping ability in the defensive zone.
"Montréal's camp was awesome. It's a first-class organization. It was good to be up there for a time," Guhle told EP Rinkside. "The guys were great. The coaches were awesome."
Yet another reason for the Canadiens to find themselves drawn to Guhle's game? His qualities as a leader. The Prince Albert Raiders were a young, rebuilding team in the WHL when the Canadiens cut him from training camp, and the physical two-way defender was charged with leading them through choppy waters at their captain before an early December trade to the Edmonton Oil Kings.
"We were a younger team. Being a leader on that team, you have to show those guys some things and play the right way. They will eventually start following you because you are one of the leaders. One of the older guys who play hard.
"I [was] just trying to help out those young guys. It's hard to be in the league when you're young."
His league setting and role may have changed, but Team Canada is going to lean on Guhle's experience at the tournament to help guide them to gold in Edmonton later this month for the 2022 World Juniors.
"Last year was awesome. We had a good team, and the guys were good. We were hoping for better circumstances. That was an awesome experience and special to put on that jersey, playing on boxing day. We didn't get the result we wanted, which sucks, but all the guys will be ready to go, and hopefully, we will get a gold medal. I'm excited for what's to come this year."

Guhle has terrific speed, and he's always moving his feet. Knowing that he will be playing a specific role in the World Juniors; he can rely on his strong defensive game that's possible because of his good gap control and physical strength that allows him to win important puck battles. He can erase a player out of the play and that helps his team defend their own end. Guhle is averaging 2.4 hits per game according to our partners at InStat hockey.
Guhle had no trouble adapting to playing in the bubble. That's a credit to Hockey Canada, who found creative ways to entertain the boys in high-tech and low-tech ways.
"It wasn't too bad," Guhle admitted. "I didn't mind it. We had a room with Xbox and Playstation and ping pong and other things to do. We would watch the other games too. You wanted to get outside and get some fresh air once in a while, but it was great being with the guys. It was a good way to bond with the guys,"
Guhle then came out with a startling admission that made me smile.
"I think ping pong was the biggest thing the guys played. It was always 2-on-2. Everyone wanted to be the king of the table. It was a big thing for sure. I like to slam it. I don't usually hit the table. I'm not very good, but I like to slam it. I like to play hard."
Canada will have a solid team. That's not a news flash. If they get some of the NHL or AHL talent that could still play like Cole Perfetti, and Seth Jarvis as an example.
"We don't really know who will be on the team yet. There are some guys on NHL teams. You don't know if they will be able to come. I still have to go make the team and everything," Guhle added. "Canada is usually a pretty strong team. I'll be trying out, and a lot of guys will be trying out. We've played together through the U17 and Hlinka. There will be a lot of familiar faces. Playing at home, at Rogers Centre, it will be electric. It will be special."
As a fashionable guy, Guhle talked about the new sweaters.
"I think they look great. They look clean. A little bit futuristic. I think I love them," Guhle stated. "I think the guys will look great wearing those."
Guhle should be in the top-four -- that's just about a lock.
"I want to be a top-four guy and be a leader for those guys and show them the way. Short term competition is a little different. I want to be a top pairing guy and help the team in any way that I can," Guhle said.
The Oil Kings defender can accumulate points, but the talent level is such that he will likely be in a less offensive role in a tournament like this.
"There's a lot of skilled players in the tournament. They can make you pay if you make a mistake. I'll just play my game and not think too much. I'll just read and react. I don't think it's too different," he said honestly.
Playing teams from other countries never gets old. Sometimes you're playing against future teammates.
"It's really cool. The style of play. Some countries play a lot different than in North America. It's fun. Like you said, you play against some guys in the same organization as you. Just representing your country and playing another country is fun," Guhle agreed.
There will be fans in the stands and a boatload of Canadiens and people from other countries watching these games.
"There's added pressure, but when you play for Team Canada at the World Juniors the whole country is watching. I think we feed off that pressure," Guhle surmised. "We have the strongest foundation, and we feed off the energy."
Guhle plays for keeps.
"I was taught at a young age, there are no friends on the ice."
You may also be interested in: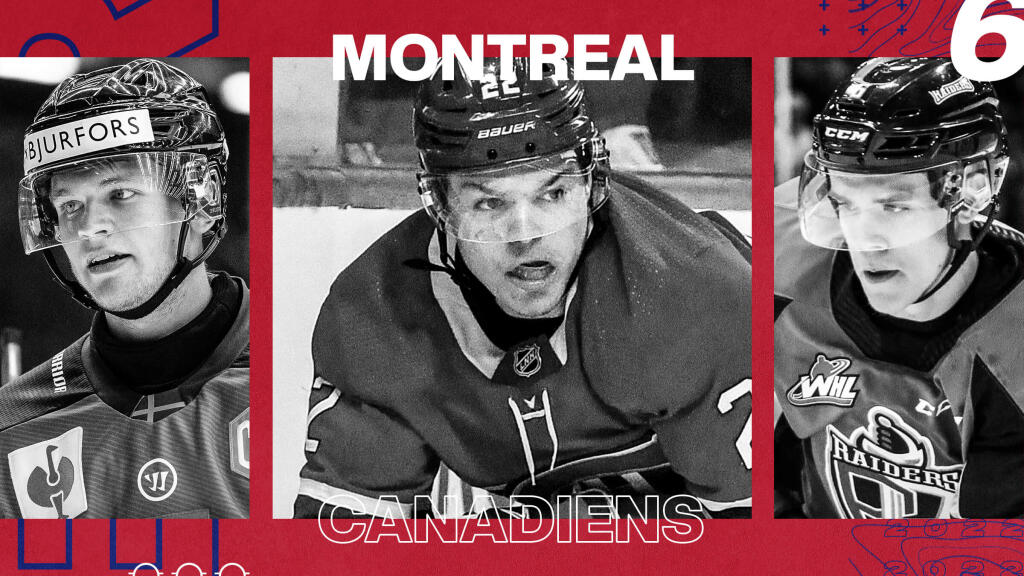 EP Rinkside 2021-22 Prospect Pool Rankings: No. 6-ranked Montréal Canadiens
This article is about: