World Juniors 2022
Carter Mazur's versatility will be a boon to Team USA's bottom-six at the World Juniors
Many in the draft and prospects sphere were caught by surprise when the Detroit Red Wings drafted Carter Mazur out of the Tri-City Storm in the third round of last July's draft.
Few scouts, much less casual observers had seen him play live, and there were lingering doubts about his ceiling as a draft-plus-one forward that hadn't crested the point per game mark in the USHL.
The Red Wings saw constant improvement from Mazur though, and that has carried over into this year with the University of Denver and even into Team USA's World Junior roster camp.
The Jackson, Michigan native was happy to be back home flying from Denver to Detroit and playing once again in USA Hockey Arena. "It's tough that my family is here, and I can't see them. That's tough," Mazur told EP Rinkside. "I live 40 minutes from here. I've played here multiple times. It may make me feel more comfortable, but no matter where I play, I feel comfortable."
Mazur spent a short time with the NTDP and U17 squads. His seven games with the U17 team meant he played with many of the players in this camp, including Matty Beniers and Jake Sanderson.
"You come into camp, and you usually don't know that many people. In this camp I feel like I know everyone," Mazur proclaimed. "I feel like I am close friends with a lot of people here and it makes you feel more comfortable knowing the people around you. You just know more about them besides their hockey game."
Seeing Mazur's name on the USA camp invite list was a surprise to some, and that's understandable. The prospect had other thoughts.
"After my second year at Tri-City I felt like I was on the radar," Mazur confidently stated. "I got invited to the tryout camp in the summer and from there I felt like I had a really good chance of making it to the current camp."
Mazur mostly plays left wing, but he's a bit of a Swiss Army knife. His versatility comes by playing in different situations, and that was on display in camp. In camp practice, Mazur was on the top power play with Sanderson at the point. That was something I'm not sure I saw coming.
"Any way they use me I am going to try my best to be as successful as I can," Mazur reiterated. "That kind of started my first year at juniors, it's kind of what my role was, and what I need to be was a penalty killer and also shut down top lines. That helped me learn to play in all situations.
"Then in my second year, I was on the power play as well as a penalty killer. That's something I think you need to have in your game to be a successful player. Be able to play wherever the coach puts you. And be successful whatever spot you're in."
Mazur plays on a very talented University of Denver team and that has gotten him ready for the 2022 World Junior Championship.
"It's been unbelievable so far. It's only been half the season, but I already feel it's been one of the closest teams I've been with. Everyone is probably best friends on that team. It's a family atmosphere there. It's terrific coaching there. Great support staff. Everything about Denver is unbelievable. I can't really put it into words."
Mazur didn't know he made the team when this interview took place, but he was pretty certain that he would.
"I feel like playing college hockey, especially in the NCHC does help. It helps you get an in to join this team," Mazer thought. "Essentially, you're playing against the best competition. It's something that prepares you for higher levels. I feel like the NCHC as well as Denver has helped me get to where I am for sure."
In the last few years, his goal-scoring has emerged.
"I feel like my first year in juniors was kind of rough," he admitted. "The second year and now this year, it's starting to click more. Just being by the net, that's how I score goals. That's where the puck has to go in so if you're around the net you're going to have to score goals. I feel like that's something you should always add to your game. Especially this year. I feel like I'm starting to score from beyond the paint. I feel like I've added more to my shot strength. Figuring out where I can place the puck to score."
In camp, he played up on the half-wall and that's a spot where he can be utilized this year.
"I wouldn't say I wouldn't have been comfortable there the past few years. I just really wasn't put in that position. This is my first time playing that position. I feel comfortable in it now. I've taken some massive steps in my game, especially in my scoring ability. I can be successful there or net-front because that's usually where I play."
Anytime a player can play with players of equal or greater talent that becomes a learning experience.
"It's unbelievable. You can learn a lot from every individual here. When you play against this kind of competition. Against all of these NHL draft picks, players of this calibre, it's something that elevates your game, even more, to want to succeed and make the team," Mazur said confidently.
When Mazur was on the power play, he had Beniers playing against him on the penalty kill. That's a tough assignment.
"Yeah," he chuckled. "It sure is. That's what I enjoy about the game of hockey. You're playing against players that are better than you, the same calibre as you, and it makes you just want to be a better player. Day in and day out."
Like many hockey fans, he watched the World Juniors religiously.
"Last year, I knew a couple of kids on the team. It's been cool watching the tournament. I grew up watching it," Mazur said. "You want to watch the USA win the gold and to finally be in that position. It's crazy to think about last year. I was watching it with my billets back in Nebraska. It's crazy that I now have a chance to be in the tournament, and they can watch me on television."
Mazur is now a player to watch for Team USA. Let's see if his hot start can carry over to the tournament.
You may also be interested in: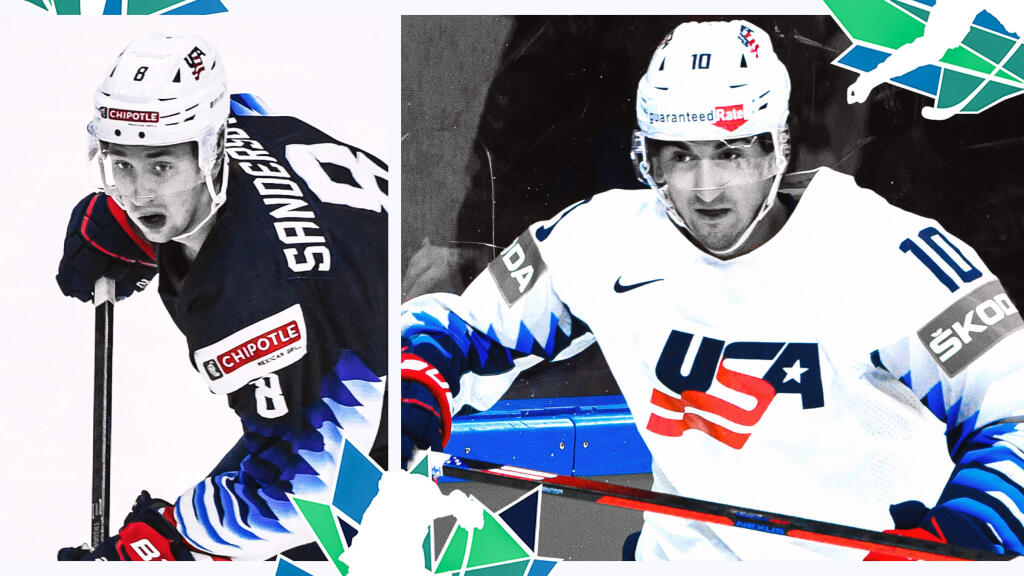 Meet the Team: An early look at what Team USA might look like at the 2022 World Juniors
This article is about: