2022 Winter Olympics
NHL opts out of Olympic participation due to COVID-19 surge
The NHL formally announced its decision to withdraw from participation in the upcoming 2022 Olympic Games in Beijing on Wednesday morning. This was an inevitable decision given the surge of COVID-19 cases and it followed weeks of speculation and postponed games.
Already, 50 games have been delayed this season and the league will hit pause starting Wednesday for an extended holiday break. Practices will resume on Dec. 26 and the schedule will pick back up on Dec. 27.
The hope is that the break will give players who are currently COVID-positive or in COVID-19 protocol a chance to get healthy. The previously scheduled Olympic break from Feb.6-22 will now be used to make up some of the delayed games if building schedules allow.
"The National Hockey League respects and admires the desire of NHL Players to represent their countries and participate in a 'best on best' tournament. Accordingly, we have waited as long as possible to make this decision while exploring every available option to enable our Players to participate in the 2022 Winter Olympic Games," Commissioner Gary Bettman said in a statement. "Unfortunately, given the profound disruption to the NHL's regular-season schedule caused by recent COVID-related events — 50 games already have been postponed through Dec. 23 — Olympic participation is no longer feasible."
The league had until Jan. 10 to opt out of the Olympics with no financial penalty, though the NHLPA said a decision was already agreed upon.
This was the right decision. The health and safety of the players and staffers should be the priority and in order to get to the end of yet another COVID-plagued the league will need that time in February to make up games. The Stanley Cup Playoffs are starting later than usual, with the first games slated for May 2, and continual shutdowns could not only further delay that start date but also sacrifice the integrity of the game.
Teams have been forced to play shorthanded. AHL regulars and prospects who are not yet ready for NHL action have been called up on the fly. forced to fill in for teams who were missing anywhere between 5-10 lineup regulars. Assistant coaches had to fill in for coaches in protocol. It's been a particularly messy month in the NHL and allowing players to go to Beijing could create even bigger messes.
Players and staff would have been subjected to lengthy quarantines for positive tests. According to the IOC, a positive COVID-19 in China requires two negative results 24 hours apart. If a test is still positive after 24 hours, athletes face a quarantine period set in place by Chinese law that could last between 21 days and five weeks. That could have devastating consequences for NHL clubs.
The NHL has not allowed players to skate in the Winter Olympics since the 2014 games in Sochi. Olympic participation in 2022 and 2026 was collectively bargained by the league and the Players' Association. Bettman has never been a fan of Olympic participation, but the top talent in the NHL has made known an overwhelming desire to return to the games to play for their countries.
Years of labor peace and goodwill were at stake if Bettman had vetoed participation in the Olympics, but this time it was a mutual decision made between the NHL and the NHLPA because participation would have "materially impacted" the 2021-2022 season.
"We certainly acknowledge and appreciate the efforts made by the International Olympic Committee, the International Ice Hockey Federation and the Beijing Organizing Committee to host NHL players," Bettman said. "But current circumstances have made it impossible for us to proceed despite everyone's best efforts. We look forward to Olympic participation in 2026."
The 2022 games likely would have been the last for stars like Sidney Crosby and Alexander Ovechkin, though the first for Auston Matthews and Connor McDavid. As Bettman said, the NHL is planning on returning to Olympic action for the 2026 games in Milan and Cortina d'Ampezzo, Italy.
NHLPA executive director Don Fehr reiterated that point in his own statement.
"Since the CBA extension was reached 17 months ago, NHL players have looked forward with great anticipation to once again participating in the Winter Olympics. Until very recently, we seemed to be on a clear path to go to Beijing," Fehr said. "COVID-19 has unfortunately intervened, forcing dozens of games to be postponed this month alone. No matter how much we wish it were not the case, we need to utilize the Olympic period to reschedule these games.
"Certainly, the players and hockey fans are quite disappointed. But playing a full 82-game season this year, something the pandemic has prevented us from doing since the 2018-19 season, is very important. We expect that NHL players will return to the Olympics in 2026."
Much like in 2018, the hockey rosters will be made up of a collection of amateurs and professionals from other leagues.
Doug Armstrong was the general manager for Team Canada and Jon Cooper was chosen as the head coach. But Shane Doan and Claude Julien will now fill those roles. For Team USA, Bill Guerin will no longer be the executive tasked with fielding a team. Instead, those responsibilities will fall to John Vanbiesbrouck, the assistant executive director of hockey operations for USA Hockey. Former New York Rangers head coach David Quinn has been a name mentioned as a possible head coach.
Teams will likely be comprised of NCAA players, AHL players and players from European leagues.
The good news is that most of the cases of COVID-19 reported in the NHL this year have been fairly mild, at least according to their teams. The NHL has only one unvaccinated player, Detroit Red Wings forward Tyler Bertuzzi, but players are going home to families with young kids who are not yet able to receive the vaccines. This was the best decision the league could have made for its own good and for the health and safety of all involved.
You may also be interested in: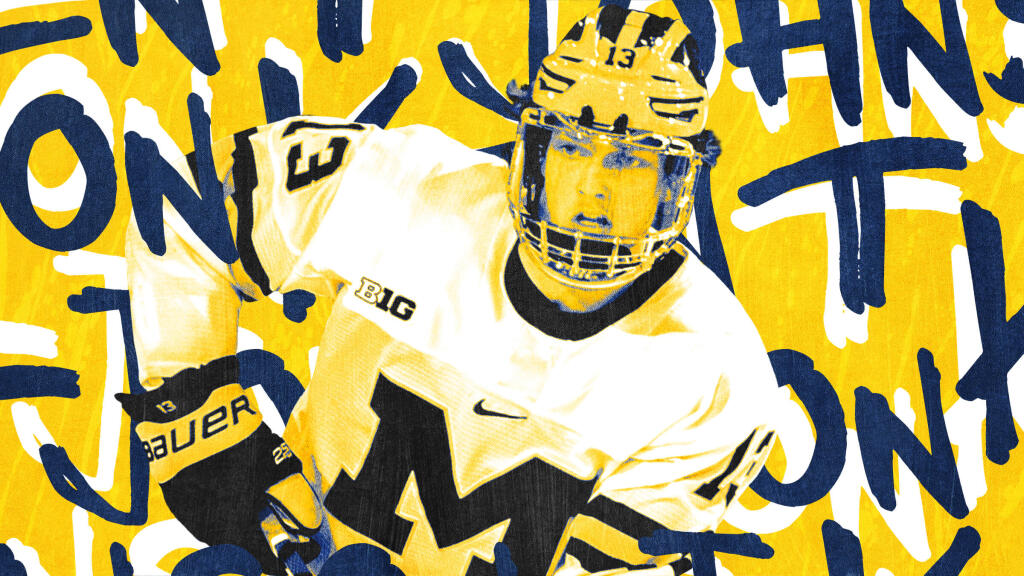 Film Room: Kent Johnson has a chance to be the 2022 World Juniors' breakout star
This article is about: