2022 NHL Entry Draft
Film Room: Breaking down Juraj Slafkovsky's extra large game
Juraj Slafkovsky is not your prototypical draft-eligible player. For starters, the 17-year-old stands a whopping 6-foot-4 and weighs 220 pounds. That's some man-sized metrics for a kid who should still be developing into his frame.
Secondly, the Slovakian forward has been building up his resume abroad rather than at home. He hasn't skated in a Slovakian league since his U15 season. Oh, and his Olympics MVP award might be a bit of a unique feather in the cap of a draft-eligible player.
In a class featuring several high-octane, high-skilled forwards, he stands alone as the big-bodied, highly-skilled forward who has more than just a single streak of nastiness to his game. It's that combination that sets him apart and has scouts flocking to TPS of the Finnish Liiga to check him out on a regular basis.
Background
As mentioned, Slafkovsky has moved around a bit. He left home at 15 to play junior hockey in Austria. A quick hop over to Czechia followed before settling in Finland. Slafkovsky has worked his way up the Finnish junior ranks - landing one of the most prolific U16 seasons ever in the U18 circuit. Ahead of players like Kaapo Kakko, Jesse Puljujärvi, Patrik Laine and Joakim Kemell.

Unsurprisingly, he's been automatic on the Slovak junior national teams going back to the U16 level. He's suited up for the U20 squad for two World Junior Championships already. He torched the Hlinka-Gretzky tournament a year ago to the tune of nine points in just five games. And, of course, he just led the Slovakian Olympic team to a bronze medal while leading the event in goals and points with seven tallies in seven games.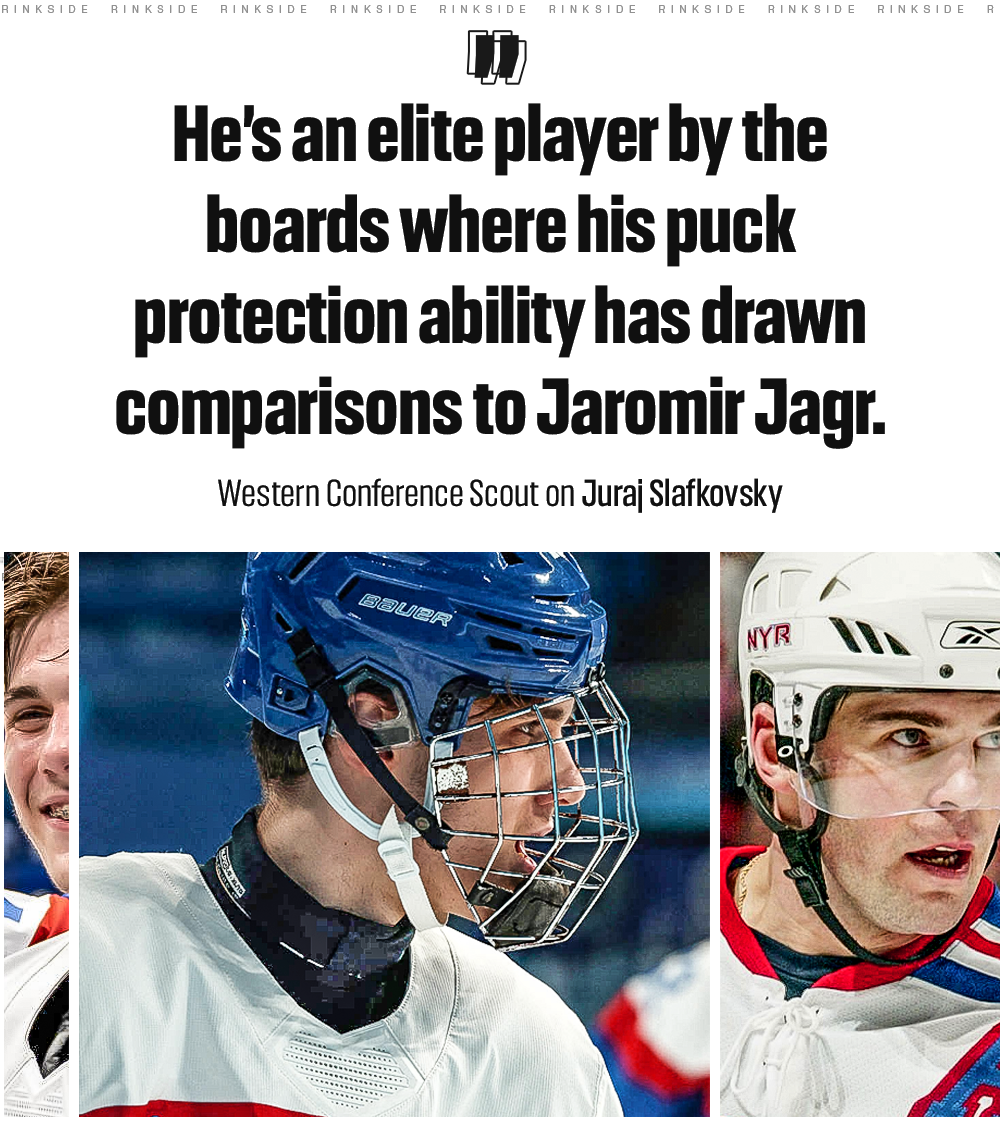 That showing was good enough to land him MVP honours. A truly amazing accomplishment for a 17-year-old. It's the type of result on a massive stage that sticks in teams' minds and helps catapult a player up team's draft lists. Couple that showing with his size-skill combination and we have the makings of a very early pick. But what goes into Slafkovsky's game?
Let's take a look.
Skating
I like to begin these exercises with a look at a player's structural and mechanical process while skating. This is due to the fact that if you cannot skate, you simply cannot keep up in this day and age. Gone are the days of soft-skill players who can slow the world down and make magic happen through their hands while gliding.
So, how does the big man move? Well, it's complicated.

Slafkovsky is not a poor skater. He can accelerate at a decent rate and his top speed is good enough to afford him rush chances and attack the home plate area while hunting for tips and rebounds. However, Slafkovksy's skating does hold some red flags.
His forward stride has clear inefficiencies, starting with his lack of extension. He boasts these extra long legs that should be able to provide a long, fluid extension and recovery. But instead, he comes up short, leaving a knee bend on the extension. When he's accelerating with or without the puck, there is a pronounced heel kick which acts like a waste of energy and time.
Furthermore, his crossovers can feature a hopping style with a too upright stance. It makes him less mobile, less stable, and less dynamic.
Let's take a closer look.
In that first clip among the compilation, we get a very clear look at the lack of complete leg extension. We also see that 'running' acceleration that is featured in many of his standstill-to-top-gear attempts. He's too upright and lacks stability and explosive tendencies.

As we move into the second, third and fourth clips, we get a look at the crossover mechanics. He's using that hopping method but displays strength on his edges and the consistent crossovers while serpentining through the neutral zone provide a nice route pattern and facilitate enough speed to create the rush. It's an example of how his mechanics and structure are not perfect but he's strong enough to make it work for him.

Finally, while Slafkovsky's skating isn't a plus, his ability to manipulate his body, use his edges to quickly cut back and turn, and protect the puck is highly translatable. He's already doing it against men and is an absolute load to handle coming out of the corner. At this rate, he'll be doing it against NHL competition in the future as well.

Now, I will add that as I've gone through my double-digit viewings of Slafkovsky ranging back to early in his draft-minus-one season and culminating with the recent Olympic games there has been a definitive growth in his stride.
The rounded shoulders that plagued him as a 16-year-old have appeared to reduce and the stride length has inched longer. Clearly, this is an aspect of his game that is a focal point for the 17-year-old to clean up moving forward.

The fact that he's already demonstrating growth is a strong indication that there is recognition of his flaws and strengths. Acknowledging and recognizing areas to focus on is the foundation for further growth and development.
Playmaking
Slafkovsky plays a puck-pursuing style that lends itself to some destruction on the forecheck. He blends that power with some of the silkiest mitts in the class. While his one-timer from the point is potent on the power play and he owns a deadly wrister in motion when walking out of the corner, it's his playmaking ability that may be the most dangerous aspect of his game.
Additionally, a great deal of Slafkovsky's offensive game runs off of his ability to protect the puck and cause fits along the wall. He uses his big body, some quick cuts, and a very strong centre of gravity to shake defenders and create space and lanes to distribute the puck. We'll look at how he uses this aspect to generate scoring chances for himself a little later on.

In this play above, we see Slafkovsky entering the zone with possession and going wide on the defender. You can see his eyes are scanning the zone and his mates who are coming through the middle and wide lanes. As he appears to be circling the goal to continue assessing, he times a little slip pass under the blade of the hip pocket defender to coincide with his streaking mate heading to the crease.
The play should have netted him a primary helper but the teammate was unable to elevate the puck.
In this play, coming from the most recent IIHF World Junior Championships, Slafkovsky receives a hot outlet pass at a standstill along the neutral zone wall. He spins to protect the puck, takes a couple of strides against the grain with his head up and sends a soft-touch, aerial area dish cross-ice to a streaking Filip Mesar.
Finally, in the play above, Slafkovsky stays onside while he waits for the chip pass to get to him. He's on his off-wing and purposely gives the defender a window for a poke check while assessing the scene. The setup is timed perfectly as he pulls the puck from the back of his stance, up to the front and deftly sends a backhand, cross-slot dish right onto the tape of his streaking mate. Once again, the play should have earned him a primary helper but was unable to be converted.
These are just a few examples of his wide array of distribution methods. As mentioned, his soft hands play an integral part in his ability to manipulate time and space to open up and extend passing lanes. He can see through folds and has the touch to squeeze pucks through small windows.
And of course, his big body and puck protection come into play here as well. It's a very translatable skill combination that he owns.
Release
Up until about a minute ago, Slafkovsky was more known for his distribution game than his solo ability to finish off plays. It's not like he hasn't finished at a high rate in the past though. He clicked above a half-goal-per-game in the Finnish U20 league in his limited time there this season. He hung around that mark in 16 junior contests in 2020-21 as well.
Against pros, though, he had struggled to bend the twine. That is until the Olympics began.
Playing against top European competition has done wonders for the 17-year-old's goal-scoring metrics. As mentioned, he recorded seven goals in as many games for Slovakia to lead the tournament. Below, we get a look at two of the wrist-shot tallies that he uncorked.
In the first, we see him walking down broadway with all the time and space in the world. He loads up on one leg and burns it past the netminder utilizing excellent downward force on his shaft. He has his head up finishes with his wrists rolled over and blade pointing at his target.
On that second goal, he is once again walking right down into the slot area but this time has a defender coming up to meet him. He utilizes a subtle change in release point, keeps both skates on the ice and snaps off a quick shot. The result is the same as the first.

Here are two looks of him maintaining control of the puck down low in the corner, shaking coverage, walking out in an arc pattern and finishing it off. The first tally was his first even Finnish Liiga goal and the second came from the Olympics. His ability to pop out of the turn and enter space while loading for the release appears to be another translatable skill set, assuming he can manipulate NHL defenders in a similar manner as he develops further nuanced cuts and leans.

In this next play below, we get a look at the anticipation, quick hands, and finishing ability at the junior level. Slafkovsky recognizes the wide-open area in the slot on the 5-on-3, steps into it and while pivoting his body to get into a shooting position he takes the pass off of his inside skate and kicks it right to his stick. His head is up and in one fluid motion finishes it off.

For a man his size, we can expect his shot to continue to build power through biometric loading and unloading. Additionally, he's spent time on the point for TPS's power-play unit. There, he's shown an ability to get himself set and uncork a quality one-timer. I'd imagine his power-play spot ends up down low in the NHL though where he has expert hand-eye coordination.

Here are a few looks at his hands in-tight where he is a deft tipper and rebound controller.

Awareness
This is an aspect of Slafkovsky's game that's a little more difficult to parse out. He has tendencies that are very intriguing and appear to display high levels of awareness and intelligence on the ice. These most often arise in transition and while in the offensive end.
On the flip side, there are tendencies that indicate a reduced decision-making element and lack of spatial awareness. These most often occur while without the puck in the defensive end. The truth is, the forward's ability to break down situations and discern the best course of action lies somewhere in the middle.

Let's begin with the positive.

In the play below, we see Slafkovsky scan quickly as he comes down the wall to the puck in the defensive zone. He corals the puck and while checking again sends a smart backhand dish to get the breakout rolling.

And then on the flip side, here is a compilation of Slafkovsky having some difficulty with space, timing, chasing and switching coverage in the defensive end


I think a lot of the issues with some of the decision-making errors come from a lack of focus in the defensive zone and just general immaturity. He has shown the ability to stay on top of his check, to get to spaces early, to plug up lanes. It's just he doesn't always do it.

Conversely, his decision-making with the puck while moving up ice can also be hit-or-miss at times with him not recognizing the best play available and forcing a pass or attempting to hold onto the puck for too long. But to me, it's again an issue around reps and experience. As he sees these situations unfold over and over again, my expectation is he'll make the right decision more often.

The fact that we're already seeing him make strides in this regard just over the course of his draft-eligible season is indicative of this theory holding water.
Strength
This is a category that I don't usually include in these pieces, but Slafkovsky demands it. As mentioned, this is a big boy. He uses every inch of his 6-4 frame to protect the puck along the wall and then elicits his 220lbs to fend off defenders and to bury them on the forecheck.
We don't often see this level of physicality from a teenager playing in a men's league, but whether it's at the U18, U20, or Liiga level, Slafkovsky is unafraid to finish opponents in a menacing manner.
He knows how to punish the opposition and do it in a (mostly) clean manner.

And it's not just the hits that are useful, his ability to control the play along the wall is truly impressive. Over the course of this evaluation, I've spoken to several NHL scouts and his puck protection has garnered him comparison to some of the most highly decorated players in that regard, like Peter Forsberg and Jaromír Jágr.
Clearly, we're eons away from Slafkovsky actually comparing to those first-ballot, all-time legends. But when it comes to soft hands and the ability to put defenders in the wash while cycling the puck, he's not far off their level when they were teens.
In this clip, we see the 17-year-old working over a seasoned professional at the Liiga level. Slafkovsky initiates contact in the corner and pins the defender up against the wall with his knee between his legs.
He digs the loose puck up and then curls down towards the goal line with two defenders closing in on him. He scans, spins, protects the puck and finds space. He scans, spins and finds more space before sending a pass into a high-danger area. It doesn't develop but it's indicative of his skill in these situations.

I've spoken about this strength of his throughout this piece because it affects so many aspects of his offensive game. But his wall work is maybe his most tantalizing trait.
Puck skills
Finally, we can talk about the soft hands that Slafkovsky owns. At the junior level, he has the confidence and timing to put opponents into the wash while attacking off of the rush. He can set up his moves with stutter steps, slight feints and quick hands that have the combination to make defenders miss through the neutral zone. But perhaps the most impressive aspect to his puck skills is his small area game.

Like most high-end handlers, Slafkovsky utilizes a soft bottom-hand grip that allows him a wider range of motion to maneuver the puck fluidly in a wide arc around his body. Some players are rigid up top and on the bottom hand and it limits their ability to handle off to the side with much success. When he's at his best, Slafkovsky has a fluid upper body that allows him to navigate complex situations with fluid movements.

Let's look at some examples.
What the Scouts are saying
"You don't often see a player his size handle the puck as well as he does. His wall protection is some of the best you'll see from a kid. Still has some hiccups in his own end and isn't the most gifted skater but the upside is as big as he is." - Western Conference scout

"Whenever I've seen him internationally I've generally been impressed. I know there was sporadic hype about him leading into this year, but I thought there'd be more buzz about him potentially pushing into that lottery-pick range." - Eastern Conference scout

"Man-child with impressive puck skills and sense." - Western Conference scout

"An elite player by the boards where his puck protection ability has drawn comparisons to Jaromir Jagr. Skating has come a long way from what it was at 16. Inconsistencies around his effort level and decision-making are a bit of a concern. Seems to be at his best when playing for Slovakia." - Eastern Conference scout

"I don't know what to make of him. He could be a star or he could struggle to keep up. Luckily we won't be in his range so I don't have to worry about it" - Western Conference scout
Projection
What we're looking at here is a modern-day power forward with a multitude of offensive tools at his disposal. The skating is far from perfect but is trending in the right direction. The off-puck awareness and decision-making still need refinement, but overall he's a player you can look at as a mould of clay just waiting to be turned into something special.
When I see him at his best, he reminds me of Rick Nash. He doesn't have the same level of explosiveness or creativity but it's not miles apart. Slafkovsky's tradition of stepping up in a big way on the big international stages represents a promising element that he does not shy away from high-pressure situations. It's something you want from your best players.

At this point, it's very likely we're looking at a soon-to-be top-five selection. He may take a minute longer to adjust to the tight-checking of the NHL, but once he gets his bearings, there's an avenue to land a unique player who will cause fits for the opposition defense, and strike fear into them as they go back to collect loose pucks.

I'll finish with this: When I first took on this piece, I figured that the overarching theme would be slightly more negative than many would have expected. But as I watched and went through the timeline of games, his play, his nuanced skills, and his clear improvements across deficient areas buoyed my belief in him.

Some lucky team is going to land a high-upside player this summer.
You may also be interested in: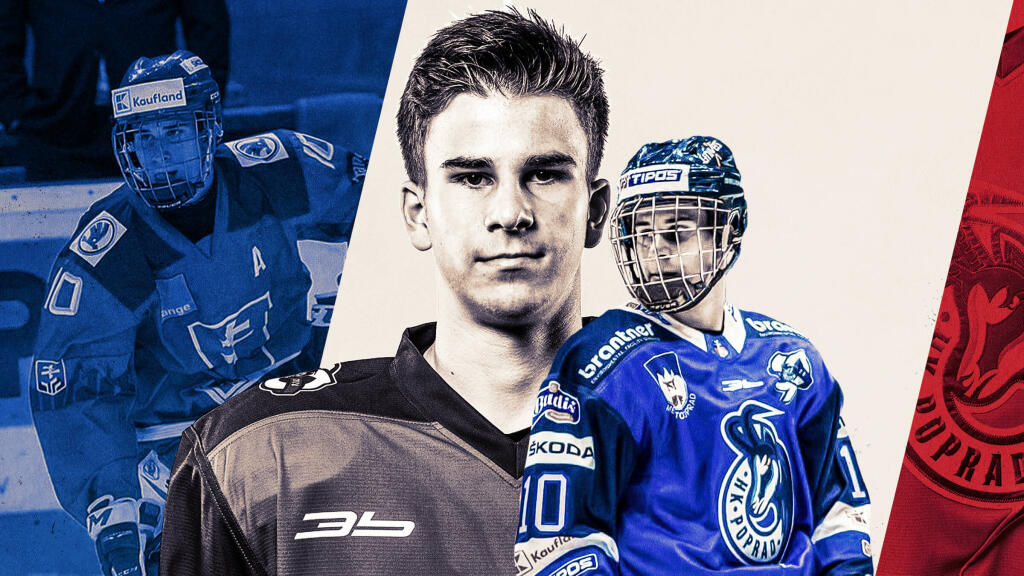 Film Room: Understanding Filip Mešár's electric style
This article is about: