2022 NHL Entry Draft
Shane Wright's success is equal parts talent and work ethic
Hockey fans love highlight-reel goals. Those kinds of plays get a lot of attention but that doesn't make them better than complete players.
Kingston Frontenacs star, Shane Wright has been the consensus top pick in the upcoming 2022 NHL Draft for some time now and yet some in the media are looking for reasons to knock him out of the top spot. Maybe his point production isn't overtly dominant or maybe his unselfish play can be boring to some. The fact is every NHL team wants players like Wright who understand the little things as much as scoring points.
"I feel like my season and has been alright. The start wasn't maybe my best start to my season. Maybe there was a little rust from not playing in a while. I felt like after playing a few games it got a lot better," said Wright. "I could care less what the media thinks of me. I could care less what they say about me or what their opinions are about my play. I know how good I am and how good I'm playing. My game isn't those flashy goals or toe-drag goals. That's not the way I play the game. That's not what I do best. That's not what brings me success."
The detail in Wright's game is important starting in the faceoff circle. This pivot is good on faceoffs, and he understands how important it is to be successful in the dot.
"I like taking faceoffs. I take pride in faceoffs, starting with possession. I've played it my entire life and I hope to play it in the future as well, "Wright stated.
Possessing the puck is a big deal. It's something that's stressed in this era because if you have the puck your opponent doesn't. Teams aren't as willing to give up the puck and that's been ingrained in the minds of young players.
"If you can win a faceoff you start with the puck. You don't have to chase after it and do that work. You can set plays off face-offs in the o-zone and d-zone. You can gain possession off them and create chances off them."
Being very coachable is important as a player moves up the ladder. That willingness to do what's needed is something that's important to help a team function through good times and bad times.
"I take a lot of pride in doing everything right and being able to play in all situations. Just overall being reliable," Wright said. "Go wherever the coach wants to put me and that's been a strength of my game. Doing everything right. I like the center position and the defensive part of that."
Wright is the team captain. It's still an important position in the sport of hockey for a multitude of reasons. Just being a scorer isn't enough of a reason to make a player a captain. It must be more than that and with Wright it is.
"I think being captain is important to be a role model and lead by example for teammates. I think it's important to have really good habits every day to show you're doing the right thing," Wright pointed out. "Making sure I'm working hard in practice and doing all the little things right. You want them to feed off your habit and work ethic in what you're doing on a day-to-day basis.
"Practices are just as important as games. You work on the little things to make you a better player. It's always important to make sure you're going hard in practice. If you're not practicing hard, I think it sets you up to have a lazy game or a game that's not as strong."
Summer training leads to winter success. Since the OHL season was canceled and he only played in five games in the World Juniors, that presented another opportunity rather than playing a season in Europe.
"I focused a lot on off-ice training in the gym. I had a lot of time to work on my body and worked on my physical strength. I put a lot of focus on getting as big and strong as possible," Wright revealed. "I was getting bigger and gaining muscle mass to compete with those older players. Especially going into that next step of my career, the NHL. Hopefully. So those were some of the bigger things I focused on. I'm around 190 pounds currently."
The Top Prospects Game is a great vehicle for some terrific hockey players to shine in front of a lot of NHL scouts. This year's game is on, and players are excited about it.
"I'm really excited to see that back on. I'm just happy that they're able to do it," Wright said with excitement in his voice. "It's a really cool aspect of the draft year to take part in that and compete in that with draft-eligible players. I know quite a few of the guys. It's a lot of fun competing against those guys. And competing against and with guys I've known before and some I don't know."
When I asked him about the skills portion where players would get timed for speed and other things the day before the Top Prospects Game, he didn't hold back.
"I'm a pretty competitive guy. I hate losing. It's definitely a cool aspect of the prospect game. Another cool part of it. It's another part that I'm looking forward to."
I went further with the hating-to-lose aspect because even great players, ones who eventually master their own sport will have trouble with another and spend quite a bit of time trying to get really good at it. Wright has a current sports nemesis.
"Definitely golf. It's a frustrating game. It's something that I just picked up during the pandemic. I've been playing quite a bit the last couple of summers," Wright divulged. "It's a lot of fun. It's a great way to get away. Get away from hockey a bit with your buddies. It's tough to perfect and master. You watch the guys on the PGA tour with an effortless swing and hit it for miles and wonder how do they do that? It's the same with hockey. It's about hockey and getting the reps in."
Whatever we see Wright doing on the ice is a portion of what he does off the ice. The one thing you never would question is his dedication to the sport and that will equate to a successful NHL career.
You may also be interested in: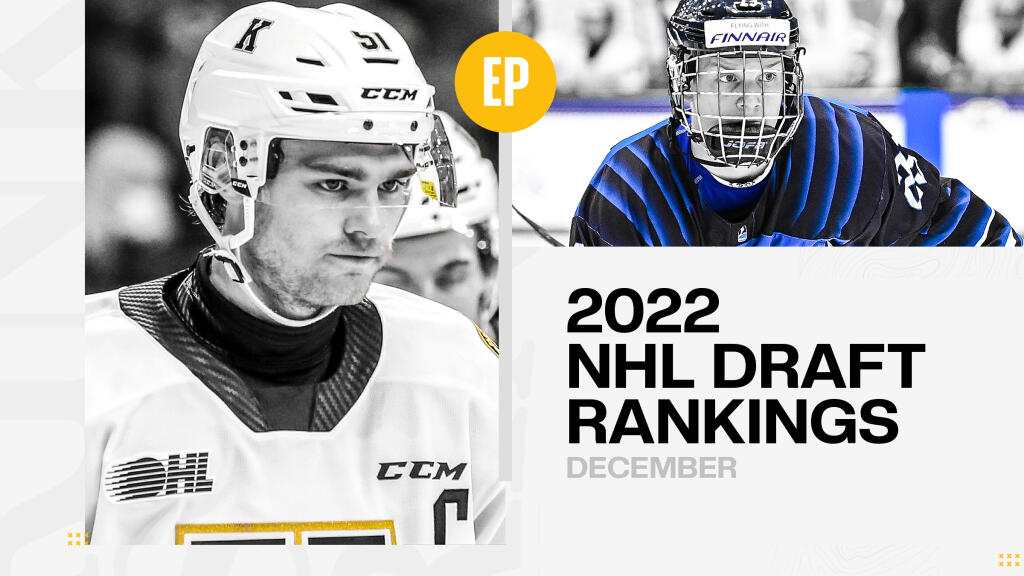 The EP Rinkside pre-World Juniors 2022 NHL Draft ranking
This article is about: