2022 NHL Entry Draft
Cutter Gauthier's versatility sets him apart
Versatility has always been a coveted quality in hockey, but even more so with the constant roster upheaval of the Covid-19 pandemic. That's made Cutter Gauthier's versatility as a centre and a left winger that much more valuable these last two seasons.
"It's something I've been doing all of my career. Having that flexibility where I can play left wing or center. Right now, I'm actually back on left wing," Gauthier told EP Rinkside through laughter. "It's always changing. I do whatever the coach needs from me. I do whatever I can to help the team."

Gauthier's point totals are up this year, and he knows the biggest reason why.
"I think it's all about confidence. Knowing what I can do with my skill. Knowing what I can do out on the ice and having the confidence to do it every time."
Gauthier has one of the best wrist shots in the 2022 NHL Draft. He's already scored 26 goals already this season and is leading the U18 team with 26, 15 of them in USHL games. The puck is off his stick quickly, and his accuracy is exceptional. This is a case where practice makes perfect. He spends a lot of time in the NTDP shooting room.
"I'd say I'm the best guy in the shooting room," Gauthier said knowing his teammates will hear about this. "I spend time either at home or at the rink. Get an extra hour in trying to make it quicker, faster, and be more accurate. I work on forearm curls to get my shot stronger. I'm willing to do it."
Gauthier's also made serious strides as a skater since last season, and it's helped him pick up more highlight-reel goals than usual this year. If there's one man for Gauthier to beat in a footrace, odds are he's winning it.
"Just my confidence. Knowing I'm faster because I worked on it all summer. I worked on being quicker and faster, and I worked on my stride as well," Gauthier added.
Corner work is important for anybody who plays on the wing. As a left wing, he can extend offensive zone time mastering that aspect of his game. It's something that he wasn't great at early on but this year it's showing up more. He might be the top goal scorer where he is now, but he knows that this is another way for him to become a more complete player.
"This is something that's kind of new. I'm getting good at it. I'm using my blind left more often," Gauthier revealed. "I wasn't a very big cycle player last year. After speaking with my coach, he told me that's one way I can improve my game. Go out there and be physical and use my size (6-foot-3, 194 pounds). It's something I've been working on, and I think it's been helping me with this season."
Gauthier has been playing in front of a lot more scouts this year than compared to last because COVID restrictions eased up in the states. He's very aware of that. Not thinking about it too much and compartmentalizing that is important.
"It's way in the back of your head. I just try and keep all that noise outside and not focus on that. I just want to go out there and show myself and do my best and let them know I'm the guy they want," Gauthier told EP Rinkside.
Here's what one scout said about him recently.
"Big, strong forward. Can play centre or wing. Skates very well and has a hard shot. He's going to play in the NHL it's just a question of how high up in the lineup and how much of his scoring will translate to the NHL."
Gauthier will be attending Boston College. When he gets there, that team will get a nice boost of offence even in his freshman season. He's ready for that next challenge.
"I committed to Boston College. Next year I will head out to Boston. It's a great school. Great academics, great history of the program. Once the coaches reached out to me, I knew it was one of the spots I wanted to go to. Just great, classy guys. Great development as well. The city is beautiful as well."
After watching the Beanpot, Gauthier had this to say, "BC isn't having too good of a year. I plan on changing that next year."
Gauthier looks forward to playing against tougher competition and when the NTDP faces a college team, full of older, and many times stronger players, that isn't an easy task.
"It's another level of my game to work on. I'd say it's a lot more physical and faster than the USHL. It's quicker, faster, stronger, it's cliché, but it's true," Gauthier stated.
As with most players. They will reflect on how they started a season and where they stand when the finish line is in sight. Gauthier is no different, and he is very self-aware.
"I was doing pretty well at the beginning of the year, but I knew I could do better. One thing I improved on the most is using my speed and size and taking pucks to the net. It's something I've worked on recently and done a lot more of, and it's paying off on the ice."
As a bigger guy, Gauthier might get challenged to fight at some point and he's not shying away from that at all.
"I have not so far. No. A key to it is most guys are wearing visors. I am looking forward to getting one in soon," said Gauthier.
All hockey players are competitive, but some more than others. Being ultra-competitive can spark your teammates.
"I'm a very competitive guy. On the golf course. I think that competitive spirit leads me to be a better person and player every day," Gauthier preached.
Gauthier has the size, skill, and will. I expect his draft stock to continue to rise.
You may also be interested in: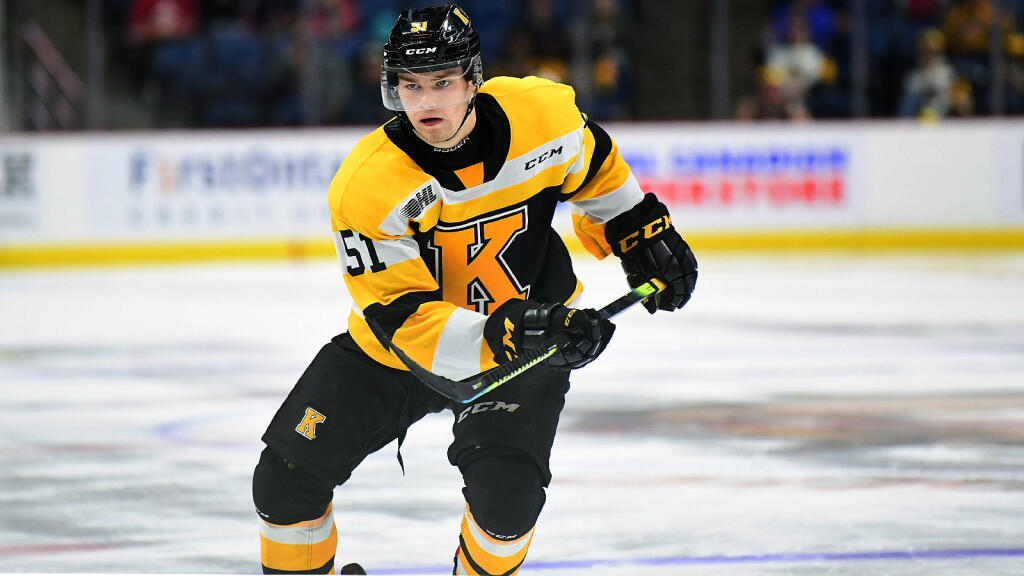 Shane Wright's success is equal parts talent and work ethic
This article is about: