NHL
Rinkside Report: Devils trying to make strides with "playoff" mentality
Rinkside Report is a recurring series where we take you into pressboxes around the NHL to find key stories from marquee matchups.
NEWARK — The story of the night was not supposed to be about a team that is basically already mathematically eliminated from the playoffs. The story of the night was not supposed to be about a team that had more visiting fans in its own building than fans of its own.

This was supposed to be about the New York Rangers, their quest to contend for a Stanley Cup this spring, and how their new additions are fitting into the lineup in their first game after the 2022 NHL trade deadline.
But the New Jersey Devils hung five goals on their Hudson River rivals in the second period at Prudential Center on Tuesday night and stole the show in a 7-4 win.
The Rangers might be the team bound for the postseason, but the Devils are planning to play out the regular season slate as if their last 20 games are all postseason games.
"This is our playoffs," coach Lindy Ruff said. "We have to treat this as if this our playoffs. We're playing a lot of teams that will be in the playoffs, so let's use that to evaluate where we can be. Where we can be as a forward group, where we can be on the defensive side of the puck. Can we limit their opportunities and still score? They still scored four and that's a good night on any team."
Now that we're past the trade deadline, teams like this have to find a way to learn from these lost seasons and these last few games. Keeping them competitive is key for a team that is trying to get back into the winning column next season and thinks they can do it.
What they showed in the second period—a tough forecheck and a fast, attacking transition game—is how they want to play every day.
"I just thought we fell asleep a little bit," Rangers center Ryan Strome said. "Unfortunately, we weren't mentally sharp. They're a pretty high-skilled team, you give them time and space and they took advantage. We were just completely off our game."
Igor Shestyorkin, the Rangers' Vezina Trophy and some would argue Hart Trophy-worthy goalie, allowed five goals before he was chased from the game in the third period. Jack Hughes then scored twice 70 seconds apart in the third period against Alexandar Georgiev to complete the touchdown and the PAT.
This is what the Devils envisioned all along this season: Hughes scoring highlight-reel goals, Nico Hischier making skilled passes, Yegor Sharangovich sniping pucks home behind even the most talented goalies in the league in front of a steady blue line anchored by Dougie Hamilton and Damon Severson.
Of course, we know that's not how things ended up. New Jersey will once again be sitting out of the postseason, currently occupying the second-to-last spot in the Eastern Conference standings, extending this rebuild into yet another season. The club has only made one appearance since their 2012 Stanley Cup run, which came in 2018, and it wasn't a very successful one.
The goaltending fell apart early in the season with Jonathan Bernier going down with a season-ending injury in December and Mackenzie Blackwood struggling through injuries and ineffectiveness. Jon Gillies and Nico Daws have filled in, and while Daws has shown flashes of strong play, the club knows he's still developing.
There was specualtion that the Devils would put Blackwood on the trading block. Parting with a 25-year-old goalie is a drastic measure, but this is a club that is desperate to complete its arduous, nearly decade-long rebuild and desperate times call for desperate measures.
This team has a clear road map for where it wants to go and how it wants to get there, but the problem is the car keeps breaking down.
But a good way to mask goalie issues is to just not let the other team touch the puck. And after the first period, that's mostly what the Devils did, using their speed to burn the Rangers in transition and put enough distance between them and their rivals.
"Anyone that watches us, they know our transition game is really good," Hughes said. "We don't lack offence. That's one thing we know how to do — we know how to score. We have a lot of highly skilled guys up front who can push the pace."
This is true. The Devils have scored seven or more goals six times this season, which ties them with the Minnesota Wild for the second-most. Hughes himself has been a catalyst, reaching the 20-goal mark for the first time in his career.
This is Hughes' third season and he's making the game look easy. He's making the fancy plays he was expected to make when he was chosen at No. 1 overall in the 2019 draft. But it's also his third losing season, which obviously was not in the plans. Despite the fact that he's only 20 years old, it's on players like him and Hischier to keep the Devils competitive throughout the rest of the season. The culture can't erode just because the playoffs aren't in sight.
Veterans like P.K. Subban will be relied on to keep motivation high as well, but it's tough when his own effectiveness is inconsistent. General manager Tom Fitzgerald did try to trade the pending UFA but there was no market for him. The club has already said they do not plan to offer him a contract this summer, but he can help this team take a big step and help himself out for a future contract with a good showing over the next month.
"P.K. has to be a part of the group that plays at a high level," Ruff said. "We had a conversation before the game about the level we need play at and the level he needs to play at to help this team. I feel that when he plays at that level, he helps our team. But when we dip below that level, he's ordinary. And I don't think he can afford to be ordinary."
The Rangers will integrate their new additions over the coming days. They won't play again until Friday, so the practice time will be beneficial. They'll make a return to the playoffs to see if their own rebuilding efforts can finally pay off.
Across the river, the Devils will try to establish a winning identity and keep it for next season with the hopes that they can finally write a winning story again next season.
"We want to end the year on a positive note," Hughes said. "Because it's us taking strides to become the team that we want to become."
You may also be interested in: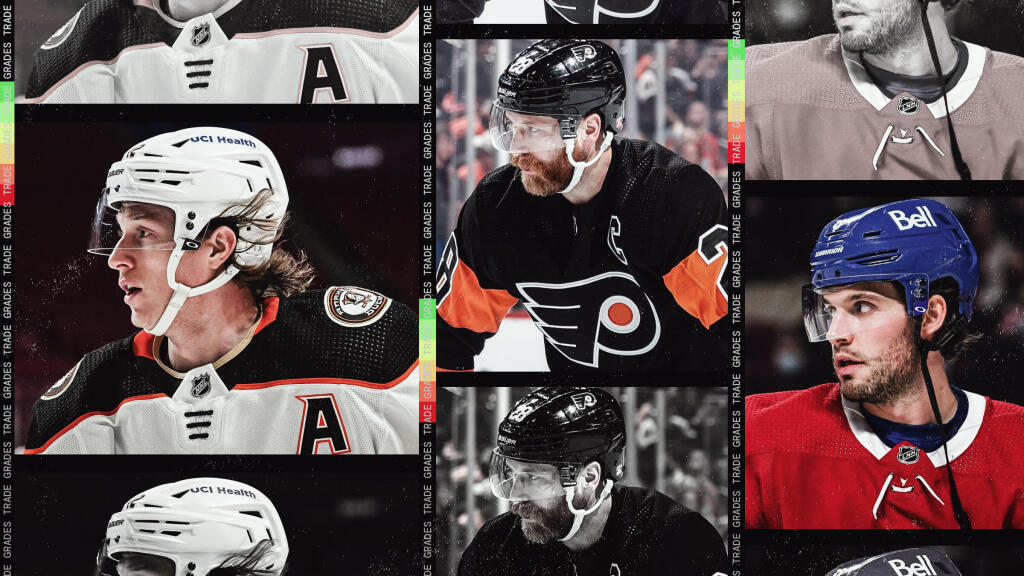 Trade grades for the 2021-22 NHL trade deadline
This article is about: