NHL
Rinkside Report: Martin St. Louis inspiring confidence in Montréal Canadiens
Rinkside Report is a recurring series where we take you into pressboxes around the NHL to find key stories from marquee matchups.
NEWARK — The New Jersey Devils proved to be the undoing of former Montréal Canadiens coach Dominique Ducharme, with the Habs firing the former coach after a 7-1 loss on Feb. 8.
A few months later, they served to highlight the success that Ducharme's replacement, Martin St. Louis, is having as a first-time head coach.
The Habs smashed the Devils 7-4 on Thursday night at Prudential Center. There were some big numbers put up by role players and the stars shined as well. It's a confidence-boosting win that came at a time when confidence can wane, but it seems as though under St. Louis it's been at an all-time high.
And for good reason: Montréal is 12-10-4 in 24 games under St. Louis. He came in with the aim of letting his players play free, loose and to their strengths. Clearly, it's been working.
Cole Caufield, last summer's breakout postseason star that struggled so much this season he was demoted to the AHL, has 16 goals and 29 points in has last 26 games with St. Louis behind the bench. Nick Suzuki has 13 goals and 26 points.
Caufield and Suzuki each had a goal and an assist. Christian Dvorak, Kale Clague and Chris Wideman each had a goal and two assists.
The goal was to make strides in this game, and it remains that way moving forward. The goal was certainly accomplished in New Jersey.
"This time of year you've got teams playing for different things, so it can be sloppy at times," Wideman said. "Our goal was to grow our game and play as well as we can. We did that."
Clague was a waiver-wire pickup from the Los Angeles Kings and Wideman is on a one-year, two-way deal for the minimum having spent the last few in the AHL and the KHL. A year ago, he was buying his own sticks, but St. Louis has him looking like he belongs once again.

This speaks to St. Louis' abilities as a coach. He's getting the most out of his role players and the best coaches bring out the best abilities in players.
"He's direct, he's not sending anybody else to do his communicating, he'll always communicate directly," Wideman said. "He was in our shoes. He was much better than us, but he knows what it's like to be a player and he treats us with a lot of respect, and we have a lot of respect for him."
One player that is in the club's future plans is defenceman Jake Evans. The 25-year-old's new contract kicks in next season, and the timing couldn't be better for Montréal. He's showing more offensive abilities and is having a career year with 10 goals and 13 assists. Again we can point to St. Louis' influence since 11 of his 23 points have come since the coaching change.
"For our relationship, he's just been showing me small clips for things like controlling your speed or finding that quiet ice and stuff like that," Evans said. "It's slowly been helping my game and giving me a little more confidence in making the better play and trying to improve my offense."
It's often said that St. Louis, a Hall of Fame former winger for the Calgary Flames, Tampa Bay Lightning and New York Rangers, sees the game in a different way. But it's his ability to break down what he sees on video that several players pointed to as being effective.
"He'll show you one clip once in a while and it will be like, 'Wow, that really changed things,'" Evans said. "Then you try it the next game and it opens things up for you."
The Habs' season collapsed mostly due to injuries to key players like Carey Price and Shea Weber. But a big front office shakeup is never easy for any team to overcome in the middle of the season. Former general manager Marc Bergevin and Ducharme, the key architects of last year's Stanley Cup run, were gone by the middle of February. Jeff Gorton and Kent Hughes took over as president of hockey operations and general manager.
This team was able to turn it around because management made the correct coaching choice in St. Louis. The team has seen marked improvements across the board in both underlying numbers and traditional metrics, and it's evident the players are buying what he's selling.
The interim tag is still on St. Louis. His ambitions past this season are still unknown, but it seems as though it's an easy choice for Gorton and Hughes to make to remove that tag and hire him past this season.
You may also be interested in: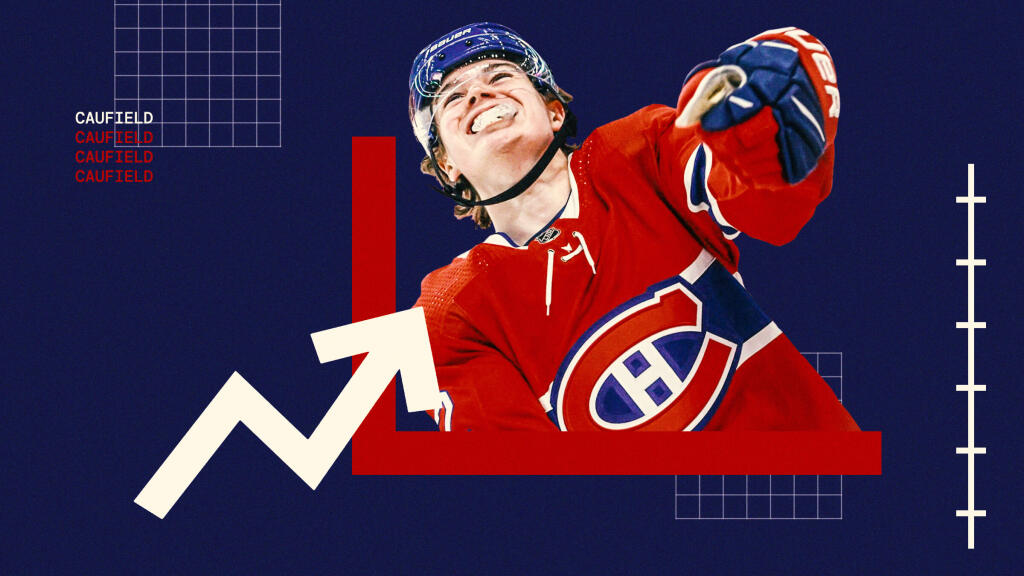 Film Room: Cole Caufield has finally arrived
This article is about: