2022 NHL Entry Draft
Tyler Brennan leads a goalie's life
Tyler Brennan has been a goalie for a long time, but not for the usual reasons. There isn't a long line of goalies in the Brennan family, and no one to push him in this direction. He's not your prototypical weirdo puck-stopper either.
His reason is as simple as it is heartwarming: He had the most fun playing the position and was always one of the tallest kids on the team.
"I started playing goalie when I was seven. On my team, we all rotated playing goalie. I enjoyed it a lot and I was always the first guy to ask to play goalie," Brennan told EP Rinkside. "I became a full-time goalie when I was eight. I was taller than pretty much every kid I was playing with. I was probably a good five or six inches taller than the average kid. The first couple of times I tried to play it went well. A big part of that was I took up a lot of net.
"At that age, not everybody was good enough to be able to pick their spot. Having that much success made me love the position and keep playing it."
Brennan has made his mark in the WHL while playing for the Prince George Cougars. As Brennan got better the team had whether or not to trade Taylor Gauthier, their No. 1 goaltender for the past three-plus seasons.
"I joke around about the goalie community all the time. All goalies are friends unless they play against each other," I chuckled. "Every goalie partner wants the best for their partner. They want the best for themselves as well. Taylor knew that. It was more of a competition where we were competing each night for the net. We pushed each other to be better, and we made each other better every day.
"He taught me a lot in the two and a half years I was with him. I thank him for that all the time. I think he got me ready to be a starter in the league. He took me under his wing the first day I got there. He prepped me to be a starter in the league. I was ready to be a starter and I think that's why they made the trade. They knew that I was ready. They knew I could take over the workload, and I was good enough to be a starter in this league."
The CHL Top Prospects Game is an opportunity for some of the best players to play in a highly scouted, well-covered game with a real reach with hockey fans in Canada and the U.S. since the NHL Network started broadcasting them. Smart prospects know the value of this game, and Brennan wanted to play in the 2022 game in the worst way.
"It's pretty cool. I know some guys from the past. I've been working towards this," Brennan stated. "It was a really good experience. A real confidence boost and a lot of fun. It's crucial for what I want to do. I want to get drafted. I wanted to get my name out there a little more and show them what I can do. Some people might not know everything about you. So, they end up knowing a little more after that game. It was important to me."
Brennan has been handling the ups and downs of making the playoffs. His team is on the bubble, so he must keep those emotions in check and go out there and play his best.
"As of yesterday, we fell a point out of the playoff spot. We have five left and are pushing to get as many points as we can to make the playoffs and hopefully do as well as we can in the playoffs. For the city of Prince George, we want to make it," said Brennan. "Bringing the playoffs back to Prince George, they haven't had that since 2017-18. We are all pushing to make the playoffs and putting our best foot forward every single game."
Bigger forwards are sometimes the kryptonite to a bigger goalie. There's a reason NHL teams covet these players. It's less of an issue when you stand at 6-foot-4, as Brennan does.
"I treat every shooter the same. Most of the time it's the smaller guys that rip the puck as well as the bigger guys," Brennan shared. "Bigger guys the way they shoot on me doesn't affect me too much. I think the bigger guys are better at parking in front of the net. It's hard to move them away and they set a better screen than some of the smaller players. I think that's where taller guys have an advantage."
A lot of goalies have to endure pileups in front of the net while holding on to the puck. It takes a lot of core strength and grit.
"It's not the easiest thing in the world. You learn to work around it. There are a lot of people in front of the net. You have to be able to look around the traffic and find the puck through guys' legs and feet and then be able to react quickly when you pick it up a little late. That's something that I'm working on," Brennan admitted. "It's going to get harder and harder the higher you get."
Brennan is a proud native of Winnipeg. There have been a ton of players from there and they're always very proud of their roots and many end up living there. Brennan explained why that is the case.
"Some of my teammates give it to me about how much I love Winnipeg," he laughed. "I grew up there. Been there my whole life. It's my home. I love that place. I think it might be a little about we survived the cold weather, so we think we're the best. We survived -50 or something. It's a good hockey town. It's there you play hockey all the time. You go to the outdoor rinks in the summer. You are surrounded by hockey everywhere you go."
There's a big goalie in Winnipeg named Connor Hellebuyck, and Brennan has seen him play several times.
"I watch Jets games pretty often. He's a talented goalie and I like watching him. I can kind of pick his game apart and put a little bit of his game into mine. I watch him a decent amount."
If you score on Brennan. You're on his mental list.
"My mindset is one if a guy scores on me five-hole. My mindset is I'm not going to let him score anywhere. I want to be perfect every night. I don't want to let in any goals."
Brennan will be drafted, and his stock is starting to rise. There's a lot of time between now and the NHL Draft in July.
You may also be interested in: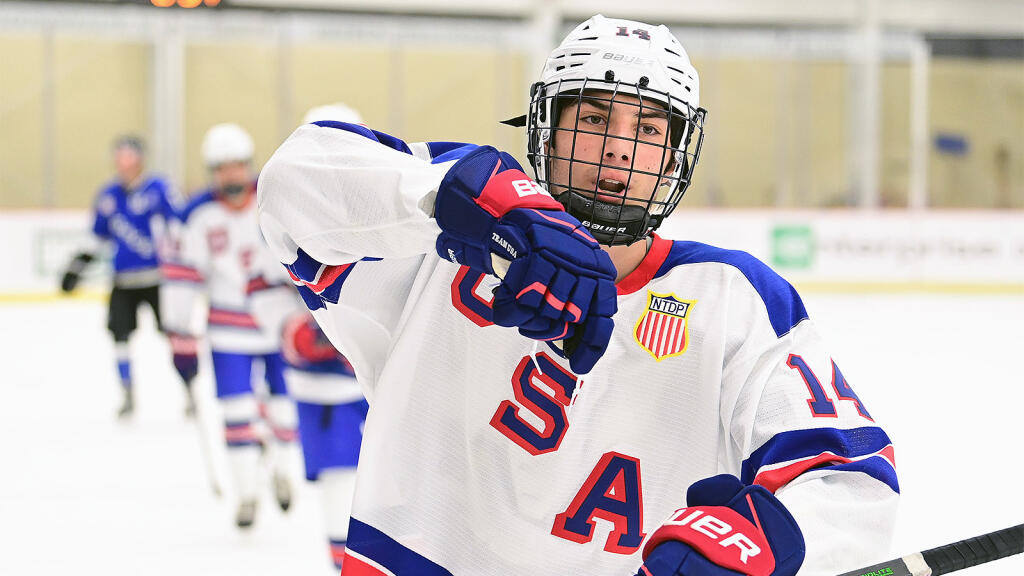 Frank Nazar is one of the most exciting prospects in the 2022 NHL Draft
This article is about: