2022 U18 World Hockey Championship
Meet the Team: Germany's roster for the 2022 U18 World Hockey Championship
Germany is set to host the top division of the U18 World Hockey Championships for the first time since Dresden and Crimmitschau served as dual hosts of the tournament back in 2011.
A bevy of contemporary NHL stars participated in that year's tournament, including Mika Zibanejad, Seth Jones, Mark Scheifele, J.T. Miller, Teuvo Teräväinen, Jacob Trouba, and Morgan Rielly. The Russian roster alone boasted the highest-scoring line in the tournament's history, with Mikhail Grigorenko centring a line with Nail Yakupov and Nikita Kucherov on opposite flanks -- the latter's 11 goals and 21 points in seven games still standing as the tournament scoring record.
It was Team USA, though, that would go on to win the gold medal game in an exciting 3-2 overtime contest.
Now the tournament is taking place in the hockey-crazy Bavarian towns of Landshut and Kaufbeuren. With both Russia and Belarus barred from participation, the tournament will now be held with just eight participants. For Germany, this means that the team will not have to worry about relegation. In fact, all of the teams will make the playoffs. The three-game preliminary round serves primarily as jostling for playoff positions. Of course, playing this preliminary round against the likes of Canada, Czechia, and the USA will mean that the average fan will be expecting Germany to finish last and have to face one of Finland or Sweden in the playoffs. But all that will be decided on the ice.
What's clear is that Germany plans on providing the scouting community with plenty to see and hopefully a far more competitive team than they brought with them to Frisco and Plano, Texas for last year's even. Team Germany featured a squad full of players who had more or less missed the entire season due to waves of junior league shutdowns in response to the ongoing COVID-19 pandemic. That will not be the case this season, as head coach Alexander Dück has a large pool of very active players to choose from, many of whom spent at least parts of this winter playing pro hockey.
The forward corps will be one with a lot of unknowns to many fans out there, but the hope is that top prospect Julian Lutz will lead the way. Already a part of last spring's team, Lutz entered this season as Germany's top prospect for the upcoming draft. An injury right before the season began knocked him out of action until just recently. Although he jumped right into Munich Red Bulls' lineup in the DEL, Lutz has only seen 14 games of action this season and has been using them primarily to catch up to speed again.
His linemate from last year's team, Luca Hauf, would be the next name seen as a go-to player for Germany. He has spent the bulk of the season playing pro, mostly in the nation's third league where he scored at a clip well over a point-per-game. Still, he's spent most time recently with the Frankfurt Lions, who are still in the midst of battling for promotion from the DEL2 into the DEL. And therein lies the crux of the problem, for both Lutz and Hauf are playing for pro teams this spring with championship ambitions. Will they even be available to the national team?
They won't be the only German players to bear the burden of lofty expectations, as Moritz Elias, Roman Kechter, Ralf Rollinger, and Philipp Krening will also need to take on big roles for the Germans to make hay. Elias began the year in the WHL and ended it in the DEL2, gaining immense experience with both clubs. Kechter has been playing for BK Rogle's J20 squad and after being out with an injury for much of the season, settled back in for what was a promising spring for a player who just turned 18 in February. Meanwhile, Rollinger was one of the top scorers for Mannheim's DNL (U20) team and even got into seven games (with a plus-two rating) with the DEL team while Krening put up a very respectable 10 points in 16 games with the RB Hockey Juniors of the professional AlpsHL, despite missing a good chunk of the season with an injury.
Rounding out the top-nine could be any number of candidates, but Daniel Assavolyuk, Matthias Pischoff, Veit Oswald, and Nikita Krymskiy appear to have the best cards. While Oswald, who is praised for his three-zone acumen, was the DNL's top scorer as a 17-year-old, and Pischoff did a ton of scoring for finals participant Cologne after gaining attention at the Hlinka-Gretzky Cup last summer, Assavolyuk turned some heads as a young 17-year-old with the RB Hockey Juniors in Salzburg and Krymskiy spent all season putting up respectable numbers in Germany's third pro circuit.
Players such as Eric Hördler, whose father is currently the captain of reigning DEL champion Eisbaren Berlin, Noel Saffran, Carl Konze, Rik Gaidel, and Till Michel have been battling to make the team, several of whom played in the Hlinka-Gretzky Cup last summer, with Hordler having the best shot at an important role.
If that seems like a lot of names, then you might want to prepare yourself for the blue line. Rayan Bettahar of the Swift Current Broncos is eligible as a returnee for this team and will be a huge boon in light of the North American opponents in the group. His participation has now been confirmed. Two players most everyone will want to keep an eye on are Niklas Hübner, who got into a handful of DEL games this season, and Jesse Kauhanen, an RB Hockey Academy mainstay who was looking like the class's top defensive prospect two years ago. That reputation has slipped a bit, but there is no time like the present to get himself back on the map. They'll almost certainly be joined as top four candidates by one of the team's oldest candidates, Jakob Weber, who has developed nicely with the Red Bull Academy.
They'll be joined on the backside by Marlon Braun, Michael Reich, and Edwin Tropmann. Tropmann, an underage player, is one of several 2005-born defencemen who is hoping to be a hot draft topic in 2023. He's had a fantastic year for finals participant Cologne in the DEL, where he was one of the team's top three defenders. Most outsiders had thought Leo Hafenrichter would be one of the most logical members of this team, having spent half of the season with the Guelph Storm. There, he had problems getting ice time after battling with COVID and then got force-fed DEL2 hockey upon his return to Germany. One of the more interesting skaters on the blue line for this wave of German defenders, he ultimately didn't make the cut and it may very well have been for the same reasons he wasn't cutting it in North America.
Unfortunately, the scouting world won't be getting to see Paul Mayer, Lua Niehus, Paul Lemke, and Alexander Vladelchtchikov, all of whom are '05-born and looking every bit as good as many of the '04-born candidates. Coach Duck has difficult decisions to make, well aware that most of his options don't have nearly the experience and number of games under their belts as your average roster player for any of the opponents in their group or from the Nordic countries.
Germany will be heading into the tournament with the belief that it has a goalie trio that could steal the odd win here or there. Simon Wolf would appear to be the expected starter if one takes his experience this past season with the Red Bull Juniors' program into consideration. Word is that he's the most promising German goaltender since Philipp Grubauer, and the federation felt strongly enough about his abilities to take him to Texas last spring, where he was given a start.
Then there's a fellow by the name of Philipp Dietl who is 17 and was just named the DEL's Youngster of the Year, albeit on the strength of just six appearances in the league. He did pitch a shutout in one of his three decisions and went 2-1 overall. The 2005-born Leon Willerscheid was brought into camp with the hopes that he'd show enough to be a better option as the third goalie than Matthias Bittner and Felix Noack. Ultimately, he has made the club, but in light of the fact that he played very sparingly for Cologne's DNL team this winter, collecting seven wins in 11 decisions, his inclusion is surely more about having an eye on the future. The team did the same with Wolf last spring, giving him a start along the way, despite having a hot prospect in Nikita Quapp in goal.
Forwards:
Daniel Assavolyuk, Red Bull Juniors, AlpsHL
Born in Kazakhstan, Assavolyuk was a bit of a prodigy for the Salzburg program this winter. Actually planned for the U18 team playing in the Czech U20 league, he was so good in nine games (12 points) that it became clear that he needed a greater challenge. This speedster got just that playing against men in the AlpsHL and even though his eight points in 26 games were nothing to write home about, he did very well in sheltered minutes and definitely displayed a strong ability to regularly be a part of the generation of offensive opportunities. His progress in this tournament bears watching.
Moritz Elias, Heilbronn, DEL2
Elias already had a somewhat full season of DEL action under his belt, albeit with limited ice time, when he headed over to Canada last summer to join the Saskatoon Blades. With eight points and a minus-eight in 28 games, things just weren't going as the 5-foot-7, 162-pound forward had hoped. He headed back to Germany and joined Heilbronn of the DEL2, which had a fantastic season. Alas, he only had two goals and three points in 23 games on primarily the third and fourth lines. He could range here anywhere from the first to third line for Germany at this tournament and would, like his older brother Florian before him, be on the outside looking in with respect to draft probability.
Rik Gaidel, Cologne, DEL
Registering 24 points in 35 DNL games, Gaidel is a jack of all trades and was part of the German Hlinka-Gretzky Cup team last summer, in which he scored a goal in three games. In light of the competition on this team, he'll likely be an extra for Germany at this tournament unless the staff has been seeing something we haven't. A useful player who can be plugged in just about anywhere up and down the line-up.
Luca Hauf, Frankfurt, DEL2
A returnee from last spring's U18 squad, Hauf entered this season with a DEL contract and was thought to be one of the nation's top three draft eligibles. The 5-foot-11, 180-pounder went scoreless in 12 DEL contests and did not manage to make the World Juniors squad, but he did manage 32 points in 25 Oberliga games against men and also suited up for Frankfurt of the DEL2, a club that seems destined to gain promotion this year. While there, he has three assists and a plus-two rating. He's dropped a good bit out of the draft picture for now, but a strong tournament on the team's first line and first power play unit could sway some fortune his way.
Eric Hordler, Berlin, DNL
A DNL champion with good bloodlines, Hordler is a 6-feet-tall, 165-pound all-round forward who registered 31 points in 35 games this past winter. His father is the current captain of Berlin's DEL team and an eight-time DEL champion. He does a lot of the little things right and has grown up around pro locker rooms, seeing a whole lot of championships along the way. He should have a nice bottom-six role in this tournament for a team that will find itself on its heels more often than not.
Roman Kechter, Rögle BK, J20 Nationell
A top-name attraction for this Team Germany, Kechter entered the season actually hoping to make himself a candidate for a top 90 draft position. After 21 surprisingly solid DEL games last season, he headed back to Rögle's program intending on doing what Marco Kasper ultimately has this season. Alas, his performance was far from it. He endured a long absence due to injury and then was slow to get back into the swing of things against primarily older competition in the U20 squad. Having just turned 18 in February, his 16 points in 34 U20 contests actually indicates that he's still on par in the grand scheme of things and the 5-foot-11, 185-pounder is all but assured of a top-six, likely top-line, role in this tournament.
Carl Konze, Iserlohn, DNL2
As the only player on the team playing his hockey at a level lower than the DNL, one need only look at Konze's 6-foot-4, 185-pound frame to understand what he's likely doing on this team. His 18 penalty minutes were a novelty as it was the first season he's played in a while with fewer penalty minutes than games played. He was one of his team's top players with 23 points in 23 games, but this will be the first time he's worn any jersey other than Iserlohn's in the past six years, so other than a fourth line role against the more physical teams, he's to be understood as an extra until proven otherwise.
Philipp Krening, Red Bull Juniors, AlpsHL
Injured for much of the season, Krening is an offensive producer who might have had a much higher profile at this point were it not for the injuries that caused him to miss over half a season of AlpsHL play. Still, the 17-year-old whose 18th birthday will take place during the tournament had 10 points in those 16 games he played against pro men. A bit overwhelmed at the Hlinka-Gretzky Cup last summer, Krening is yet another somewhat undersized 5-foot-11 player on this team who has a playmaker's skill set and is technically an above-average skater. He's looking at a top-nine job in this tournament. As a side note, he comes from the quaint, picturesque town of Weingarten, just north of DEL2 site Ravensburg. There are few hockey players originating from this town of 25,000, but one of them just happens to be teammate Lutz.
Nikita Krymskiy, EG Dietz Limburg, Oberliga Nord
Originally from St. Petersburg, Russia, the 5-foot-11, 183-pound winger spent the entire season playing for Dietz Limburg in Germany's third tier of pro hockey, where he answered for eight goals and 19 points in 35 games. That's a respectable total for a young man who will first turn 18 in May. But the men's league is full of aspects that can lead to less than ideal habits and the question for Krymskiy is just how much his experience against faster, heavier bodies and generally greater demands in the realm of decision making will translate to the international competition he's about to face? He's likely going to be a fourth-liner together with several players whose competence is geared towards shutting down the opposition. In addition, he spent the prior season in Russia and is a rather late addition to the national team measures taking place this winter.
Julian Lutz, Red Bull Munich, DEL
The player to watch for Germany, Lutz entered this season as a very hot topic for the draft. He was so hot after a fabulous year as a well-built 16-year-old in the AlpsHL that once he signed his DEL contract with Red Bull Munich last summer, there were those daring to ask if another Tim Stützle had arrived. And yes, those thoughts came despite warning signs during a very quiet U18 Worlds in Texas and a Gretzky Hlinka Cup that first saw him wake up with two goals in the final game. Ultimately, he got injured right before the regular season began and had trouble returning full time until the beginning of March. He ended up with a very respectable one goal, three points, and a plus-four rating in his 14 DEL games, but was getting less than 10 minutes of playing time more often than not. In addition, he was made available to the national team as soon as the regular season expired, despite Munich being a strong candidate for the championship.
The U18 Worlds right in Germany is his tournament to shine, but we're inclined to point out that he's dealt with issues going above and beyond his physical injury before the season, so one would be wise to expect a humbler approach from Lutz throughout this tournament. Germany, of course, needs his bag full of talents and above-average skating to be the spearhead of any shot the team may have at surprising.
Till Michel, Augsburg, DNL
The oldest player on the team and likely in the tournament due to a January 1st birthday, Michel only mustered 11 points in 34 games this winter. At 6-feet-tall, 176 pounds, he's not exactly a bruiser, but he does what the coaching staff tells him, and he can battle. He keeps the game very simple and doesn't overcomplicate things. His international experience is minimal, so there's no telling if he's scheduled to be anything other than an extra for when injuries set in.
Veit Oswald, Landshut, DNL
Clocking in at 6-feet-tall and 162 pounds, Oswald is perhaps the team's most gifted skater, and we say that knowing that Lutz and Kechter are on the team. He's the son of German legend and comes from the hockey-crazy town of host Landshut, which also produced the likes of Tobias Rieder and Tom Kühnhackl. Still 17, Oswald was the DNL's regular season top scorer with 28 goals and 51 points in 31 games and was also part of the Hlinka-Gretzky Cup outfit last summer. He's a guy who has seemed to overachieve regularly with his club team but plays overly cautious and careful with the national team. We're hoping he'll show his true colours right in his home rink for this year's Worlds.
Ralf Rollinger, Mannheim, DNL
Rollinger was a key player for what was ultimately a disappointing Mannheim squad this winter, contributing 19 goals and 36 points in 38 total games. A player with a number of tools and solid puckhandling, he's nonetheless one of Germany's more attractive draft eligibles this summer and will need to be one of the more effective contributors to the middle-six if Germany is going to be able to make any music in this tournament. He'll surely be motivated to strut his stuff to a scouting community that hasn't seen him all that much internationally to date.
Noel Saffran, Düsseldorf, DNL
Well-built at 6-foot-1, 187 pounds, Saffran is a pure newbie on the team this year and looks to have been brought along for the physical aspect of the game. With just 14 points in 33 regular season contests, his contributions to a team are usually in other areas, namely making life miserable for the opponent, and the puck out of his own team's net, as much as possible. Some banging on the boards is probable as well.
Defence:
Rayan Bettahar, Swift Current Broncos, WHL
With a year of WHL play under his belt after having been part of last spring's outfit, Bettahar clearly brings the most international experience to this blue line and will be absolutely critical for Germany in light of facing Canada and the USA in the same group. The well-built defensive defenseman (15 points in 63 games) is going to be given heavy minutes, should he respond as hoped for, and scouts will really get to see just how much progress he's made since he stood out with some big hits last year in Texas.
Marlon Braun, Berlin, DNL
Steady, solid, nondescript -- Braun isn't a player who you'd normally expect to see in a national team, but the 5-foot-11, 165-pounder has continued to earn the trust of the national team staff and may even slip into the top five with his unremarkable, but dependable play. He only had 10 points in 41 games this past winter but was garnering top-four minutes for the DNL champ. Not much to see here, but that may be just what the doctor ordered for Germany.
Niklas Hubner, Ingolstadt, DNL
The shooting star of the German prospect blue line scene, Hubner finished third on his DNL team in scoring with 27 points in 28 games. His play was strong enough that he ended up suiting up for 10 DEL games as well, collecting his first-ever pro assist along the way. Admittedly, Ingolstadt's pro team had a spell where it lost its top three defenders in a short period of time. Hubner will definitely be one of the young men the scouts are most interested in seeing when Germany is in action.
Jesse Kauhanen, Red Bull Hockey Academy, Czech U20
A steady defenceman who can be very cerebral and features a strong first pass, Kauhanen is the son of a former Finnish pro in Germany and has been maturing very nicely the past three seasons in Salzburg. Not flashy, the 6-feet-tall, 180-pounder will give you a little bit of everything in all three zones. Still, we haven't seen him at this level of competition and Germany must hope he is able to maintain his even-keeled game in a tournament of this prestige.
Michael Reich, Landshut, DNL
An undersized defenceman at 5-foot-10, 163 pounds, Reich got into three DEL2 and one Oberliga game this winter while coming in as the U20 team's top-scoring blueliner (21 points in 34 games). He's on par for being among the top 12 defencemen in the nation for this age group, but in light of the overall blandness of this defensive corps, especially among the bottom eight, you wouldn't be faulted for thinking he's making the team may also have to do with him being one of the few young men from host town Landshut who'd even come into consideration.
Philip Sinn, Red Bull Hockey Academy, Czech U20
Standing at a modest 5-foot-7 but sturdily built while weighing in at 181 pounds, Sinn is an all-rounder who should be dialling in as an offensive defenceman. His strengths lie in his ability to read the game and move the puck, but his challenges are those of most players his size, especially those patrolling the blue line. There are other defencemen on this team who provide what he does, so the question remains open as to whether he'll get the call.
Edwin Tropmann, Cologne, DNL
The group of '05-born defencemen in Germany is, as a whole, looking like one of the better crops in quite some time. And Tropmann currently tops the list. First turning 17 in October (!), one shouldn't expect him to be a regular on this club, but he was already a top-pair defenceman for his Cologne DNL team which lost to Berlin in the national championship. If the hockey gods are on our side, he'll manage to convince the staff that he's up to a top-six role already because there's much he could gain by playing against this calibre of players at this stage.
Jakob Weber, Red Bull Hockey Academy, Czech U20
Like Assavolyuk, Weber was originally born in Karaganda, Kazakhstan. The 5-foot-9, 175-pound defender is fleet of foot and not shy of going where it hurts to get the job done. He has a solid shot and he's got to start taking it more often. It's unclear at this point just what this staff will expect of him at this tournament, although a top six role is his for the taking. Playing in Czechia's U20 circuit, he had 12 points and a minus-nine rating in 30 games.
Goalies:
Simon Wolf, Red Bull Hockey Academy, Czech U20
The DEB strongly feels that Wolf has everything necessary to be the man in goal for the men's national team once he's matured accordingly. There's also reason to believe he'll be a draft topic at some point, even if first as an overager. At 6-foot-2, 192 pounds, his size is fairly ideal for the modern goaltender, but his season in the Czech U20 league was anything but dominant. Going 6-10 with a 3.14 GAA was rough for a youngster thought to be able to carry a team to victory on his back. He'll get every chance in Landshut to still be exactly that.
Philipp Dietl, Landshut, DNL
Having played for Landshut's DNL team, going 6-3 in ten games, Dietl's six outings in the DEL were one of the season's big surprises. Going 2-1 in those games including a shutout became big news across hockey Germany. Still, we're talking about a young man who is 5-foot-10 and 146 pounds. Athletic and agile, he'll probably get a game at this tournament, but opponents might find themselves wondering what a guy this size is doing on the ice.
Leon Willerscheid, Cologne, DNL
An already towering 6-foot-2, 181 pounds, Willerscheid is an underager for this tournament and it would be surprising to see him in goal unless injuries force his participation. Nonetheless, he is seen as a solid talent and one of the best 2005-born players currently in Germany, at any position. Although his Cologne team first bowed out in the championship to Berlin this spring, Willerscheid was enthroned in a purely backup role. He only saw action in 12 games all winter although there were a number of other programs where he'd likely have been the starter.
You may also be interested in: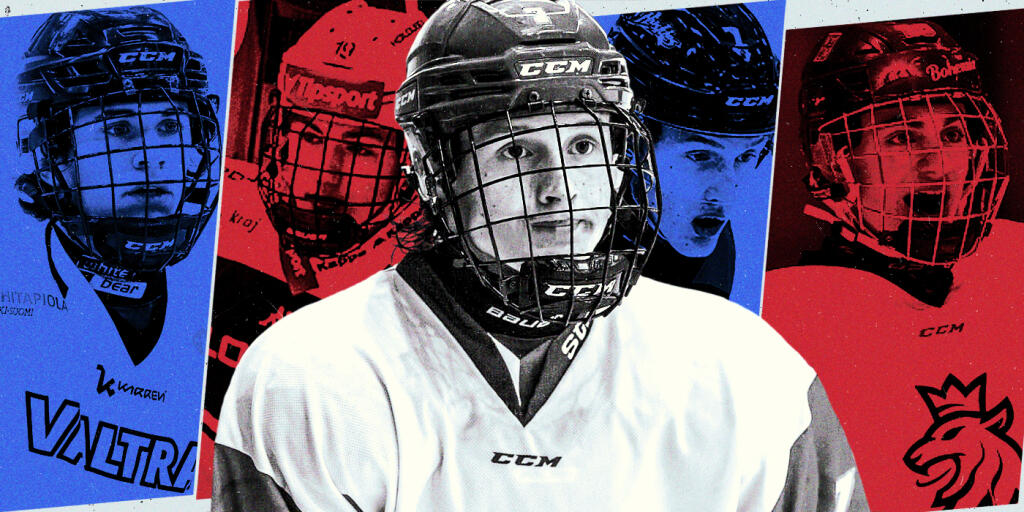 Meet the Team: Czechia's roster for the 2022 U18 World Hockey Championship
This article is about: