2022 U18 World Hockey Championship
Seamus Casey looking to boost draft stock with a strong showing at the U18s
The contemporary NHL is a rough and tumble league, and teams have always coveted size because of it. Especially on the blue line. That has sometimes caused teams to overlook perfectly capable defenders who fail to break the 6-feet-tall barrier.

Seamus Casey, a 5-foot-10 defenceman on the USNTDP U18 squad, is hoping that he can prove any team who makes that mistake at this summer's NHL Draft wrong.
"Physicality was my main focus over the summer and still throughout this year. Just defending and being able to play physically. I think it's come a long way," Casey told EP Rinkside. "There's still a way to go. I'm around 168 or 170 pounds currently. I'm picturing myself 10-14 pounds heavier around 180 or 185. Taking hits has a lot to do with seeing the ice well. Knowing what's coming your way before it's there.
"I've always had the vision and know when I'm going to get hit. To protect me or make a move to get out of the way. It's helped me to stay out of injuries way."
Casey grew up in Florida. Like most hockey players, he had to move around to seek out the best competition. With that said, he's happy to carry that Southeast mentality into everything he does.
"I started playing for Compuware in Michigan when I was 12. For the first two years, I was back and forth but still lived in Florida. I kind of moved to Michigan for one year and then moved back to Florida before my junior year," Casey explained. "I've been living in Florida pretty much the whole time. Since I've been in the NTDP, I've been living in Michigan. I've been in Florida the majority of my time."
Casey then talked about how hockey is improving in Florida.
"There's not much junior level to be played. They have some low-level junior hockey. Youth hockey is getting a lot better. When I was coming up, we played for the Alliance, the AAA team. What was good was we were playing AA for our town and play around the state," he remembered. "It ended up being competitive. There are a lot of retired pros coming in, and they get into it, and that's huge. They know the game and how things should be run. The more that happens the better, and more people are moving to Florida these days. That helps too. I now live in Fort Meyers by the coast."
One of Casey's best offensive tricks is the deception he has on his wrist shot. He pulls it back and gets goalies to move and as a result, finds a bit more net to shoot at.
"I've done this for quite a while. I've never been the guy with a super heavy shot. You have to figure out a way if you don't have a howitzer of a wrist shot. So, changing the angle and pulling the puck back or pushing it off to the side, can help you a lot," Casey revealed. "From the point or on the power play, anything like that. Especially if you can shoot in a screen and pull it back, always try to look to the opposite corner. If I'm shooting top right, I'm going to look top left kind of pull it in like it's going to go there and put it the other way and try and catch the goalie."
Casey is every bit as enthusiastic about blocking shots in the defensive zone, too. It's a job that every defenceman has to do to gain their coach's trust. He knows it and embraces it even though many times there's some physical pain that goes along with it.
"The only thing worse than blocking a shot is not blocking a shot. You feel like you let everybody down," Casey said. "I'm not that great at blocking shots. I'm not standing at practice eating pucks. I try and work on my technique. Charlie Leddy is by far our best shot blocker. He's brave and has the instinct for it. I try to follow his lead. It's hard. Guys are good at getting pucks through on the power play. I try to not let them get through."
Getting beat on defence happens more and more as a player moves up the ladder. That's part of being a defenceman and dealing with that and limiting those mistakes is the name of the game. Casey has the mental side down, too.
"I'm still trying to perfect my game. Our coach wants us to play defence the right way. We have got to the point in the season where it's working. During my time here in the NTDP, the goal is to do it the right way," Casey reiterated. "That's all you can worry about. Eventually, you will execute against, bigger, stronger guys. I don't want to get beat on a play, but I'm ok with it if I tried to do it the right way.
As far as technique goes, Casey is doing the right things out there.
"My gapping and my stick are my two biggest strengths. I can gap down tight in the offensive zone and keep pucks in, in transition I use my stick a lot. Anytime I can force a turnover and get that puck going the other way, fast, is something I'm good at," Casey stated.
An NHL scout had this to say about him:
"He's a really good puck-moving, offensive, power-play quarterback defenceman. He moves the puck well on breakouts, in transition, and creates offence. He's a great skater and is skilled. He's actually a pretty good defender too. It's still a challenge for guys his size to make it and make an NHL team better. Will he, and can he?"
Casey will be attending Michigan and knows teammates Rutger McGroarty, and Frank Nazar will be on the roster as well.
"I can't wait," Casey said with energy. "it will be interesting, and hopefully there will be a lot of offence. We're trying to win a championship. That's the most important thing. We have so many guys coming in that I'm so excited to play with."
One last note about Florida. The Northern Mockingbird is the Florida state bird. Casey was annoyed with himself that he didn't know that but shot back with his suggestion for a state bird.
"The Frigate bird. It's a bird you look for in the water. Anytime you're fishing if you see that bird, you're in a good spot."
The U18s are in Germany this year and the team is there, looking to take home gold from Landshut and Kaufbeuren.
"I can't wait. We are all pumped. We have talked about it every day for the last two years. Gold is the goal. This will only be our second international trip as a team, and we're supposed to have six. We've been deprived a bit bring home gold, so this is the biggest tournament in our time here, so we are thankful we have this one and want to take advantage of it," Casey added.
If Casey shines at this tournament, that could vault him way up on team's rankings, and just in time for the draft, too.
You may also be interested in: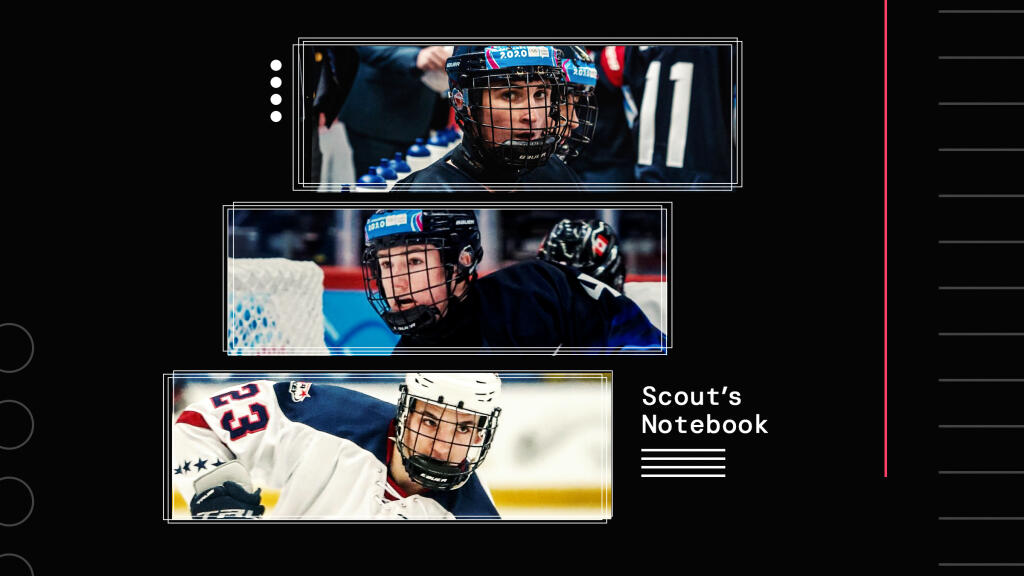 Scout's Notebook: Evaluating the USNTDP's blue line, led by Seamus Casey, Ryan Chesley, and Lane Hutson
This article is about: