NHL
Western Conference matchups to watch for in Round 1
The 2022 Stanley Cup Playoffs begin Monday night, with eight interesting first-round matchups to try and sort through over the next two weeks. This is personally one of my favourite parts of the year because it really scratches an itch on the strategic side of the sport. Each matchup is unique, with specific strengths and weaknesses on both sides of the series that will serve a huge role in determining how they play out.
To help get you ready for it all, we're really going to zone in on one specific thing to keep in mind for every single team involved in this year's postseason, with the hope that it'll expose an exploitable matchup against their particular first round opponent. If styles make a fight, then we're interested in identifying the ones that could help deliver the knockout blow here.
In the spirit of covering as much ground as possible, I'm partnering up with my colleague Ryan Lambert to tackle it all the best we can. For each series, I'll take one side, and he'll take the other. We'll focus on the Western Conference, but you can read about the Eastern Conference as well.
Let's get to it.
---
Dallas Stars vs. Calgary Flames
DF: The Stars Perspective
This series is going to feature two of the very best lines we saw in the league this season. The difference between the two is that unlike Johnny Gaudreau, Matthew Tkachuk and Elias Lindholm, the top forward trio for the Stars really has no support up front. This team will only go as far as they drag them kicking and screaming, and not an inch further.
For a second straight year, the unlikely combination of Roope Hintz, Jason Robertson, and Joe Pavelski was downright fantastic together. In their 786:22 5-on-5 minutes, the Stars outscored opponents 51-35, while controlling 55.2 percent of the shots and 64.2 percent of the high danger chances.
The three of them combined for 105 goals, which accounted for 45.1 percent of the team's total offence. The other 17 forwards that played at least multiple games for them this year mustered just 98 goals collectively. That's both a blessing and a curse because while it's great that they were that effective, it's also highly alarming to see a figure that heavily skewed towards just one line.
It's also all you really need to know about this team. It's tough to properly explain what a strange viewing experience a Stars game is. When the three of them are out there, you get treated to hockey being played at the highest level. They move around the offensive zone beautifully, playing off of each other like they've been doing it their entire lives.
Robertson and Pavelski are absolute wizards along the boards, craftily winning battles and extending possessions. They help open up a runway down the middle of the ice for Hintz to gallop through, making for a scintillating sight.
But the second they get off the ice, the hopeless feeling that absolutely nothing is going to happen for the next couple of minutes just washes over you. You can't turn the channel because you want to see the top line do their thing all over again, but the bridge you have to go over to get there is just so bleak.
RL: The Flames Perspective
The Flames are by no means a one-line team, but even if they were, that one line might be enough to drag a much worse roster to a playoff spot, at a bare minimum.
The trio of Johnny Gaudreau, Elias Lindholm and Matthew Tkachuk played almost 964 minutes together at 5-on-5 and outscored opponents 73-31. Yes, that's a goals-for percentage north of 70. And while their expected-goals numbers weren't that good (these guys have the skill to score like crazy) the xGF% was still higher than 61 percent. Scoring-chance numbers are even better.
But if you add in any time those three spent on the ice, together or apart, the goal difference explodes to 105-44.
When none of them were on the ice, the Flames were outscored 95-91, but that was mostly just bad luck (the rest of the team had an expected-goals share of 53.2 percent in such situations).
It's hard to see a world where Dallas can stop the Flames' top line. In three meetings this season, Gaudreau, Lindholm and Tkachuk outscored the Stars 3-1 at 5-on-5 and the underlying numbers are even better than the season-long results.
It's not as simple for the Stars as "stop these guys and you win," much like Calgary's game plan will undoubtedly be vis-a-vis Robertson's line. But it's almost that simple.
St. Louis Blues vs. Minnesota Wild
DF: The Blues Perspective
It may surprise some people that haven't been following them particularly close to hear this, but the Blues were the third-highest-scoring team in the league this season. The 309 goals they potted trailed only the Florida Panthers (337) and Toronto Maple Leafs (312), and everyone contributed to the group project. They had a remarkable nine 20-goal scorers, boosted by the second most efficient power play in the league.
If you just purely go off of the usual shot metrics that are available on Natural Stat Trick, you're not going to get an accurate representation of how good they were offensively. They finished just 28th in shot attempts, 25th in shots on goal, 24th in high danger chances, and 17th in expected goals generated at 5-on-5 for the year.
But they managed to turn a disproportionate amount of those looks into goals, leading the league in both shooting percentage and goals scored above expected.
While I'm sure there's a bit of good fortune involved, we shouldn't dismiss the uniquely progressive approach they had in the offensive zone as well. They led the league in high-danger passing rate, which includes passes that were either coming out from behind the net or into the slot. They were sixth in slot shots, third in inner slot shots, and first in the percentage of their shots that came from that particular area on the ice.
They may not have taken a high volume of shots, but that was largely by choice. They were clearly selective, hunting out specific types of plays to try and swing the math in their favour. It clearly worked and is instructive of what efficient offence looks like in 2022. It helps to have a playmaker like Robert Thomas running the show because he established himself as a premier playmaker this season. He was fourth in primary assists at 5-on-5, and eighth in assists on a per-minute basis across all situations.
I'm curious to see how this kind of attack does against a goalie as aggressive as Marc-André Fleury. He's so used to coming out to close off the angle on shooters, committing to the first read. That could be awfully dangerous against a team that moves the puck around the zone as well as the Blues do, and I wouldn't be surprised to see him swimming out of position at times.
If that happens, their finishers will sure have a lot of open net to shoot at.
RL: The Wild Perspective
In just about any category you care to look at, the Wild are in the top third of the league or so, except for the penalty kill. This is particularly true when it comes to 5-on-5 defense, as the Wild allow just 2.1 expected goals per 60, second-best in the league this year.

By contrast, the Blues might have scored a ton of goals this season, but it wasn't because they racked up the xGs all season; a lot of their scoring comes on rushes and counterattacks and counting on the Wild to make a lot of gaffes leading to those opportunities probably won't bear much fruit.
The Blues have weapons, no doubt, but the Wild have players who can neutralize them to some extent. And now that the Wild also have reliable options in goal, which the Blues have not of late; since April 1, St. Louis' 5-on-5 save percentage is 20th in the league at .905.
And here's some bad news on that front if you're a Blues fan: St. Louis might have the best offense in the league over the last month, but Minnesota's has been second-best. And their save percentage is 20 points better.
I wouldn't be surprised if goaltending alone is the difference.
Nashville Predators vs. Colorado Avalanche
DF: The Predators Perspective
Whenever you're this big of an underdog entering a playoff series, you need to do a couple of things to give yourself a chance at least hanging around and making it competitive. Here's the checklist:
Slow the game down to a snail's pace. The more events that there are, the more likely it is that talent wins out and the better team finds a way to outscore you eventually

Stay out of the penalty box. You need to limit the number of easy opportunities they get to put goals on the board because things can get away from you pretty quickly otherwise

Have the better goalie. Even if you do everything right, they'll get their share of chances. The goalie is always the ultimate equalizer, and if yours gets hot at the right time then everything else goes out of the window
It'll be awfully tricky for this version of the Predators to adhere to these rules. They led the league in penalties taken, minutes shorthanded, penalty minutes and fighting majors. Their entire brand is built off of physicality and rough stuff. I can see the merits of trying to turn the game into a disjointed affair with no real flow against this Avalanche team, in the hopes that they'll potentially retaliate and get thrown off their usual axis. But it's also quite a dangerous tactic against a group that has the type of firepower they do.
The real issue, however, is the Juuse Saros injury, which drastically decreases the likelihood that their goalie will be able to hold up under a barrage of quality chances. The public models have Saros down for +12.6 goals saved above expected, which was good for ninth-best this season. But that is almost certainly underrating how valuable he was because it's not accurately capturing the types of chances the defence in front of him was giving up regularly.
Clear Sight Analytics has him down for +26 goals saved above expected instead, which was behind only Igor Shestyorkin. They had him graded as the best goalie in the league against rush shots. They also had the Predators ranked 26th in defending against lateral passes, which he compensated for with his freakish athleticism. The idea that David Rittich or Connor Ingram will be able to replicate that herculean effort seems like a massive leap in faith.
RL: The Avalanche Perspective
Hard not to run out of superlatives for this team, which has a roster loaded with star players. But if you google "Colorado Avalanche" these days, you get headlines like, "What's wrong with these guys?" and "Can they win a Cup with Nathan MacKinnon?"
That has not been the perception in the wider league at any point this season, and for good reason, but they went 1-5-1 down the stretch — which, yes, included games where they rested key players to keep them healthy for the postseason.
Part of the issue was certainly that various players have been out of the lineup during this stretch, including Devon Toews and Gabriel Landeskog, and some others have been playing poorly since returning from lengthy injuries. The trickle-down from these issues — a punchless man advantage, getting outplayed when the top players are off the ice, etc. — led to these results.
From what's being reported, the team will be more or less returned to full health by the time this series starts, so in theory, everything's solved. Except Darcy Kuemper has been decidedly average for the last month, and as the results suggest, is trending down.
All that having been said, Nashville sans Juuse Saros feels like the perfect opponent to right the ship. Especially if everyone really is healthy, and not just "healthy enough to play."
Edmonton Oilers vs. Los Angeles Kings
DF: The Oilers Perspective
The Oilers finally fired coach Dave Tippett on Feb. 10, after playing a largely uninspiring stretch of hockey. At that point, they were 23-18-3, sporting a minus-12 goal differential at 5-on-5. With Jay Woodcroft behind the bench, Edmonton has gone 26-9-3, bumping that goal share all the way up to plus-20.
The most promising development for their future outlook is the team's play without Connor McDavid on the ice. Under Tippett, the team was outscored 73-54 in the 1430 5-on-5 minutes that McDavid wasn't out there for. Under Woodcroft, they've completely managed to turn those splits around, finding a way to actually win the 1225 such minutes they've played without McDavid (by a 54-50 margin).
That may seem like an awfully low bar to clear, but the reality is that this will always be the barometer for the Oilers. They don't need to be great without McDavid, they just need to not completely flatline.
For as unbelievably dominant as he is, he's ultimately just one player. If they're immediately undoing all of the good he did the second he takes a break, that becomes a difficult hurdle to overcome. This is why it was so exasperating to see them fall short in that area time and time again in the Tippett era, and why it's now so encouraging to see them reverse that nagging trend.
It's also a real reason to feel that this version of the team is at least slightly different than the ones we've seen fall short in the past because they sure seem better suited to compete.
The biggest difference in the team's performance is their offensive approach, which has been far more optimized ever since Woodcroft took over the reins. It never made sense for a group with such elite forward talent to rely on the point shot as much as they did.
They're now getting far better looks, jumping from 10.7 to 13.1 high danger chances generated per hour of 5-on-5 play. That improvement has been reflected in the share of chances they're controlling as a team, going from a feeble 48.7 percent all the way up to 55.8 percent.
RL: The Kings Perspective
Based on where they are in the standings, and how long they spent with their noses pressed up against the glass on the wrong side of the playoff bubble, you might be surprised to learn how good the Kings have been this season.
Here are some quick 5-on-5 per-60 stats for ya: Eighth in goals against, ninth in shots for, second in shots against, seventh in shot attempts for, fifth in shot attempts against, eighth in expected goals for, 12th in expected goals against.
Conspicuous by its absence in that list? Goals-for per 60. The Kings were 21st in the league in that category. And yet, they generated the fourth-most high-danger chances per 60. So we have to think about this. Why did they struggle so mightily to convert all those chances and xGs? Well, some of that can be chalked up to bad luck, absolutely, but that alone doesn't explain why the gap (24 fewer goals than expected) is so big.
The problem is that they have just three players on the team whose career goal total before this season dramatically exceeds their career ixG total. Which is to say, they just don't have a lot of finishing talent.
Maybe that doesn't matter against a Mike Smith/Mikko Koskinen battery, and maybe that's especially true if they can also neutralize the Edmonton offense.
You may also be interested in: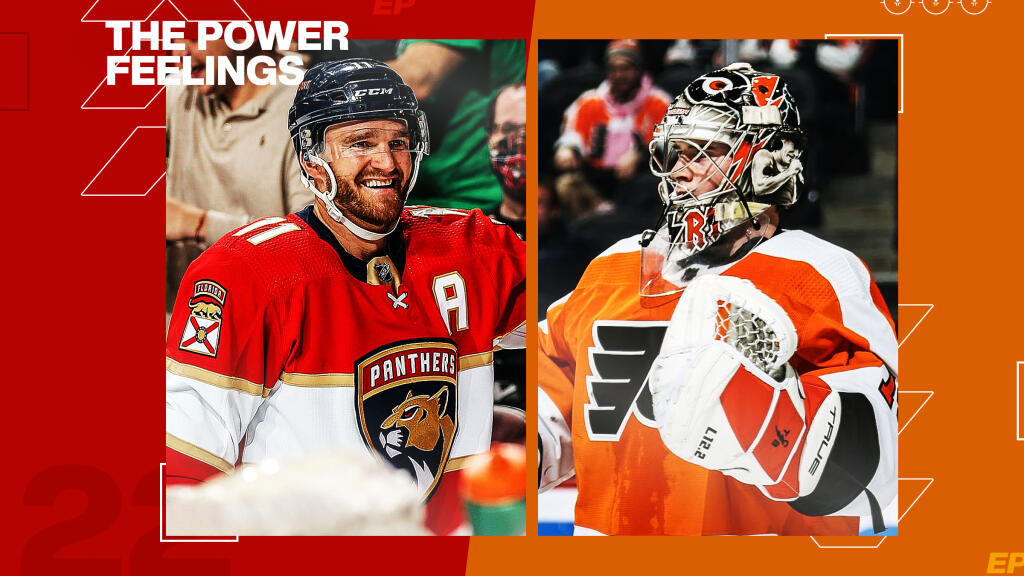 Power Feelings: True Atlanticism
This article is about: