NHL
Round 1 Takeaways: How the Avalanche and the Blues won their series
With the opening round of the 2022 Stanley Cup Playoffs starting to wind down and the final results beginning to roll in, we're going to have some fun recapping the respective matchups here.
To get a better sense of how the advancing teams won their series, we're going to highlight one key factor that helped push them over the top. That could be an individual player that dominated, a whole unit that came together nicely to take over, or a stylistic thing the team did generally to exploit a weakness of their opponent.
In each case, there will hopefully be some kind of actionable information that we'll be able to keep in the back of our minds heading into the following round as well.
We're going to tackle them two at a time based on the order in which they finish up. First up: how the Colorado Avalanche swept the Nashville Predators decisively, and how the the St. Louis Blues stuck to the script to overpower the Minnesota Wild.

---
An Avalanche of Offence in Transition
When you win in the dominant fashion that the Avalanche did here, there are no shortage of things to choose from as reasons for why they won. They outclassed the Predators essentially from start to finish, jumping out to their first lead just 2:20 into game one and never relenting from that point forward. Colorado allowed Nashville to hold its only lead of the series for a grand total of 4:57 in the closeout game, giving the Preds a nice little taste of what it felt like before quickly putting them away for good.
The final totals reflect just how one-sided this series was. Colorado outscored Nashville 21-9 while controlling 61.1 percent of the shots and 67.3 percent of the expected goals. Their best players in particular flexed their muscles throughout, putting on quite the show for everyone watching.
Nathan MacKinnon scored five goals, firing 44 shots over four games. Gabriel Landeskog showed no signs of rust after missing extensive time to end the regular season, putting together a tidy four-point effort in Game 3. Mikko Rantanen dished out five helpers, including four of the primary variety.
But the real story here is the top pair of Cale Makar and Devon Toews, who absolutely ran laps around the Predators in this series.
Makar chewed up over 25 minutes per contest, scoring three goals and adding seven assists. He wound up with 41 shot attempts himself, after mindbogglingly having 23 in game two alone. Toews had three goals of his own, all at 5-on-5, and the Avalanche outscored their opponent 7 to 2 in his team-leading 79:09 even-strength minutes.
The way the two of them transition the puck up the ice is just beautiful. They create so much additional offence, constantly putting the opposition on their heels. Obviously, there are certain things Makar does himself that can't be really replicated because he's just a freak athlete, but there's one thing the two of them constantly do that can be incorporated by others.
They simply never let up, and by doing so they don't allow you to regroup and get set defensively. Once that neutral zone structure erodes even slightly, they ruthlessly take advantage of the opening and burst through it. You can really see it in situations where the opposition is fatigued following a long shift, and trying to decide whether they should try to squeeze in a change.
In those chaotic moments of miscommunication with players shuttling near the benches, they run a play that consistently gets them a free scoring chance. Makar retrieves the puck in the neutral zone and immediately hits Toews with a pass, who has used the congestion near the boards to sprint up the weak side of the ice undetected.
Sometimes he waits for reinforcements, and hits a forward that's joining him as a trailer. Occasionally, he just unloads a bomb if there's enough space for him to skate into it fully. He did just that in game three, burning the Predators with a back-breaking goal off a relatively harmless-looking sequence.
I've been tracking neutral zone performance again, much like I did last postseason. We'll run the data on this site for everyone that's played after we get a slightly larger sample, most likely after round two. But in the meantime, here's a small teaser:
Toews had 38 zone exit attempts at 5-on-5 in the series, with 28 of them being completed successfully while maintaining possession. Only two of the 38 resulted in turnovers that kept the Avalanche from exiting (with both being icings that at least allowed them to get set for a faceoff, and not scrambling after a giveaway). Makar had 27 attempts himself, and 20 of them were with possession, and only three failed.
In today's game it's imperative to create looks off the rush, and to do so you need to have blueliners that can help transition the puck up the ice cleanly. To have two of them playing together, and they're doing so roughly 75 percent of the time? That's just a ridiculous competitive advantage.
It's a huge part of why they consistently create so much offence, and why they're the best defence pair in the game. For any team that's trying to slow the Avalanche down, they'll need to devise a plan that at least provides some sort of roadblock against them.
Good luck with that.
Sticking to the Regular Season Script
The Wild competed well enough at 5-on-5 to give themselves a chance in round one. For the series, they had 53 percent of the shots, 56.1 percent of the high danger chances, and 57.2 percent of the expected goals. The issue is that while that's a huge part of the game, it's only a part of it.
Special teams are important, and the Blues' power play proved to be a huge difference-maker in this one. They scored eight goals in just 39:48 of time with the man advantage, with another one that came just a second after one of their power plays had expired. They converted on nearly a third of their opportunities, scoring at a rate of 12.1 goals per hour.
That trend carried over from the regular season since this was a group that finished second in scoring efficiency behind just the Maple Leafs. It certainly didn't help Minnesota's case that their penalty kill was a legitimate weak link as well, conceding goals against at the eighth-worst rate. But the story here is the way the Blues move the puck around, and tactfully execute their offensive game plan. They continue to find ways to turn shots into goals, and there's clearly something they're doing to make that happen beyond just blind luck.
Here's a mix of all the best looks and goals that power play was able to generate throughout the six games. There's some stuff that comes off of broken plays that you can't necessarily account for, and a couple of bad goals that Fleury would surely like to have back.
There's also a lot in there that shows exactly why they keep exceeding expectations and scoring so many goals. I love their approach because they're surgical and deliberate with what they're trying to accomplish. They're constantly pursuing two plays in particular that have proven to optimize the chances of beating the goalie: A) the lateral cross-ice pass through the slot line (between David Perron and Vladimir Tarasenko), and B) the low-to-high pass from the goal line into the inner slot (to Ryan O'Reilly).
The trick is that the opposing defence also knows that those are the best looks, so they're doing everything they can to try and block those routes. But the Blues are able to patiently wait for an opening and are content with passing up lesser shot opportunities in the meantime.
Suffice it to say, they'll need this to continue if they hope to give the Avalanche a scare in round two. They were swept by them last postseason, but this is an entirely different Blues team. Both in terms of personnel, but most importantly in terms of tactics. At the very least, there's enough firepower here to make it a fun series with a whole lot of goals.
You may also be interested in: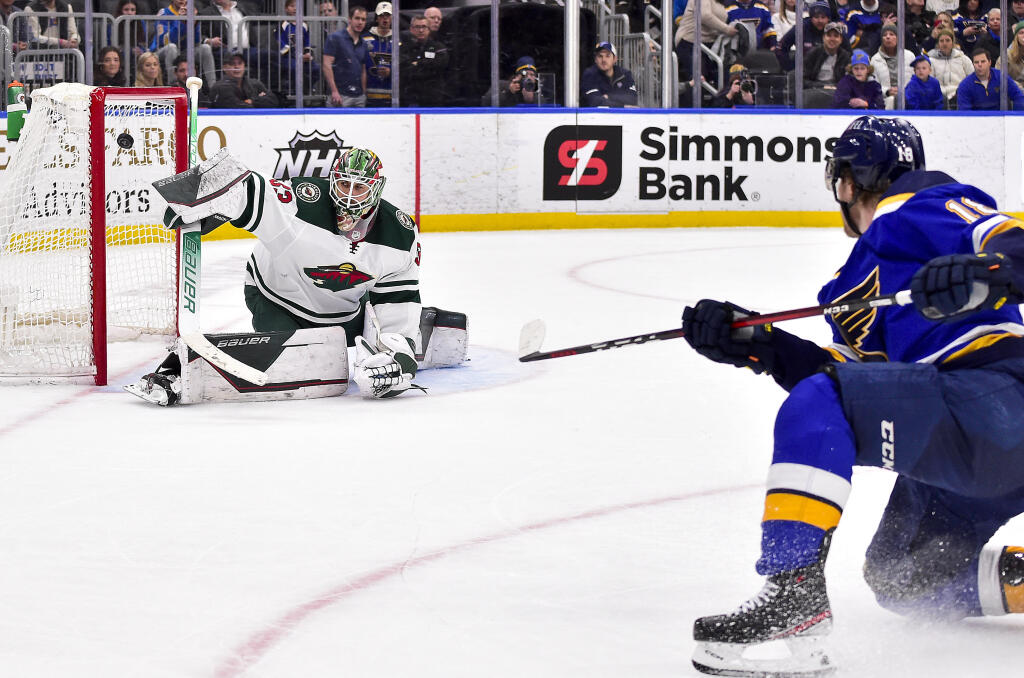 Where do the Minnesota Wild go from here?
This article is about: