NHL
Series Preview: Florida Panthers vs. Tampa Bay Lightning
We've been blessed as hockey fans in the second round of the playoffs: we get to enjoy not only the Battle of Alberta but the Battle of Florida as well.
The storylines in this Florida matchup as excellent as well.
The Tampa Bay Lightning, as back-to-back champions, clawed their way out of the first round by eliminating the Toronto Maple Leafs in Game 7 to keep their potential dynasty intact and now stand positioned to potentially shut down the rival they definitively defeated last postseason. Meanwhile, the Florida Panthers, who haven't won a first-round series since this author was less than a year old, have the opportunity to prove the doubters wrong and show that their high-octane style can overcome a team built to win in the playoffs.
My playoff previews are stats-based, going off of both macro- and micro-level statistics gathered by TopDownHockey and AllThreeZones respectively. This allows us to look not only at high-level results (like goals, shots and expected goals) but also at the stylistic process that creates them (like passes, shot types and transition play) to get a better sense of how the teams match up.
Instead of comparing offence to offence and defence to defence, I'll be breaking down the offence vs. defence matchups.

Head-to-Head: Florida Offence vs. Tampa Bay Defence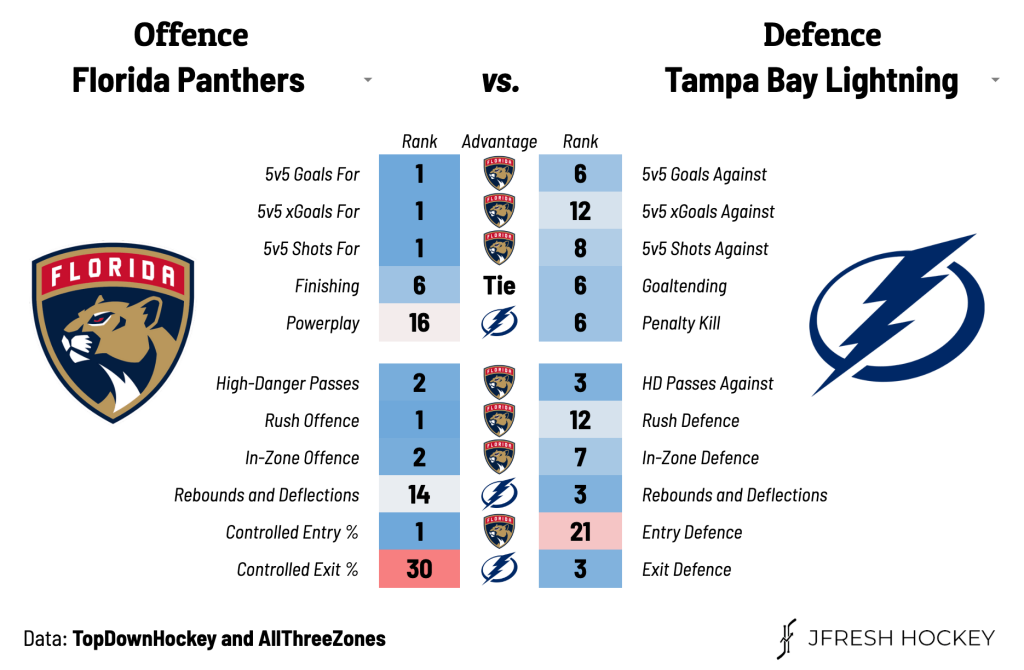 Some of the shine might have come off the Panthers' elite offence after the surprising difficulty they had eliminating the Washing Capitals, but they're still a well-oiled machine at 5-on-5 capable of running over pretty much anybody.
The Lightning's strategy will be pretty simple: forecheck the hell out of the Panthers' defencemen and try to kill that rush play at the root. As Jack Han broke down early in the first round, the Capitals played an aggressive offensive zone forecheck and then a trap in the neutral zone to blunt the onslaught, and while it didn't fully work, it kind of did! In the first round, Florida ranked fifth in rush chances, third in entry carries with chance, fourth in high-danger passes and, most importantly, 10th in controlled zone entry rate.
These are all strong rankings, but not up to the league-best performance in the regular season.
In the regular season, the Bolts' forecheck was primed for exactly this challenge and executed it to perfection against the Toronto Maple Leafs in round one. Players like Corey Perry, Nick Paul, Brandon Hagel and Anthony Cirelli put tremendous pressure on defencemen, forcing them to make bad decisions with the puck or at least clear it out instead of making a clean pass. Toronto's elite defensive transition game disintegrated under that pressure, with the third-lowest controlled exit rate in the first round. Expect the Bolts to hound MacKenzie Weegar and Gustav Forsling in this series.
The Panthers are far from doomed, however. If they can manage to evade the forecheck and get into the neutral zone with speed, Tampa Bay's veteran defencemen might not be able to keep up off the rush. This wasn't an issue against Toronto's dump-and-chase scheme in round one, but the Cats will push them to their limits.
Carter Verhaeghe's exceptional performance in round one (12 points at 5-on-5 in only six games) points to this group's dynamic talent and breakthrough abilities. A lot will come down to whether the Lightning's strong in-zone defence can smother the cross-slot passes the Panthers love (as it did Toronto's) or if they can establish an offensive zone presence.
Head-to-Head: Tampa Bay Offence vs. Florida Defence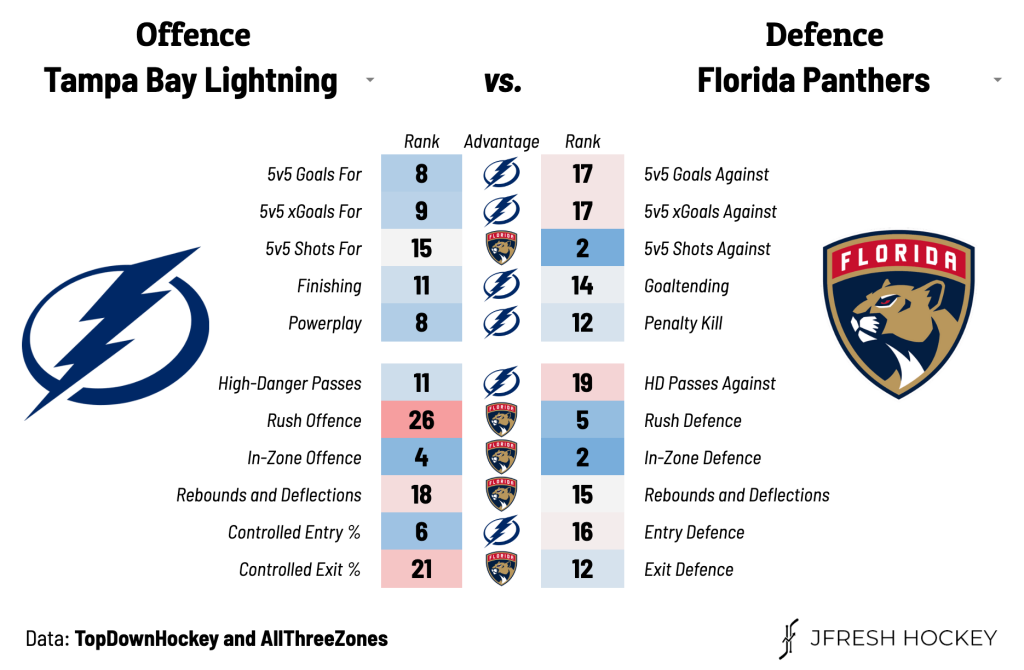 Despite their star power, the Lightning were a great but not elite offensive team this season, and that continued through a playoff series where they struggled to drive results in round one. Tampa Bay was at or below-average by almost all offensive measures in the first round, particularly struggling to create off the rush or get to dangerous areas of the ice for rebounds or deflections. For the most part, this was roughly consistent with their regular season performance, which hinged heavily on sustained possession cycles. To their credit, they also created a decent number of high-danger passes. With Brayden Point out for at least a portion of the series, however, that creative playmaking might take a series hit.
The Panthers, on the other hand, hewed quite close to how they played during the season in round one. They choked off quantity, allowing very few shots of any type, just like how they ranked top five in both rush and in-zone defence during the season. But what they did allow, high-danger passes and net-front chances off of scrambles, were dangerous opportunities. If Tampa can be opportunistic and get to those areas of the ice, particularly on the counter-attack, they can break through here.
This will come down to who wins the battle of attrition over puck possession. The Panthers thrive by denying their opponents sustained offensive zone time and keeping them on their heels; the Lighting thrive by grinding their adversaries down with dizzying cycles and point shots. This applies doubly on the powerplay, where Victor Hedman and Nikita Kucherov run the show, sending pucks back and forth until the defence are barely keeping up and the goalie moves an inch too far.
Goaltending will also be a major factor. Sergei Bobrovski wasn't exceptional by any means in the first round and had some bad moments for sure, but overall he gave the Panthers what they needed and then a little more, stopping 1.4 goals above expected. He's faced the Lightning before, of course, and maybe can strike a little fear in their hearts if he has a hot start to the series.
Analysis and Prediction
The Panthers have been rewarded for their President's Trophy-winning season by one of the toughest second-round match-ups out of anybody and will be looking to take a page out of the 2018 Washington Capitals' book to knock out the back-to-back defending champion.
It's very possible that they do it, and it will come down to beating Tampa Bay's forecheck, denying the Bolts the ability to cycle, and getting strong goaltending from Bobrovsky. They need to overwhelm the Lightning with speed, setting the tone their way instead of playing a, for lack of a better term, Spiderman vs. Spiderman match-up like the Leafs did in round one.
Meanwhile, for the Lightning it will come down to smothering and frustrating the Cats from top to bottom, forcing turnovers and suffocating their transition game to make them play like a team that they aren't. Combined with a lethal powerplay and arguably the best playoff goalie of his generation, that's a decent route to another Conference Final.
For me, I need the Panthers to prove that they can play their game against a top opponent in the playoffs. The burden of proof is on them.
Prediction: Lightning in 7.
You may also be interested in: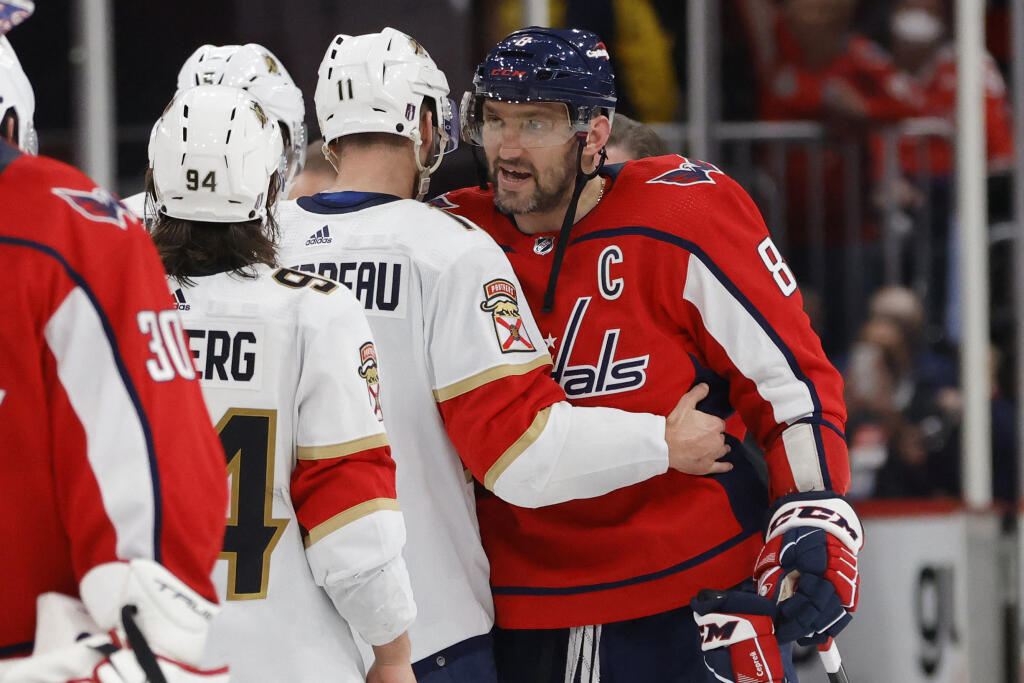 Where do the Washington Capitals go from here?
This article is about: