NHL
Stanley Cup Final Preview: Colorado Avalanche vs. Tampa Bay Lightning
Cinderella runs can be a lot of fun to watch in the Stanley Cup Playoffs. The unexpected heroes, the improbable upsets, the crazy twists and turns as an underestimated team snaps into form at just the right time.
But sometimes it's nice to just see the two best teams in the sport go head to head.
You can argue that it's been a while since we've seen a Stanley Cup Final like this, with two exceptional groups at the top of their powers fighting for a championship, and even for neutral fans, this one should be a thrilling series.
The Tampa Bay Lightning are no strangers to this situation. They have qualified for the Cup Final three times in the past eight years and are looking to solidify a dynasty that would be the first in almost thirty years to win thrice in a row. They've navigated through the postseason by playing three very different series: a roller-coaster against the Toronto Maple Leafs, a goaltending clinic against the Florida Panthers, and demolition against the New York Rangers. At its core, however, this is a team that won't stop winning.
Things are different with the Colorado Avalanche. This is their first time the team has gone past the second round since Nathan MacKinnon was in elementary school, and they're determined to make the most of it. While one could argue that they've been the beneficiaries of some fortunate opposing goalie injuries, that doesn't change that they have barreled over all three teams they've faced, overwhelming them with shots and chances and outscoring their weaknesses when necessary.
So here we are: MacKinnon and Nikita Kucherov, Cale Makar and Brayden Point, Mikko Rantanen and Steven Stamkos, Andrei Vasilevsky and... well, someone. Hold onto your hats.
My playoff previews are stats-based, going off of both macro- and micro-level statistics gathered by TopDownHockey and AllThreeZones respectively. This allows us to look not only at high-level results (like goals, shots, and expected goals) but also at the stylistic process that creates them (like passes, shot types and transition play) to get a better sense of how the teams match up. Instead of comparing offence to offence and defence to defence, I'll be breaking down the offence vs. defence matchups.

Head-to-Head: Colorado Offence vs. Tampa Bay Defence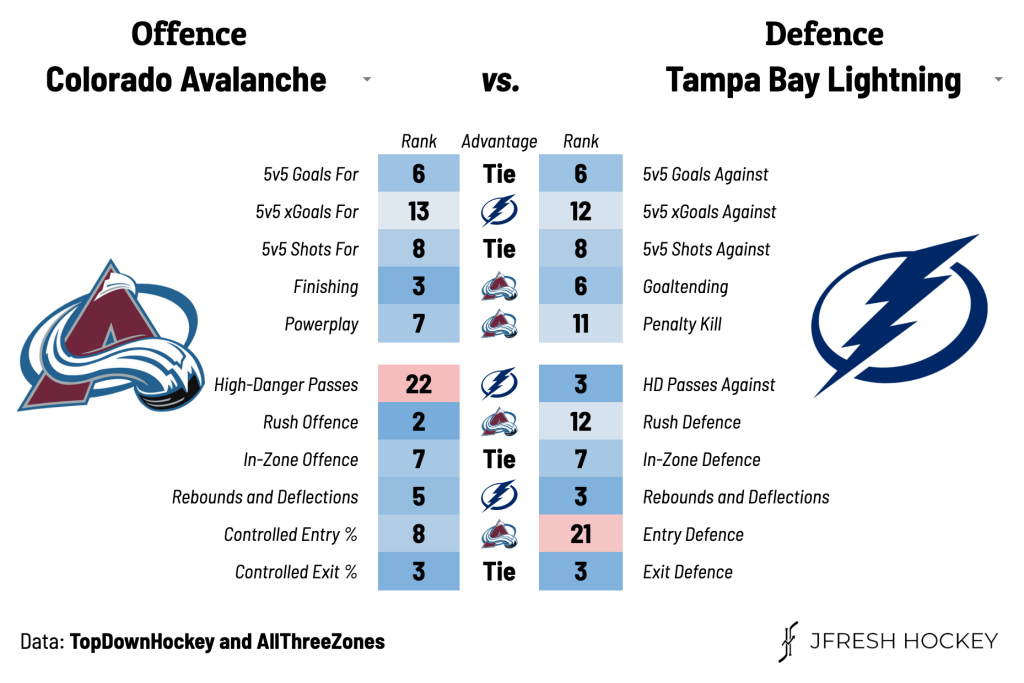 See what I mean?
It's hard to envision two more evenly-matched teams in this respect than the Avalanche and Lightning.
The Avs are built to move the puck up the ice, enter the zone with possession or recover dump-ins with speed, strike quickly off the rush, follow-up on those chances and dizzy opponents with cycling around the outside. They strike with excellent precision, finishing their chances even more efficiently than they create them. MacKinnon forces opponents on their heels, Gabriel Landeskog wins battles and extends possessions, Rantanen does pretty much everything, and Valeri Nichushkin and Artturi Lehkonen win races all over the ice.
It all starts with their defence, which moves the puck with a deft combination of retrievals, build-up passes, and skating, creating layers in the offence that poke holes in opposing defences and allow extended possessions to take place. This postseason has further established Makar as the most talented defenceman in the sport as he has dominated with the puck while performing admirably defensively as well. It has been a very long time since we've seen a blueliner play like an elite forward offensively and yet keep up so well in his own end.
The Edmonton Oilers had pretty much no answer for any of this, and the Avs piled up shots and chances of all varieties. The one intriguing thing we've seen throughout the regular season and playoffs from them is a lack of interest in sending passes into the slot. The most skilled teams offensively usually love to carve through defences and force goalies to move by sending feeds across the slot or from behind the net, but the Avs don't have much interest in that. Those are risky plays that lead to turnovers, and Colorado would rather dominate the outer orbit, maintain possession, and create the right play when it opens up.
The Lightning can handle all this, the question is how much. We've seen them beat a team like the Avs decisively in the series against the Panthers. Like Colorado, the Panthers were a multifaceted goal-creating machine that wanted, above all else, to get the puck gracefully down-ice and generate chances quickly.
The Bolts were fine with that to an extent. They let the Panthers move in transition and even enter the zone, but what they would not allow them to do is turn that speed into high-danger chances. They piled bodies in the slot, blocking or forcing misses on those opportunities and ultimately making the Panthers' forwards take endless perimeter shots that Vasilevskiy had no trouble stopping.
It is not hard to imagine this series playing out the same way, with the Avs getting 95 percent of the way to success on most shifts but failing to blow bast the final obstacle in the slot. The Bolts will clear the crease, block shots, and give their goalie every opportunity to do what he does best. Hedman, Erik Cernak, and Ryan McDonagh don't have the flashiness of a Makar but they will gladly absorb shots from the circles if necessary.
Head-to-Head: Tampa Bay Offence vs. Colorado Defence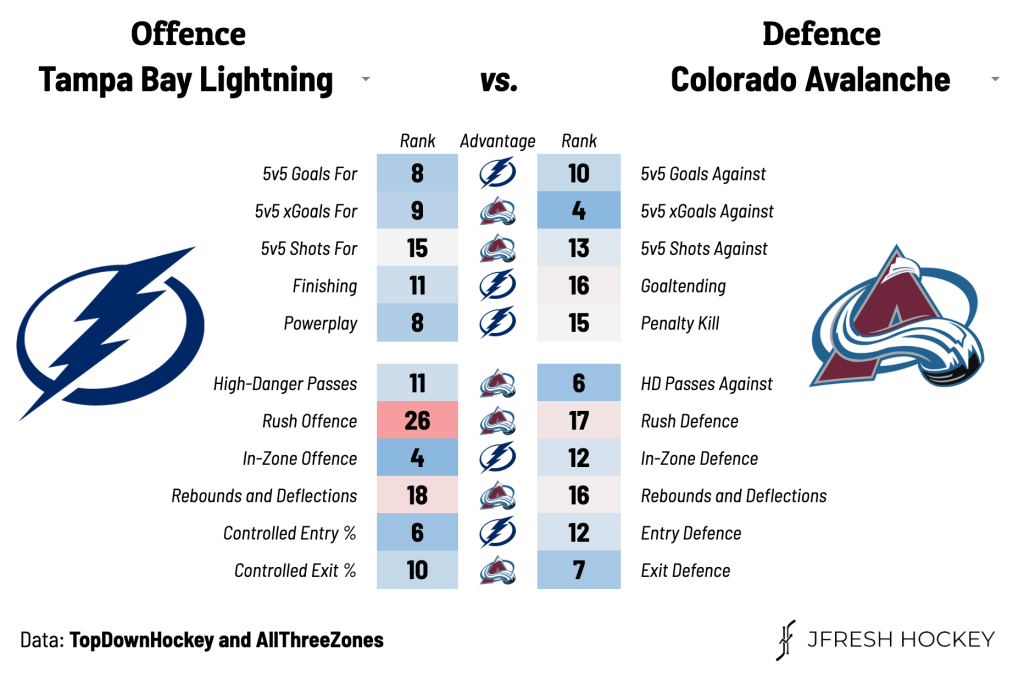 Once again, we've got plenty of parity in this series, The Bolts are a terror in the offensive zone, a cycling team only matched by the Avalanche themselves who can retrieve pucks, funnel them to the point, and create extended possessions. They have high-end dynamic talent (especially if Brayden Point comes back) that can create with speed if needed, but that is not a focal point of how they play. Depending on Point's availability, they will need Anthony Cirelli to continue his strong play from round three (where he only scored three points but was a menace all over the ice) and Nick Paul and Brandon Hagel to punish Makar and Bowen Byram off the forecheck.
The Avalanche are known for their offensive acumen, but no team has been better defensively in the playoffs. The emergence of Byram as a high-end defenceman combined with the usual excellent play of Makar and Devon Toews has given them a pretty impenetrable trio.
The question is, what will happen when they run into a more patient and possession-heavy team? The Nashville Predators, the St. Louis Blues and the Oilers are not quite the Lightning when it comes to controlling the puck offensively.
Where things might go off the rails, however, is in net. The Avalanche currently stand at seven goals conceded above expected, by far the lowest mark of any team that made even round three. Pavel Francouz has been fine for the most part, and Darcy Kuemper at least has a solid track record previous to his injury problems so far in the playoffs, but this tandem could fall apart at a moment's notice.
Kuemper says he's ready, but which version of him will they get?
Analysis and Prediction
We're in for a real treat here. These teams are tight and present interesting strategic matchups against one another. Can the Avalanche's overwhelming puck movement, speed, and playmaking talent penetrate the Lightning's firewall in the slot, or will they be shooting at bodies all series like the Panthers did? Can the Lightning overload the Avs defencemen in the offensive zone, out-battling them and winning a grimy series with the help of a goaltending advantage?
Who's to say. Hockey fans deserve a long series and I think that's what we're going to get.
Prediction: Avs in 7.
You may also be interested in: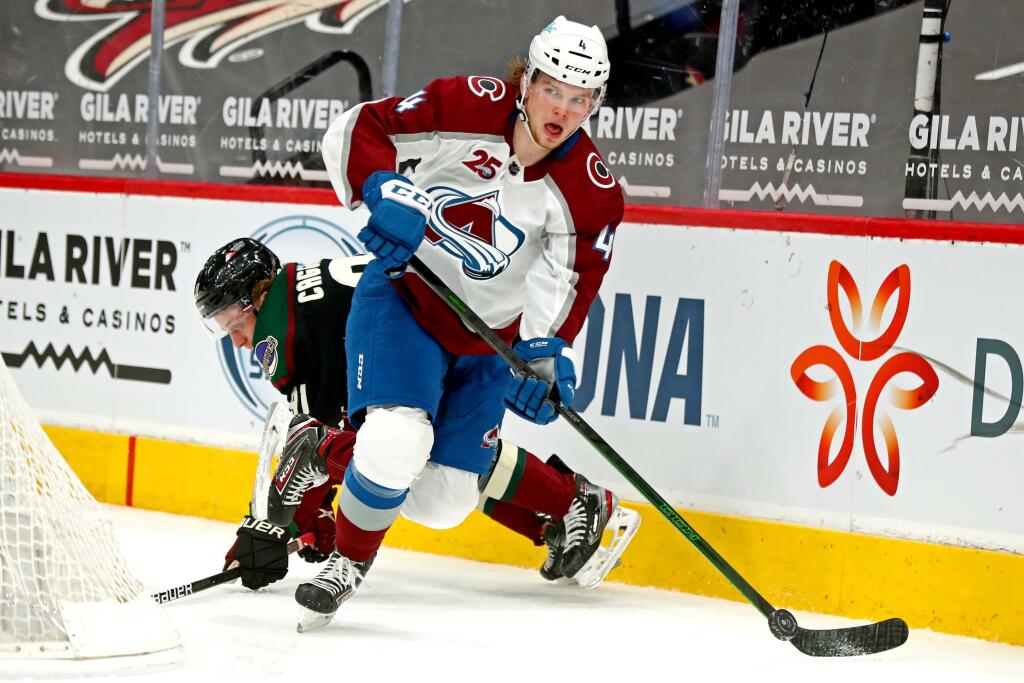 Why the Colorado Avalanche have the NHL's most modern defence
This article is about: