NHL
How the Colorado Avalanche defeated a dynasty to win the Stanley Cup
TAMPA, Fla. — Lightning struck twice, but it wouldn't strike a third time.
The Tampa Bay Lightning crowd that has been used to nothing but winning for the last two years emptied out as the Colorado Avalanche celebrated their first Stanley Cup championship since 2001 on the ice Sunday night at Amalie Arena.
The Lightning's two-year run as the champions came to and end with Colorado's 2-1 win in Game 6 of the Stanley Cup Final.
Just five days after winning the 2022 Norris Trophy, defenceman Cale Makar won the Conn Smythe Trophy to cap off an epic week. Makar had 29 points in the playoffs, fourth-most ever by a defenseman in a single postseason. Nathan MacKinnon finished the postseason with 13 goals, including the equalizer in the second period, and 24 points.
Cale Makar brought his brother to the podium with him pic.twitter.com/tqY3ri1vYR

— Abbey Mastracco (@AbbeyMastracco) June 27, 2022
Once again Artturi Lehkonen, the author of the game-winner that sent the Montreal Canadiens to the Stanley Cup Final last year, came through in a big moment. Lehkonen scored another clincher in the second period of this game. To make the moment even better, his father Ismo Lehkonen was in attendance working on the Finnish broadcast.
Ismo Lehkonen, who's here for Finnish TV, emotionally watches #goavsgo celebrate #StanleyCup after his son Artturi scored the winning goal. Asked why he wasn't on the ice with them, he said: "Let the boys celebrate." pic.twitter.com/kIdjiMa4wF

— Mike Zeisberger (@Zeisberger) June 27, 2022
"Pure joy being able to throw the gloves off and being able to experience that," Makar said. "It's so amazing to be able to experience it with such a great group of guys."
The Bolts put up a fight characteristic of dynastic team, winning Game 5 on the road to extend the series and give themselves a chance at home, where they had only lost two games postseason games. Coach Jon Cooper even predicted a long series, saying it was inevitable given the skill of both teams.
But in the end, the Lightning failed to become the first team since the 1982 New York Islanders to three-peat as the Stanley Cup champions.
"We didn't quit. We left it on the ice," Lightning captain Steven Stamkos said. "That's what we talked about. Leave it all out there. Sometimes it's not good enough, but we left it out there."
Any answer as to why Tampa Bay couldn't win its third in a row has to start with their inability to contain Colorado's speed.
The Avs showcased tremendous speed from all four lines and three defensive pairings that Tampa Bay was never able to slow down and never able to match. The Lightning are an incredibly skilled team, but fleet of foot they are not.
When looking for reasons as to why the Lightning lost, it has to start with Colorado's speed.
"All four lines can skate. That's what we did," Avs winger Mikko Rantanen said. "Just a team effort. We were working really, really hard. We have a lot of skill, but it takes more than skill to win a championship, and that's exactly what we did."
It did take more than skill—it took execution as well. And the Avalanche executed on special teams, not just winning the battle but dominating it.
The Lightning went 2-for-19 on the power play, a paltry 10.5 percent. They allowed six power play goals. These two historic strengths suddenly turned into weaknesses. They picked the wrong time to get good at them again.
But the blueline is really where Colorado shined, with the Avs getting 67 points from defensemen in 19 postseason games played. Only the 1985 Edmonton Oilers received more points from their defencemen with 67.
"They were huge," Avs winger Andrew Cogliano said. "I think our skating and their first touch with the biggest difference. Guys jumping into plays, like Bowen Byram and Cale. At the end of the day, those guys are tough to handle. With the speed of our forwards and those guys combined, it was a perfect match."
The Lightning were a one-line team throughout much of the series. Other than the top line of Stamkos, Anthony Cirelli and Nikita Kucherov, there was little offensive generation.
"They played how we usually play when they had the lead," Stamkos said. "I don't want to say we ran out of gas, but we had so many guys battling. Just didn't have it."
The injuries piled up for both teams but they were especially detrimental to Tampa Bay. Pat Maroon said people will be shocked when they find out just how many injuries players were dealing with in the Final. Brayden Point played in only two games. Cirelli and Erik Cernak played after sustaining injuries in Game 4, though they made not have been 100 percent.
But many top players struggle to stay on the ice by the time teams get all the way to the Final.
The Lightning certainly aren't the first team to struggle with injuries in Final. The Avs lost Samuel Girard in the second round. In the Final, they were without André Burakovsky, who scored the overtime winner in Game 1, for much of Game 2 and all of 3 and 4 and they went the first three without Nazem Kadri. Valeri Nichushkin, who scored nine goals in the postseason, was being pushed out of Amalie Arena on a cart with a boot on his foot and a beer in his hand.
"You remember the teams you win with. But I will always remember this one for what they endured what they went through to get to this point," Cooper said. "You have to marvel at them It's a little shocking what this group accomplished to get here. It was different than the other ones."
This also ends a streak of three straight Stanley Cup championships for Maroon, who won his first in 2019 with his hometown St. Louis Blues before joining the Bolts for the last two. This is the first postseason series loss for the Big Rig since 2018, when the New Jersey Devils were eliminated by the Lightning in the first round.
Summer won't be the same without you, @patmaroon.

— The Stanley Cup (@StanleyCup) June 27, 2022
For his Lightning teammate and former Anaheim Ducks teammate Corey Perry, it was his third straight Stanley Cup Final loss and he became the first player in league history to lose three years in a row with three different teams.
"I honestly feel bad for Pierre-Édouard Bellemare, Riley Nash, Nick Paul, Brandon Hagel, Brian Elliott and Pears," Maroon said. "We owe them one, and hopefully we'll be back next year and it will be a better feeling than this."
A dynasty is typically defined by three championships or more in a short span of time. The Lightning very well could be back for a fourth consecutive Stanley Cup Final next season to complete that feat, but they may have a legitimate claim to it already as one of the best teams of the salary cap era.

But there may be a changing of the guard. Colorado has been building toward this for the last five years. Despite three consecutive second-round exits and a sullen MacKinnon saying he hasn't "won shit" a year ago, the Avs have been among the top teams in the league since 2020.
Now they've proved that they are, in fact, the top team by ending the champs' reign.
"It feels like disbelief," MacKinnon said. "It's crazy. Can't wait to hug my family. Geez, it's hard to describe. I didn't really know what it'd be like to actually win it. Seeing all these warriors battle, it feels unbelievable. Words can't describe how I feel right now."
You may also be interested in: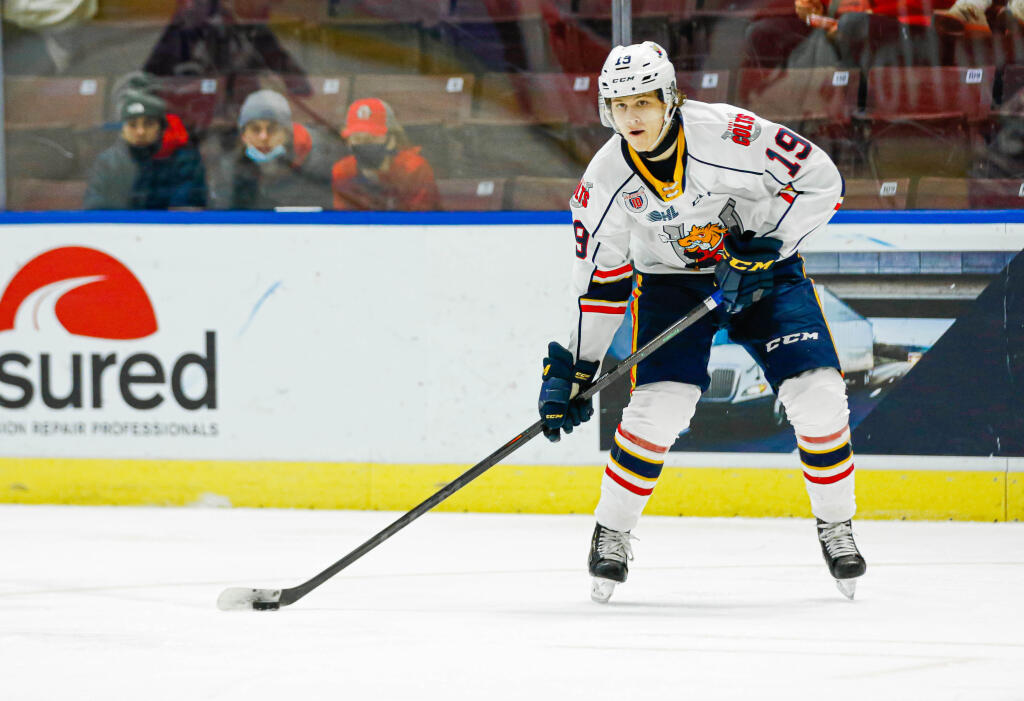 Film Room: Hunter Haight's flashes of unconventional, creative brilliance
This article is about: