NHL
EP Rinkside Top 20 left wing rankings for the 2022-23 season
Hockey is an immensely unpredictable sport, where factors both tangible and intangible can alter the fortunes of players, teams and everyone from the scouts to the general managers. Twitter analysts, casual fans, and sometimes front office personnel get it wrong more often than not.
Suppose despite that, you decide you want to prognosticate the future. In that case, the mission is simply to be a bit less wrong than everybody else, using the information you have available to the best of your ability.
That the trained eye test of countless scouts and general managers has led them to ruinous player transactions and the analytics in front of me led me to put Tomas Tatar in my top 20 left wings ranking a year ago is a testament to that. That's why, despite the objectivity implied by the stark numbers that appear on my player cards, I'd be the last person to say that the wisdom derived from analytics is the final gospel on player quality.
There are many factors; players play different styles for different teams, they're instructed to abide by different systems, they might be hindered by unseen nagging injuries that might cause calamitous drop-offs with no notice, or they get stapled to linemates with whom they lack chemistry.
Trying to come up with some arbitrary ranking is a fool's errand. But sometimes you just gotta do it. It's September, after all.
Now, I could just sort projected wins above replacement (WAR) from best to worst, put out those rankings, turn off my notifications and emails and move to a cabin in the woods where no Ottawa Senators or Vancouver Canucks fans could ever find me. But I'm not going to do that.
Instead, in the spirit of acknowledging the uncertainty of stats and the "eye test" alike, I'm going to take a more holistic approach, factoring not only TopDownHockey's WAR model but the treasure trove of manually tracked data that the indispensable Corey Sznajder makes available to the public through his AllThreeZones project. Sznajder's work is the closest connection we have to the uber-detailed data that NHL analytics departments use, and helps to quantify the actions on the ice that combine to form the beloved eye test (with less cognitive bias).
Like last year, I've compiled some of the players' most notable skills in graphics that show how they are projected to rank in each of their top categories compared to other forwards. Also like last year, instead of replicating a certain channel's much-maligned engagement-generating numerical ranking system, I'll be dividing players into tiers where they can sit side-by-side with other similarly valuable players.
Today we start things off with the top left wings. Remember that positions are often fluid (especially with wingers), and I will be referencing CapFriendly.com for primary positions. If there is a notable player you think I'm egregiously missing, there's a good chance they will be forthcoming on another list.
---
Tier 1 - Generational
It would be cool to see a left winger in this category, but not yet.
Tier 2 - MVP Contenders
2021 Ranking: Tier 3
A year ago, I said that while a rookie season might not be enough to cement a player as among the league's elite, by the end of the 2021-22 season he'd probably quash all doubts. He did exactly that. His astonishing 47-goal, 108-point season was the best in Wild franchise history and reflects his immense versatility as an offensive player. Kaprizov is an elite shot creator and finisher, ranking in the top 5 percent of the league in virtually every metric related to generating opportunities and goals for himself and his linemates. Combined with an underrated defensive conscience and a knack for drawing penalties and it's clear that this guy is the real deal.

2021 Ranking: Tier 4
After two relatively underwhelming COVID-shortened seasons, Gaudreau stormed back in 2021-22 with an MVP-level performance. The Flames' top line scored 70% of the goals when they were on the ice at 5-on-5, and Johnny Hockey's elite transition play and unstoppable high-danger passing were the primary reason why. The list of players who can attack with speed better than him is a very short one, and his ability to get goalies moving side-to-side makes life easy for his linemates. Can he repeat his success in Columbus? He'll have to do even more on his own, but he certainly has the talent.
Tier 3 - Franchise Wingers

2021 Ranking: Not ranked
Any concern that Robertson's rookie season was a flash in the pan vanished pretty quickly in his sophomore campaign. He's dodged the criticisms about his skating that dogged him as a prospect and has turned into a scoring chance and goal machine in the NHL, driving the Stars' dynamic top line while producing at an 87-point pace. Robertson specializes in creating opportunities for himself off of extended cycle sequences, and while he doesn't exhibit the elite playmaking of some of the other names on this list, he's far from a one-dimensional offensive player.

2021 Ranking: Tier 2

Panarin was his usual extremely productive self in 2021-22, putting up an 80-assist, 106-point pace campaign. His passing numbers remain among the very best in the league, suggesting that his talent as a playmaker is just as strong as ever. But the rapid erosion of his defensive results as his play becomes more and more focused on quick-strike counter-attack chances combined with a dip in individual chance and scoring efficiency dips him down a tier from last season. But he's still one of the more elite wingers in the game.

2021 Ranking: Tier 2

We finally saw a small dip for the age-curve-defying Marchand in 2021-22, but barely. He's still one of the league's most efficient 5-on-5 players, productive, versatile, and deadly with the puck on his stick in transition whether at even strength or on the penalty kill. His tenacity leads to plenty of drawn penalties (even if he takes plenty himself) and his ability to move the puck hasn't waned one bit. He also combined with Patrice Bergeron to create one of the best defensive forward units we've seen in the cap era, and while Bergeron deserves most of the credit for that, Marchand's commitment to back-checking and in-zone battling isn't in doubt.

2021 Ranking: Tier 3

One of the most divisive players of the 2021-22 season, Huberdeau's absurd production (on pace for 87 assists and 117 points) combined with his poor defensive metrics to perfectly serve as yet another proxy battle in the war between traditional and analytically-inclined observers. Nobody will argue about his amazing passing, which is especially deadly when he has a numerical advantage, whether it's an odd-man rush or a powerplay. The Flames trust that he will be able to step right in and replace Gaudreau. It's not out of the realm of possibility for him to have a better season than his predecessor.

2021 Ranking: Tier 4
It's easy to forget how young DeBrincat is, because not a lot of players score at a 40-plus goal pace three times before turning 25. There's no doubt that he's one of the best snipers in the sport, and his all-around offensive skillset is strong as well. He will likely have to do a bit more work with the puck in Ottawa than he did when placed on Patrick Kane's line in Chicago, but I'm not too concerned about the transition. He has performed well regardless of who he has played with, and the Senators' top six are looking very solid.
Tier 4 - All-Star

2021 Ranking: Not Ranked
Connor barely missed the cut on last year's list due to his awful defensive results. They were just as bad in 2021-22. So what gives? Well, he upped his offensive game that much. The pristine hockey card stats — 47 goals, 93 points — show the results, but the process is as versatile as any sniper in hockey. Carrying the puck in transition, striking off the rush, scoring from distance, attacking on the power play and the penalty kill, and generating chances at an elite rate is more than enough to excuse a little lackadaisical defensive play at even strength.

2021 Ranking: Tier 5
I was a bit let down by Tkachuk's performance in the shortened season, which didn't line up with his evident talent as a unique blend of physicality and playmaking skill. It's safe to say that after a 42-goal, 104-point season I'm a bit more satisfied. Tkachuk played a crucial role on the aforementioned buzz-saw that Calgary sent out every night, cementing himself as a top contributor and earning himself a pricey extension in Florida. While some regression is quite likely, especially given his inconsistent history, the opportunity for more personal puck time away from Gaudreau might give him even more of an opportunity to shine.
2021 Ranking: Tier 3
Age curve be damned, Ovechkin is apparently not done being Ovechkin. Whatever limitations he may have at this point (and there are plenty of them), he's still one of the absolute best in the league at not only scoring his signature top-of-the-circle one timers but also creating shots and chances. His elite rush shot rates defy aging almost as much as his scoring does.
Tier 5 - Great First Liner

2021 Ranking: Tier 5
While he may never get the respect he deserves due to his good fortune in playing with Sidney Crosby, Guentzel continues to be the ideal linemate for a skilled player. Confident and efficient with the puck, the two-time 40-goal scorer is one of the top passers in the league off sustained in-zone attacks, where his high hockey I.Q. allows him to pick apart defences and extend possessions. Sid can always count on him to be in the right place for a chance in tight.

2021 Ranking: Not Ranked
For a moment, things were looking a little dicey for Meier. Underwhelming production and flagging analytical results were an unexpected development for a player who looked to lead San Jose's youth movement. But even as the Sharks continued to struggle, Meier surged back to his old ways, creating chances and goals at an elite rate at 5-on-5. His knack for carrying the puck across bluelines and striking off the rush is especially important on a roster that lacks players who can create offence.

2021 Ranking: Tier 5
For years, Forsberg has been best described as a jack-of-all-trades-master-of-none type, good at everything but never quite elite enough in any one area of the game (outside of the occasional flashy deke) to garner the equivalent attention of his more productive peers. Great chance creation, strong transition play, creative passing, and decent defensive work can only get a guy so much hype (and salary). But after season after season of reliably 65ish point paces, Forsberg was on pace for nearly 100 this season with a career-high 42 goals. Sustainable? Probably not. But it's a nice exclamation mark for one of the league's most reliable wingers.

2021 Ranking: Tier 6
A habitual model-breaker, Svechnikov does not look as good as he should whether you go by points or WAR. Nobody with his balanced tool kit of chance creation, high-danger passing, rush and cycle play, and aggressiveness should be stuck at 30 goals or 70 points. The sky is the limit if he can get better at converting his opportunities (and it also wouldn't hurt if he took fewer minor penalties).
Tier 6 - First Liners

2021 Ranking: Not Ranked
In three years of pumping his tires, I have not yet been let down by Mangiapane, so I'm putting him on the list. Combining a sniper's shooting skill and some of the best two-way playdriving in the league, the winger has been a model of efficiency and consistency in the past few seasons, responding to each promotion in ice time with even more production. Excellent defensive play at both 5-on-5 and the penalty kill is not something that tends to accompany scoring touch like this.

2021 Ranking: Tier 6
The consummate "glue guy." Landeskog might not possess the dynamic skill of any of the other players on this list but he fills in every blank asked of him in the Avalanche's top six. His high-end defensive skill, headlined by one of the best sticks in the game, as well as his knack for extending offensive possessions with smart plays along the wall, makes his elite linemates better.

2021 Ranking: Tier 4
We won't see Pacioretty in a Hurricanes sweater for a long time thanks to an unfortunate Achilles injury incurred during offseason training. It's a shame too, because ever since his trade to the Vegas Golden Knights in 2018 he has done nothing to suggest that he isn't among the top snipers in the sport. While he's no liability defensively and a decent passer as well, by far his biggest strength is an ability to get in the right areas and put the puck in the net.

2021 Ranking: Tier 6
Don't let a mere 61 points make you think that Hall's decline is cemented and he's lost the dynamic skill that once made him an MVP. Limited minutes on a team stacked with left wings might have hurt his totals, but he remains one of the top transition and rush wingers in the game and a dangerous passer who is by no means a liability in his own end. With his old linemate David Krejci back, he could have a big season.

2021 Ranking: Tier 6
Last year I dared the universe to punish me for putting Verhaeghe on this list and make me look silly. It did not! Florida's embarrassment of offensive riches limited his 5-on-5 minutes, but Verhaeghe did nothing to suggest that he isn't for real. Elite play-driving and scoring chance creation, efficient goal and primary assist production, and a repeatedly demonstrated knack for generating looks off the rush keep him on here and save me from looking too foolish.

2021 Ranking: Not Ranked
Even the most delusional Rangers fan recognizes that Kreider is almost certainly not going to repeat his unbelievable 52-goal career season. But that doesn't mean he's not a great player. Kreider's strong skating and uncanny ability to tip pucks are his biggest asset, and even if he regresses back to normal he still offers reliable two-way play with net-mouth scoring upside.
2021 Ranking: Not Ranked
This is the part where I say screw it and take a wild stab (a bold, wild stab, if you will). Boldy stepped into the Wild lineup halfway through 2021-22 as a rookie and performed excellently, producing at an efficient rate with strong underlying results and solid microstats across the board. Maybe it's an overreaction to a small sample, and the on-ice shooting is definitely unsustainable. But hey, hockey is an unpredictable sport. I'm going to trust that this kid is for real and that a full season and a larger role will vindicate his placement here.
Honourable Mentions:
Greetings, angry scroller! Brady Tkachuk is improving and certainly came closer to the list this time around than he did last year, but I'm still not fully sold on his quantity-based approach to offence, his limited skating and puck skills, and his still-ugly defensive results... Staring down a contract year, the microstats suggest that Tyler Bertuzzi is due for a season where he'll put up a lot of assists despite a track record of his linemates squandering his passes... I'd love to see Cole Caufield on this list next year, but his playmaking and defence would need to take a major leap. He ranked in the bottom 5 percent of the league in both categories last season... Michael Bunting is an interesting option, but unfortunately, when I added an age curve to his results my computer insisted he was due to retire.
(are we sick of these Calder Trophy jokes yet?).

You may also be interested in: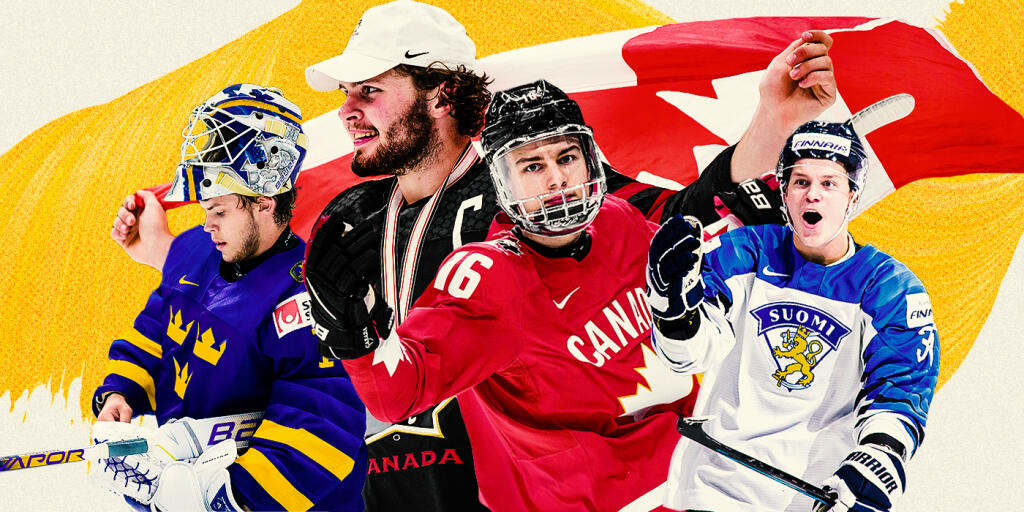 2022 World Junior Championship Standouts
This article is about: