2022 NHL Entry Draft
Devin Kaplan is starting to create an identity moving forward
Most teams in the NHL want a few offensive players with size and skill. General managers around the league are still using the buzzworthy phrase "hard to play against", and that was a strategy for the Philadelphia Flyers at the 2022 NHL Draft.
Their third-round pick, the second selection for them in the draft was 6-foot-3, 205-pound winger, Devin Kaplan.
Getting third-round picks to play 200 games in the NHL is hard. Once in a while, a player slips there which makes you think he can be different; he can make it. Kaplan is one of those guys because he isn't defined by one thing he does. There are a lot of things he does well, and the trick is putting it all together.
"We had an unbelievable team. I loved playing for that team. Anybody would have done anything to win," Kaplan told EP Rinkside. "I kind of accepted that and ran with it. We wanted to win the gold medal in the U18s. Unfortunately, we didn't do that. My role there was accepted to do whatever the team needed to win."
Kaplan was a jack of all trades while with the U.S. National Team Development Program, playing in all situations. He is going to change that going forward. Just being physical on the ice isn't enough and playing in the crease isn't enough.
Kaplan is creating a new identity to meet the challenges ahead.
"I'm an athletic power forward who can make space for his teammates and make plays for himself too. I think I can bring a little bit of everything to the table," Kaplan said.
Cutter Gauthier was one of his NTDP teammates and he got drafted by the Flyers in the first round. Having continuity in the future with players that have already played together is a plus on the ice, and it may mean more off the ice as well.
"Those guys are everything. Those are the best years of my life. They're my brothers," he said. "I saw (Frank Nazar) and Cutter last night and gave them hugs. It's really cool."
Before Kaplan steps onto the Boston University Campus, he has more summer work to do.
"I am concentrating on getting bigger, stronger, faster regarding my power forward game," Kaplan said. "I want to play more of a straight-line game. Kind of perfecting that first, and then I'll figure it out from there. I feel like to need to confirm my identity and be more consistent with it."
The next version of Kaplan will be a more skilled forward. His passing improved more than any part of his game as the USHL season played out. In the IIHF U18 World Championships, he had six points in six games and five of those points were helpers.
Kaplan can make a strong pass cross-ice that was able to set his teammates up with a scoring chance because of the patience he possesses and the ability to see something open up for a split second.
"I think my passing, my hockey I.Q., and my transition game are underrated," Kaplan said.
Going into Philadelphia's development camp, Kaplan was already crafting his new identity. He was in a mode that knew his competition was going to be fierce in the next few months in NCAA, but first, he had to impress the Flyers in camp.
"I want to be somebody who establishes himself on the ice, every shift," Kaplan reiterated. "Also, someone who can complement other skilled players. He can play a role anywhere you want him to and help the team win."
At the beginning of camp, he was working with Gauthier. That was great to start feeling comfortable at the start, but I was more interested to see him working with other players who weren't familiar.
Kaplan did show good agility in skating drills. Being 6-3 is nice, but being able to get around players is necessary, and he can do that.
"Obviously, a lot of good competition here, and it's nice to see the guys from different leagues because I'm kind of sheltered playing in USHL and college competition," Kaplan said. "It's nice to see the guys from all around the world. It's a good mixture of guys. With the coaches, they are doing an unbelievable job making you feel welcomed. It was really good, and I had an awesome time.
"For me, I think it's to keep developing my power forward game, picking up pucks off of walls, cutting guy's hands off, the little subtle things that will help me develop and dominate at the next level. I'm looking forward to that."
Being exposed to pros like Zayde Wisdom influenced Kaplan. It was a great primer to his upcoming season with Boston College.
"Yeah, it was awesome," Kaplan said. "I talked to him a lot about his first taste of pro, and it was really nice to hear from him, and all the other guys too. Their experiences and just take that all in. It was really good."
At the end of one of the games, Kaplan had a chance for a shootout. Everyone has one or two moves, and to be honest, I'd never seen him in that situation. He came in on the goalie fast, slowed it down, and did a power wrist shot that flew past the netminder. He talked about that afterward.
"I've got a couple in my bag, but that's one of my go-to's," a grinning Kaplan said.
Kaplan has the makings of a bottom-six wing. An effective, hard-to-play-against, talented winger. Like most bigger players, I expect him to get better in stages, and I'm not looking for him to turn pro after this season and possibly next. He needs the time to get stronger and to find his identity on the ice.
You may also be interested in: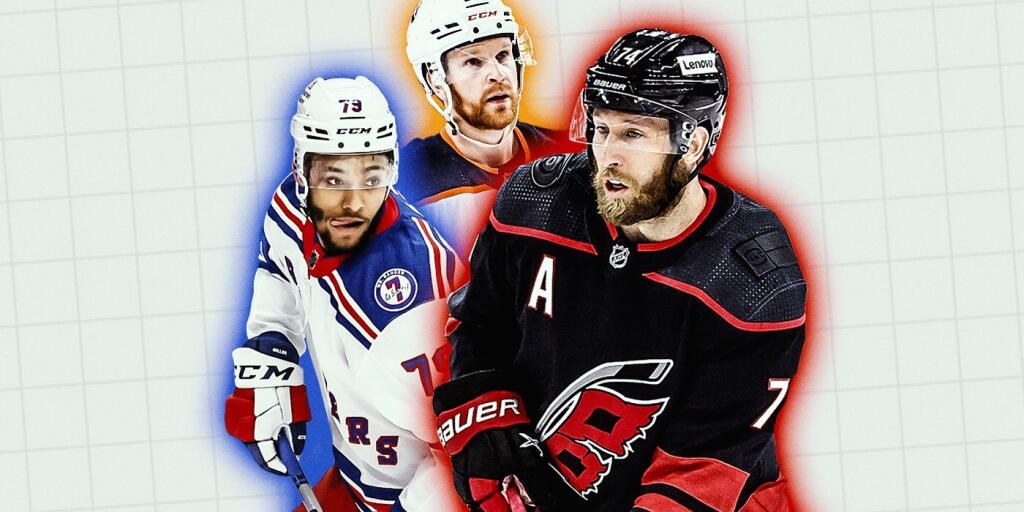 How defencemen defended their blue line against zone entries in the 2022 Stanley Cup Playoffs
This article is about: