Prospect Pool Rankings
Ranking the NHL's top 100 affiliated prospects in 2022: Skaters 100-51
The EP Rinkside affiliated prospect rankings is back ahead of another season, here to get you up to speed on your favourite team's future, starting with a countdown of the top 100 skater prospects that are yet to establish themselves as full-time NHLers.
For the purposes of this exercise, we've determined that a prospect is any player who is eligible for the Calder Trophy, awarded to the NHL's best rookie in a given season.

For as much fun as we have with this series, it's a pretty challenging project, too. There's a great deal of subjectivity baked into every evaluation and sometimes you're splitting hairs from one player to the next. Frankly, the gap between each prospect from about 60 onward is pretty much negligible, as expressed by the Future Value (FV) tier that houses them.
We're always trying to strike a balance between certainty and upside, but it's the latter of those two player qualifiers that can shift the balance of power. There's more to it than that, though. We also look at the projectability of a player's skill set and how far that can take a player with the right development regimen. Then there's the matter of age and positional value, which also play a role in determining a player's value.
Ultimately, though, it's pretty straightforward when you get to brass tacks: We're ranking players according to where we see them in four or five years' time.
You're going to see a handful of different statistical outputs on each player card, including tools grades, pGPS, and Future Value.

The tool grades (skating, shooting, passing, etc.) are pretty straightforward. We grade a player's tools on a 1-to-9 linear scale, with a 5-grade representing a skill that is at about NHL replacement level. For further clarity, I've clipped the section of the Elite Prospects 2020 NHL Draft Guide that outlines our rating system.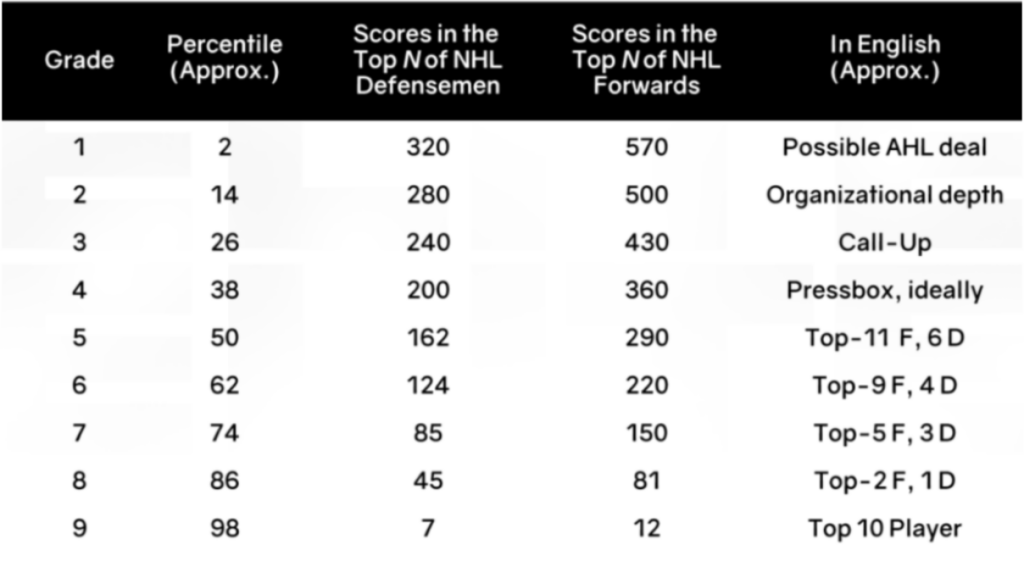 Lastly, you'll want to familiarize yourself with our Future Value metric, a statistical measure that Elite Prospects Dir. of North American Scouting Mitch Brown developed to provide a holistic, one-size-fits-all rating for prospects. If you're unfamiliar with the term, it's a tool that we've adopted from the baseball scouting sphere, and modified to our own ends. You can read about it here.
With that, let's get to it.
Access this article by registering
FREE account required to access
this article
Register as a free user at eliteprospects.com to get access to this article and more quality, in-depth coverage at EP Rinkside.
(only name and email address are required)
This article is about: