Fantasy Hockey
Fantasy Focus: Finding the breakout players for the 2022-23 NHL season
There is one surefire way to succeed in your pool, and it's finding undervalued players that are set to pop off. You have to take some risks to find them, but when you hit, the payoff is far greater than the cost of missing.
Needless to say, I'm constantly looking for the next breakout. I'm sifting through projected lineups, sorting through 5-on-5 shooting metrics, and a whole host of other data sets to try and get an edge.
In the end, there are three main things that I look for when assessing the likelihood of a sizeable jump in production.
Opportunity: Will there be more offensive minutes, better linemates, and increased roles for this player?
Readiness: Is the player ready to take on those minutes, and find the success needed to hold that spot? In that case, experience is usually the best indicator, but not always a necessity. We're seeing younger and younger players find instant success in the greatest league in the world, so long as they have that crucial first point locked down.
Quality of team: You almost always need to be surrounded by skillful players for your numbers to pop. Sure, there are some stars on an island that can make it happen, but those players are well-established and you're not likely to extract surplus value by landing them at the draft or via trade. There are fewer offensive spots to go around on the blue line. In most cases, it's just the one top power play spot, and then two on the second unit. If you're on that second unit, you hope it's on a team that prefers a 60-40 split rather than an 80-20 like some of the big boy squads. We want to see a high percentage of offensive zone starts and a healthy dose of man-advantage time to even consider a breakout possibility.
With that in mind, here are a few candidates, as well as a few more who will take a step forward next season but are not quite ready to go off.
If you can find a player that hits all three of these markers, well, you've got yourself one heck of a good bet to see a sizeable increase in production. Two of three will do, assuming one of those is an opportunity or at the very least a short path to that opportunity.
With those keys in mind, it's time to take a gander at a few players who could see their stock quickly rise this season. And if you're fortunate to nab them later in drafts or even, *gasp* on the waiver wire post-draft, then you'll come away looking like a wizard.
Calen Addison, D Minnesota Wild
This past summer, the Minnesota Wild simply gave away Dmitri Kulikov for free. They did this for two reasons: to open up some salary cap space, and to open up a roster spot for Calen Addison.

The 22-year-old defender has been dynamite in his two-half seasons in the American League. Over that stretch, he's recorded 13 goals and 58 points in 77 games. It's exactly the type of production you want to see from a high-end offensive defender. It's even better when the big club is loaded with talent up front but has long been in search of a blueliner who can match that level, especially on the power play.
The key now will be proving that he's capable of handling the top power-play quarterback position, a burden that has fallen on the captain, Jared Spurgeon's shoulders in recent seasons. It's not that Spurgeon has been bad in that role, but typically we see the top unit defender rack up more than a dozen or so points while up a man over the course of a season. Considering the type of talent up front that Minnesota has, this should be the case, but Spurgeon isn't producing a lot more than that (14 power play assists last season).
The Wild have long been searching for a true mover on that blueline, and the homegrown Addison is the best chance they've got. But he better hurry, because if he can't solidify that position by the midway point of the season, we expect the Wild to start shopping for someone who can.
Peyton Krebs, C, Buffalo Sabres
Listen, I'll be completely honest here, I really like Peyton Krebs, one of the key returns in the Jack Eichel trade. I have for years. He has a seemingly endless motor, possesses above-average across-the-board tools, boasts a high-production history and pedigree and will have a darn good shot at that secret ingredient: opportunity.

The Sabres are a team on the rise but have yet to identify their true core. Rasmus Dahlin and Owen Power will anchor the blueline. Tage Thompson's new shiny deal means he's the de facto top-line center for the foreseeable future.
But the rest remains a bit muddied. Krebs has an opportunity to ensure he's a part of the top-end receivers of ice time this year.
During his rookie campaign last season, Krebs split his time between the Vegas Golden Knights, Buffalo and the American Hockey League. In the minors, the 21-year-old was excellent. Posting 15 points in 18 regular-season games and 11 more in 10 playoff games. With the Sabres, he produced 22 points in 48 games, including 10 on the power play, all while seeing 14:42 of ice and 2:19 on the power play.
Those power-play minutes and production are important here as the Sabres have a very clear spot up for grabs on the top unit. Krebs should have an inside track to it, and if he can nab it and the unit can succeed early, we could be talking about a second-year player who can push into that 60-point zone.
Alexandar Georgiev, G, Colorado Avalanche
This one is pretty easy to identify. Alexandar Georgiyev is going to be in a position to become a real asset. The former New York Ranger backup has suddenly found himself as the frontrunner to stop a ton of pucks for the defending Stanley Cup champs.

The 26-year-old has a respectable .909 save percentage over 129 career starts spread over the past five seasons. He's never played more than 37 games in a single season, and we're talking about his entire recorded goaltending career. But it sure looks like that's going to change this season.
Of course, we could see Georgiev and Pavel Francouz split duties completely, which could happen to begin the season. But as soon as one gets hot, the club will likely roll with him. The reason we give Georgiev the edge is due to his age, his salary cap hit and the fact that Colorado spent assets to acquire him. They're somewhat committed to this venture.
I feel I've made a clear case that there is risk associated here. You could end up for a 55-game starter on an elite club. Or you could be using a draft pick on a platoon guy who can't grab the ball and run with it. As such, being patient on draft day will be key in this situation.
Lukas Reichel, C, Chicago Blackhawks
I didn't really plan to include any rookies in this piece since I'll be breaking down rookie projections later this week, but Lukas Reichel forced my hand simply by being in a spot that could be very beneficial.

The 20-year-old was downright excellent as a rookie in the AHL last season. His 1.04 points-per-game (57 points in 56 games) as a U20 player last year sits as the ninth-most productive teenage season EVER in the AHL.
That is nothing to sneeze at.
Now, the Blackhawks are quite clearly tanking. They want the top spot in the 2023 class or as close as humanly possible. The exodus of talent has been long and guttural this off-season. But Patrick Kane remains and he's got to play with someone as long as he's around. That someone could very well be Riechel as the team affords its young players advanced opportunities.
Jakub Vrána, LW, Detroit Red Wings
This one has been everywhere and it's obvious why. Jakub Vrána is super skilled but has been struggling with health for some time. But when he is healthy, he produces. Now, he'll likely get a chance to do it on the Red Wings' top line and power-play unit.

I had to mention it because we'd be remiss not to. Vrána is set up for a big-time season if he can stay healthy.
Dawson Mercer, C/RW, New Jersey Devils
It would be something of an understatement to say that Dawson Mercer surprised many with his rookie performance last season. His 17 goals and 42 points were the seventh most among all first-year players and he did the lion's share of his damage at even-strength, with 83 percent of his points coming at 5-on-5.

The Devils are a very interesting team. They have obvious skill on the big club and coming through the pipeline. And the prime real estate will be held by those skating alongside Jack Hughes at even-strength and on the top power-play unit. Mercer played just over 17 percent of his even-strength ice next to Hughes last season, and virtually no time beside him on the power play.
BUT! That 5-on-5 percentage was the second-most of any winger. The team is clearly looking for combinations to link up, and the way there's some speculation that Jesper Bratt and Nico Hischier might be a pair on the second line. This could very well mean Mercer gets the plum assignment — at least at 5-on-5 — next to Hughes.
This is a player who does a lot of things that help ultra-skilled players succeed. He's skilled enough to hang with the creative side of things, but also plays the puck-pursuant style that can work the wall and win battles. Doing some of the heavy liftings that are always needed.
Adin Hill, G, Vegas Golden Knights
This one is a deeeeep cut. But we've got to cover all of our bases here. Someone is going to be the starter in Vegas. It could just end up being a recycling centre all season, or the team could go out and trade for a legit starter, but if they don't, the guy everyone is sleeping on is Adin Hill.

The 26-year-old is huge (6-foot-6), he's been above-average in spot start duty the last three seasons, and he's a warm body. If he can show capable early and or get hot for a stretch, then it's not far-fetched to think the club won't give him a sustained run. No one else on the roster has a resume that demands the crease, so maybe a late flyer could be worth your time.
You may also be interested in: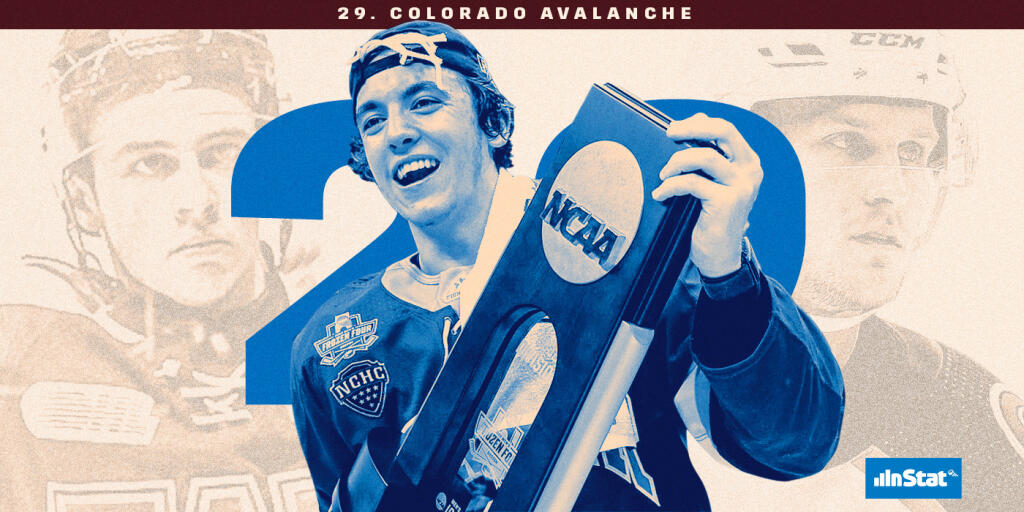 EP Rinkside 2022 NHL Prospect Pool Rankings: No. 29-ranked Colorado Avalanche
This article is about: