2023 NHL Entry Draft
Charlie Stramel embraces the challenge of being a true freshman at Wisconsin
Charlie Stramel is a true freshman playing out his draft year at the University of Wisconsin. That's no small feat. In a league with players as old as 25 who are much further along in their physical development, playing at the ripe young age of 18-years-old can represent quite the challenge.
Someone with Stramel's build (6-foot-3, 215 pounds) is far better equipped to handle it than most. It's why he felt confident making that leap in a season where the stakes have never been higher.
"I think to an extent. It helps that I've always been very big. I take the weight room very seriously. Making sure I can physically stay up with these guys. I've been playing up since a very young age. Through Pee Wee, squirts, and all of that. It's something I'm used to. I enjoy the challenge," Stramel told EP Rinkside. "It's awesome. It helps my game a ton especially playing with the older guys."
Watching the 2022 NHL Draft motivated him. He saw a lot of friends and teammates get their names called.
"It was awesome to watch that draft this summer. To see some of your best friends have that dream of getting drafted and being one step closer to that highest level. Just talking to them about it and that whole experience of the draft. It's surreal, and I'm so proud of those guys. It's something that is very cool to see," Stramel said.
Power forwards have a place in hockey even in this contemporary environment that increasingly prioritizes speed and skill. That's part of the draw with Stramel – he fits the bill.
"I like to think I am a power forward. I have speed and like to play a 200-foot game. I like to be hard to play defensively and hard to defend offensively. Help my linemates out and do anything I can to produce," said Stramel. "A 200-foot power forward that uses his speed to the best of his advantage with size and physicality."
Like most players these days, Stramel has learned how to be disruptive when he's playing defence.
"I think just jumping on guys and making an unexpected defensive play. Make it seem like you aren't going to jump at them, and I have a long stick because I'm a bigger guy, so I'll do anything I can to get the puck and get it going on offence," Stramel admitted. "Closing plays is a big thing in my game to try and help my team get on offence."
A scout had this to say about Stramel.
"He will probably go in the top 10 or 15 picks. He's a huge centreman. Good skater. Can play the power game, and he's got some sneaky finesse offence too. Wisconsin is playing him a ton. Scouts want to see him play with more consistent awareness as the season progresses."
Wisconsin could have a good team this year, even though they've struggled early. It's something that motivates Stramel.
"I'm really excited to be here. I am excited to be a part of this team. I'll do anything I can to help us have success," said Stramel. "The team has a lot of potential that we can live up to. The year is just starting, and being with these guys every day has been a blast. I can't wait to continue with this season."
Like most players, Stramel worked very hard over the summer.
"I trained in Royalty Sports Performance, Gym with P.J. Atherton skills coach on the ice. Both are located in Minnesota and about six to eight weeks in the summer in Wisconsin. Those are some of the things I did this summer."
It's hard to eat right with all that great cheese available.
"You just have to limit it," Stramel laughed. "I can have some cheese every once in a while. It's a new experience and there are new foods to try."
Kohl Center is a great place to play.
"It's unreal. It's state of the art here at Wisconsin," Stramel boasted. "I haven't seen much better throughout my career including touring places. The campus is great, and the city of Madison is a college town. I love it here. I couldn't have asked to come and develop."
Stramel thinks he will come out better developed going the NCAA route.
"100 percent. I think everyone has their own path. Personally, I think college hockey will help you the most. Not just for developing my game but enjoying it," Stramel explained. "I'm trying to get my degree. Enjoying the lifestyle of college. It's always fun. College hockey in a big stadium. The alumni that have come through here. It was for sure the right decision. I'm looking forward to loving it and the grind."
As a student, Stramel is focused on getting his degree.
"It was always a goal of mine and for my mom who was a teacher for a lot of her life. I have a lot of teachers in the family. My grandma and grandpa. That's a great thing for them too. It's big for me to go and get my education. I'll always have that and always have those other plans. It's huge."
Multi-sport athletes are becoming rare even for teenagers. Stramel makes a case to change that thinking.
"Just going to learn to skate at 4 or 5-years-old. I played football, soccer, and baseball growing up but none of them compared to hockey. I played baseball until I got to the program. I love baseball. Once I step on the ice. It's different for me. It's a passion," Stramel opined. "I don't have to go to the rink and work. I want to. It's different. The love of the game. It stuck out my whole life. It continues to.
"Growing up being a multi-sport athlete can help people. It helps eye-hand coordination. If it's hitting the ball or tipping pucks in front of the net. I think a lot of that can translate."
Stramel has worked on his wrist shot. He knows he can't always get to the net, and he thinks he is a threat on the power play.
"A great threat. I've been working on that a ton this summer. Even if it's working on it after practice. Going to the shooting room as much as you can. I have worked on it a ton and trying to get better and better every so when I get in a game I have that confidence," Stramel pointed out. "A quick release is huge. Shooting at angles because goalies get better and better moving up."
In a very deep top 10. Stramel will have to produce to reserve a spot there next June.

You may also be interested in: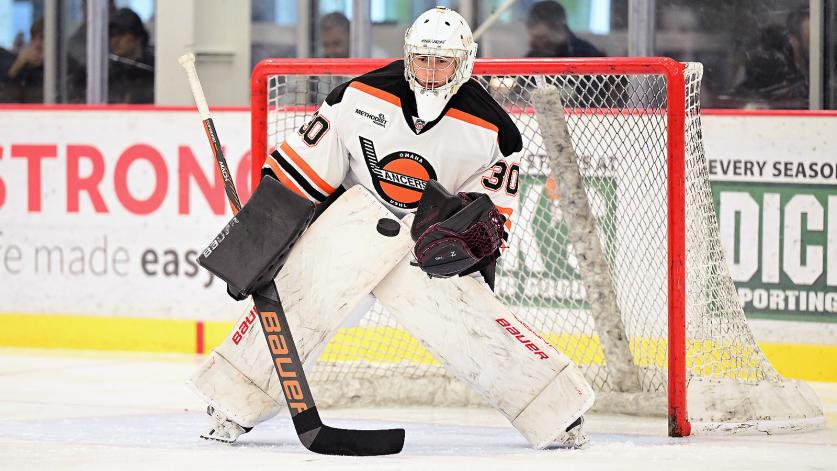 "He's got traits that project to being a No. 1 goalie in the NHL": Michael Hrabal has his eyes set on a first-round pick
This article is about: