2023 NHL Entry Draft
Ryan Leonard's star is rising for the 2023 NHL Draft
PLYMOUTH, Michigan – Ryan Leonard may not be getting the headlines or draft buzz of some of his teammates, but he's currently third on the USNTDP U18 squad in scoring and doing the sort of dirty work away from the puck that you need from a complete centre to win hockey games. You really got a sense of that with his performance at the U18 Five Nations tournament.
"The team has really adjusted to international play. We got it taken away from us last February when we were supposed to host. We got a lot better as the tournament went on," Leonard told EP Rinkside.
Those international tournaments are critical to a player's development, and it's a big part of why the USNTDP is such an appealing destination for top prospects. They covet that experience. Still, it's important that they stick to the game plan set out by their coaches and play their games. That's the key.
"I feel like playing against overseas teams are more skilled, systematic, and like to control the puck a lot more," said Leonard. "It still doesn't change our game."
For Leonard, that means going all-out in puck battles, giving his all and escaping as many scrums as possible with possession, setting up scoring chances for himself or his linemates. It's a staple of his game.
"I always take puck battles personally. I want to win all of them," Leonard reinforced.
Leonard has a way of making his own space on the ice. Sometimes he does that with his speed but a lot of times he does that by going through high-traffic areas and coming away with the puck. At 5-foot-11, 180 pounds, this centre is strong. He is in great physical condition, and he knows how to use it to his advantage.
"I'm the type of forward who likes to get to the net," Leonard stated. "I like to use my lower body and I focused on that in the weight room. It gives me power and helps me a lot. I feel like some players don't go to the hard areas enough and I feel that's a spot where you can get rewarded the most."
Leonard is the most versatile forward at the program. He can play all three forward positions without so much as skipping a beat. Whether that versatility will translate to the next level, though, is one of the questions scouts are going to have to ask themselves ahead of this year's draft. We always hear about what skills are NHL transferrable and which ones aren't, and he presents an interesting case study.
Here's what one NHL scout had to say about Leonard's game to EP Rinkside:
"He will be a top-20 pick and top-nine forward in the NHL. A powerful, smooth athlete [and] a strong skater with speed and he has 1-on-1 skills. Heavy shot, and a great release. He's also very physical and hits with impact."
That speed in Leonard's game is going to be essential to finding success in the contemporary NHL, one that's more built on speed and skill than there. Whether it's an explosive first few steps in the small area game or the acceleration necessary to win loose pucks in space and dart away for a clean look – he's got it. He's also got the willingness to drive the net and the strength to parry away defenders who would try to impede his progress. It's a formula for success that's worked thus far for the Amherst, Massachusetts native.
"I think my speed is good. Near the top of the team. I'm not the fastest guy but I'm up there for sure," Leonard said with conviction.
After the USHL Fall Classic, Leonard went on a noticeable offensive tear. He got hot and stayed hot for a while.
"I think I played well at the Fall Classic, but points didn't go in. That doesn't really matter, that part of my game because I got a lot of scoring chances in that tournament," Leonard stated.
"I had a lot of scoring chances. I had a lot of looks. I don't really gauge my game over points. The points will come, and the goals will go in. I like to stay positive. Goals will come. I am a two-way game guy. I don't get frustrated."
Baseball and hockey have some similarities regarding being mentally strong. New York Yankees legend, Yogi Berra once said, "Ninety percent of the game is half mental."
Leonard likes the Red Sox but doesn't hate the Yankees. That surprised me until I dug a little deeper.
"I'm a huge Boston fan. So, my dad is from New York and my mom is from New Jersey. They both are Yankees fans. Hopefully, the Red Sox will be better this year and I can catch a few games when I'm in Boston."
Leonard has committed to Boston College. Living in Massachusetts, and having the talent, he had his choice of schools and made an interesting decision.
"I'm from Amherst and UMass is around the corner and it wasn't my dream to play in front of my hometown boys. I concentrated on the Beanpot, which is something cool and special. It was a matter of finding the right school in Boston for me," Leonard explained.
Playing in the Beanpot is a big goal of his.
"I've never seen it live; I've always watched it on television. When I committed, I was at Boston College around that time, but I couldn't go. It's always been my goal. It's on my bucket list to play in the tournament," Leonard added.
Golf is his passion off the ice. Some of his teammates said he was the best golfer on the team. He responded, "That's what I like to hear. We play a lot of two-man scrambles. My partner is Will Smith. We gelled since we were younger. We lose from time to time, but we like to keep ourselves on top."
Getting a spot on the 2023 U20 World Junior Roster is a possibility for him.
"That's a big goal of mine. Let's see how the first half of the season goes and hopefully, that will take care of itself. If I'm rewarded, I'll make the most of it," Leonard said in a humble way.
The 2023 NHL Draft has a lot of talent. All players have draft hopes. Leonard's hopes are very specific.
"First round definitely," Leonard answered quickly. "My whole family will be there."
If his season continues at this pace. Getting into the top 15 is a real possibility. I won't say it's impossible for him to get into the top 10 but that's off in the distance. Either way, you'll want to follow his season.
You may also be interested in: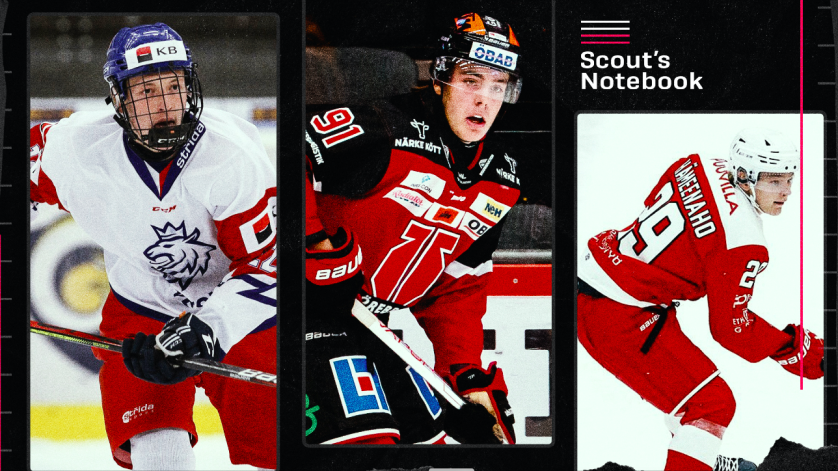 Scout's notebook: What we learned about draft eligibles at the U20 showcase
This article is about: