NHL Prospect Report
NCAA Stock Watch: Adam Fantilli's historic production leads the way
There's an unusual amount of attention being placed on college hockey this season, and everyone is doing their part to make sure the audience is getting their money's worth.
Adam Fantilli is authoring a historic season at Michigan, putting up numbers that we haven't seen from a true freshman since Jack Eichel. It's not like there's much of a drop-off in entertainment value when he steps off the ice either. That team is an offensive buzzsaw, with nearly everyone firing on all cylinders – appointment viewing at this stage, truly.
They're not alone in that regard. Minnesota has charged to an 11-5-0 record and the No. 1 spot on the USA TODAY poll with their exceptionally talented first line of Matthew Knies, Logan Cooley, and Jimmy Snuggerud leading the way. The upstart Penn State Nittany Lions continue to string together wins. And the defending champions in Denver are finding their game after an inauspicious start.
It's a good time to follow college hockey. Now, let's see whose stock is rising, who's holding steady, and who's in decline in the December NCAA Stock Watch.
Stock Rising
Adam Fantilli, C, Michigan (2023 NHL Draft)
Here's the list of players who generated offence at a better per-game rate than Fantilli in their first year of draft eligibility: Paul Kariya with Maine back in the 1992-93 season. That's it. Even Eichel's 71 points in 40 contests are just the tiniest bit behind Fantilli (1.78 points per game to 1.79, respectively).
Though the offence was easy to come by pretty much right from the start, Fantilli's development from one series to the next has been truly something to behold. It's to the point where the player we watched in November is scarcely recognizable from the one we saw lighting up the scoresheet in October. For the better.
An overreliance on his physical skills and a need to seek out the highlight reel play often occluded Fantilli from a more sustainable, translatable way of generating offence. Now he's working the give-and-go and flashing a delay game in spots where he'd try to dangle through numbers. You may not see the results on the scoresheet (Fantilli's per-game offence is slightly lower in the second half of his season than the first) but that's entirely attributable to the quality of the competition.
Seamus Casey, D, Michigan (New Jersey Devils)
Sticking in Michigan, Seamus Casey was one of the most hotly contested prospects in last year's draft among the Elite Prospects scouting staff. You had the one camp in his corner, drawn to his puck skills and sturdy in-zone defence; in the other camp, some of our scouts (myself among them) questioned the translatability of his skill set.
It's early, but you can prohibitively rack this one up as a win for the former of those two camps. Casey doesn't just look good at Michigan – you could build a case for him as their best defenceman through the season's first two months He's up to 15 points in 16 games as of this writing, playing a top-four role and factoring in both phases of special teams.
Casey's been characteristically excellent in transition and a stout defender, but it's what he's doing in the offensive zone that's really caught our scouts' attention. He's playing with far more aggression and decisiveness, activating from the blue line and funnelling pucks inside at every opportunity.
Lane Hutson, D, Boston University (Montréal Canadiens)
Canadiens fans are excited about Lane Hutson, and why not? All he's done since joining Boston University is score at nearly a point a game clip despite playing on their second pair and sitting behind Domenick Fensore on the power play depth chart (though their ice time is pretty similar).
The same skills that made Hutson such an effective offensive defenceman in the USHL have all come along for the ride to Boston. He's a deceptive distributor from the top of the offensive zone, using look-offs and feints to open up passing lanes that less creative defenders can't access. The introduction of a give-and-go game, particularly off the rush, has only made him that much more potent as a finisher, too.
You can write Hutson's name on the Team USA World Juniors roster in pen at this stage, maybe on their first pair.
Honourable mentions: Ryan McAllister (NCAA FA), Jimmy Snuggerud (St. Louis Blues), Mackie Samoskevich (Florida Panthers), Massimo Rizzo (Carolina Hurricanes), Kenny Connors (Los Angeles Kings)
Stock Steady
Luke Hughes, D, Michigan (New Jersey Devils)
A cursory glance at Luke Hughes' counting stats would give you the impression that he's either stuck in neutral or taking a slight step back (0.95 points per game last season compared to 0.875 in this one).
Not so fast. You're getting fooled by variance. As undeniably exceptional as Hughes' play was last season, he also benefited from favourable percentages, converting on nearly 18 percent of his shots in all situations – a number that augured downward regression. This year that number is down to 4.2 percent. His true talent finishing ability probably lies somewhere between those extremes, and the goals will come again with time.
Everything under the hood checks out. Hughes is generating more shots (17 per hour at evens this season to 14 last season) as a sophomore and showing significant growth as a playmaker. The defence, however, remains a real cause for concern for our staff.
Stock Falling
Dylan Peterson, F, Boston University (St. Louis Blues)
I had relatively high hopes for Dylan Peterson coming into the season. Certainly, I thought there was a chance that this was the year he broke out for Boston University. He had a clean bill of health. There was a lot more talent on this year's Terriers roster than those of years past. And there were flashes last season that suggested a breakout may be on the horizon.
Instead, Peterson's fallen down the depth chart, often to the Terriers' fourth line and he isn't showing enough in those limited reps to warrant consideration any further up the lineup. His skating continues to limit his effectiveness and he's more of a blunt object as a finisher than a particularly cunning or deceptive shooting threat.
It's hard to imagine a scenario where the Blues even bother offering him an entry-level contract barring a significant turn for the better.
Eamon Powell, D, Boston College (Tampa Bay Lightning)
Eamon Powell showed promise as a draft-year prospect, his smooth skating and ability to break the puck out seeming tailormade for the contemporary NHL. When he showed decently well with Boston College as a freshman in a middle-of-the-lineup role, it seemed like he was well on his way to delivering on that promise, too.
It's been all downhill since then for Powell. His sophomore season saw his per-game output halved, and he's fallen to the Eagles third pair in this, his junior season. His transition defence continues to be an issue, with Powell playing far too accommodating a gap and allowing the opposition to gain the blue line with control at a staggering rate. A lack of creativity limits his effectiveness at the top of the offensive blue line.
He's struggling to find an identity at the college level as a junior. What happens when he gets to professional hockey?
You may also be interested in: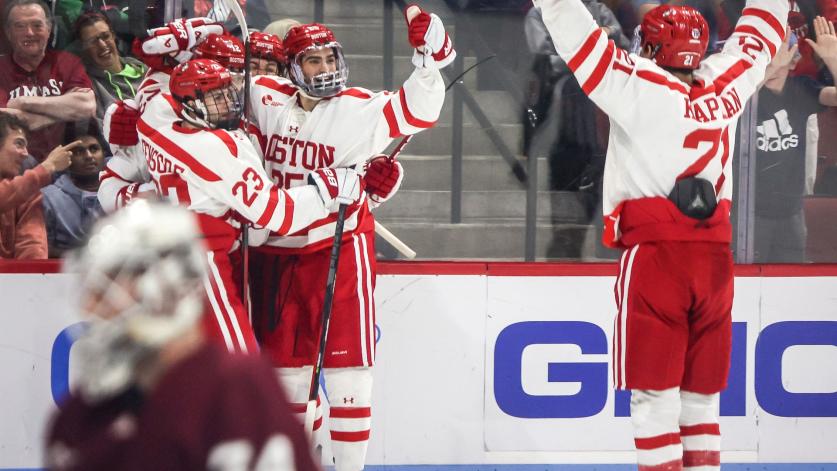 How much do we know about the NCAA tournament field already?
This article is about: