NHL Prospect Report
WHL Stock Watch: Welcome to the Andrew Cristall show
With all eyes on the WHL because of you know who, the league hasn't disappointed. Every night seems to produce highlight after highlight, while every week another player cements their status as a prospect to watch for the 2023 NHL Draft.
Save for the free-falling Edmonton Oil Kings, the WHL's balance of power hasn't shifted much. The Winnipeg Ice, Red Deer Rebels, and Moose Jaw Warriors looked like the top teams out east, while the Seattle Thunderbirds, Portland Winterhawks, Everett Silvertips, and Kamloops Blazers are the top teams out west.
But there have been surprises, ranging from the surging Samuel Honzek to the breakout Prince George Cougars squad. Let's dive in.
Stock Rising
Andrew Cristall, LW, Kelowna Rockets (2023 NHL Draft)
Andrew Cristall's been going point-for-point with Connor Bedard over the past month, scoring 30 points in his last 12 games. In their meeting earlier this week, Cristall stole the show with four points and another single-game highlight reel that seemed stitched from a whole month of play.
A dynamic player through and through, Cristall adds the extra flash to every play. He beats defenders with head fakes, handling skills, and slick edges before cutting inside or finding a teammate burst into the slot. He starts the plays, builds them, and then puts the finishing touches on them. His full-ice offensive impact is among the best in the class, and he continues to grow away from the puck. As such, he's emerged as a legitimate top-10 prospect and could earn a spot as high as the No. 5 rank in the Elite Prospects' upcoming rankings.
Prince George Cougars
The Prince George Cougars have been one of the WHL's most pleasant surprises. Last season, they played a structure that seemed to limit their top offensive players. Those players have been let loose this year, and it's wonderful to watch.
Riley Heidt and Koehn Ziemmer have formed a dynamic duo, each with 36 points in 23 games. Heidt's masterful power play work, sneaky physical game, and fluid playmaking have worked to set up the equally sneak physical and even more dangerous shooter in Ziemmer. Hudson Thornton, undrafted last year, has 30 points in 23 games, and his improved puck skills, activation, and confidence with the puck suggest his offence isn't going anyway.
Honourable Mentions: Samuel Honzek (2023 NHL Draft), Luca Cagnoni (2023 NHL Draft), Logan Stankoven (Dallas Stars), Carson Bjarnason (2023 NHL Draft), Austin Roest (2022 undrafted), Andrew Basha (2024 NHL Draft)
Stock Steady
Brayden Yager, C, Moose Jaw Warriors (2023 NHL Draft)
Brayden Yager generated significant hype before the season – an impressive stat line and flashy goals will do that. So far, his game looks roughly similar, with the same strengths – the shooting and the ability to find space moving downhill – and weaknesses. The production supports that, producing at the same rate at even strength.
What keeps Yager from slipping into the next section of that article has been playmaking growth. Now, he uses the threat of his shot to prolong and create passing lanes, initiating more give-and-gos, and making more plays in transition. Perhaps he's not much of a play-builder at this stage, but he's no longer just a shooter, either. With Moose Jaw heating up, maybe Yager will take the next step.
Fraser Minten, C, Kamloops Blazers (Toronto Maple Leafs)
Viewings of Fraser Minten have been split this season. In some, he's playing the more proactive, give-and-go style that made his playoffs so impressive. In others, he's reverted back to his old ways, defaulting to dump-outs and low-percentage plays. In the latter viewings, he struggles to link his numerous skills: the shot, physicality, delay game in transition, and puck control. That inconsistency, along with a bit of poor luck, explains his limited even strength scoring. He has just four 5-on-5 points in 13 games. But the highs remain as exciting as ever.
Stock Falling
Matthew Savoie, C/RW, Winnipeg ICE (Buffalo Sabres)
Despite Winnipeg being a better team this year, Matthew Savoie's point-per-game clip is down from 1.38 to 1.24. The power play's an easy explanation. He's down from 0.52 power play points per game to 0.43, with Owen Pederson linking up with Connor McClennon, Savoie's go-to shooter on last year's power play. There are also some percentages at play. He shot over 16 percent last year; down to 11 this time.
Really though, it's that Savoie's too content as a secondary piece this season, just like in previous years. His even-strength scoring clips down from 0.86 to 0.62, eighth on the Ice. He trails 2023 draft-eligible Zach Benson, fellow first-rounder Conor Geekie, a defenceman, a pair of overage forwards, and a draft-plus-two winger. He has just three primary assists at 5-on-5. He's played 21 games!
For a moment there, it really seemed that Savoie had finally leveraged his tools into equal impact. The sharp edge work, fast-twitch handling skill, and mechanically brilliant shot combined as he took charge of games early in the season. That soon gave way to a return to his standard performances, playing a simple, straight-ahead game, rarely creating the best play. He'll likely go on a tear and straighten out his production, but until he's demanding the puck and dictating the pace of games, there's reason to question his ultimate upside.
Tanner Molendyk, D, Saskatoon Blades (2023 NHL Draft)
There was a time when Tanner Molendyk didn't know what point droughts were. That time has long passed. Through 20 games, the once-dynamic scorer has just nine assists in 20 games. His incredible rush defence has translated, as has his aggressive activation game and mobility. But he struggles to create advantages from those situations. He has all the individual components, but he doesn't take advantage of the opportunities they create, leading to turnovers and panicked plays. He makes simpler plays, despite having the tools to create the best one. Early in the season, he looked like a clear first-round prospect. That's no longer the case, but it'd be foolish to write him off.
You may also be interested in: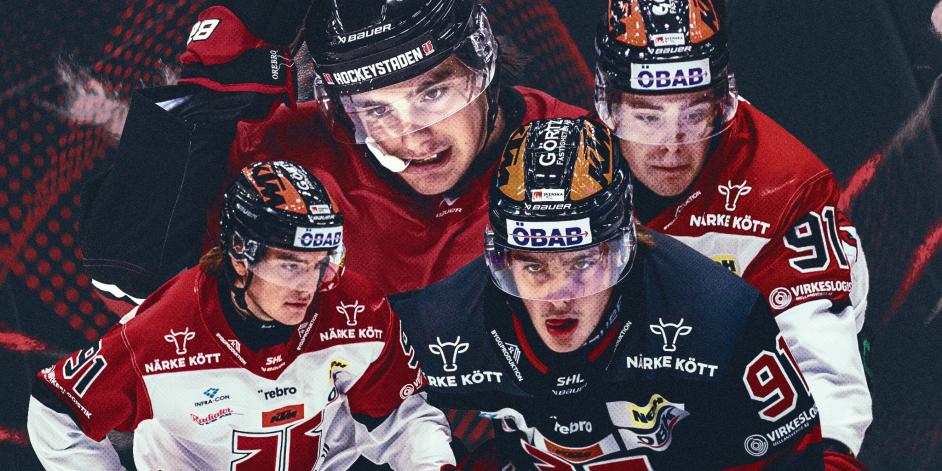 How Leo Carlsson is making a historic statement in the SHL
This article is about: