NHL Prospect Report
QMJHL Stock Watch: Zachary Bolduc's evolution as a playmaker has his stock soaring
This could be a down year at the draft for the QMJHL. So far, only Sherbrooke Phœnix winger Ethan Gauthier has managed to establish himself as a potential first-round candidate in the 2023 NHL Draft. But even if the league lacks draft-eligible star power, it is still giving fans many reasons to watch its games.
The Québec Remparts, led by Patrick Roy for potentially one last season, are crushing the opposition while filling the highlight reels with tic-tac-toe passing plays. And over in the Maritimes, Jordan Dumais, the Columbus Blue Jackets' third-rounder in last year's draft, continues to puzzle scouts with his playmaking performances.
Is he a future star NHLer or a junior scorer?
The debate is far from settled. And it's one of the things we will tackle in this article, as we look at the progress of some of the league's top prospects.
Stock Rising
Zachary Bolduc, C/W, Québec Remparts (St. Louis Blues)
Given space in the slot, Zachary Bolduc can hammer the puck to the back of the net. His arsenal of shots is varied and powerful. Over the years, he honed their mechanics and reduced their draw-time, to the point where he can routinely surprise goalies before they even start to move.
In his final QMJHL season, however, Bolduc's main objective isn't to fill the net with pucks anymore; he already showed he can do that last year, when he scored 55 times for the Remparts.
The St. Louis Blues prospect is now focusing much more on his playmaking – with great results. His feeds are becoming more precise, deceptive, and well-planned. He is collecting more than an assist per game and helping Théo Rochette, his long-time playmaking partner, to become much of an efficient scorer.
Bolduc's newfound offensive diversity could help make a case for himself for a role with the Blues next season.
Jordan Dumais, RW, Halifax Mooseheads (Columbus Blue Jackets)
The reason Dumais features in the "stock rising" section of this article is not necessarily because of his increase in scoring up to a league-leading 2.16 point-per-game production. That jump in points is impressive, but we already knew that Dumais could pick up points at ridiculous rates. He proved it in his draft year.
Dumais is in this category because of the way he has picked up many of his points. His offensive output seems a little bit more translatable than last year for a player of his style and stature. His playmaking has continued to improve, especially off the rush. He drags defenders away and hits teammates attacking behind him consistently. He manipulates gaps and deceives defenders even more.
Dumais still needs to develop his speed, pace of play, and physicality, but he's proving this season that he deserved the higher-end hockey sense grade we gave him last season.
Ethan Gauthier, RW, Sherbrooke Phoenix (2023 NHL Draft)
Gauthier's stock rose early in the season due to his great Hlinka Gretzky Cup production and because of his particular style of his play. His off-puck skills are evident. He knows how to find space, support the play, and offer passing options to teammates. He forechecks with intensity, finishes hits, and protects pucks along the walls. And he consistently drives the net.
But he's also one of the hardest players to evaluate properly in this class because of his environment, the trio he forms with two of the QMJHL's top playmakers and scorers in Joshua Roy and Justin Gill. There are not enough pucks to go around for these three. More often than not, Gauthier is stuck acting as the connector of the line, the player who links his teammates' plays with one or two-touch passes before driving through traffic.
We rarely get to see the extent of his puck skills. He may have hidden potential.
Stock Steady
Joshua Roy, LW, Sherbrooke Phoenix (Montréal Canadiens)
We hoped that Roy would learn to play with more pace this season, but he's still coasting through many of his shifts.
That's understandable considering the large skill advantage that he has over his opponents and his all-star QMJHL: teammates. Right now, as his line controls the game, he doesn't need to outspeed and pressure opponents as much to score, but his style of play won't ease the transition to the professional level next season.
While Roy remains about the same player as he was last year, the good news is that he continues to improve his overall off-puck offensive instincts.
Nathan Gaucher, C, Québec Remparts (Anaheim Ducks)
Nathan Gaucher is finally getting rewarded for the habits and skills he has displayed on the ice for the past few seasons. His production, 29 points in 23 games, now better reflects his effectiveness for the Remparts.
He is the same physical player. He continues to drive at opponents on the boards and at the net and he still passes the puck expertly out of traffic. He seems to have found better chemistry with his teammates, maybe thanks to his improving abilities to position inside space away from the puck.
That being said, calling Gaucher a transformed player would be stretching the truth. We are still waiting to see more high-end playmaking and scoring flashes in his game. So far, he continues to project more to a bottom-six role than a top-six one.
[Read more: Nathan Gaucher is one of the 2022 NHL Draft's best bets for a surefire NHLer]
Stock Falling
Oscar Plandowski, RD, Drummondville Voltigeurs (Detroit Red Wings)
Oscar Plandowski is one of the very best skaters in the QMJHL. Unfortunately, while he perfected the edgework that defencemen need to succeed in the NHL, his game never developed around this high-end skill. He never learned to use it to its full potential in game situations.
So far this season he remains a simple puck distributor and rush defender. His impact in other facets of the game is limited and he has only scored five points in 23 games, despite getting regular powerplay time for the Drummondville Voltigeurs.
If Plandowski doesn't show more to the Detroit Red Wings management until the end of the season, he probably won't earn a contract.
You may also be interested in: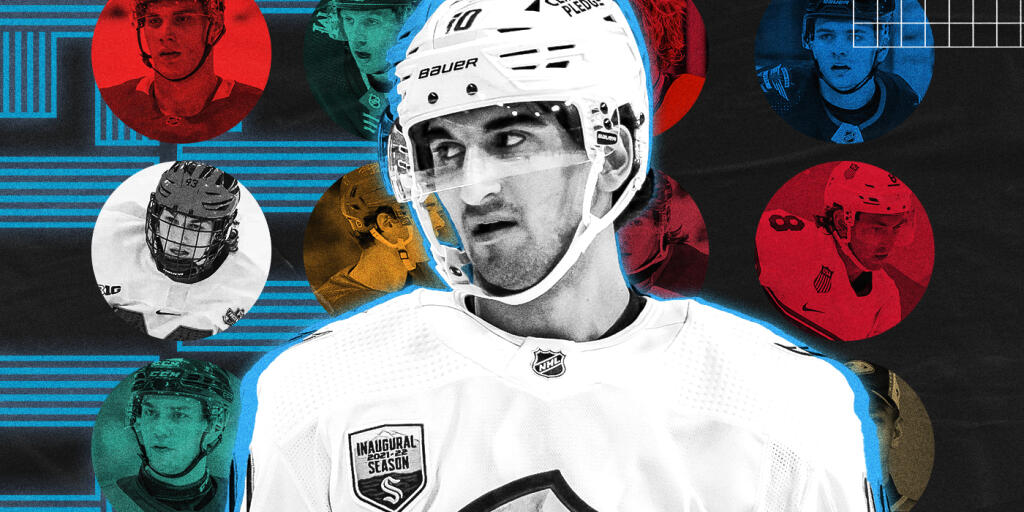 Ranking the NHL's top 100 affiliated prospects in 2022: Skaters 25-1
This article is about: