Fantasy Hockey
Robinson's Fantasy Rundown: High-scoring defenders, Matty Beniers, Evan Bouchard, and Jonathan Huberdeau
We're back again for another rousing edition of Robinson's Fantasy Rundown. A reminder, this column can range anywhere from a deep dive into a specific player to quick thoughts on 25 of 'em.
This week, we're looking at the evolution of the elite-producing defender class. Checking in on the lucky defender who gets to work on Edmonton's top power. Matty Beniers legitimacy, and a few other key fantasy pieces.
We even take a moment to poke holes in the Vancouver Canucks organizational decision-making (low-hanging fruit, I know, but sometimes you just need a snack).
The defencemen are coming
Over the past five seasons, there have been five defenders who played 60 or more games and produced at or above a point per game – five!
Roman Josi (2021-22) – 1.20
Cale Makar (2021-22) –1.12
John Carlson (2019-20) – 1.09
Victor Hedman (2021-22) – 1.04
Brent Burns (2018-19) – 1.01
So far in 2022-23, seven defenders are pacing for a point-per-game or better campaign. There are another three blueliners who are just a hair off of that pace.
It's December and Rasmus Dahlin remains on a 97-point pace.

— /Cam Robinson/ (@Hockey_Robinson) December 1, 2022
Yes, scoring is up all over the league while save percentages are trending way down, but the sudden surge of high-scoring defenders is nonetheless noteworthy. Normally, it's really difficult to obtain a defenceman who can impact your fantasy squad at a comparable level to a forward, but not this season.
But I will say this, of the seven players (Erik Karlsson, Rasmus Dahlin, Quinn Hughes, Cale Makar, Adam Fox, Mikhail Sergachyov, and Josh Morrissey), I'm definitely fielding offers on the latter two.
Morrissey is clicking at a rate that's way above his career norms, and while he doesn't have any competition for his spot on the Winnipeg Jets' top power play unit, he won't maintain a 5-on-5 on-ice conversion rate above 11 percent. And he certainly won't continue to convert on over 13 percent of his shots, especially as his shot rates have dipped below two per game.
As for Sergachyov, his ascension has corresponded with the sudden downfall of Hedman, who has to be considered the most heartbreaking early-round fantasy selection so far this year. Therein lies the problem with investing in Sergachev for the entire season, though. Because Hedman is not this bad, and there are definitely reasons to believe that he'll get his mojo back and start to chip away at the top-unit minutes again.
Matty Beniers is legit
Most rookies take a minute or three to get up to speed. Even those selected at the top of the draft, with the best pedigree, the most prolific junior numbers, and play in the most welcoming environments can struggle to translate immediately.
Not so much for Matty Beniers.
The first-ever Seattle Kraken draft pick and the second overall selection from the 2021 NHL Entry draft arrived the moment he stepped off of the plane from the University of Michigan last spring.
The recently turned 20-year-old has five goals and 12 points over his last six games. He has 21 points in 23 games on the season. He has 30 points in 33 NHL games in his career. It's as if the level jump from the NCAA to the NHL has been nothing but a minor nuisance for him.
Matty Beniers scores just seven seconds into overtime to give the Kraken seven (!) wins in a row pic.twitter.com/zCLulfHCP4

— Shayna (@hayyyshayyy) December 2, 2022
Now, I will say this, there are concerning signs under the hood that this run may not be sustainable. Sure, Beniers is a top-flight young player, but I'm dubious of the notion that he'll be able to continue to convert on over 22 percent of his shots. Additionally, his on-ice rate of 12.2 percent is likely due for a slight downturn. Finally, relying on secondary assists for half of all of his helpers isn't easy to maintain.
The Kraken are overachieving this season, but the key here is the future potential of Beniers and the talent the team will surround him with over the next few seasons. So, if you're in a keeper league, you want to white-knuckle this guy with every ounce of strength you have.
However! If you're in a one-year league and think you can sell Beniers as a 75-point player (which is the pace he's setting) and can move him off for a more secure 70-ish point asset, I would be in favour of that. Even better if you can get him for a player with an even higher upside who may be a bit cold or underproducing this season – Jonathan Huberdeau? Kevin Fiala? Mark Stone?
Evan Bouchard and the Edmonton Oilers power play
Don't look now, but Evan Bouchard has three goals and five points in his last five games, four of which have come at even strength. Coming into this season, I thought it would take a minute but that the Edmonton Oilers would see the light and allow Bouchard to ascend to the glory land known as the top power play unit.
Alas, cooler heads had not prevailed. Until now
Tyson Barrie has averaged 64 percent of the power play time in Edmonton this season – over 3:21 per outing. He has seven points while up a man, but none in his last nine and only one in the last 11. He's been ripe to be plucked off of that unit. for a while now and it finally happened in Thursday's loss to the Wild.
This is a golden opportunity for Bouchard. In keeper leagues, this could be the last chance to buy a player who should be the long-term fit on a unit with Connor McDavid and Leon Draisaitl for a reasonable price. One-year leagues are a little dicier, but I'd still be open to making a play for him if the price wasn't too steep. If he can hold down this spot, then there's a world where he plays above a 50-point pace the rest of the way.
Kevin Hayes can't stop and apparently won't stop
At some point, we're going to simply have to admit that Kevin Hayes is a real asset in the fantasy hockey landscape.
The 30-year-old centre has five points in his last three games and 24 points in 23 games on the season. Dating back to last season, he has 39 points in his last 42 games. And he's been doing it while playing in a Philadelphia Flyers lineup that is short on talent.
This is a top-line, top power play pivot that has been consistently great all season long and is only rostered in 25 percent of Yahoo! leagues, 35 percent of ESPN leagues, and 55 percent of Fantrax. There is a boatload of leagues with this guy just hanging out on the wire.
Buy low on Jonathan Huberdeau?
Hey, that headline rhymed! More seriously, Huberdeau has performed woefully below expectations so far this season. You better believe his manager spent some serious draft capital on him, but we're over a quarter of the way through the season and they might be ready to throw in the towel.
The 29-year-old winger does have three points in his last two games. He remains on the Flames' top power play unit, and is back up on the Flames' top line after a demotion to the third line for a stretch.
It's going to be a down season overall for Huberdeau - which can often happen when a player moves homes for the first time. But I continue to believe that he's much better than he's shown and will keep climbing out of this funk as the days go by.
Roberto Luongo deserved better
Okay, just a quick rant here as this isn't fantasy related but I'm not going to write a full article about it.
On Wednesday, the Vancouver Canucks announced that they were inducting Roberto Luongo into their Ring of Honour. For those unaware, the Ring of Honour is a banner that circles the arena with placards featuring the player's likeness and number as an acknowledgment of a player's career with the Canucks without necessarily retiring their number. So far, it's been for good players who made an impact on the team but were not 'great' players.
For instance, so far, the Canucks have bestowed that honour upon players like Alexandre Burrows, Mattias Öhlund, Kirk McLean, and Harold Snepsts. Putting a Hall of Famer and far and away the best netminder the franchise has ever had with that group isn't just a misstep – it's an insult.
For the "Roberto Luongo was good, but not a generational talent" crowd: pic.twitter.com/tkqyLKUC4M

— Gregory Balloch (@GregBalloch) December 1, 2022
The Florida Panthers have already retired Luongo's No. 1 to their rafters, and some may point to that and say, "see, he was a Panther more than a Canuck." But let's clear that up.
Luongo played 579 career games in Florida. He played 512 with the Canucks. With the Panthers, he played a grand total of six playoff games – losing in the first round. In Vancouver, he played 64 post-season games – posting a 32-31-0 record with a 0.917 save percentage – including a run to Game 7 of the Stanley Cup final – a final where he was torched in some games but also recorded two shutouts.
The Canucks were obviously trying to find some positive news to spin after it's been nearly nothing but public relations firestorms this season, but they missed, once again.
You may also be interested in: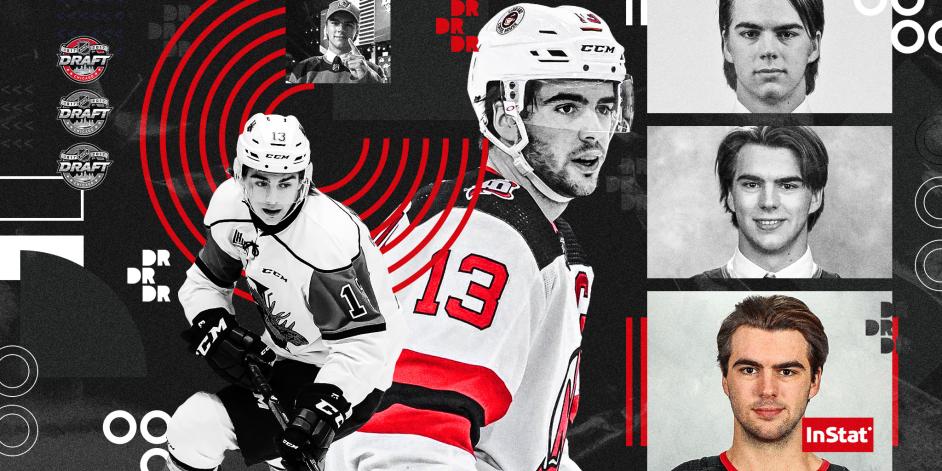 Draft Retrospective: Nico Hischier's evolution into one of the NHL's best two-way centres
This article is about: