NHL Prospect Report
Finland Stock Watch: Topias Vilén exceeding expectations with the Pelicans
With things being relatively stable among the ranks of Finnish draft eligibles, we'll look at already drafted prospects in this debut edition of the Finland Stock Watch. While most players have been playing according to expectations, there are also a couple of clear risers and fallers.
Many of the players on this list will also appear on Finland's roster for the upcoming World Juniors.
Stock Rising
Oliver Kapanen, C, KalPa (Montréal Canadiens)
Bouncing between different teams and levels of play last season, Oliver Kapanen has established himself as a full-time top-nine centre with KalPa. Adding five goals and 12 points in 25 games while bolstering one of the best 5-on-5 shot differentials on the team, he's been able to translate most of his strengths while adding new flavours to his game. Kapanen's scoring touch and instincts around the net have never been in question, but he's also improved as a playmaker, setting up his linemates for quality looks from behind the net and after in-zone steals.
Kapanen has also started to build a delay game off the rush while occasionally beating unassuming defenders outside. His two-way play has also taken steps forward during the past two years, being now competent enough to play centre against men and succeed while doing so. He could still use an extra gear and a bit more consistency, but the development curve is pointing upwards. Kapanen will likely centre Finland's top line at the World Juniors.
Topias Vilén, D, Pelicans (New Jersey Devils)
After signing his entry-level contract with the Devils last summer, Topias Vilén has surprisingly risen into a significant role with the Pelicans. He's now averaging almost 20 minutes of ice time per game, a four-minute increase from last season. Being given a spot on the second power play unit, Vilén has also already surpassed his point totals from 2021–22, having added six goals and nine points in just 18 games.
Most notably, Vilén's activation and aggressiveness have turned up quite a bit from last season. He's now looking to join rush opportunities much more often, also seeking out in-zone offensive opportunities with more urgency. His skating looks to have taken a step forward from last season, which has facilitated the changes in his play style. He's likely not an 11 percent shooter, but Vilén could easily have more assists with all the playmaking flashes he's shown.
There's still quite a bit of stuff Vilén needs to work on, too. His aggressiveness with both offensive involvement and pinches have occasionally left him and his line vulnerable to quick counter-attacks. While he's a capable on-puck defender, his awareness in off-puck situations could be further improved. The same goes for his breakouts, where he sometimes lacks finesse. He'll play in a top-pairing role for Finland at the upcoming World Juniors.
Aku Räty, RW, Ilves (Arizona Coyotes)
Aku Räty's offensive evolvement has been a bit – but not totally – surprising to watch. Watching him in the U20 league as a draft-eligible, it was clear he had the makeup of a solid all-around forward but also someone who had a fair amount of offensive skill, too. After putting up 22 points in 56 games with Kärpät last season, a move to Ilves has seemingly unlocked that skill to a greater extent. Being fifth on the team in scoring, Räty is now on pace to double his point total from last season.
This isn't a mirage, either. In my 11-game sample, Räty has the second-highest 5-on-5 expected primary point output among all Ilves skaters, primarily driven by his playmaking prowess.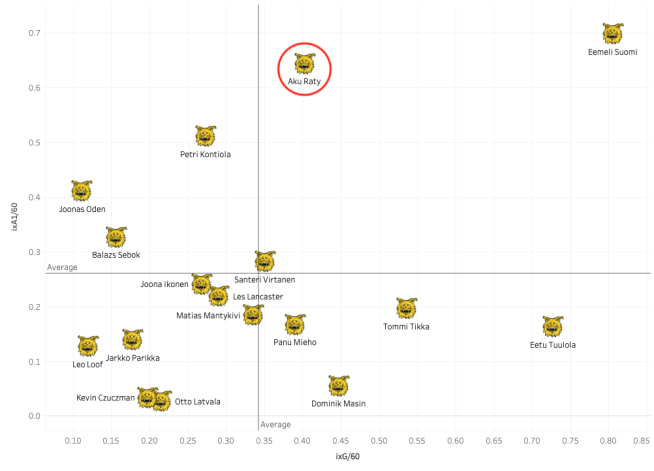 I wouldn't be surprised to see Räty make his men's national team debut later this season. He's also put himself in a position to likely receive his entry-level contract offer from the Coyotes next summer.
Stock Steady
Ville Koivunen, RW/LW, Kärpät (Carolina Hurricanes)
Though Ville Koivunen's 0.4 points-per-game mark is a slight decrease from his rookie campaign with Kärpät, he's still been a solid player on one of the better teams in the league and arguably should be producing more. According to my 11-game sample, he's actually been the most prolific playmaker on the team at 5-on-5.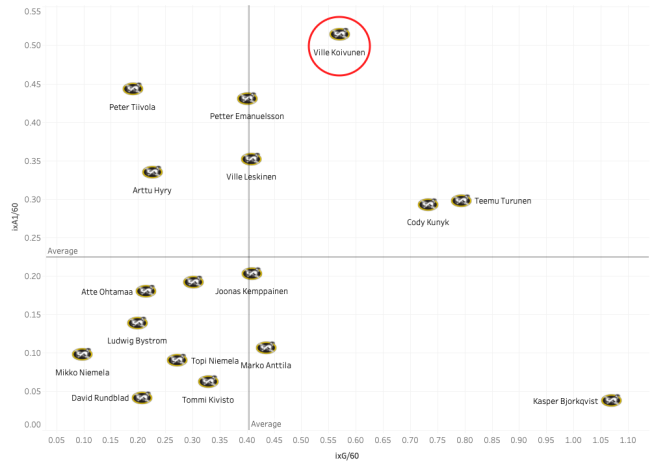 Koivunen's smarts remain his greatest asset. He's a high-end one-touch passer, has strong scanning habits, and has a strong overall feel for the game in the offensive end. After a disappointing outing in August, he'll be yet again relied on at the upcoming World Juniors.
Stock Falling
Samu Tuomaala, RW, Jukurit (Philadelphia Flyers)
Nobody in Finland embodies the subtitle "stock falling" better than Samu Tuomaala. A second-round pick who started last season in the AHL, Tuomaala has bounced between different teams and levels ever since. This season, most of his games have been in the U20 league, which is something that wasn't on anyone's bingo card two years ago. What's even more perplexing is that he's not been dominating there, either, with just five points in 10 games.
Tuomaala's reliance on long-range shooting and outside lane drivers off the rush have yet to translate to the next level. After being loaned to Mestis recently, he did score five goals in his first two games. We'll see whether that proves to be a start of a new chapter in his career. At 19-years-old, there's still lots of time.
Kalle Väisänen, LW, TPS (New York Rangers)
Coming off a pretty promising rookie season with TPS, Kalle Väisänen's start to his sophomore campaign has been rather rocky. Sure, one could argue his two-way play has improved and he's now been regularly used on the penalty kill, but the offence has suffered quite a bit as of result: Väisänen currently bolsters just two points in 21 outings while having one of the weakest shot differentials among TPS forwards.
Even more worryingly, we're not talking about a terribly unlucky streak. His nine percent on-ice shooting percentage at 5-on-5 is perfectly middle-of-the-pack on his team. He's still pretty much a lock to make the World Juniors roster, having scored four goals in three games at the recent U20 tournament.
You may also be interested in: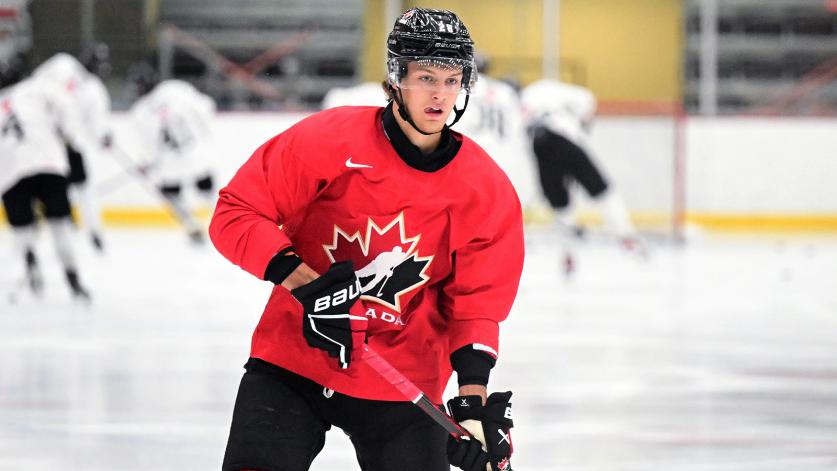 QMJHL Stock Watch: Zachary Bolduc's evolution as a playmaker has his stock soaring
This article is about: