NHL Prospect Report
Sweden Stock Watch: Axel Sandin Pellikka's draft stock is soaring
The early proceedings in Swedish hockey have produced a couple of surprising developments for better and worse alike. As a scout, it's my job to try and make sense of all of them, and that can often prove a difficult exercise when a player's usage can go back and forth between pro and junior hockey so regularly.
It's part of the reason you can't focus solely on a player's bottom line. There's just way too much going on around each draft-eligible and drafted skater to make that your sole data point. Especially when they're in the SHL.
For this piece, I chose to look at some rising and steady draft-eligible kids and a couple of 2022 first-rounders struggling to find their games.
Stock Rising
Oscar Fisker Mølgaard, C, HV71 (2023 NHL Draft)
Few made notice of this 16-year-old in the J20 Nationell last season and even fewer thought he would play in SHL as soon as this season. Oscar Fisker Mølgaard has really taken advantage of his chance to play in the SHL and has been a breath of fresh air for a struggling HV71 team. If he keeps up his strong play of late, his playing time only stands to increase, too.
Fisker Mølgaard is a quick skater, albeit with a short stride, with a high motor. He's made a difference for his team with his ability to close on opponents and his battle level. It's contagious. He's smart defensively and shows good awareness in every situation. Fisker Mølgaard tries to play an inside-driven game at the opposite end of the ice and mostly operates as a playmaker – he's been the go-to setup man on HV71's junior side. The puck skills have a ways to go yet, but Fisker Mølgaard manages space well and always seems to take the right lines in his passing plays.
He's someone to track for this year's draft.
Axel Sandin Pellikka, D, Skellefteå (2023 NHL Draft)
Axel Sandin Pellikka has always been one of the top defencemen in his age group, but he nonetheless struggled in his age-17 season. This season, the Swedish blueliner has started impressively producing 1.3 points per game in the J20, and he's also on pace for seven goals in 40 SHL games as of this writing.
Sandin Pellikka is an offensively skilled defenseman with impressive hands. He is calm and aware on the ice. He opens space with his hands and controls the puck with good range. He has a good shot and is an agile skater. He combines his hands and agility well to easily escape forechecking or defensive pressure.
One thing that might keep him lower in our draft ranking is the combination of lacking a separating gear as a skater and being modest in size. We have seen similar defensemen come out of Sweden struggling on the smaller ice, with that frame making it harder for them to defend on the rush.
Another entertaining thing to point out with Sandin Pellikka though is his physical play. He is good at shutting down players with hard open-ice hits.
Honourable mentions: Filip Bystedt (San Jose Sharks), Elias Salomonsson (Winnipeg Jets), Carl Lindbom (Vegas Golden Knights) and Noah Dower Nilsson (2023 NHL Draft).
Stock Steady
Leo Carlsson, C/F, Örebro (2023 NHL Draft)
Leo Carlsson is a candidate for the top five in this year's draft, putting up historically strong numbers in the SHL, pacing for 30 points as a first-time draft-eligible skater. He's not an empty-calories scorer either. You're getting a lot more than just points with the 6-foot-3 Carlsson.
Carlsson plays with a motor that doesn't quit. He's always on the move, looking to make things happen. He's hard to contain, leveraging his frame to gain the inside offensively and ward off defenders. He's a true power forward.
It's the details that make him such a unique prospect though. He plays with quick, precise puck touches, connecting plays with ease. He can handle the puck at speed, evade defenders, and still scan for passing options, often at the same time. He's a strong distributor, eager to find his teammates for scoring chances. He's a real play-driver.
Carlsson may not open space with his hands at an elite level or have enough control of space for him to be considered a future top elite point producer, but he'll score at a really strong clip in the NHL all the same.
Dalibor Dvorský, C, AIK (2023 NHL Draft)
Dalibor Dvorský has always been a big-time offensive producer and has, with limited ice time, strung together impressive offensive performances in HockeyAllsvenskan too. As a prospect evaluator, it has been a bit frustrating to see AIK limit his minutes, as he has shown to be impactful when they give him a real chance to play further up the lineup.
At first glance, Dvorský's physical skill set doesn't seem all that special. His skating is maybe average at best, and one can't help but wonder whether he'll be able to keep pace in the NHL. Then you look a bit more and you see how he is getting into the right spots, how he is involved and how fast he processes the game.
Dvorský's puck skills are really quite strong, and that skill has allowed him to manage space and control the flow of the game at the senior level. The AIK power play looked a lot better as soon as he stepped in. Dvorský's game is not just about puck skills. He also plays with an edge and showed in a sold-out arena rivalry meeting that he can play with some sandpaper to his game and get under his opponents' skin.
Stock Falling
Liam Öhgren, F, Djurgården (Minnesota Wild)
There was a lot to like about Liam Öhgren's game last season, and I advocated for him as the best Swedish prospect in the draft because of it. Things haven't quite gone to plan this year, though. Öhgren is playing on a strong team that has collectively fallen short of expectations in HockeyAllsvenskan this season – for context, Djurgården is the Montréal Canadiens of Swedish hockey, yet they're not even in the SHL after being relegated last season.
They've made some sizeable investments in their club to try and earn a promotion back to the big leagues, so there's a lot of pressure on the team and the players alike right now.
Öhgren hasn't necessarily been bad, and he's in fact scored some big goals for Djurgårdens. What troubles me is that his skating isn't coming along as I'd hoped and he's not driving play as a result. It's starting to look like some of his dominance in the junior circuit last year was the result of him being further along in his physical development than his peers.
Jonathan Lekkerimäki, F, Djurgården (Vancouver Canucks)
Jonathan Lekkerimäki plays in the same context as Öhgren and one could argue is facing even more pressure to put up good numbers, given that he actually produced in the SHL last season. As of this writing, Lekkerimäki's struggling to find the scoresheet, with only five points (one goal among them) in 20 HockeyAllsvenskan contests. He's only converting on 3.45 percent of his shots, so positive regression is likely on the horizon, but it's not like he's generating a lot of shots either (only seven shots per hour right now).
Lekkerimäki was a player that our scouting team (myself among them) had a great deal of skepticism about relative to his ultimate draft position. He's a player who relied on puck skills and an elite shot rather than the ability to think the game at a high-end level. Those same skills remain but he has a long way to go to show that he has the understanding of how to leverage them effectively against professional competition.
You may also be interested in: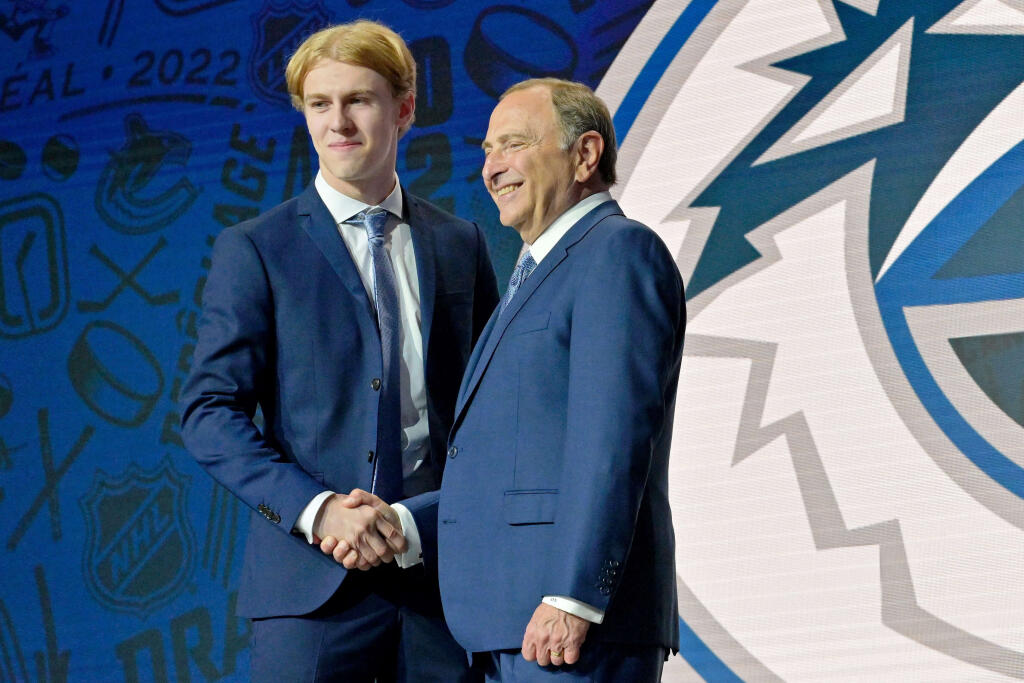 "We feel he can be a lighter Lucas Raymond:" Canucks get their man with Jonathan Lekkerimäki at 15th overall
This article is about: