NHL
Elite Prospects Official NHL 23 Roster Launched on Xbox One
The official Elite Prospects NHL 23 custom roster, available on Xbox One, is now live on the game's Roster Sharing platform.
The roster is designed to maximize the game's offline modes, particularly Franchise and Play Now, providing more accurate player ratings, types, X-factors, and potential based on TopDownHockey and AllThreeZones analytics and EliteProspects' scouting staff.
The NHL ratings follow a scheme that works a bit differently than the ones commonly used in these games. For a few reasons (I've always suspect one of which is a little unspoken pressure from the league and NHLPA), EA has for several years inflated player ratings, condensing almost every NHLer between 80 and 94 overall with not much difference between players at the top and bottom of the lineup.
In my roster, 75 becomes the "replacement-level" base, with 80 indicating a low-end top six forward, top-four defenceman, and starting goaltender. There is a much larger separation between superstars, who exceed 90 overall, and their peers than in the original game which makes acquiring and drafting those impact players even more important.
Here is the general rating spread: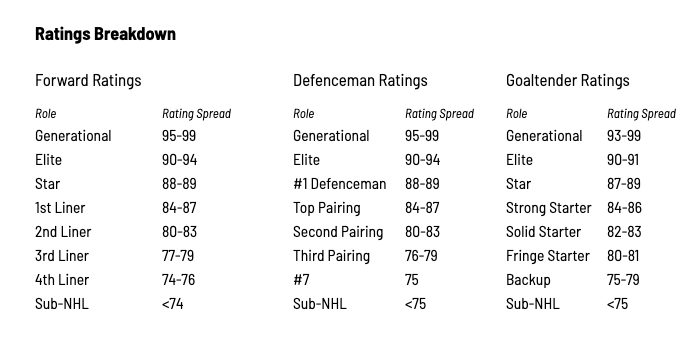 It's not all about the overalls either.
While there are some attribute ratings that can't quite be quantified with current data, I've used as wide a net as possible of micro- and macro-level data to make sure that players play like their real life counterparts. The difference between speedy wingers, physical forecheckers, creative playmakers, and shut-down defencemen will be very noticeable. The inclusion of X-Factors in the game is also a big help which allowed me to incorporate many players' top skills including specialists.
This doesn't mean I just translated WAR directly into an overall rating.
Ultimately, franchise mode runs on overall and compromises were necessary to avoid breaking the game by having unrealistic trades or lineup decisions.
Some stats like defensive awareness have a totally disproportionate effect on overall so I had to be a bit more generous to some of the league's most defensively deficient stars with that in mind. That said, some pure offensive players will have low overall ratings but still produce very well – like 80 overall Tony DeAngelo, who still puts up realistic point totals with appropriately poor +/- in franchise mode.
The other side of the coin is prospects. As you may know, due to licensing constraints the NHL games include only prospects playing in the AHL, CHL, SHL, Allsvenskan, SM-Liiga, DEL, National League, Extraliiga, and ICEHL.
USHL, College, KHL, and MHL prospects are excluded, as are many promising 2024 and 2025 draft class players. This roster includes dozens of created prospects, thanks in large part to Xbox user Steezy who's base roster I used to edit, saving countless hours of tedious player creation. Every affiliated and undrafted prospect has been edited in line with EP Rinkside's talented scouting team's assessments including the FutureValue system to ensure that their playstyle, potential, and X-Factors represent their judgements as closely as possible.
This means that every team has its authentic prospect pool and future drafts are stock full of real talented players.
All of this is ultimately constrained by the sim and trade engine of the NHL games, as well as the player rating system which has not been substantively changed in more than a decade. Ultimately there is no way to get "realistic" sims every single time no matter how flawless the roster, but I think this gets a lot of the way there. A total overhaul of how ratings work would be a really positive move for offline modes in my opinion.
To access and download the roster, if you are on the Xbox One console, go to the "Rosters" section on Settings, then "Roster Sharing," then "Download Community Files." The name of the roster is EP Rinkside v1. I will be updating the roster as the season goes on, probably around once per month addressing major player performance shifts and roster moves. Hopefully somebody replicates this roster on other consoles, which happened with my roster last season.
You may also be interested in: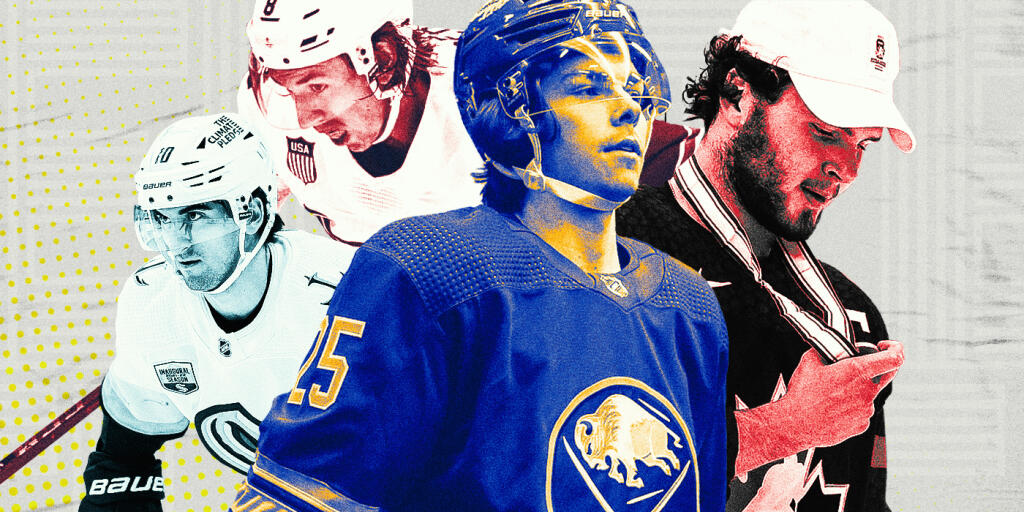 The EP Rinkside 2022 Prospect Pool Rankings
This article is about: