NHL Prospect Report
Russia Stock Watch: Marat Khusnutdinov reaching new heights with SKA
We're past the halfway marker for the 2022/23 season of all three major Russian hockey leagues and there's certainly been some diamonds in the rough surfacing. Due to the ongoing events being led by the Russian government, there's been no major international games for these prospects since the first attempt at last season's World Junior Championships. This has left it up to the players to make their names purely through club play. Whether it be breaking into the men's leagues, breaking records, or just putting on a show at the junior level, here's who is taking advantage of their chances and who is treading water.
Stock Rising
Marat Khusnutdinov, C, SKA St. Petersburg (Minnesota Wild)
Carving out a full-time spot on SKA St. Petersburg as a junior-aged player is no mean feat, but that's exactly what Marat Khusnutdinov did for all of last season as a 19-year-old. Now an established KHLer, the Wild prospect is looking to take that next step and assert himself as a top player in Russia's top men's league.
Khusnutdinov has become less reliant on outpacing his opponents, instead beating them with his smarts, using his speed and pace to create more shooting opportunities away from the puck. He remains exceptionally dangerous on the forecheck, revving up his motor to hound puck carriers and force turnovers.
The end result is that Khusnutdinov is authoring the most productive KHL season of his young career, hovering well above half a point per game. These are hardly superstar numbers, but it's nonetheless a positive sign he's becoming a more confident player with the puck and a more dangerous shooting threat away from it.
Dmitri Simashev, D, Lokomotiv Yaroslavl (2023 NHL Draft)
Dmitri Simashev is quietly challenging Mikhail Gulyayev for the best Russian defenceman in this year's draft. While he doesn't bring the same flair as Gulyayev, there's no denying what Simashev has accomplished as a 17-year-old at the KHL level. He's a simple, rangy defensive defenceman, and Lokomotiv Yaroslavl has taken full advantage of his skill set in a depth role. A recent injury saw him miss a chance to play with the Russian U18s at the Five Nations tournament, but his performances in the KHL and MHL have been raising his value with each outing.
Timur Mukhanov, LW, Omskie Krylya (2023 NHL Draft)
Timur Mukhanov is flying under the radar in the public sphere for reasons I can't quite figure out. Based on the tape, he's making a case for himself as a first-round prospect in this year's draft. Mukhanov is a small winger who makes up for his size with intelligence, skill, and raw speed. After dominating with Omskie Yastreby in the MHL, the 5-foot-8 forward earned himself a call-up to the VHL and has stayed there without interruption. Even with Gleb Trikozov and Ivan Miroshnichenko back in action, his spot with Krylya has remained consistent. His return to league play after a quick stint with Russia's U18 team has been incredible, putting together some of his best performances yet.
Igor Chernyshov, LW, MHK Dynamo Moskva (2024 NHL Draft)
Igor Chernyshov's four-goal game in the Kharlamov Cup playoffs last season put him on the map and he carried that momentum into this season. He's been one of the best players on MHK Dynamo Moskva through the first few months of the year, even earning a two-game cup of coffee with their KHL team. Chernyshov put on a show at the Cup of the Future, putting his skill and offensive creativity on display with the U18 squad and picking up two goals in his final game against Kazakhstan's U20 team. He looks to be the second-best Russian for the 2024 Draft behind Ivan Demidov.
Stock Steady
Matvei Michkov, RW, SKA-Neva St. Petersburg (2023 NHL Draft)
Matvei Michkov may not be challenging Connor Bedard for the top spot in this year's draft as many expected, but there's no denying that he's still a top player in this draft. Playing with SKA-Neva in the VHL, Michkov is already showing growth, adapting his game to the rigours of professional hockey. His quality as a finisher is obvious, but it's his playmaking that has really stood out this season as he rounds into form as a dual-threat scorer.
The results speak for themselves. Michkov's on pace to break every scoring record for a draft-eligible player in the VHL and SKA-Neva has only lost one out of the eight games he's played in. There are still clear areas of weakness in his game that bring his overall value down, but the case for him as the third-best player in this class is still a strong one.
Alexander Nikishin, D, SKA St. Petersburg (Carolina Hurricanes)
Alexander Nikishin continues to prove that he is a high-calibre KHL player. Leading SKA's blue line in time on ice and points, the physical defenseman should be making Hurricanes fans very excited. Unfortunately, they will have to wait a while for him to make the flight over to Raleigh, with his KHL contract extended by SKA for two more seasons. This campaign has gone incredibly well for the Hurricanes' third-rounder, and it already seems like he has nothing left to prove in Russia's top league. That's pretty impressive for a 21-year-old.
Danila Yurov, RW, Metallurg Magnitogorsk (Minnesota Wild)
Danila Yurov picked up a point in his third game with Metallurg Magnitogorsk, which was one more point than he got in the entire 2021-22 season. He is still finding his footing in the KHL but is getting so many more chances this year than last. With this extra time to find his identity, he's proven to be an effective two-way player at this level. Magnitogorsk's head coach Ilya Vorobyov, was prepared to give Yurov more minutes this season, and the versatility of the Wild first-rounder has made that possible. He's been more of a forechecking and defensive presence, but having the skill set to also chip in offensively through his playmaking makes him just that much more valuable as a middle-six player on a strong KHL team.
Stock Falling
Nikita Chibrikov, RW, Khimik Voskresensk (Winnipeg Jets)
Nikita Chibrikov's season hasn't gone according to plan. The 19-year-old winger has found himself playing inconsistently between the KHL, VHL, and all the way back down in the MHL with very little to show for it on the scoresheet. He's reverting back to bad habits, relying too much on his hands to create and struggling to adapt his game to professional hockey. The lack of strength and an inability to create chances for himself away from the puck leave him ineffective and out of the game for large stretches. While he's not a complete lost cause and there are still very interesting aspects of his game, there's no denying that the first half of this season has not lived up to his breakout season with SKA-Neva last year.
You may also be interested in: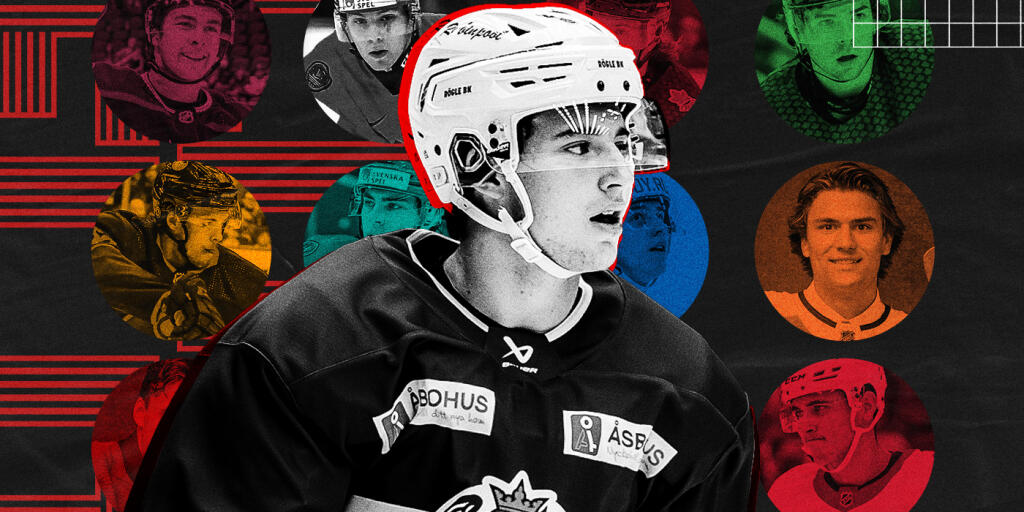 Ranking the NHL's top 100 affiliated prospects in 2022: Skaters 50-26
This article is about: