NHL
Power Feelings: Same old story
This may look to you like a standard NHL "power rankings" but let me assure you, friend, that it is anything but. These rankings are based entirely on how I feel about a team's chances of winning the Cup, meaning you can't tell me I'm wrong because these are my feelings and feelings can't be wrong.
Please enjoy the Power Feelings.
32. Arizona Coyotes (Last time: 29)
Congratulations to these guys for reclaiming their rightful spot at the bottom of the Power Feelings. Sometimes, you really can go home again.
31. Chicago (LT: 31)
Of all the teams that are bad, this is absolutely the one best positioned to really get rid of a bunch of players closer to the deadline, and also get an actual decent price for the players they get rid of. Hey, if you're tanking, that's where you want to be.
30. Anaheim Ducks (LT: 27)
So these guys actually have the worst record in the NHL right now by total points and points percentage. They're on pace to finish with just 52 points or so. People thought this team would be playoff-competitive! Not me, though. I did not.
29. Columbus Blue Jackets (LT: 32)
It's not so much that these guys moved up, but rather that the teams now below them were just that bad. Again, people thought they'd be sorta-kinda good this season and almost every game, they're going, "Oh yeah? We'll show you!" They only have three games out of 25 where they've allowed two goals or fewer.
They only let up nine last night.
28. San Jose Sharks (LT: 30)
Is there going to be any attempt to interrogate the whole "we have to keep Tomas Hertl" thing from last season? I feel bad for the guy, especially if Erik Karlsson is basically asking out because this team is nowhere close to competitive.
27. Philadelphia Flyers (LT: 24)
These guys have two wins from the last 15 games. In those games, they allowed 59 goals. That's too many! Somehow, Carter Hart is still a .911 goalie, through all that. Wow.
26. Montreal Canadiens (LT: 28)
Classic situation where the young players that are supposed to make this team legitimately competitive in the next few years are playing too well for the team to truly tank. I bet they trade Sean Monahan for something nice.
25. Ottawa Senators (LT: 26)
Y'know, if you asked most reasonably smart hockey people going into the season what the Senators' biggest problem would be, they would have said defense and goaltending. But the fact is, their goals per game is just 3.08, "good" for 20th in the league. Very strange.
24. Nashville Predators (LT: 25)
Shocking to learn that these guys are quietly 7-1-1 in the last nine games. Now, only four of those wins were in regulation, but still, can't fault 'em for getting the points. Did they get outshot by 40 over those nine games? You bet they did. Did they only outscore opponents 24-20? Sure. But they're winning 'em and you can't say they're not.
23. Vancouver Canucks (LT: 23)
Three straight wins! And all it took was three straight comebacks and overtimes, against some of the absolute worst teams in the league (Arizona, Montreal, and San Jose). I guess you're supposed to win a lot against the easy schedule, so that's nice for them, but boy they don't make it easy on themselves.
22. Buffalo Sabres (LT: 18)
All praise is due to the Sabres for doing the thing we thought the Senators might: Scoring an absolute ton of goals every night — they lead the league with 4.0 per game — but they're also giving up the fifth-most per game (3.7). Can't say they're not fun!
21. Washington Capitals (LT: 19)
Grim season. I've seen some suggestions that they might try to trade for some help and it's like… to what end? They're behind the Canadiens in the standings. The door is shut on these guys, even if everyone comes back 100 percent healthy. You think Brock Boeser is fixing these problems?
20. St. Louis Blues (LT: 20)
Only eight goalies have faced more expected goals this season than Jordan Binnington, but you'd be hard-pressed to find a goalie who's handling it worse than him. He's seventh-worst in GSAx right now. Everyone around him is a guy you'd accurately describe as having a nightmare season.
19. Detroit Red Wings (LT: 22)
This is not a good team at 5-on-5 but that doesn't seem to matter very much for them right now. They're 6-2-1 in the last nine with a plus-10 goal difference. Still think they're probably not gonna make the playoffs but the gap keeps widening.
18. New York Rangers (LT: 14)
Feels like something has to change soon for these guys, but whether it's a trade or a coaching change, it also doesn't feel like that alone is going to get something moving in the right direction for these guys.
17. New York Islanders (LT: 17)
The only thing with these guys is every time you feel like they're gonna take a step, they lose to the Flyers or Predators. It's no way to go through the season, y'know? Win two or three in a row, lose one or two to an absolutely abysmal team. It's like they're saying, "We don't know, either. You figure it out."
16. Seattle Kraken (LT: 21)
Lots of talk about how surprising these guys are and so on, but I'm less interested in their performance over the first seven weeks of the season or whatever, and more concerned with how they're going to play the remaining 55 games. Lots of time for things to go sideways, especially with Calgary and Edmonton just kinda kicking around the middle of that division.
15. Los Angeles Kings (LT: 15)
These guys are starting a lengthy road trip including a tour of almost every bad Eastern Conference team you can think of, but are also playing Toronto and Boston. Nice chance to either build their case and see how they stack up against two very talented teams, or give away a bunch of points they're gonna need later on. Who knows with these guys?
14. Florida Panthers (LT: 5)
Man, hiring Paul Maurice hasn't worked out for them? Impossible to see that coming.
13. Winnipeg Jets (LT: 13)
The Jets are 20th in xGA/60 at 5-on-5. They are fourth in aGA/60 at 5-on-5. If you're filling out your MVP ballot today, Connor Hellebuyck oughta be No. 1 with a bullet.
12. Pittsburgh Penguins (LT: 16)
Remember when these guys lost seven straight? Yeah, so since then, they're 10-2-2 and have outscored opponents 50-35. Can't go much better than that.
11. Minnesota Wild (LT: 12)
At this point I'm not totally sure why I have so much belief in this team, but I do. Everything about them screams "mid" and their goaltending situation is not good at all. And yet they're hanging around the playoff picture with relative ease. Plus, as long as Colorado is this banged-up — which should be a wild — it's easy to see the Wild continuing to float along.
10. Colorado Avalanche (LT: 10)
Speaking of the Avs, the only reason I have them this low is all those injuries, some of which are long-term, and the fact that they're likely to keep dropping points as long as they keep icing half an AHL lineup. They'll almost certainly be a playoff team at the end of the regular season, but I think anyone can see why you'd be cautious about saying, "I think this is a team that will make a deep playoff run" right this second.
9. Calgary Flames (LT: 11)
They're doing what they can to keep Jacob Markström's body and mentality in good shape, and Dan Vladar has been strong in his stead. However, you'd like to see more from the offense in particular. Only three guys have more than six goals. If they can't sort that out, they're gonna plummet. But for now, I still have some faith in 'em.
8. Edmonton Oilers (LT: 8)
Another team that probably shouldn't be as high on my ranking as they are, but they have those two guys who kinda make it all happen in a way almost no one else can. They gotta figure some stuff out, and it wouldn't be a surprise at all to see them miss the playoffs, but if they do, they're always going to be dangerous.
7. Dallas Stars (LT: 6)
I continue to think they're not all that much more than a one-line team with a solid defense and a very good goaltender, but when the line is this good, who's to argue? The Bruins built a decades-long powerhouse off those same descriptors.
6. Carolina Hurricanes (LT: 3)
Still one of the best "process" teams in the league, and while it feels like the results will never be overwhelming, they're going to win far more often than not and be a tough out even when they lose. What's not to like?
5. Tampa Bay Lightning (LT: 4)
The Bolts started a little slow, but over the past few weeks they have the fourth-best xGF% in all situations, and seventh-best points percentage. Easy to see them figuring it all out in short order here.
4. Vegas Golden Knights (LT: 2)
Unlike Tampa, they've cooled off a bit of late — just 3-4-0 in the last seven — and two of those wins were in shootouts. But I'm willing to chalk some of that up to absences and regression. They should be fine but they're maybe not as good as the first few weeks of the season suggested.
3. Toronto Maple Leafs (LT: 7)
Leafs on an insane heater right now even if they're not playing that well as a team. Here, too, part of that is injuries but all you can do is try to win while everyone is hurt, and they have been. Still in wait-and-see mode on the goalies; much like Seattle, I'm really waiting for regression with these guys. But I wonder how much it's gonna matter.
2. New Jersey Devils (LT: 9)
Not really much left to say about these guys. They haven't lost two in a row since the "Fire Lindy" chants. Which, you'll recall, were the first two games of the season. Just an unbelievable run. And somehow, they still have a worse points percentage than the…
1. Boston Bruins (LT: 1)
How "right" are things going for the Bruins? A line of Taylor Hall, Charlie Coyle, and Trent Frederic is scoring more than 9 goals per hour at 5-on-5. That's how "right" it is for them these days.
You may also be interested in: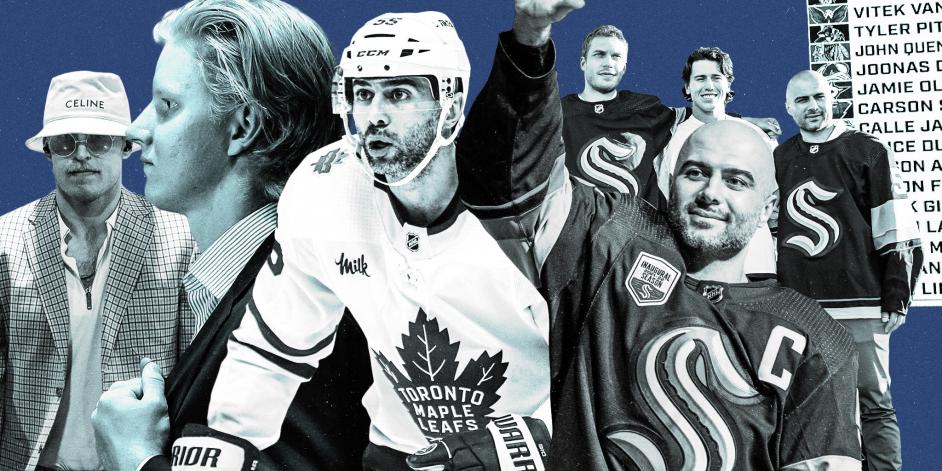 Unnumbered Thoughts: Giordano and Seattle's success, Dahlin and actually showing personality
This article is about: