2023 NHL Entry Draft
Colby Barlow has to prove himself to be a first rounder
Colby Barlow is a coach's favourite, and he'll be a fan favourite everywhere he goes in his hockey playing career, too. That's why the Owen Sound Attack took him eight overall back in the 2021 OHL Draft.
That proved to be a smart pick. Barlow scored 30 goals as a rookie and would go on to become the youngest captain in franchise history.
"It was a massive honour to be named captain of this team," Barlow told EP Rinkside. "We have a great team and a bunch of leaders in the room. We help each other every single day."
Barlow will turn 18 in February, meaning there's still plenty of room for him to grow and take massive steps forward in his development as a draft-year prospect. Even so, he's already scoring at a 49-goal pace as of this writing.
With a release tailored to any situation, Barlow can beat goaltenders from range with his one-timer or turn up the tempo with a short release wrist shot. He's versatile that way, a testament to how smart Barlow is.
"It's just kind of how the play develops. If you have more time, you put more into it. If you must get it off quicker, you do that. Get something on the net rather than place it. Be on time," Barlow stated. "If it's quick and tight, get as much as you can get on it and get it on the net. As the play develops."
It's not always about power, though. The more deceptive the better – that's the rule these days with goaltenders as good as the ones he'll face in the NHL.
"It's reading the play. I like coming down on my strong side," the left-handed shooter said. "I like to curl it in. A curl in entry and then get that shot off. It's harder for a goalie to read if you have a deceptive release. It matters what's given at the time."
How do players practice this deceptiveness? On their goalies in practice and they guide them through it. Deceptiveness works when goalies tell you it does.
"I ask questions all the time to the goalies in practice. I ask what is difficult for them and what kind of shot is challenging for them," Barlow revealed. "It's cool to learn from them. They help me every single day in practice."
Using that goalie as a confidant is a great idea. Goalies are smart, and they should know better than anyone how to beat one with your shot. The downside is when your goalie gets traded, and now you must solve him when he has a book on you. This happened to Barlow last season.
"It's unlikely. Last year Mack Guzda did get traded to the Barrie Colts. He did know where to play the puck and where I would go. He had my number pretty well. Yeah, it's unlucky if your goalie gets traded to another team," Barlow chuckled.
Scorers know just getting the shot on the net isn't enough. Having teammates around the net to knock in a rebound is key. Sometimes those guys can get boxed out and the player must follow up his own shot. That's done all the time in the NBA. In hockey, the good ones have that baked in.
"Goals are scored around the net. It's getting rarer and rarer to be able to beat a goalie straight up as you move up levels," Barlow admitted. "It's important that you go and try and finish off your rebounds. That can add 10 or 15 more goals to your season."
Barlow is already a lock to pass last season's goals total. He had some ideas about why things have been clicking so well.
"Getting pucks on net. Our team has been clicking, and it's been pretty good so far as my linemates go. We've been making good plays. I've had a good start to the season, and I just want to keep it going," Barlow answered.
This prospect does consider himself a goalscorer. But he's a guy who can also transport the puck. That's a great skill to have, a lot of times coaches will rely on players like him to do that at certain times in the game.
"I've been working on it a lot. To get inside the dots. Trying to push the pace with the puck on my stick. If it's not there, it's not there. It's about the pace and getting the play going as fast as you can," Barlow noted.
Barlow can be a very good passer when the play calls for it. When goalscorers draw players to them, being able to find an open teammate helps everybody around them. He is very good with a snap pass.
"It's always good to set up teammates," Barlow said cheerfully. "The OHL is a fast league. The important part is to snap the puck over quickly, and they usually finish it off."
As a 6-foot-1 player who is already 187 pounds, playing in the slot is a natural and another place where he can get some goals.
"It's important to battle and get position. Tip pucks and bury rebounds. It's a part of my game that I take a lot of pride in."
Kicking the puck to his stick is something he can do as well.
"It's something I do to get the puck on my stick since you can't kick the puck in the net," said Barlow.
Winning corner battles is a key thing for all players. Barlow knows that and embraces that.
"Definitely getting there first. Work hard to get there, get the puck and get it out of there," he illustrated.
Barlow can play on the power play, and the penalty kill.
"When you're on the power play you are focused on scoring a goal. On the penalty kill sometimes you can get a quick chance at an offensive play. I've done that a few times this year. You make a quick play, and you get a short-handed goal."
Owen Sound is currently in second place in the Midwest Division, and they have some high hopes this season.
"I have a lot of expectations for our group. We have a lot of returning guys this year. We hit the floor running, but we have room for improvement. We believe we can win with this team."
Barlow should hear his name called on the first day of the upcoming draft in Nashville, Tennessee. We ranked him at No. 16 in our first draft ranking of the season, and he may yet go higher. It only takes one team.
You may also be interested in: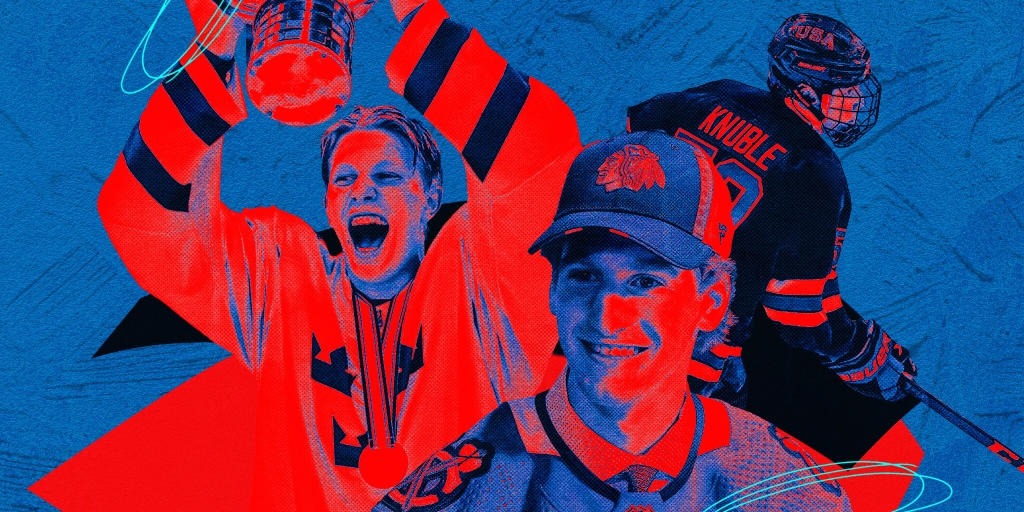 Standout performances at the 2022 World Junior A Challenge
This article is about: