World Juniors 2023
EP Rinkside's 3 Stars from Day 3 of the 2023 World Juniors
HALIFAX, Nova Scotia – "Heave Away" is a song by The Fables, iconic in Atlantic Canada and a staple of sporting events from the band's home province of Newfoundland and Labrador to Nova Scotia.
It was stuck in the heads of just about everybody in Scotiabank Centre following Canada's cathartic dismantling of Germany to bring the team to 1-1-0-0 after an 11-goal outburst – much needed after the panic that followed their 5-2 loss to Czechia in the tournament's first day.
Shane Wright (Seattle Kraken) told reporters in the lead-up to this year's World Juniors that Canada's goal song would be revealed during the first game of the tournament and that it had been originally suggested by teammate Logan Stankoven (Dallas Stars). Haligonians, no strangers to hearing the tune in the Mooseheads' home arena, were pleased to learn that the squad had chosen to honour the tournament's host region.
It played when Dylan Guenther (Arizona Coyotes) tapped in a backhand pass from Connor Bedard on a power play rush six minutes into the game; when Wright got a piece of a rebound in the slot; when Bedard notched a natural hat trick that thrilled the adoring crowd; when Canada punished the Germans for a five-minute major check to the head by scoring four goals including two more almost identical one-timers from Guenther; and when Zack Ostapchuk (Ottawa Senators) and Joshua Roy (Montréal Canadiens) got their first markers of the tournament.
Stankoven's vision had apparently come to fruition. Or had it?
"I actually picked a different goal song, and they didn't end up using it… It was "Danza Kuduro", a Mexican song – it was pretty upbeat, and all the guys really liked it… I just kind of suggested it, and the rest of the team really liked it."
Did he get overruled by the DJ? "Yeah, but I'm happy with the choice, it's really good."
Not so fast, though. After being hauled into HeaveGate, Scotiabank Centre DJ denied deviating from Hockey Canada's choice, confirming that he was given "Heave Away" by the team's event organizers. This story goes far deeper than we could possibly imagine, and EP Rinkside will get to the bottom of it.
There was also a hockey game – or something that could conceivably be described as one.
With narratives swirling about Michigans and bad penalties – and up against an opponent who came a few bounces away from shocking Sweden in their first game – Canada dropped the hammer on Germany, notching seven goals on the power play and out-shooting them 52-17.
"That's how we play hockey, for all three periods, all 60 minutes, that was Team Canada hockey," Wright said after the game. "We were expecting a bounce-back game, and that's exactly what we got and really proud of our effort today."
Unless Stankoven finds a way to sneak into the DJ booth in the next 24 hours, fans of "Heave Away" will likely hear a lot more of it tomorrow night as Canada faces an Austrian team that has been outscored 20-0 and outshot 98-21 to this point in the tournament. The Germans will also see Austria next following a probably much-needed rest day.
The Daily Scoreboard
Slovakia 6 -3 Team USA
Canada 11 - 2 Germany
1. Connor Bedard, C, Canada (2023 NHL Draft)
Bedard put together what can only be called one of the most dominant performances we've seen at this tournament in a long time. Seven points jump off the page – it's tied for the most ever by a Canadian player – but you can make it even more impressive. Consider that he did it in only 16 minutes of ice time, that they consisted of three goals and four primary assists, and that three of those assists set up cross-ice one-timers.
It had many of his linemates at a loss for words.
"Pretty crazy" is how his captain described it. His new linemates Roy and Stankoven chose "incredible," and "unbelievable" respectively.
Bedard himself? "Just one of those nights."
Connor Bedard completes the hat trick, sniping a wrist shot past the German goaltender to give 🇨🇦 Canada 🇨🇦 a 5-1 lead.

Olen Zellweger (#FlyTogether) and Shane Wright (#SeaKraken) the assists on the play.

🎥 : @TSN_Sports pic.twitter.com/NQhWxUMsio

— EP Rinkside (@EPRinkside) December 29, 2022
Such is the life of one of the most dynamic junior players in the history of the sport.
Bedard's shot has dazzled the crowd in Halifax so far, but it was his playmaking ability that captivated the audience this time. His passing game, powered by elite vision and offensive instincts, makes life miserable for his opponents who have to focus on taking away both passing and shooting lanes from a player who can take advantage of the smallest openings.
Fully aware of this, Bedard uses deception to mask his intentions and confound opposing defencemen into panicking and allowing him to strike. But his opponents aren't the only ones who have to deal with the deception.
"It's pretty hard for us [to stay on the same page], but I think we just communicate and if you call him and you don't have any defence on you, he's gonna give it to you, and it's gonna be good," said Roy.
Stankoven highlighted the importance of "always being ready for that puck, because you never know what's gonna come off that stick."
Apparently, that's the right approach. The trio dominated possession, and Bedard praised Roy and Stankoven for "[making] the game so easy for me with how they play, unbelievable players."
2. Dylan Guenther, RW, Canada (Arizona Coyotes)
You gotta feel for Guenther. A hat trick at the World Juniors is supposed to put you in the national spotlight, but by the time he notched his third marker early in the third period, the fans had already spent their hats on the player who set up all three of his goals.
Dylan Guenther (#Yotes) finishes the hat trick with another one-timer to give 🇨🇦 Canada 🇨🇦 an 8-1 lead in the second period.

Connor Bedard the lone assist on the play.

🎥: @TSN_Sports pic.twitter.com/jyDxEx3Q1o

— EP Rinkside (@EPRinkside) December 29, 2022
Even some of his teammates didn't notice; he said after the game that the lack of hats tricked them into thinking he had ended up with only two goals.
Guenther wasn't exactly enthusiastic about his performance either.
"I thought it was good. I think our line played well," he said after Canada's 11-2 win. "I would like to get one at 5-on-5, but I think that's a step in the right direction for us."
Bedard was willing to give him his due. "He's got a pretty good one tee, so I just tried to get it there, and he seemed to put it in the net almost every time."
Indeed he did. Three goals on five shots is nothing to complain about, and on the five-minute major power play, he and Bedard were giving the German penalty kill fits moving the puck back and forth across the slot from circle to circle. As good as Bedard's passing was, it was Guenther's savvy off the puck that resulted in those yawning cages.
3. Filip Mešár, RW, Slovakia (Montréal Canadiens)
Mešár may have only left Slovakia's 6-3 upset win with the one goal, but he just as easily could've picked up another two or three points along the way had his linemates finished his passing plays or the puck bounced differently. That his lone point was a fluke deflection off American forward Charlie Stramel's stick almost seemed like the hockey gods intervening on his behalf.
Filip Mešár (#GoHabsGo) gives 🇸🇰 Slovakia 🇸🇰 a two-goal lead with a redirection off an American stick and past the goaltender for the 4-2 goal.

Simon Nemec (#NJDevils) and Alex Šotek the assists on the play.

🎥 : @TSN_Sports pic.twitter.com/FgvIO4mOlw

— EP Rinkside (@EPRinkside) December 28, 2022
The data that our colleagues Mitch Brown and Lassi Alanen tracked from Slovakia's stunning win over the Americans paints his contributions in a much more flattering light. Mešár finished with the highest game score rating (2.125) on the Slovak roster, second only to Gavin Brindley's 2.175 mark among all skaters in this contest.
Brown and Alanen's data set has Mešár down for creating eight shot contributions (four shots and four assists), this area pass to spring Servác Petrovský for the scoring chance perhaps the most skilled of the bunch.
Servác Petrovský (#MnWild) sneaks behind the American defence for the scoring chance, but Kaidan Mbereko (@CCTigerHKY) shuts the door with an awesome save.

🎥 : @TSN_Sports pic.twitter.com/f1no1i1d38

— EP Rinkside (@EPRinkside) December 28, 2022
If one were to nitpick, they would point out that Mešár was uncharacteristically sloppy in transition, only rocking a 58 percent success rate on zone exits and entries in this contest. Of course, the context there is that the Canadiens' first-rounder is trying to gain the inside with far more frequency than we saw in his draft year, so that's bound to happen.
---
The Americans need more from their stars:
Team USA has among the deepest rosters in this tournament, eclipsed on paper by only the host Canadians. You wouldn't guess it watching this team through their two first games, though.
Luke Hughes (New Jersey Devils) has been inefficient with the puck and made costly mistakes in the defensive zone; Logan Cooley (Arizona Coyotes) is playing some of the worst hockey our staff has ever seen from him; and Cutter Gauthier (Philadelphia Flyers) has played reasonably well but can't catch a break.
Jimmy Snuggerud (St. Louis Blues) can't be the only American star who's running at 100 percent in this tournament – he's second in the tournament with a game score rating of 4.805 as of this writing.
This team needs their best players to start playing like their best players or another early exit from the World Juniors awaits.
Highlight of the day:
It doesn't get any better than this. The deception on the defensive zone puck retrieval and the shoulder shimmy to shake pressure by Olen Zellweger (Anaheim Ducks) before he explodes up ice. Bedard collecting a difficult pass and freezing the defence by looking shot before going cross-ice with the pass. Guenther calmly depositing the puck into the yawning cage for the first of three goals. You love to see it.
Tic-tac-goal! Dylan Guenther (#Yotes) finishes the ridiculous passing play to give 🇨🇦 Canada 🇨🇦 an early 1-0 lead over Germany.

Connor Bedard and Olen Zellweger (#FlyTogether) the assists on the play.

🎥 : @TSN_Sports pic.twitter.com/bfpOsMsh0y

— EP Rinkside (@EPRinkside) December 28, 2022
Your World Juniors stats for the day: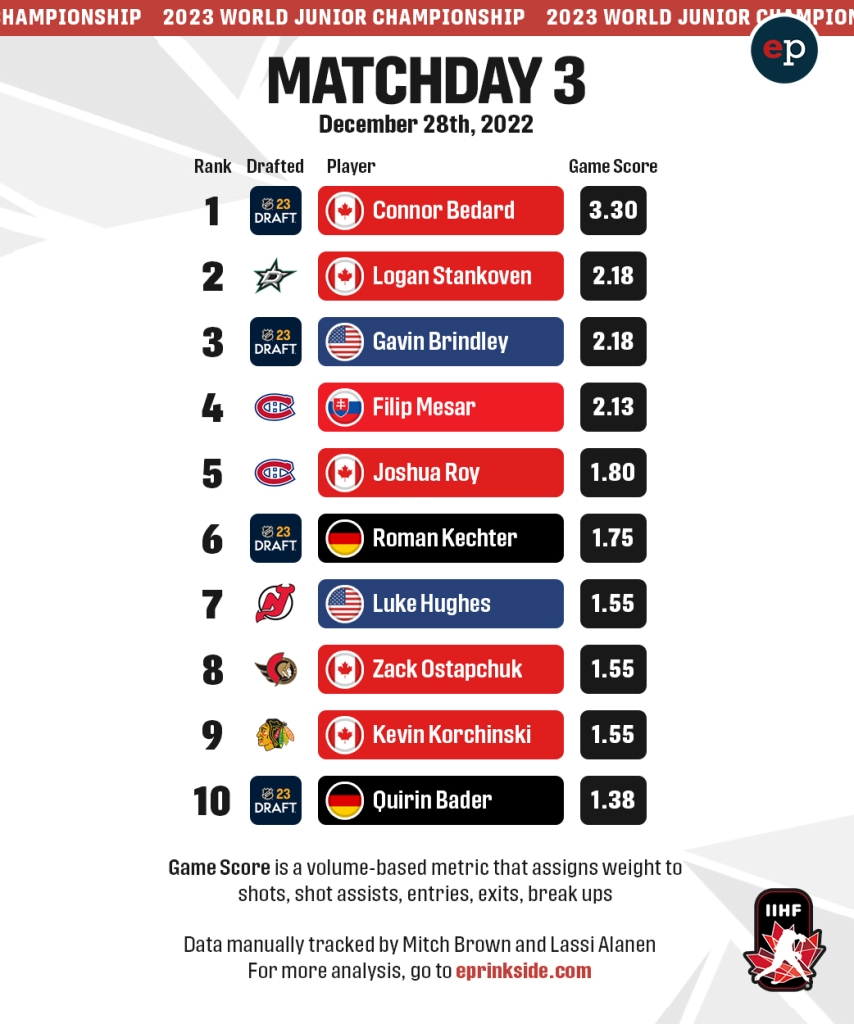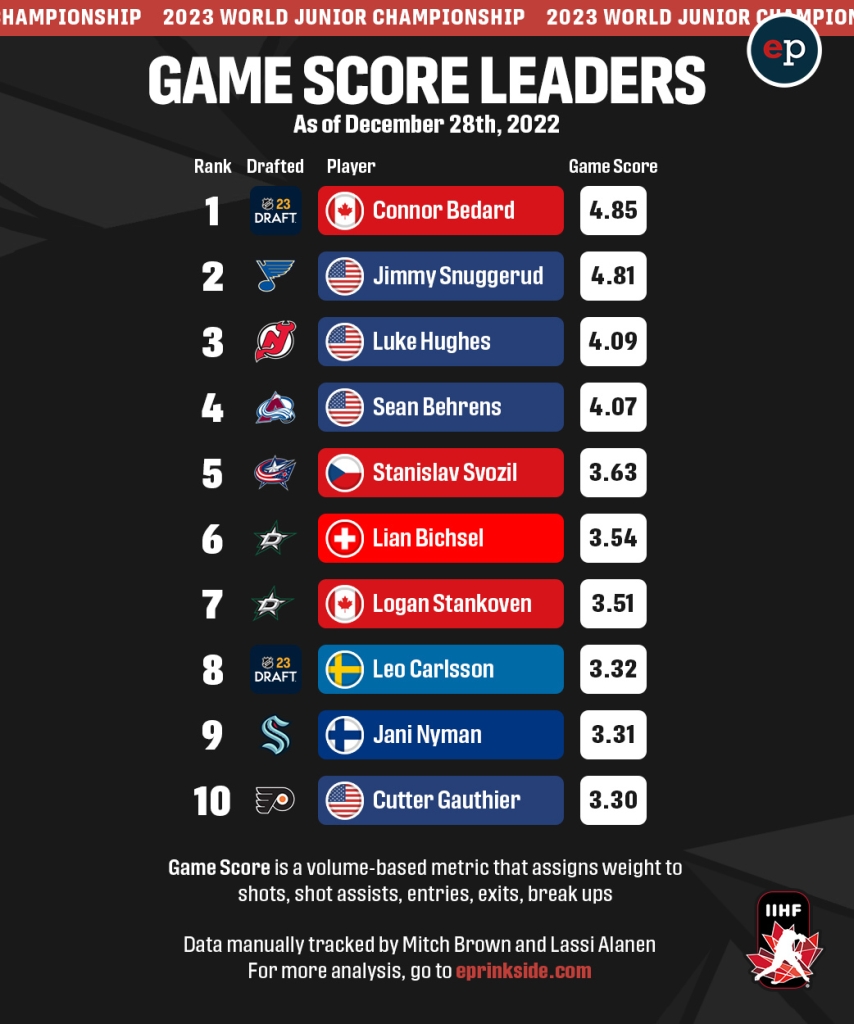 You may also be interested in: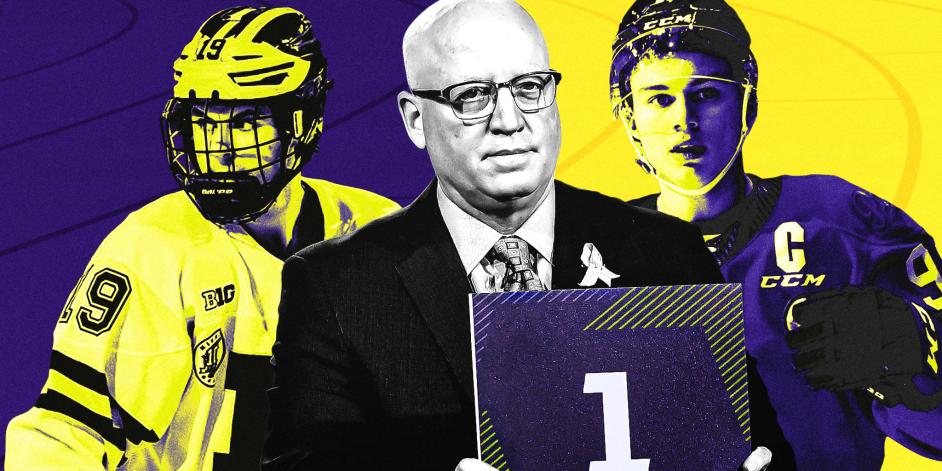 Connor Bedard, Adam Fantilli, and the race for top spot in the 2023 NHL Draft
This article is about: