NHL
Rinkside Roundtable: Predictions for 2023 in the hockey universe
When I was a kid my family would get together on Jan. 1 and share predictions.
My grandparents, my aunts and uncles, they'd all get together and make a prediction for the upcoming year.
I always remember my grandmother's being a bit odd and overly dramatic. There was once one that predicted one grandchild, she wouldn't name which, would become way more independent over the next three months.
I'm sure the adults in the room at the time got the reference…
Anywho, essentially doing the same thing here at EP Rinkside. I posed the question to our staff yesterday to make one prediction for 2023. It could be anything as long as it related to hockey.
Enjoy.
DAVID ST-LOUIS: I've got one. It's also the article I'm working on. David Reinbacher will be the first defenceman taken in the 2023 draft. He will go at 8. I know many watch him right now and think that he is far from a top-four NHL role, considering how raw he is, but the NHL will see the potential. He's a larger, mobile, aggressive prospect, who could become a shutdown defenceman, who plays against men and performed very well inside a weak team at the WJ-20. He flashes enough puck-moving skills to project him as an offensive contributor, too.
CAM ROBINSON: I'll step away from the prospect world for a moment and predict that Alexander Ovechkin continues to defy all logic and keep Father Time at bay by recording 60 goals this season. His 50-goals last season were the most ever by a 35-plus year old, and he'll take that record and launch it even further into the stratosphere this season. Remember when we were genuinely concerned he wouldn't be able to catch 99's all-time mark? It seems like a foregone conclusion that he'll not only catch Wayne Gretzky but cruise right on past him.
JD BURKE: So I'm going to play to the local crowd in Vancouver and offer a prediction straight from hell.
The Canucks are going to sign Bo Horvat to a contract extension so wildly inefficient it makes the J.T. Miller deal look like Nathan MacKinnon's second contract. The thing with the Canucks since about the end of the Mike Gillis era is that there's one guiding rule when trying to divine the big picture manoeuvres of this organization: What's the least advisable, most inefficient long-term decision they can possibly make, because that's the route they're usually going to go. And don't the results show it!I get that there's a certain segment of Canucks fans who are pained at the idea of parting with Horvat.
I would even go so far as to say I understand why they feel that way. At this point, there's little to no hope for anything much better than what they've seen from the club this season. It's not like the Canucks have the latitude to change course — their prospect pool is abysmal, their trade chips are the exact type of players who have seen their value crater in the flat cap environment, and their books couldn't possibly be in worse shape.Horvat, meanwhile, is a model citizen, a good leader, and someone who's put up counting stats at about a low-end first-line rate pretty consistently — up to this season anyway, at which point he channelled his inner Alex Ovechkin. He's the type of player you'd prefer the organization prioritized last offseason if you're a fan.
Hell, I would prefer a bet on Horvat to one on Miller, too. But just because you made one bad bet doesn't mean you have to make matters worse with a Horvat extension. Which is precisely why I think they'll sign him ahead of the trade deadline.
RUSS COHEN: I think Ryan O'Reilly will magically heal in time to be traded to the Boston Bruins for their Stanley Cup run. The Bruins will trade Fabian Lysell in the deal and not have much left in the cupboard as they try and win once again.
JFresh: Alexis Lafrenière is traded, possibly at the trade deadline. The 2020 1st overall pick has just not fit in their lineup at all since being drafted, with a combination of gridlock at the left wing position and the need to win now keeping him out of opportunities to help him develop.
There are bright spots to his game. I think he's still a very useful player near the net, and while his efficient 5-on-5 goal-scoring so far in his career is mostly the result of his role as a "tap-in merchant," there is a skill to getting to those areas in time that he has in spades.
But the playmaking and puck skills in general are undoubtedly not where they were supposed to be at this point in his career; frankly, they're a bit behind what he was expected to be as a rookie. Lafrenière shouldn't be a player who needs to be deployed with an elite playmaker to succeed, but that's where he is right now.
A team like Chicago, or Vancouver, or even Montréal would give him the ice time and especially powerplay time he needs to work out what he needs to do with the puck on his stick. With targets like Patrick Kane, Bo Horvat, and even Josh Anderson (would anybody be surprised) out there, the Rangers may be fine with handing off the task of developing his talent to somebody else. Kaapo Kakko also often comes up in these conversations, but due to his position and his utility as a role player and puck retriever he makes a bit more sense in the Rangers' long-term depth chart.
SEAN SHAPIRO: Columbus is gonna win the draft lottery. Book it.
Johnny Gaudreau gets rewarded for picking the Blue Jackets voluntarily and gets to play with Connor Bedard in October. Jarmo Kekäläinen gets the full green light to start wheeling and dealing and Columbus heads into next season as a stunning top-three team in the Metro Division.
RYAN LAMBERT: At least two and as many as four players will score 60 goals this season. Sure, it's only happened three times in the cap era, but the way things have been going this season for guys like Tage Thompson, Alex Ovechkin, and of course Connor McDavid, it should be a goal bonanza the rest of the way.
You may also be interested in: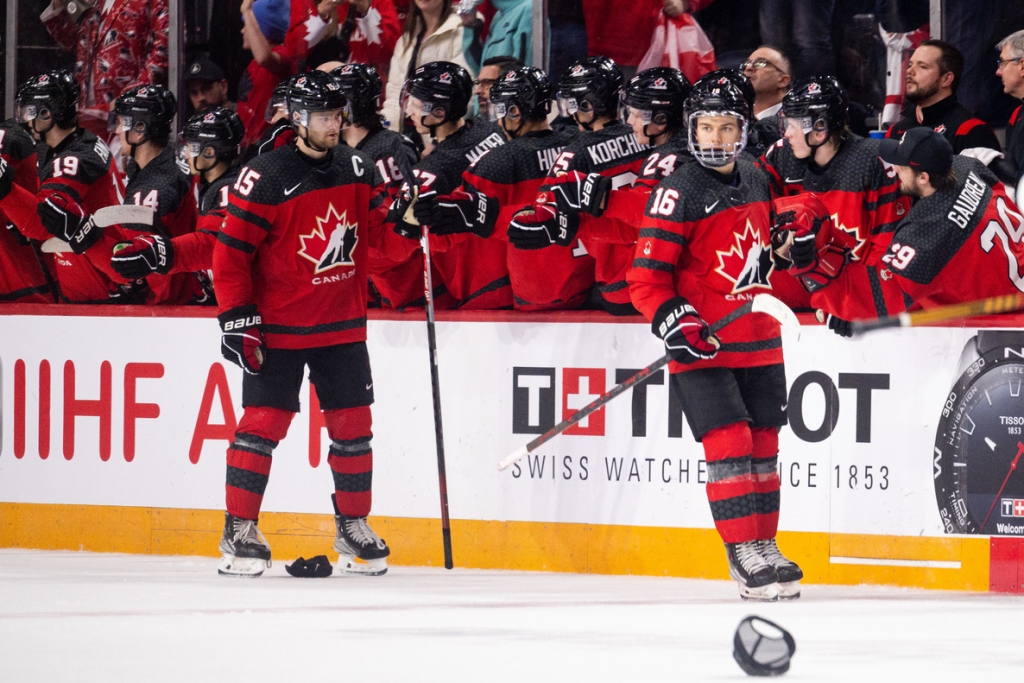 Year in Review: Most viewed players on Elite Prospects in 2022
This article is about: