World Juniors 2023
EP Rinkside's 3 Stars from the 2023 World Juniors medal round
HALIFAX, Nova Scotia – The 2023 World Junior Hockey Championship is over, capped off by two thrilling overtime games marked by dramatic comebacks and superstar performances.
Canada, nine days after suffering a loss to the Czechs that caused a brief and hysterical national reckoning, edged out a win off a thrilling overtime rush goal by Dylan Guenther (Arizona Coyotes) that had the sell-out crowd at the Scotiabank Centre going absolutely nuts. With resale ticket prices starting at over a thousand dollars, they'd better have enjoyed it.
What! A! Shot! Dylan Guenther (#Yotes) absolutely hammers one past the Czech goaltender to give 🇨🇦 Canada 🇨🇦 an early 1-0 lead.

Brandt Clarke (#GoKingsGo) and Brennan Othmann (#NYR) the assists on the play.

🎥: @TSN_Sports pic.twitter.com/R5Uwiwy3bs

— EP Rinkside (@EPRinkside) January 6, 2023
The first period of the game was an imperfect but strong execution of Canada's game plan, indicative of the adjustments made after the first loss. Thomas Milic, who was brought in as the team starter halfway through that game, was stellar, making repeated blocker saves on deadly Czech counter-attacks. The team's discipline was improved despite a handful of penalties, and the bottom-six was driving possession.
What happened next was an almost flawless illustration of how this edition of Canada was meant to play. Shane Wright (Seattle Kraken) was a superstar, winning every close battle and scoring a beautiful goal at odds with his purely blue-collar tournament up to this point. Connor Bedard created chance after chance, but they didn't need him to carry the load at 5-on-5. Meanwhile, every time Nathan Gaucher (Anaheim Ducks), Zack Ostapchuk (Ottawa Senators), or Adam Fantilli (2023 NHL Draft) stepped on the ice, the Czechs just didn't get the puck in the offensive zone.
HAPPY BIRTHDAY, SHANE WRIGHT 🥳

The #SeaKraken forward with a gorgeous individual effort gives Canada a 2-0 lead!

Assists to Dylan Guenther (#Yotes) and other birthday boy Brennan Othmann (#NYR).pic.twitter.com/YOhAfQwIK4

— EP Rinkside (@EPRinkside) January 6, 2023
It was a clinic for just about 58 minutes. Then everything that you would have expected might go wrong went wrong for Canada.
The Czech strategy was evident throughout the tournament, and they repeated it regardless of the opponent to great success. Canada was so effective at countering it that we only saw it briefly, and even then they got two goals out of it.
It goes something like this. Establish an offensive zone possession by winning battles. Get pucks to the point and fire them through bodies to the net, looking for tips and rebounds. Recover the puck, and if you can't, go all out to prevent the defender from making a clean breakout pass. When the turnovers come, strike off the counter-attack.
They sure did, to the tune of two goals that stunned the Halifax crowd.
But Canada was the better team – even in that first game – and ultimately, talent won out. Brandt Clarke (Los Angeles Kings) made some great defensive plays in overtime, fed the puck up to break-out star Joshua Roy (Montréal Canadiens) and the pass ended up on Guenther's stick. Heave away.
BACK TO BACK WORLD JUNIORS GOLD FOR CANADA!

Dylan Guenther (#Yotes) finishes off the 2-on-1 to get 🇨🇦 Canada 🇨🇦 the overtime win over Czechia for gold.

Joshua Roy (#GoHabsGo) and Brandt Clarke (#GoKingsGo) the assists on the play

🎥: @TSN_Sports pic.twitter.com/Nn1qaj8271

— EP Rinkside (@EPRinkside) January 6, 2023
They learned from that loss, and it showed.
"The way the tournament went for our group, from the get-go the way we had to battle through the loss, we found ourselves refocused… it was an amazing feeling, and I'm so proud of the guys and how they stuck together," said Canada's head coach Dennis Williams.
The Czechs should be extremely proud of how they played. They earned the "home ice" in this game by playing a game that suited the talented players they had, highlighted by a dominant blue line and incredible goaltending by Tomáš Suchánek, the media-voted goaltender of the tournament. They earned the country's first medal since 2005 and first gold-medal-game since 2001.
At the end of the day, Canada saw this thing through and delivered to the historic Halifax crowd what they craved from Boxing Day onward. The average attendance rate in Halifax was above 92 percent of Scotiabank Centre's capacity, a tournament record. They were deafeningly loud the whole way through and made the golden goal even more iconic.
The Daily Scoreboard
USA 8 - 7 Sweden (OT)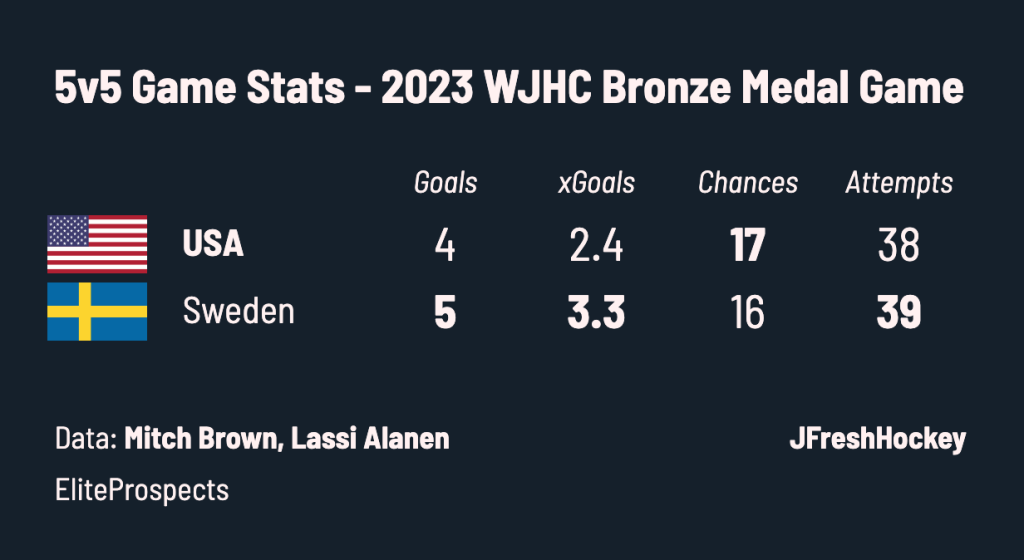 Canada 3 - 2 Czechia (OT)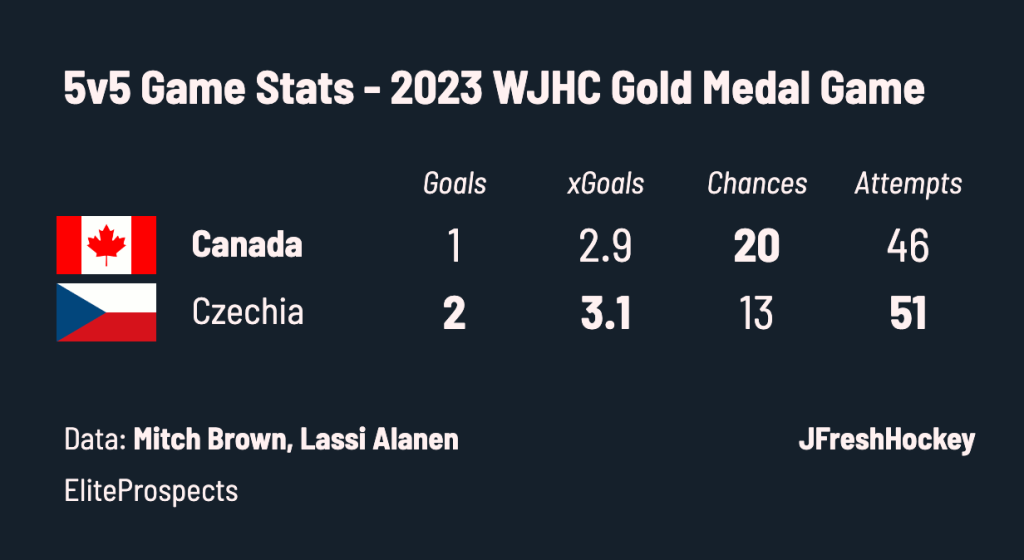 1. Dylan Guenther, RW, Canada (Arizona Coyotes)
Guenther is a man of few words. His unfathomably calm demeanour throughout the highs and lows of the tournament has been evident to anybody who's spoken to him, and apparently, it extended even to his final, golden shift in overtime.
"I almost forgot it was overtime, do or die. I didn't throw my gloves off."
Surely bringing over 10,000 screaming fans to their feet must warrant some extreme emotion?
"Nice play by Clarkey, 2-on-1, nice pass."
Okay then.
Earlier in the tournament, Guenther was similarly unenthused about his hat trick and consistent goal-scoring, in part because it didn't come at 5-on-5. He'll have to set that aside, because his two goals tonight weren't at even strength either.
The first was a scintillating one-timer, bar-down on the power play to make it 1-0. The second was also a one-timer, on a 2-on-1 with Roy.
A theme emerged throughout the tournament – Guenther getting to dangerous spots and making no mistake when he had the chance to score. He now returns to Arizona with a gold medal in his pocket and the goal of a lifetime – if he can remember that it happened in overtime.
2. Shane Wright, C, Canada (Seattle Kraken)
Happy Birthday, Shane Wright. The crowd actually serenaded the newly-minted 19-year old – with no prompting from the jumbotron I might add – but the better birthday present came a few periods later.
Wright has taken some heat during the tournament for a lack of flair and creativity, but tonight was an absolute clinic in all the things he's been quietly doing right.
His battling, his backchecking, his defensive play, his net-front work. And one of the flashiest goals of the tournament mixed in for good measure.
"That was one of the nicest looking goals I've ever seen" is how Guenther described it.
"That was ridiculous!" laughed Bedard. "Nuts, yeah, sick."
"Seemed like Bedsy's rubbing off on me there, more a play that he would pull off," Wright demurred.
Whatever came over him, it was a cathartic ending for a tournament in which, contrary to stereotypical Canadian logic, the captain who has kept his head down and played the game of a role player has been derided for not matching up to a highlight-generating offensive star.
3. Tomáš Suchánek, G, Czechia (2023 re-entry)
Jiří Kulich is a man of few words in English, but he wasn't shy when asked to describe Suchánek, calling the Czech goaltender "our angel."
While some spectators might have taken it as a smirking arrogance from afar, Suchánek's constant positivity and confidence were much-needed qualities in goal for the Czechs throughout this tournament. He fought off a barrage of Canadian chances for the second time in the tournament and it was obvious what sort of confidence he instilled in the players in front of him.
Even in devastating defeat, Suchánek understood the gravity of his performance and that of his country.
"So proud. I'm really proud of everyone because they've been like family for the last four weeks and it's absolutely amazing what we build here as a team, and the result is really great."
No one who saw his reaction to allowing the game-winning goal on a cross-slot one-timer would mistake that as contentment with second place. But the even keel and contagious attitude were no doubt central to the success of the Czech team, as were his reflexive, often acrobatic saves throughout the tournament.
"I love everyone here, so it's really easy to spread a positive energy. For me, they are like family."
---
Chaz Lucius' cathartic hat trick
Chaz Lucius had to push through some real adversity to get to the point where his hat trick delivered a medal to Team USA. The Jets prospect missed the U18s due to an illness and the 2022 World Juniors tournament with a succession of injuries that shortened his first season of college hockey.
So the fact that he got to be the hero in maybe the most memorable bronze medal game the Juniors have ever seen is not lost on his teammates.
"He's a really detailed player and a pure goal scorer – that's what he does, and he's really good at it, and I couldn't be happier for him." said defenceman Lane Hutson (Montréal Canadiens), who assisted on the overtime winner,
"It feels deserved that I had the moment today," Lucius acknowledged.
🇺🇸 Team USA 🇺🇸 has won bronze!

Chaz Lucius (#GoJetsGo) with the backhand goal to win it 8-7 in overtime for the Americans and finish off the hat-trick!

Lane Hutson (#GoHabsGo) and Red Savage (#LGRW) the assists on the play.

🎥: @TSN_Sports pic.twitter.com/3vDDqC2JyY

— EP Rinkside (@EPRinkside) January 5, 2023
Team USA captured the bronze medal in bizarre fashion that involved a nine-goal second period, one of the tournament's best goaltenders being yanked, and another being shelled for eight goals, and both a lead and tie game being gained in the dying seconds.
Lucius' goal in the first half of the 3-on-3 overtime period was the culmination of the chaos and a difficult journey.
Highlight of the day
Luke Hughes (New Jersey Devils) didn't bring home a gold medal, but the memory of this almost Alexander Ovechkin-Esque spinorama/hook shot on his knees in the third period will probably stick with him even before he's willing to put the bronze on his mantlepiece.
What. A. Goal. Luke Hughes (#NJDevils) sneaks one past the Swedish goaltender as he's falling down to tie this game at 6-6 for 🇺🇸 Team USA 🇺🇸

Rutger McGroarty (#GoJetsGo) the lone assist on the play.

🎥: @TSN_Sports pic.twitter.com/1IIAnZRDyP

— EP Rinkside (@EPRinkside) January 5, 2023
Tournament All-Stars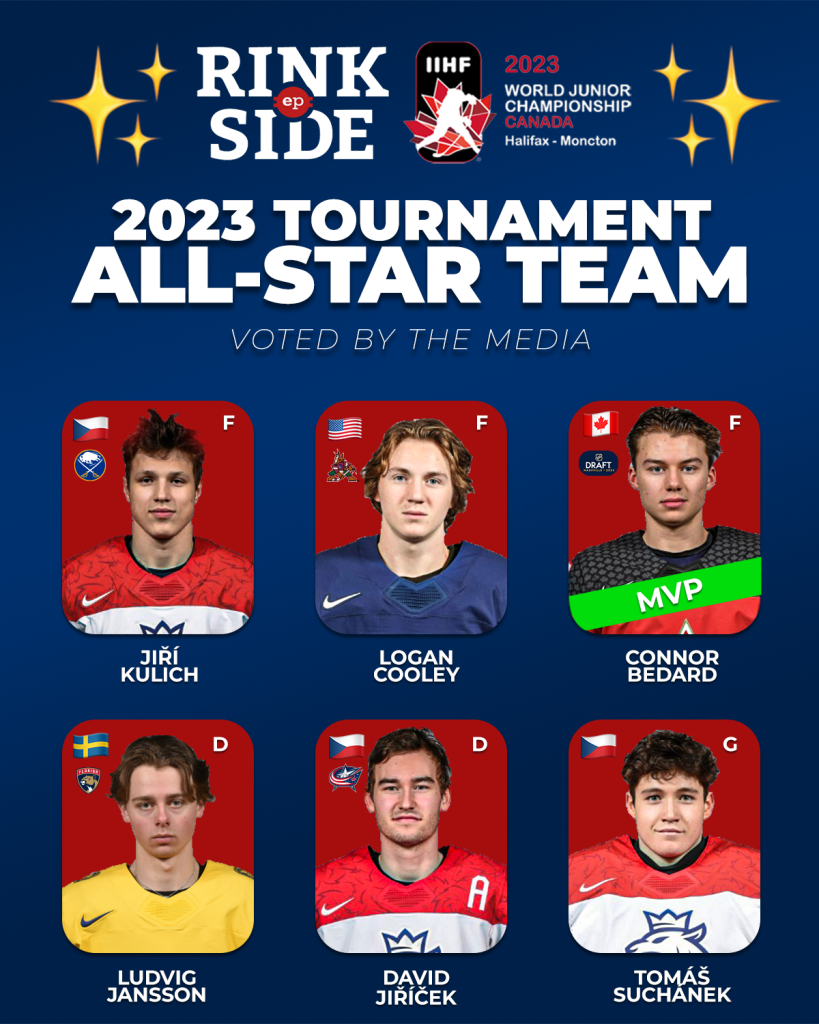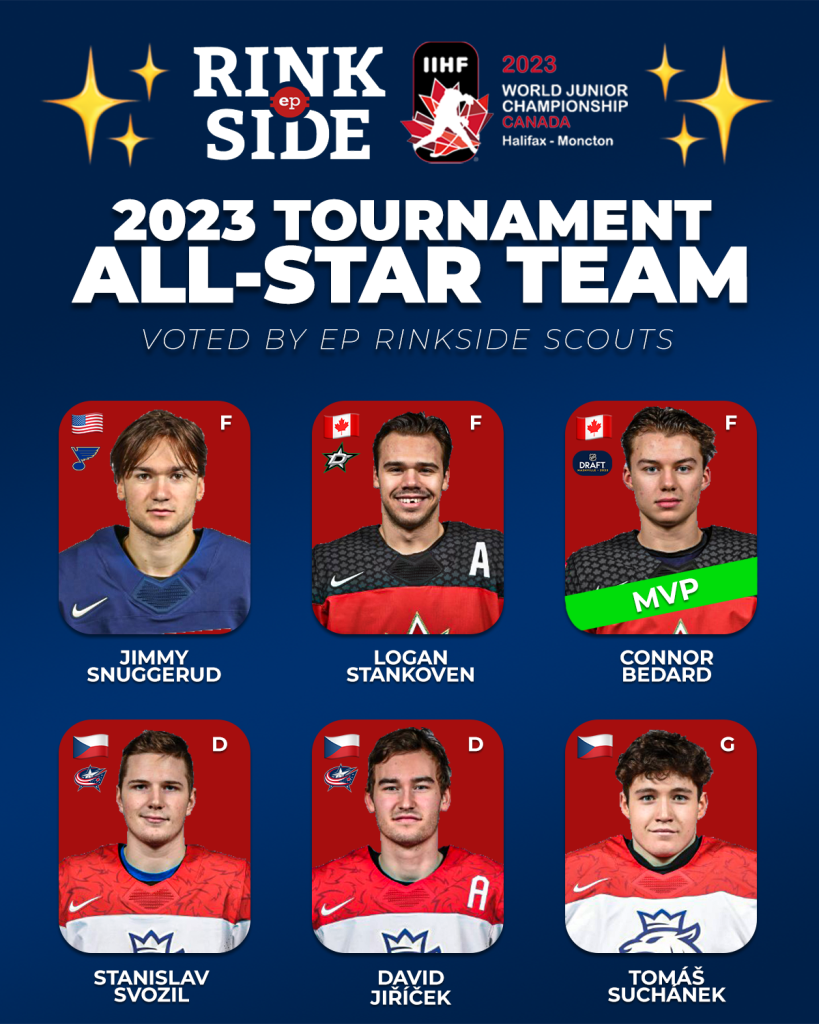 Your World Juniors stats for the day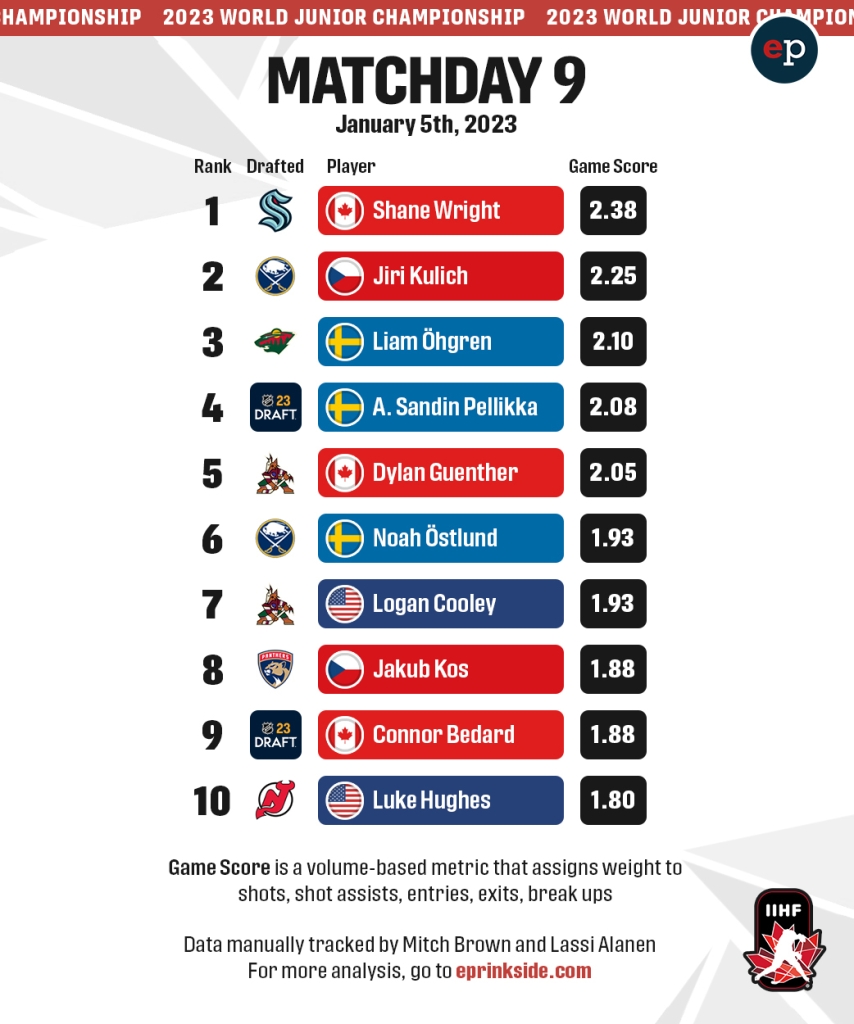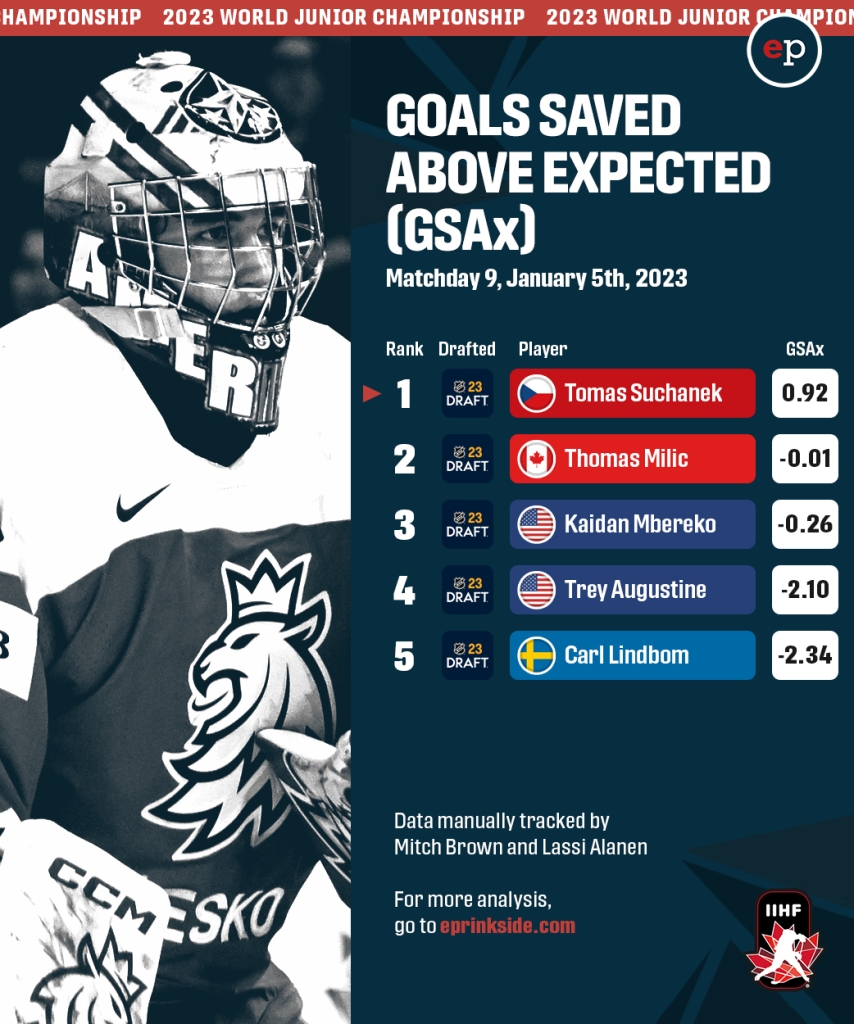 You may also be interested in: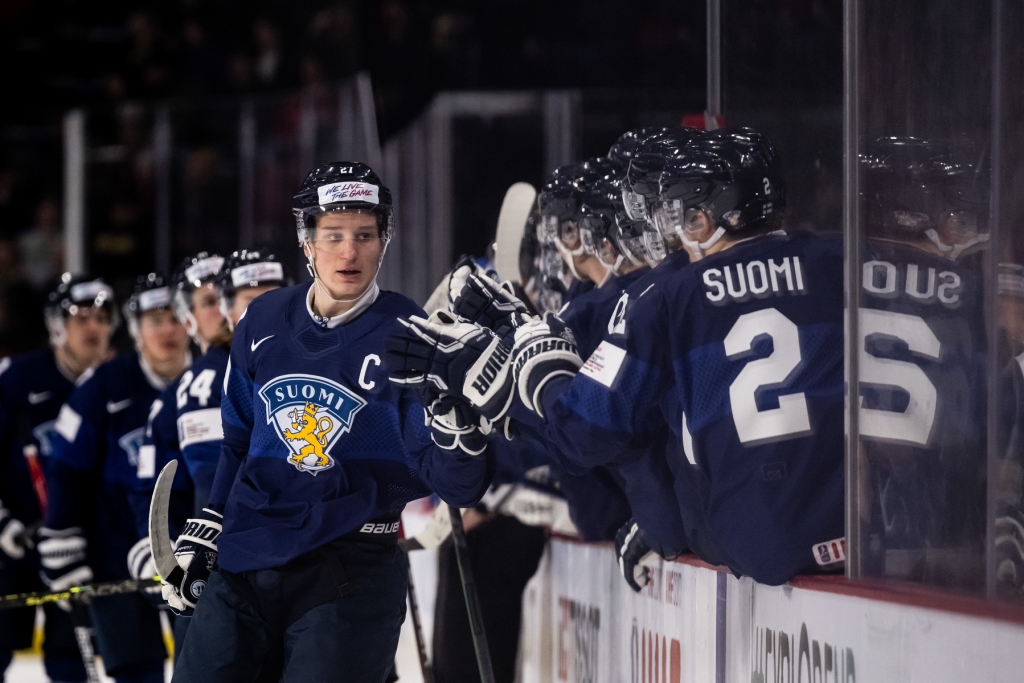 Five thoughts on Finland's performance at the 2023 World Juniors
This article is about: