NHL Prospect Report
Russia Stock Watch: No stopping Ivan Miroschnichenko now that he's back
The World Juniors just came to a close, and what a tournament it was, but the actions of the Russian government – prosecuting an illegal war in Ukraine, namely – meant that we couldn't see them on the international stage.
They would've fielded one of the most promising rosters in recent memory too, with a real shot at medalling, too.
The reverberations of those sanctions don't just extend to the World Juniors though. Many of Russia's top prospects who would usually be competing in North America at this stage in their development are stuck at home, missing a chance to prove their quality where most of the scouting is done.
At least a handful of players who would've been locks for the World Juniors got to play some international hockey in December… in a 3-on-3 tournament against powerhouses like Kazakhstan and China. It's not nothing, I guess.
Despite this, a handful of players have made their professional hockey debuts and outperformed expectations, while others are struggling in their league play and could've really used a chance to play for the national side and get some confidence back.
Stock Rising
Ivan Miroshnichenko, LW, Avangard Omsk (Washington Capitals)
There's been no stopping Ivan Miroshnichenko since he recovered from Hodgkin's lymphoma,
This started with the Capitals prospect tallying eight goals in eight MHL contests in November and adding three assists, good for a spot on the MHL Team of the Month. He made two appearances with the VHL side where he grabbed three more assists before making his long-awaited KHL debut with Avangard Omsk.
On Dec. 26, Miroshnichenko scored his first career KHL goal. At 18 years and 325 days old, he became the youngest goalscorer in Avangard Omsk's history.
Alexander Suvorov, RW, Severstal Cherepovets (2023 NHL Draft re-entry)
The NHL has passed up on Alexander Suvorov twice now at the draft, and he's authoring a revenge tour for the ages in response.
The Belarusian winger struggled to make an impact in his draft-plus-one season with Dinamo Minsk a year ago, failing to connect plays, lacking the pace to beat guys 1-on-1, and generally not looking comfortable at the KHL level.
He was loaned to Severstal ahead of this season, and he's completely flipped the switch. As of this writing, he leads all U21 players in the KHL in per-game offence with a 0.7 mark – a massive bump on his 0.18 clip of last season.
Everything that needed to go right in his development is going right – he's faster, stronger, and, most of all, actually completing plays at a high rate. He's made a home for himself in Severstal's top-six and should be pushing to be a late-round pick in the 2023 Draft.
Nikita Grebyonkin, RW, Amur Khabarovsk (Toronto Maple Leafs)
Earning a regular role in the KHL can prove difficult for developing players, and Nikita Grebyonkin found that out the hard way, starting the season off averaging only 2:12 a game with Metallurg Magnitogorsk in seven contests.
So, when he went back to the MHL to play once with Stalnye Lisy, Grebyonkin ran with it, grabbing three assists before a four-game stint in the VHL that eventually resulted in being loaned to Khabarovsk.
With his new club, Grebyonkin was immediately given a chance to prove his worth. The Maple Leafs' prospect generates offence with pace and skill; he looks to use his hands to get an inch, then takes a mile with his pure speed. He's not small like many other Russian prospects who fit his style of play, so adapting to the higher physicality level of the KHL has been much less of an issue than other players have faced. He's found his spot in the line-up with Amur, averaging just under 17 minutes a game and has scored at a 0.48 point per game clip. As the second-youngest player on one of the worst teams in the league, he's put together a very impressive season.
His time will conclude with Amur come February as they will inevitably miss the playoffs, but it begs the question of what comes next for him. He's clearly at the point in his career where he needs to be to be playing at this level, but spots are slim on a powerhouse Magnitogorsk side, where he remains under contract until the end of next season.
Honourable Mentions: Ignat Lutfullin (2023), Nikolai Khvorov (2023 re-entry), Stepan Nikulin (2023 re-entry), Artur Akhtyamov (Toronto Maple Leafs), Ilya Fedotov (Arizona Coyotes)
Stock Steady
Gleb Trikozov, LW, Omskie Krylya (Carolina Hurricanes)
It's been a pretty quiet year for Gleb Trikozov. A mix of unfavourable percentages artificially hurting his bottom line and missing time with injury has forced him out of the spotlight that he forced himself into with his strong draft year.
There are positives that have come out of this season, enough to keep his stock steady. He started out his December making his KHL debut, one game after Miroshnichenko. While it lasted a whole two minutes, it's good to see him be rewarded for solid play, even if the points aren't quite there. After his one game with Avangard, he returned to the VHL where he grabbed two points in seven games, albeit with ice time that fluctuated a fair bit.
Trikozov is a prime example of a player who could've really used an opportunity to get playing time at the World Juniors. Obviously, there's no telling if he would even be on the Russian team if there was one, but to be surrounded by other talented players and get some international experience under his belt would have been a huge opportunity for the Canes' prospect.
Stock Falling
Alexander Perevalov, LW, Lokomotiv Yaroslavl (Carolina Hurricanes)
Alexander Perevalov started the 2022-23 season in much the same way his last one ended – with his role shrinking with each passing game. He picked up three points in four games with Loko Yaroslavl but wasn't playing to the level of the first half of his draft year. So, they loaned him to Kunlun Red Star after those first four games.
With Kunlun, Perevalov continued to struggle. He started off playing top-six minutes with the short-on-firepower KHL side, topping out at just around 17 minutes a game before being moved further and further down the lineup until he wasn't playing at all. Through 27 games with his new team, he had only managed two goals and an assist, both of those goals coming within five minutes of each other against CSKA Moskva. That was just his fourth game with the team, meaning he failed to find the back of the net in the next 23 games and didn't pick up a point in his last 18.
Lokomotiv Yaroslavl has now recalled Perevalov back from his loan, but there's no clear path for him to a substantial role. He's clearly not at the level he needs to be at to be playing in the KHL, and young players have already surpassed him on the depth chart while he was playing with Kunlun. The most likely outcome here is that he'll finish the season in the MHL with Loko, but there's also the VHL option with Molot Perm.
Vladislav Lukashevich, D, Loko Yaroslavl (Florida Panthers)
It's been a rough few years for Vladislav Lukashevich. It's been a constant uphill battle for the Panthers' prospect, whether it's injuries keeping him from playing or struggling when he does get a chance. Not a lot has gone right for Lukashevich.
There was plenty to like in Lukashevich's game in his draft year – enough for the Panthers to invest a fourth-round pick in the Russian defenceman in 2021. There just haven't really been any signs of growth since.
When Lukashevich was at his best, his ability to manipulate forecheckers on defensive zone retrievals and explode past them in transition was the main draw. He made good reads as a playmaker after he created time and space for himself, too. There are still signs of this player when you watch Lukashevich.
He's just been much more sloppy in recent years. He's rushing his outlets, not scanning regularly enough, and turning the puck over as a result. The 19-year-old hasn't played a game outside of the MHL since being drafted, while Dmitri Simashev and Alexei Kozhevnikov have both surpassed him en route to the KHL this season.
It's too early to say that he's a lost cause. The flashes are still there, but he hasn't been able to consistently play at the level expected of him as a top-pair defender on this Loko team.
You may also be interested in: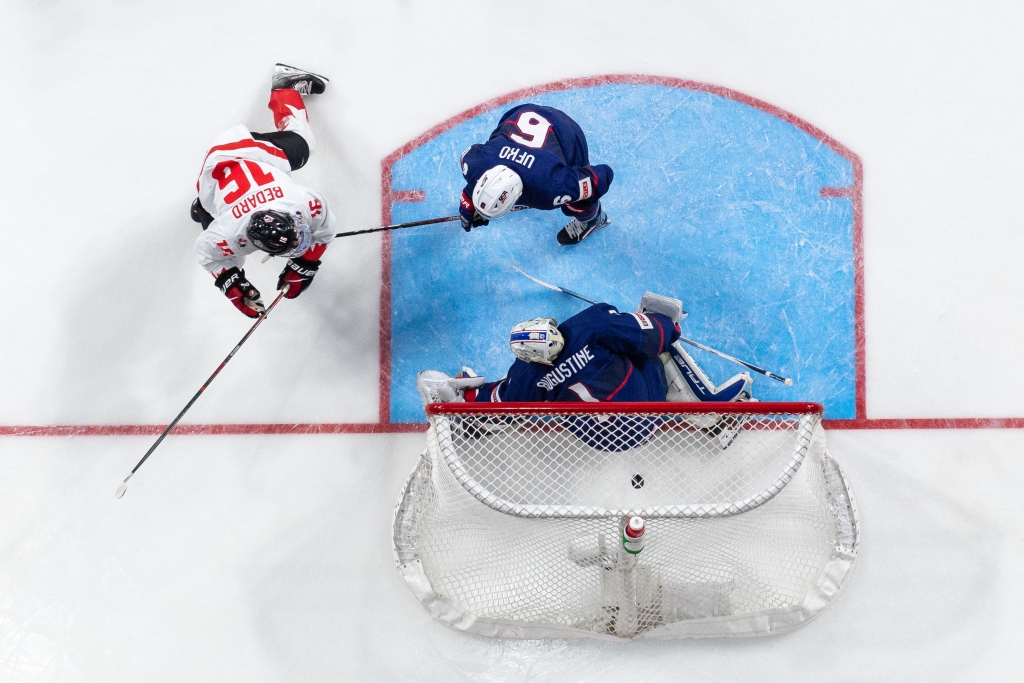 Robinson's Fantasy Rundown: World Juniors Edition
This article is about: