NHL Prospect Report
Sweden Stock Watch: William Wallinder taking massive strides with Rögle
We're going to go a little bit affiliated prospect heavy in this month's edition of the Sweden Stock Watch, looking solely at players who have heard their name called at the NHL Draft. There's still a sizeable contingent of players taken between 2020 and 2022 plying their trade in Sweden, and this is where we take stock of who's rising, who's falling, and who's holding steady.
With that, let's get to it:
Stock Rising
Dennis Hildeby, G, Färjestad (Toronto Maple Leafs)
We're not working with a massive sample here, but Dennis Hildeby is looking more and more like a compelling prospect with each outing. As of this writing, the Leafs' prospect is rocking a .930 save percentage in his 18-game SHL career; buoyed in part by a startingly strong .904 save percentage from shots inside the slot, second-best in the league according to our partners at InStat Hockey.
Hildeby takes full advantage of his 6-foot-6, 234-pound and plays a reserved, poised style in goal. His positioning is sound, and his reads often match the situation in front of him. He's got cat-like reflexes and shows ample mobility on his edges. There's a lot to like.
He still needs to add upper-body strength. At his worst, Hildeby struggles to maintain an upright posture and surrenders the very top of the net. His puck tracking is a strength in his game, but nothing outstanding.
I could see Hildeby crossing the Atlantic and challenging for an NHL job somewhere down the line if he gets a little stronger and keeps generating strong results over a greater sample, in more high-leverage situations.
William Wallinder, D, Rögle (Detroit Red Wings)
I've been reluctant to come around to William Wallinder's game, but his development keeps on trending in the right direction and bears recognition. The Red Wings prospect has ascended to the No. 1 role on Rögle as a 20-year-old and generated 20 points in 32 games in the process. He does everything for this team, a fact reflected in his every-situation usage.
There's never been any denying Wallinder's skating. You just don't see many players with his 6-foot-4 frame who can move as he does. It was always a matter of whether these tools were enough to make him a viable NHL option in the face of questionable decision-making and the odd blunder.
Now two-plus years removed from going to the Red Wings in the first round, Wallinder is making decisions with much more pace. He supports his teammates well and is constantly moving to improve his options and how quickly he gets to them when the puck lands on his stick. He always seems to be in the right place, at the right time.
Wallinder rarely takes inefficient routes or holds onto the puck for too long now.
Wallinder rarely travels inefficient routes or holds on to the puck on his stick for too long now. This has allowed him to seize on his offensive potential and act on his instincts – he's becoming a more intelligent, more engaged player. He's been effective in a power play role.
The progression has been a little more mixed in the defensive zone. He's still a little on the lanky side and lacks the physical strength to clear the net front on occasion. Still, I've grown fond of his proactive reads and how aggressive he is along the boards. He doesn't shy away from the physical stuff.
Another interesting, positive quirk of late, is just how far along Wallinder's backwards skating has come. He doesn't seem to lose so much as a step when he pivots to face oncoming attackers in space – he's almost as fast going backwards as he is forwards. He has the tools and the reach to be a strong rush defender in the NHL.
I can see him stepping over and challenging for a spot on the Detroit blue line next season. His long-term projection is as a top-four defenceman at this point.
Honourable mentions: Elias Salomonsson (Winnipeg Jets) and Carl Lindbom (Vegas Golden Knights).
Stock Steady
Filip Bystedt, C, Linköping (San José Sharks)
Filip Bystedt just put on a hell of a show at the World Juniors donning the Tre Kronor, scoring critical goals and making big plays for Sweden en route to 10 points in seven games. He was the team's top centre, no small feat for an 18-year-old in a "19-year-old's tournament."
We weren't quite as high on Bystedt ahead of last draft as most outlets – he landed 70th on our final ranking in the Elite Prospects 2022 NHL Draft Guide – largely because of my relative lack of enthusiasm for his game. Based on that, Bystedt is clearly ascendant. If we grade him as a first-round pick, which is where San Jose drafted him, then he's going in the right direction, holding steady.
He's doing things this season that I plainly didn't see from him a year ago. He takes advantage of his size in puck protection. He can dangle the puck at speed. He scans more frequently for passing options. He's learned a change-of-pace game on the attack. Perhaps most important of all given his 6-foot-4 frame, he's becoming a speedy force through the middle of the ice.
The chemistry that Bystedt shared with 2023 NHL Draft prospect Leo Carlsson was a real better than the sum of their parts situation – they brought out the best in each other's respective games. Bystedt would start a sequence, and then Carlsson had the skill to make sure it ended in the back of their opponent's net.
Bystedt now looks like a steady, safe bet to make the NHL as a centre in the middle- or bottom-six. The skill level isn't spectacular, and he still needs to be more effective in his defensive game. He skates well and works hard in his own zone, but he'll need to leverage his size to become more of a presence on defensive zone retrievals more often.
Emil Andrae, D, HV71 (Philadelphia Flyers)
Emil Andrae played well enough at the summer World Juniors to earn a spot on the tournament All-Star Team, and he's coming along nicely in league play in the SHL this season as a follow-up. He's leading HV71 in ice time, generating offence at a good clip, and his underlying data paints his contributions in a flattering light, too.
He has a good chance of finishing the season with 30 points in 50 games, all while benefiting from the tutelage of NHL veteran and gold-standard for defensive play for a decade, Niklas Hjalmarsson as his primary pairing partner.
Andrae is an offensive defenceman who reads the game well and can take over a shift from the offensive blue line. He's got a potent shot, a good sense of timing, and manoeuvres the blue line gracefully. His puck skills and passing both rate out as strengths in his game, too.
There continue to be signs of growth from Andrae in the defensive zone, but concerns linger about just how well he'll translate to the North American game. He stands but 5-foot-9, but he's a sturdy player who takes advantage of that low centre of gravity. This allows him to hold and protect the puck under physical duress from opponents better than one might suspect.
Andrae still lacks a separating gear as a skater, and that's going to be an issue for him in the defensive zone long-term. The combination of short reach and strong skating will make him vulnerable on the rush. He defends well enough in his own zone, but it's a bit more helter-skelter in space.
There's a long, productive, fruitful career in front of Andrae, whether he makes the NHL or not. He'll get his shot at reaching the big leagues sooner than later, though. The Flyers almost have to give him a shot after how well he's played.
The question will be how his whole game can translate to that level on the smaller ice. He works his tail off, and his leadership qualities are beyond reproach, but the NHL is a whole other ball game.
Lian Bichsel, D, Leksands IF (Dallas Stars)
There's been no shortage of criticism of Lian Bichsel for his performance in the first half of the season on the club side. Leksands fans have mostly found themselves frustrated with the lack of discipline and the constant trips to the penalty box that results from it.
That's just part of the Bichsel gambit. You take the good with the bad, and the line often blurs. Bichsel is a fierce competitor, aggressive as they get, and with a mean streak that few can match.
Reining that part of his game in has proven a challenge, and his per-game ice time dropped to under 10 minutes a game in December. He's now fighting just to maintain a top-six spot on Leksands defence corps.
With all of this going on at Leksands, it was nice to see Bichsel put up a dominant performance for Switzerland at the World Juniors. He was involved in every aspect of the game, driving offence and keeping the opposition honest at his end of the ice. He was Switzerland's best player in most games, but especially when they beat Finland on the first day of the tournament.
Bichsel is an unpolished defenceman with a big frame who skates well, increasingly shows a willingness to activate into the play, and beats his opponents to a pulp.
To translate that game to the NHL, Bichsel needs to improve his reads. He mostly plays to his instincts at present. His first touch under pressure could use a little work, too. He needs to corral the puck more smoothly to keep up with the play and be effective as an NHL defenceman.
Bichsel is a solid NHL prospect who can develop into a difference-maker with time. There isn't much missing from his game – a projectable frame, speed, aggression, and newfound enthusiasm for activating into the play offensively.
Stock Falling
Theodor Niederbach, C/RW, MoDo (Detroit Red Wings)
Theodor Niederbach just can't seem to break through at the SHL level. He failed to earn a regular role with Rögle and has since moved on to MoDo in the second-tier HockeyAllsvenskan.
Things started off well enough for Niederbach upon his arrival to MoDo, but he's struggled to consistently find the scoresheet since and lost his centre spot to play second-line left wing.
There aren't many clear weaknesses in Niederbach's game. He does so much right all the time. He is an excellent support player. He plays a strong defensive game as well and is positionally very smart in all three zones. Offensively he sees where the open space is quickly and gets himself or the puck there with pace. He processes the game at an exceptionally high level; he's an easy player to play with.
It's the absence of any high-end tools that keeps Niederbach from thriving. He lacks size and isn't particularly fast – a death-knell combination for many scouts. He doesn't really have any skill moves with the puck to open space, and he needs that room to get his shot off. He needs others to drive play for him to find success on the scoresheet.
So, either he should be used offensively in a strong environment or as a defensive forward. To be a complementary forward in a top-six role (say, a Zach Hyman type) he will need to be much stronger on the puck in the tight areas. The space he needs to score won't be there as often. As for making it as a smaller defensive forward (say a Derek Ryan type), he would need to play the game at a much higher pace.
You may also be interested in: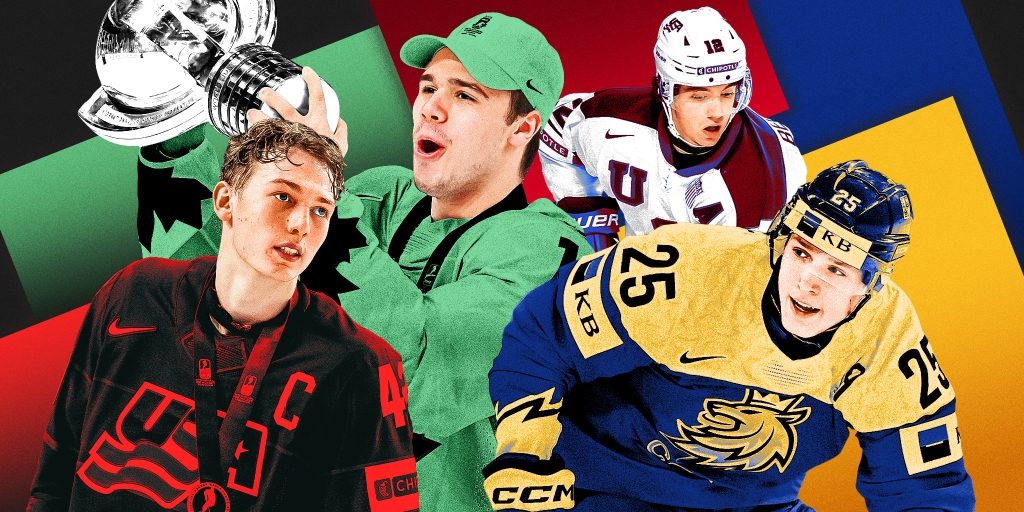 Standout performances from the 2023 World Junior Hockey Championship
This article is about: