NHL Prospect Report
OHL Stock Watch: Hunter Haight's taking off in Saginaw
Several championship contenders are emerging from the dust that the league kicked up with its flurry of action at the OHL trade deadline.
The league-leading Ottawa 67s added Logan Morrison (second in league scoring) and Pavel Mintyukov (third in league scoring) by the time the final horn sounded. The rich get richer.
The Peterborough Petes weren't just going to throw in the towel, though. They've positioned themselves as a legitimate Eastern Conference contender in their own right, with a salvo of trades that yielded Owen Beck, Avery Hayes, and Gavin White.
Meanwhile out west, the Sarnia Sting bolstered their blue line with the additions of Ethan Del Mastro and Christian Kyrou, then added a little firepower up front with Luca Del Bel Belluz.
The Windsor Spitfires probably had the best deadline of all though. They won the hyper-competitive Shane Wright sweepstakes and then brought in capable depth in Aidan Castle, Rodwin Dionicio, Brett Harrison, and Jacob Holmes.
And now? It's a race to the playoffs.
Stock Rising
Hunter Haight, C, Saginaw Spirit (Minnesota Wild)
Nobody needed a fresh start more than Hunter Haight, and he got just what the doctor ordered when the Spirit acquired him in early December.
His stock was plummeting in November after nine points in 20 games to start the season with the Barrie Colts. Now? His stock couldn't be any more ascendant.
Haight's picked up at least one point in every single game in December, finishing the final month of the year with seven goals and 18 points in 10 games – twice the offensive output he'd amassed in Barrie, in half as many games.
There was instant chemistry between Haight and Michael Misa, working give-and-goes and generating constant pressure in the offensive zone. This has brought out the best in the Wild prospect's game, allowing him to showcase his unconventional creativity on a game-to-game basis.
If he can continue to build on his production and prove that his low work rate and pace are issues of the past, there's no telling how far Haight will soar in the second half of this season.
Pavel Mintyukov, D, Ottawa 67s (Anaheim Ducks)
Pavel Mintyukov has taken his game to another level this season and is making history in the process.
Mintyukov became the first defenceman to be named the OHL's Defenceman of the Month for three straight months. He racked up 16 points with the Spirit in 10 games through December, and his impressive play has carried over into the new year. He continues to lead Saginaw in scoring and is third overall in the OHL in points.
Mintyukov's quick processing and handling abilities have allowed him to carve through the offensive zone with ease. He's constantly pushing the pace of play in transition, activating from the point and making plays below the hashmarks. His capacity to hide his intentions or deceive as a playmaker and work the give-and-go game makes him a constant scoring threat.
With the Spirit primed for a competitive second half, the expectation was that Mintyukov would be part of their push. However, news broke late last night that Mintyukov would be traded to the Ottawa 67s. Instead, he'll play a pivotal role in helping guide them to an OHL Championship and a Memorial Cup berth.
Honourable Mentions: David Goyette (Seattle Kraken), Bryce McConnell-Barker (New York Rangers), Quentin Musty (2023 NHL Draft), Colby Barlow (2023 NHL Draft).
Stock Steady
Cedrick Guindon, C, Owen Sound Attack (Montréal Canadiens)
Cedrick Guindon may have cooled down from the 100-point pace he was rocking earlier in the season, but he's still on track to eclipse his draft-year production by a substantial margin.
Guindon has success on the ice largely due to his intelligence. He finds lanes for himself, backs defenders up, finds open spaces, supports his defencemen, engages in puck battles, and is a reliable forechecker.
In his draft year, it was Guindon's shot that captured my attention through each viewing. He would change the angle of his release, shoot around defenders, or execute off-rhythm releases.
Our staff had some concerns about his capacity to create as a playmaker – he has a nasty tendency to force pucks through traffic that don't land – because of the sheer lack of any manipulative or deceptive passing patterns.
This season, Guindon's taken huge strides as a playmaker. He's working the delay game more frequently, turning puck retrievals into passing plays with pace, distributing the puck through transition, and using the threat of his shot to open up passing lanes to connect with his teammates.
A cursory glance at his boxscore stats may indicate that his goal totals have suffered as a result of him focusing more on honing his passing skills, but Guindon looks like he's added another layer to his game.
Originally, Guindon looked like he would be able to carve out a third-line, checking role, as a result of his intelligence but limited tools. The improvements to his playmaking, combined with his shooting skill, will improve his long-term upside.
Brennan Othmann, LW, Peterborough Petes (New York Rangers)
Brennan Othmann played just four games with the Peterborough Petes before he left to go play for Canada at the 2023 World Juniors.
He needed a few games to adjust to the Petes' brand of hockey. The points he was putting up at a torrid pace in Flint hadn't followed him across the province quite yet, and his production was a bit underwhelming at the World Juniors as well.
Points aside, however, Othmann was his typical, physically feisty self against international competition. Whether it was throwing big hits, playing between checks, winning battles, or creating scoring chances – he was a force on every shift.
He finally found his offensive stride in the elimination round, and hopefully, he'll hit the ground running with the Petes once he returns to the OHL.
Stock Falling
Roman Schmidt, D, Kitchener Rangers (Tampa Bay Lightning)
It's been a tough season for the Kitchener Rangers as a whole. They sit near the bottom of the western conference despite offensive additions like Filip Mešár and Francesco Arcuri.
Roman Schmidt has been pushed down the depth chart with the Rangers' blue line additions of Hunter Brzustewicz and Tomas Hamara this season, and his play has suffered a bit.
Skating issues continue to hinder Schmidt's effectiveness in the defensive zone and in transition, and he doesn't use the offensive skills that he does have in his arsenal – fakes, passing plays, the ability to activate and attack the inside – often enough.
With Hamara off at the World Juniors for the last month, it was an opportunity for Schmidt to reprise a larger role on this Rangers blue line. Unfortunately, he struggled to find the scoresheet – Schmidt had just three points in December – and he ended 2022 with a two-game suspension resulting from a slew foot.
With the suspension behind him, hopefully Schmidt will be able to bounce back and have a stronger 2023. But with him only on pace for 29 points in his draft-plus-two season, which would be a drop-off from his production last season, Schmidt has some work to do.
You may also be interested in: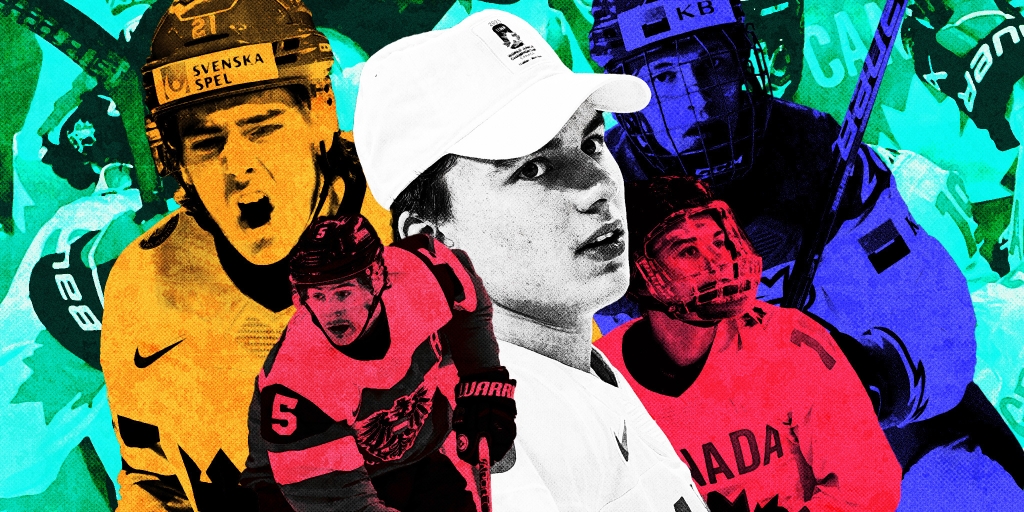 Standout draft-eligible performances at the 2023 World Juniors
This article is about: