NHL Prospect Report
QMJHL Stock Watch: Jake Furlong's mobility, motor turning into offensive weapons in Halifax
The turn of the calendar year means trade season is upon us in the CHL. Tremors are rippling through the competitive landscape as the haves – like the Halifax Mooseheads and Québec Remparts – make earth-shattering trades, while the have-nots retreat today so that they might return to competitiveness tomorrow.
It's a transition period. Players have to adapt to new roles and find chemistry with new teammates. Now surrounded by a stronger supporting cast, some of them will have more freedom to express their talents, and their bottom line will take a turn for the better because of it. Others won't be so lucky, as they'll find themselves pushed down the lineup and off the top power play to make room for their new teammates. They will have to find new ways to generate scoring chances.
Stock Rising
Mathieu Cataford, RW, Halifax Mooseheads (2023 NHL Draft)
The more I watch Mathieu Cataford, the more I became convinced of his potential. He plays an uncomplicated type of game for the most part — a lot of straight-line drives, many of which end at the net, and a lot of cycling passes. Most of the time, his goal is to offload the puck to sneak into scoring areas and get it back. He's your prototypical glue guy, a great complement to more skilled, flashy playmakers like Jordan Dumais, Zachary L'Heureux, and Halifax's new overager, Josh Lawrence.
As the Mooseheads gear up for the playoffs, the young Cataford might not get to play with these all-stars QMJHLers as often. This change of role will force him to use his own play-driving skills a little more. We know he has them. He can retrieve and move pucks off the wall, manipulate defenders to open passing lanes, slow down or speed up to create them, and initiate smart give-and-go exchanges.
Showing those plays at a higher frequency would help his NHL projection.
Andrei Loshko, RW, Chicoutimi Saguenéens (2023 NHL Draft)
Andrei Loshko isn't necessarily a player you will see on our top-64 board coming out over the next few days. If he finds his way there, it will likely be at our next meeting when our list expands, but he still deserves recognition for the way he has performed with Chicoutimi.
Loshko plays a strong, supportive style of game. Committed to the details, offensively and defensively, he gives timely pass options to teammates, moves the puck quickly, and tries his best to anticipate the next play. Chicoutimi's weaker formation has kept his numbers on the lower end for a draft-eligible prospect, but his mature playstyle and all-around projectable tools give him upside as an NHL prospect.
If he can improve his handling skills between now and the end of the season, he will cement a spot on our list.
Jake Furlong, D, Halifax Mooseheads (San Jose Sharks)
Jake Furlong rarely takes a shift off. His constant effort is what we appreciated the most in his game last year. That, and his mobility. While we couldn't find room for him on our final board in the Elite Prospects 2022 NHL Draft Guide, we gave him a D-grade – the implication being that we thought Furlong would be a worthy pick in the last few rounds, where the Shark ultimately selected him.
So far, the Sharks have to be happy with that investment. Furlong has added a touch of poise and control to his game. More aware and creative, he's pulling controlled breakouts through the middle of the ice at a higher rate, changing speeds, and deploying elusive moves to shake forecheckers. His offensive enthusiasm sometimes comes at the expense of his own zone — he occasionally goes just a little too far in his activations — but generally, his play is trending in the right direction.
Stock Steady
Zach L'Heureux, LW, Halifax Mooseheads (Nashville Predators)
Zach L'Heureux is more manipulative, more clever in his play selection, more aware, and an even better physical player than he was two years ago, but he hasn't really changed his projection all that much. He's simply following the typical junior development curve and becoming a better version of himself.
His skating remains a weakness, one that will be more apparent in professional hockey. The lack of a separating gear will keep him within defenders reach, and he'll have to operate almost constantly under duress because of it. His playmaking will allow him to hold off and escape that pressure, but it's more probable now that his main competitive advantage in the NHL will be his work rate more than his skill.
Riley Kidney, C/LW, Gatineau Olympiques (Montréal Canadiens)
Riley Kidney's game has improved over the past few years in the QMJHL. He became an even better stickhandler and playmaker, but even though he's finding the scoresheet more often, concerns linger about how projectable his game is. Kidney is skilled, but he mostly attacks defenders in the same predictable fashions – he picks up speed, cuts his motor, and with a combination of quick stick moves and heel pushes, shimmies around defenders.
He's a puck-dominant forward who needs a lot of good quality puck touches, bound for an AHL where they are hard to come by. To succeed in the NHL, he needs to add more dimensions to his game. If he can further improve his defensive and physical play, and add pace to his attacks by using more crossovers in combination with his handling moves, he would significantly improve his NHL projection.
Stock Falling
Cole Huckins, C/LW, Sherbrooke Pheonix (Calgary Flames)
This is Cole Huckins's fourth season in the QMHL. This is the point where talented, experienced forwards like him break out and light the scoresheet on fire. It hasn't happened for Huckins.
He isn't necessarily getting first-unit power play minutes or playing with the team's top elements in Sherbrooke, but the top-six minutes he has been given should be enough for him to generate more scoring chances. His skating has improved. He can pick up more speed in crossovers, but his quickness and agility remain projectable weaknesses. They limit his choice of plays.
At this stage of his career, Huckins remains more of a project. And that's fine. 6-foot-4 playmakers like him usually take more time to develop.
You may also be interested in: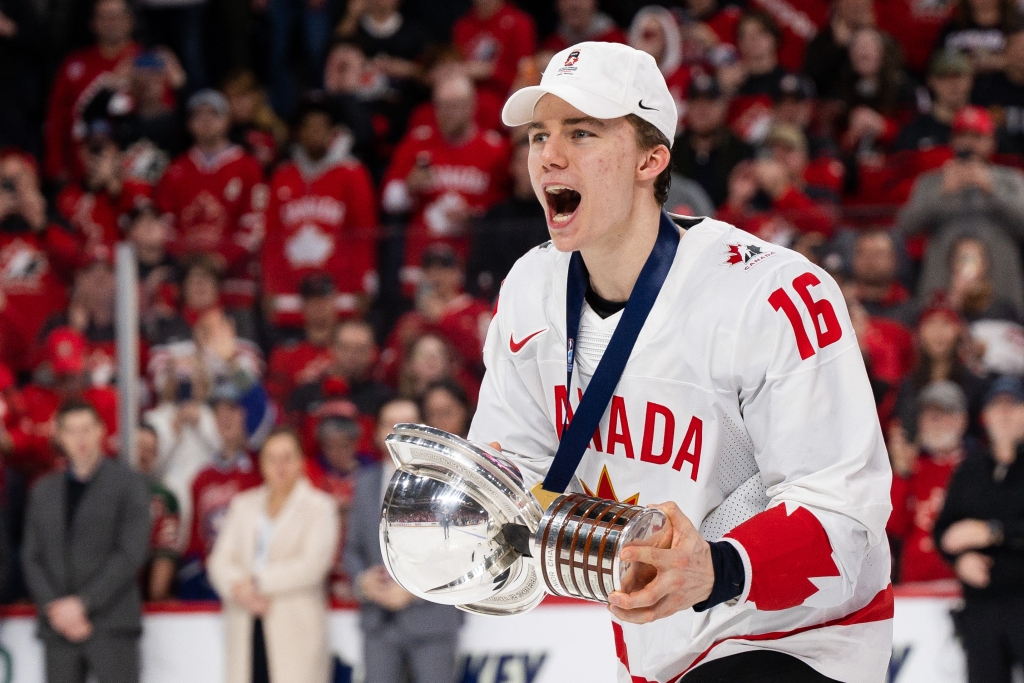 10 data-driven observations from 2023 World Junior Championships
This article is about: