NHL Prospect Report
AHL Stock Watch: Fabian Lysell making the jump to the AHL look easy
Many prospects hit a wall when they ascend to the AHL. Weeks of limited production and ice time later, they come to the realization that their meal tickets in junior hockey or European leagues don't work in this setting.
Some players have to change their identities. Some manage to do it. Others, not so much.
Adaptability is the theme of this month's update to the AHL Stock Watch. We'll take a look at a few prospects who successfully changed and improved their game and others who lost some of their effectiveness in their transition to the AHL.
Stock Rising
Fabian Lysell, RW, Providence Bruins (Boston Bruins)
When it's all said and done, Fabian Lysell's poor showing at the World Juniors will probably just be a speed bump in an otherwise commendable career. Some bad luck at the start of the tournament snowballed into a nightmarish ending for the top prospect, when he got ejected from the bronze medal game.
While the tournament doubtless matters – it's another occasion to evaluate the progress of these prospects – his great play in the AHL better reflects the player he could become for the Boston Bruins.
Lysell didn't abandon his strengths with Providence. He was the same flashy, puck-rusher in the first half of the season, but his slight improvements in many other facets of the game made him an even more effective version of himself. He didn't force as many passes through the defence, he learned to better manipulate checks on the wall to keep possession for his team, and he found space away from the puck. More aware and comfortable in small-area plays, he even filled the bumper spot on the power play admirably for Providence.
While Lysell doesn't quite look ready for the NHL, he's trending in the right direction.
Declan Chisholm, D, Manitoba Moose (Winnipeg Jets)
Declan Chisholm is both playing and scoring more this season in the AHL. Increasingly, it looks like he's outgrown the league.
While he is a risk taker on the ice, the kind of player who will attempt a pass through two defenders to connect with his teammate for a scoring chance, he isn't just an offensively gifted defenceman anymore. His mobility has improved and his rush defence, too. He can shut down a majority of opposing attacks before they reach his zone, match opponents' movements well in the defensive zone, and shorten their presence there by getting the puck out in controlled ways.
His ability to spin off forecheckers and distribute to his teammates could help an NHL team generate more offence.
Stock Steady
Jesse Ylönen, RW, Laval Rockets (Montréal Canadiens)
Jesse Ylönen skates as well as anyone in the AHL, but he clashes a bit with the rest of the Laval Rockets. While most of their players look for the shortest path to the opposing goal, Ylönen attacks in more elaborate ways, with east-west, curving patterns. He accelerates, slows down, and turns on a dime to separate from coverage. His physical game and board game has improved significantly since his draft year, but he continues to shine more as a puck carrier and space-hunter than as a grinder.
The Finnish winger's playstyle has him stuck in limbo in Montréal's organization. He has an elite tool – his agility – but he hasn't shown other top-six NHL skills when given the opportunity to show them in the NHL; the kind of playmaking and shooting game that would have him score at a high rate in the top league.
His call-up is another chance for him to earn a role with the Canadiens, one that he could then leverage into a higher spot in their lineup. To stick around this time, he has to show the extent of his defensive and skill improvements.
John Beecher, C, Providence Bruins (Boston Bruins)
One would think that as John Beecher climbed hockey's professional ladder and started meeting more mature opponents, his tools wouldn't take him as far. That has not been the case though. He's just as intimidating when he barrels down the wing with and without the puck in the AHL as he was in the NCAA and the USHL. If opponents don't move the puck quickly enough, they get crushed on the boards, and if they don't tighten up their neutral zone defence, Beecher pierces through with his long strides.
His stock hasn't changed in the sense that he still seems more like a future bottom-six or bottom-line support player than a top-six scorer, but his passing game and awareness continue to slowly improve. The two-touch plays he uses to set up teammates in the AHL will work well for him in the NHL, too.
Stock Falling
Mattias Norlinder, D, Laval Rockets (Montréal Canadiens)
The transition between European and North American hockey is sometimes difficult for players, especially ones with Mattias Norlinder's high-event, all-over-the-ice playstyle. The pace of play is higher, the defensive gaps are tighter, and the walls are closer, but even considering those factors, Norlinder's drop in play is still hard to explain.
He's better defensively. He neutralizes neutral zone rushes better and suffocates opponents in the defensive zone, but his defensive improvements seem to have come at the expense of his offensive game. He misses occasions to activate or jump into space to support teammates and his point game, a facet of his play that used to be a strength, has mostly been reduced to quick passing and shooting from afar.
Norlinder is changing his profile, but in the process, he's eliminating the main elements that made him special in the first place. If he can't reconnect with his offence, he will be competing for shutdown roles that other, more experienced defencemen can probably handle better than him.
Daniil Chayka, D, Henderson Silver Knights (Vegas Golden Knights)
The flashes of offensive skills that featured prominently in Daniil Chayka's game in his first year in the OHL are now mostly gone. The forecheck has made him rush his transition plays so far this season. This isn't uncommon for a first-year AHLer, but it was also a trend over the past couple of seasons in the OHL. His upside now mostly comes from his tools, his above-average reach, and fluid mobility for someone his size, and his improving defensive game.
If he can't reconnect with his offensive side, Chayka will have to go all-in on his shutdown game, making it so hermetic that he will still provide value to a formation.
You may also be interested in: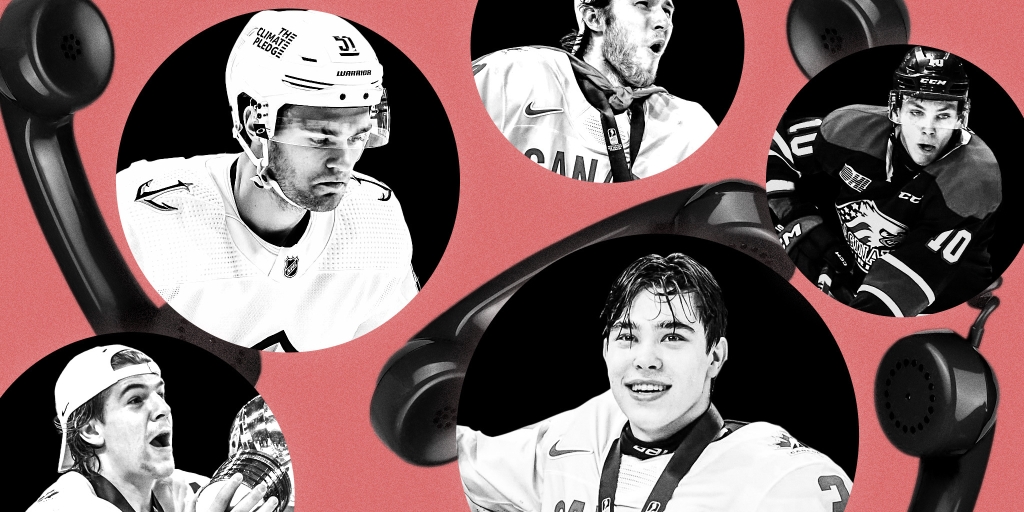 CHL Trade Deadline: Breaking down the biggest – and boldest – moves
This article is about: