NHL Prospect Report
USHL Stock Watch: Nicholas Moldenhauer catching fire with Chicago Steel
Now that we're officially across the halfway mark of the USHL season, it's a good chance to take stock of who's been exceeding, meeting, or falling short of expectations. What you might call a Stock Watch of sorts.
Between the USHL, World Junior A Challenge, and World Juniors, there's been a lot of hockey to watch. Several draft-eligible players have risen to the occasion and proven their mettle as potential picks when the NHL Draft rolls around in June. A few affiliated prospects have been similarly impressive, proving to their colleges and NHL teams that they made the right decision by investing in them.
Let's take a look at some of these risers, as well as a couple of players who haven't been meeting the mark lately.
Stock Rising
Cole Knuble, F, Fargo Force (2023 NHL Draft, Re-entry)
NCAA commitment: University of Notre Dame
Cole Knuble has been on a mission this season after going undrafted last year. The son of former NHL winger Mike Knuble, Cole sits in the top 15 of USHL scoring as of this writing, even after missing time to lead his team to gold as USA's captain at the World Junior A Challenge.
Much like his father, Cole is a physical player who leverages his strength to create playmaking opportunities for himself. Knuble doesn't bring you out of your seat with any one separating skill, but he's got high-level processing ability and vision that allows him to connect as a distributor with his linemates, often getting them the puck with time and space.
Knuble isn't particularly agile, but nonetheless creates separation with cutbacks or overpowering opponents with a weight shift in space. He manages the puck exceptionally well and rarely turns it over. He's a player who, if the production keeps up, should be a lock for a mid-round pick this go around.
Jayden Perron, F, Chicago Steel (2023 NHL Draft)
NCAA commitment: University of North Dakota
Jayden Perron may well be the biggest riser among all first-time draft-eligible skaters in the USHL this season. It's for that exact reason that he gets to reprise his role in the stock rising part of this article after landing in this spot the last go around. He's only continued to improve with time and he's cemented himself as one of the Steel's best offensive players on a team that is loaded with high-octane forward talent.
While only standing at 5-foot-8, Perron leverages his agility and puckhandling to find open ice and escape checks. With the puck on his stick, Perron's feet are constantly in motion and his eyes looking up ice. He uses linear crossovers to build up speed through the first two zones of the ice and has a variety of tools to generate offence once he's gained the offensive blue line.
A huge strength of Perron's game is his versatility. Off the rush, he often delays along the wall and awaits support before cutting to the middle and attacking head-on. Other times, he'll throw an area pass to a teammate with speed. Off the puck, he's smart and knows his role in the offence, supporting the puck high at the point or finding soft areas lower in the zone. His speed and smarts make him useful on the backcheck and in defensive zone coverage, as well. Perron is easily one of my favourite players in this upcoming draft and will continue to boost his stock if he continues producing at his current clip.
Nick Moldenhauer, F, Chicago Steel (Toronto Maple Leafs
NCAA commitment: University of Michigan
We had a lot of time for Nicholas Moldenhauer during his draft year, slotting him in at No. 53 on our final board in the Elite Prospects 2022 NHL Draft Guide. Ultimately, the Maple Leafs scooped him up in the third round, 95th overall.
Moldenhauer has taken another step forward in his development this season, already with 35 points in 25 games, fifth among all players in the USHL. He also recently announced his long-awaited commitment to the University of Michigan, where he'll headline another stacked freshmen class for the Wolverines.
The same habits that drew us to Moldenhauer's game last season are driving his success in this campaign. Playmaking continues to be a strength of his; Moldenhauer is a deft passer, always moving and creating passing opportunities with subtle shimmies away frrom the puck. He uses slips, hooks, and area passes then gets himself into space to make himself an option for a return pass. He's got nice touch around the net, sneaking behind defenders and fighting through checks for loose pucks. Moldenhauer has been a huge part of the Steel's success this season and will only continue to develop once he joins Michigan next year.
Gabriel Perreault, F, USNTDP U18s (2023 NHL Draft)
NCAA commitment: Boston College
You could hardly be faulted for missing Gabe Perreault when he's out there on a line with big names like Will Smith and Ryan Leonard, but he's no passenger. Perreault is a silky-smooth puckhandler who plays to his strengths. He's not the biggest or fastest skater, but he sees the ice exceptionally well and times plays perfectly to set up his linemates in stride with time and space. Sometimes, he baits defenders one way before moving pucks quickly the opposite one; other times, he'll use a teammate as a decoy to attack an exposed seam and fire a high-danger shot.
The off-puck timing is solid too. As the high guy in the offensive zone, Perreault floats to soft spots and uses the curl-and-drag to get shots quickly on net. Perreault is the perfect complementary player and is a huge part of the success Smith and Leonard have been enjoying this year. The three will stay united as they head off to Boston College next season.
Stock Steady
Andrew Strathmann, D, Youngstown Phantom (2023 NHL Draft)
NCAA commitment: University of North Dakota
We listed Andrew Strathmann as an honourable mention in our last ranking, suggesting he might be an early-to-mid second-rounder based on his play to that point in the season. After seeing him in more USHL action and at the World Junior A Challenge, this is probably still the case.
Strathmann is a solid defender. He's mobile for his size, does his best to deny opponents the blue line, and uses his strength to his advantage in-zone. He leaves a bit more to be desired offensively and with the puck. Strathmann's not a bad skater, but he's not mobile enough to beat a forechecker with his footwork alone. He often gets away with taking predetermined routes on his zone exits and retrievals simply because he's strong enough to keep opponents at bay while protecting the puck. He'll need to make adjustments at the next level.
That said, Strathmann makes basic activation reads and has some deceptive ability from the point that is encouraging. The tools and physical gifts are there, and if the skating improves, Strathmann's ceiling is going to be incredibly high.
Stock Falling
Maxim Štrbák, D, Sioux Fall Stampede (2023 NHL Draft)
NCAA commitment: University of Vermont
This is a tough one for me because I was quite fond of Maxim Štrbák in my early season viewings. Of late, whether it was at the World Juniors or in the USHL with Sioux Falls, there hasn't been as much to like.
My biggest concern with Štrbák is his skating and footwork. He leans so far back in his stride that his weight is almost always on his heels, limiting any sort of explosiveness or lateral agility. You can see evidence of this when Štrbák tries to beat a forechecker 1-on-1. If his opponent has a good angle and speed, Štrbák isn't nearly quick enough to cut around him or beat him around the edge. This weakness is only going to become magnified at higher levels. The skating limitations also hamper his rush defense.
For how aggressively Štrbák plays at his own blue line, he doesn't nearly have the foot speed to recover on the dotted line if he misses his check or fails to get body positioning on an opponent who's quicker than him. Still, there's a lot to like about Štrbák's game. When he's got the time and space, he makes a great first pass. Along the wall, he's strong and typically wins board battles. Štrbák's got a lot going for him, I just wonder how translatable his game will be until the skating improves.
You may also be interested in: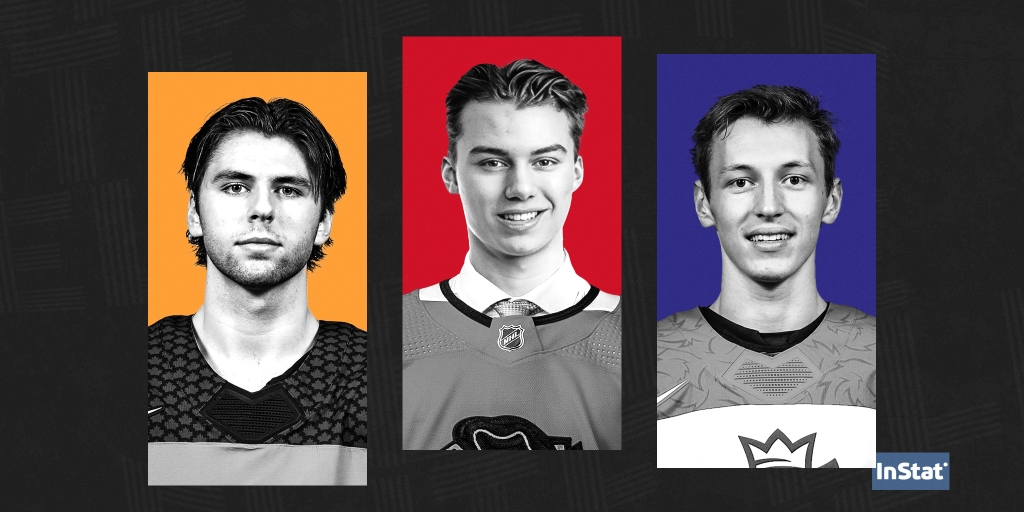 The EP Rinkside post-World Juniors 2023 NHL Mock Draft
This article is about: