NHL
EP Rinkside NHL awards at the halfway point in the 2022-23 season
We're officially just past the midway point in the 2022-23 NHL season, so what better time to start handing out some hypothetical hardware?
So, I summoned the Rinkside staff (scouts and NHL analysts alike) for another roundtable, this time to flex our democratic muscles and submit ballots for the Hart, Calder, Vezina, Norris, Selke, and Jack Adams trophies.
If you're a real hockey head – and what sort of hockey head wouldn't have EP Rinkside bookmarked – then you know the drill by now. Everyone submits a five-player ballot with five points awarded to first-place votes, four for second-place, three for third, two for second, one for fifth. Same deal as the year-end awards that actually count.
And in case it needs be said: Yes, we were wrong and mean not to choose your favourite team's player(s) for whichever award you feel they deserved, and we did it on purpose.
The Hart Memorial Trophy
From NHL.com's perfectly functional, good website: The Hart Memorial Trophy is an annual award given to the player judged to be the most valuable to his team. The winner is selected in a poll of the Professional Hockey Writers' Association in all NHL cities at the end of the regular season.
Hart Memorial Trophy Winners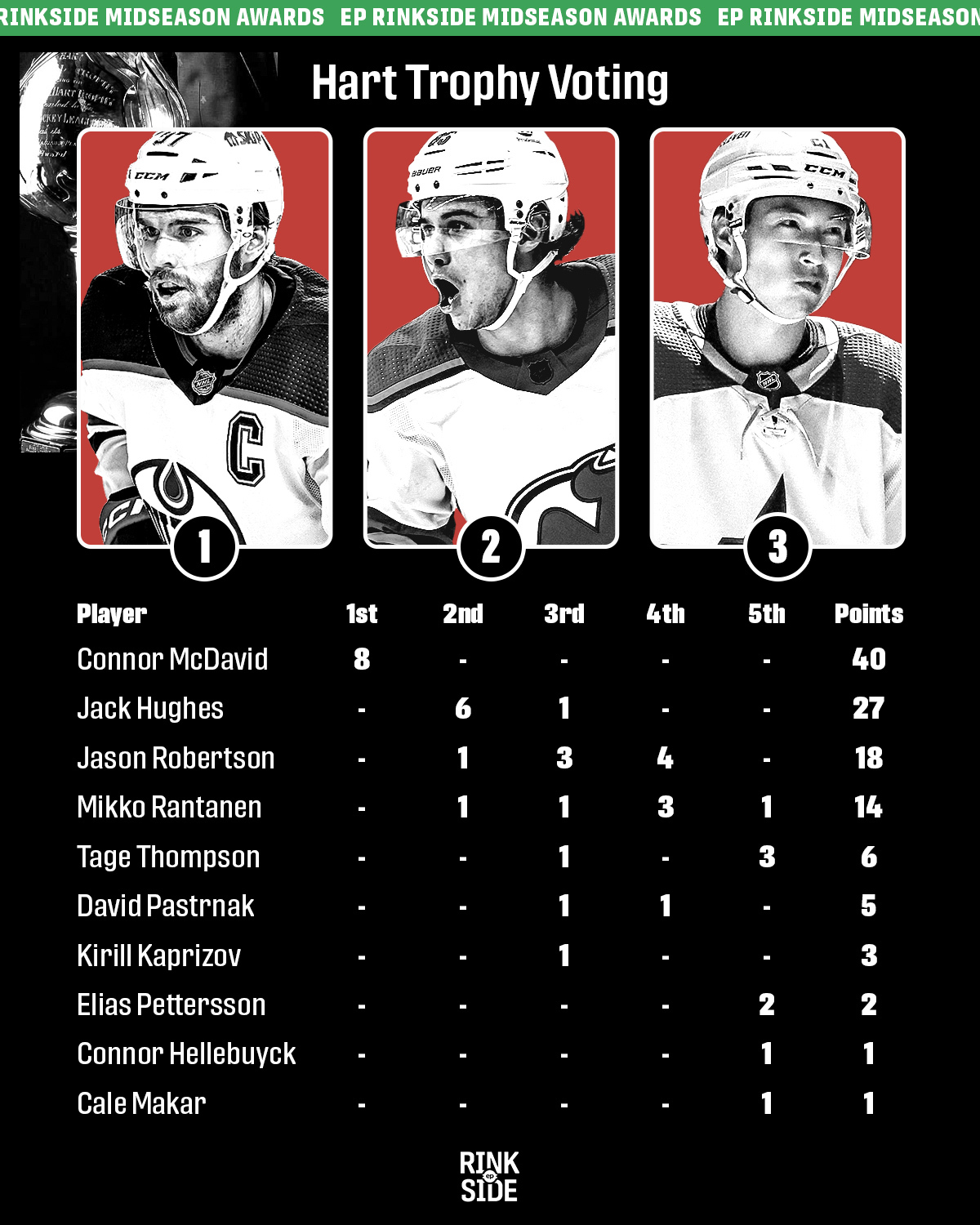 Any surprises here? Connor McDavid and his earth-shattering 83 points in 45 games (as of this writing) have him on pace for 151 points by season's end, the highest mark since Jaromír Jágr's 149 points back in the 1995-96 season. Surely, the Edmonton Oilers are first in the NHL's standings and a credible Stanley Cup contend– I'm hearing this is not the case.
The Calder Memorial Trophy
From NHL.com's perfectly functional, good website: An annual award given to the player selected as the most proficient in his first year of competition in the NHL, selected in a PHWA poll.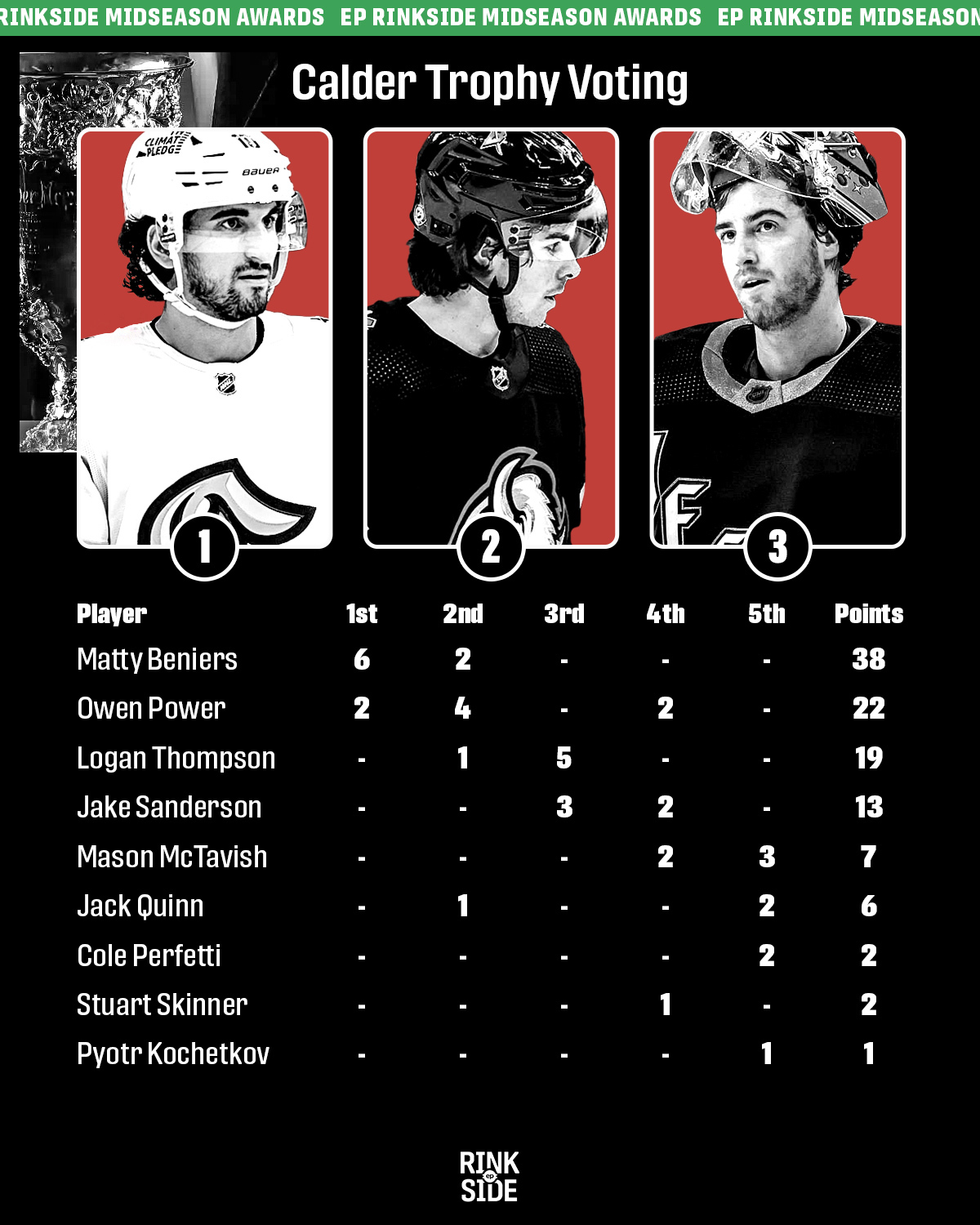 We couldn't quite achieve consensus at the No. 1 spot for the Calder, but ultimately we went with our top-ranked prospect in the 2021 NHL Draft, Matty Beniers who finished with a 16-point edge on our third-ranked prospect in that same class, Owen Power. Beniers is an All-Star, nearly a point a game player on a second-year expansion team, driving exceptional two-way results. Don't be surprised if the PHWA goes this route in June, too.
The Vezina Trophy
From NHL.com's perfectly functional, good website: The Vezina Trophy is an annual award given to the goalkeeper adjudged to be the best at this position as voted by the general managers of all NHL clubs.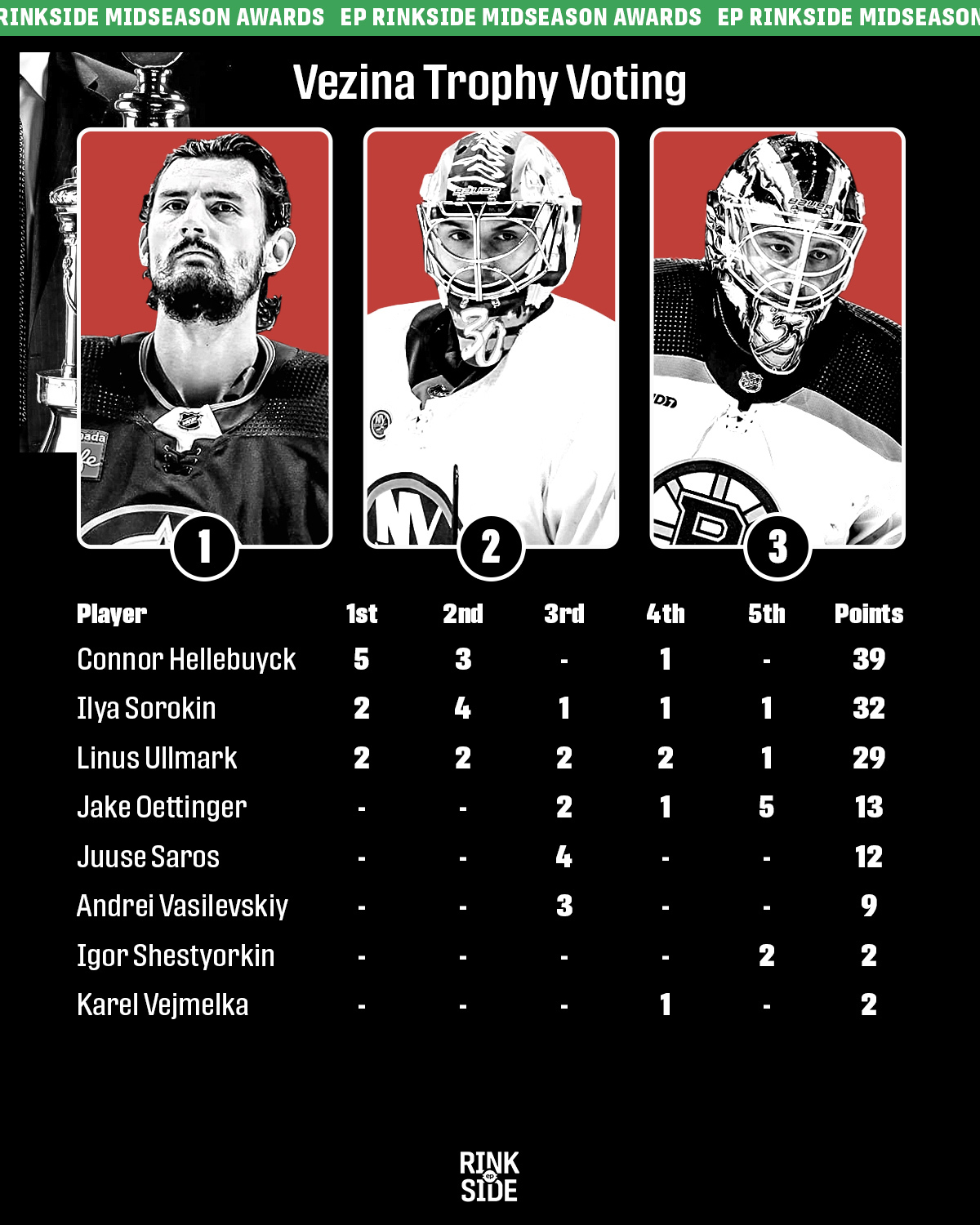 This vote wound up being pretty close, but Connor Hellebuyck's putting up better numbers now than he did in his 2019-20 run to his first Vezina trophy, pushing him over the top. Seems fair enough to me. Ilya Sorokin and Linus Ullmark also received first-place votes, and the latter seems like a lock for the actual award at season's end when the general managers who vote on this award (for reasons that aren't especially clear) sort by wins and call it a day – though it has to be said that he's putting together a spectacular season for the Boston Bruins and that would be a perfectly alright outcome, especially for two of our voters.
The James Norris Trophy
From NHL.com's perfectly functional, good website: An annual award given to the defenceman who demonstrates throughout the season the greatest all-round ability in the position.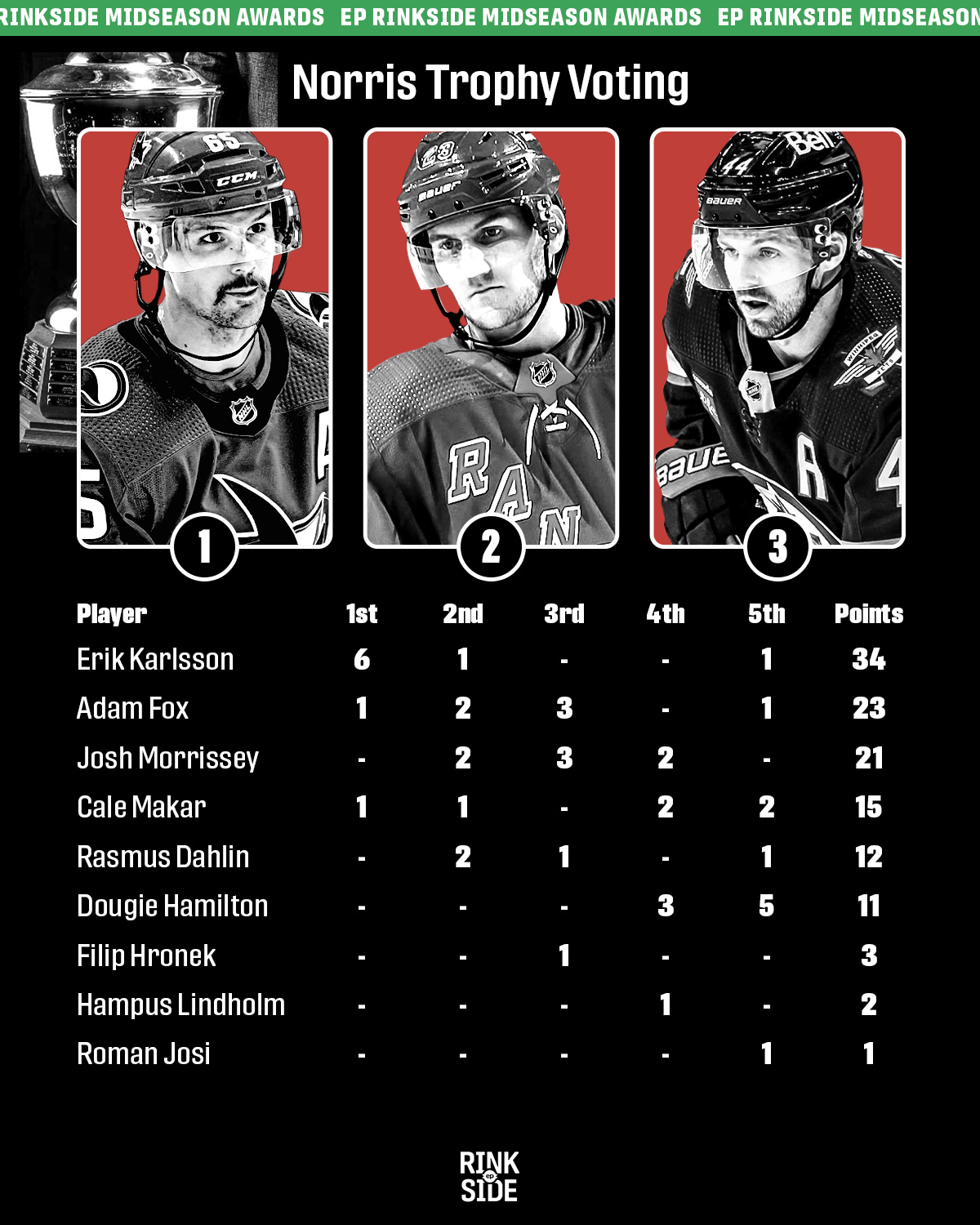 Erik Karlsson's renaissance season on a toothless San Jose Sharks team nearly earned him a clean sweep with first-place votes, but Adam Fox and Cale Makar had to go spoiling the party for the 32-year-old Swedish defenceman. He's 13 points ahead of the next highest-scoring Shark and 10 points up on Rasmus Dahlin for first in scoring by defencemen. Should that continue, he's a lock for the award in June. The more interesting question is if he's representing the Sharks when he takes that stage.
The Frank J. Selke Trophy
From NHL.com's perfectly functional, good website: The Frank J. Selke Trophy is an annual award given to the forward who best excels in the defensive aspects of the game.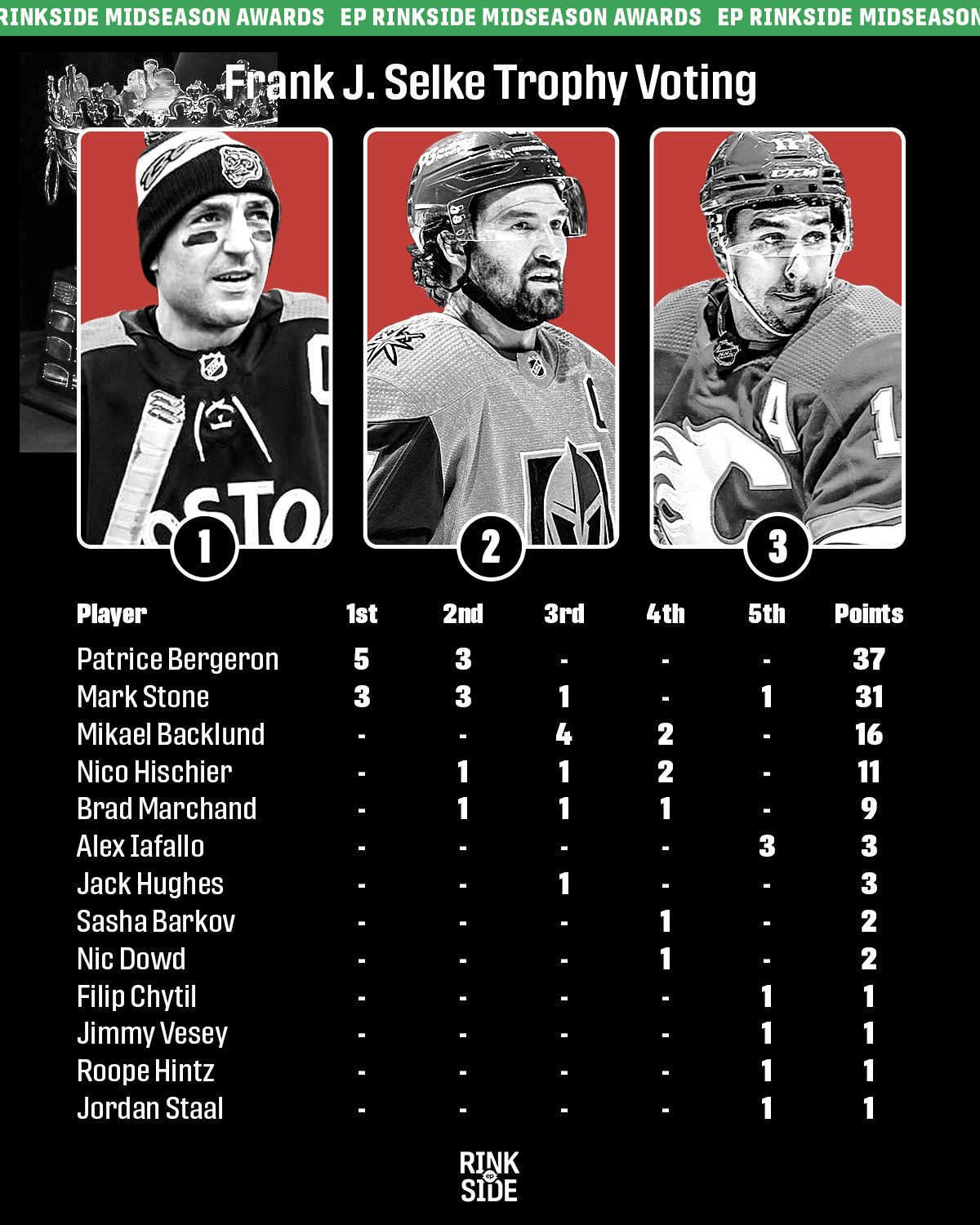 You come at the king, you best not miss. For all of Mark Stone's efforts this season, Patrice Bergeron's reign as the league's premier defensive forward remains as firm as ever. Even at 37-years-old, Bergeron remains the gold standard for two-way play in the NHL – a robust defensive presence with elite offensive outputs to match. There's been a lot of talk about renaming the NHL's awards at some point, and Bergeron's case for overtaking Frank J. Selke seems more compelling with each passing season.
The Jack Adams Award
From NHL.com's perfectly functional, good website: Presented to the coach adjudged to have contributed the most to his team's success, selected in a poll of NHLBA members.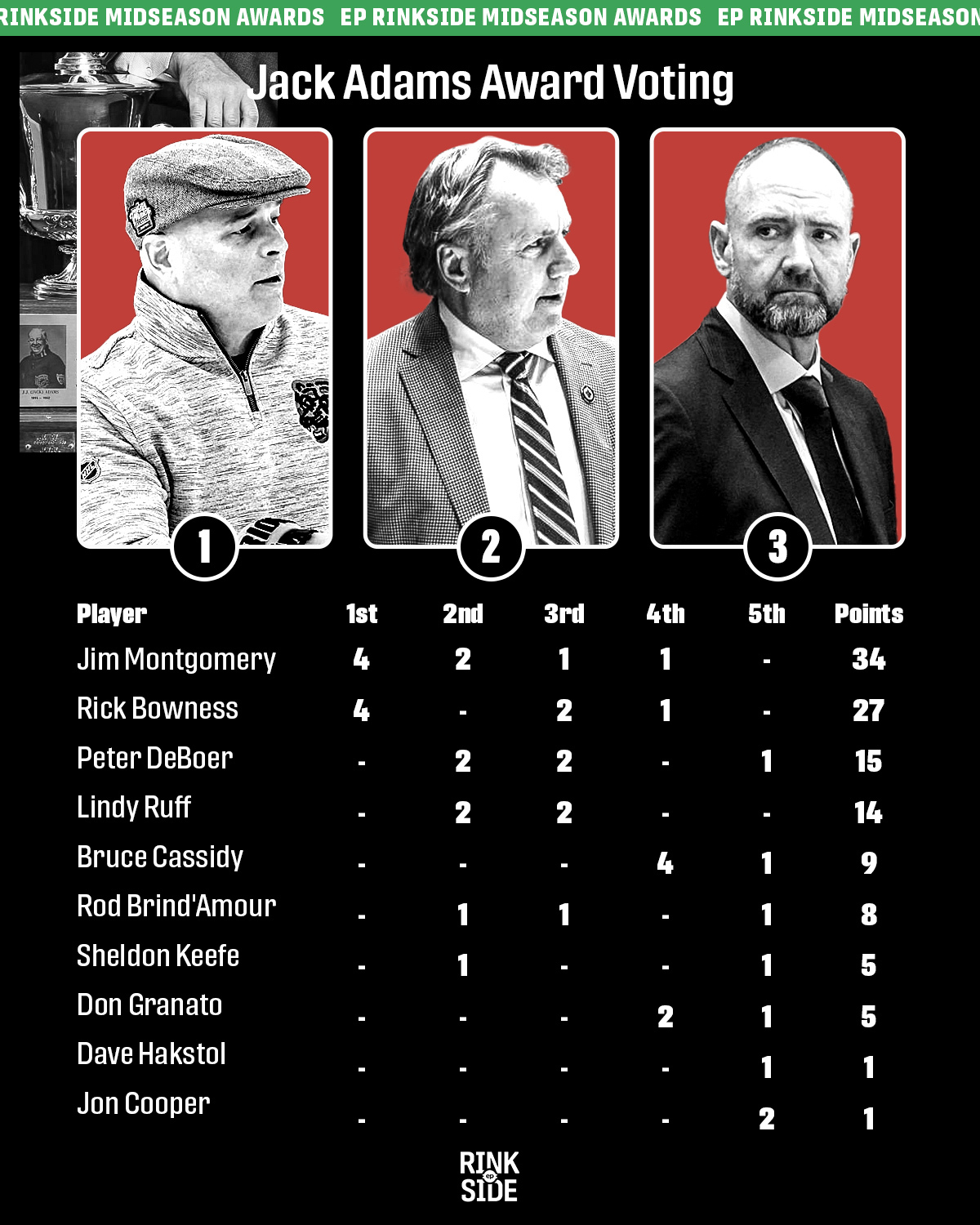 Surely, it's a coincidence that all three of our Jack Adams finalists also have three of our top-five vote-getters for the Vezina Trophy between the pipes. That played out observation aside. This wound up being one of our more closely contested ballots, but Jim Montgomery's work in Boston was enough to give him the slight edge on Rick Bowness. Both have their teams well-positioned for the playoffs; the former replacing a remarkably successful coach (who you'll also find in our votes count) and somehow taking his team to new heights, the other taking a seemingly middling team with dreadful vibes and guiding them back to relevancy after being panned as an uninspiring hire.
---
Individual ballots: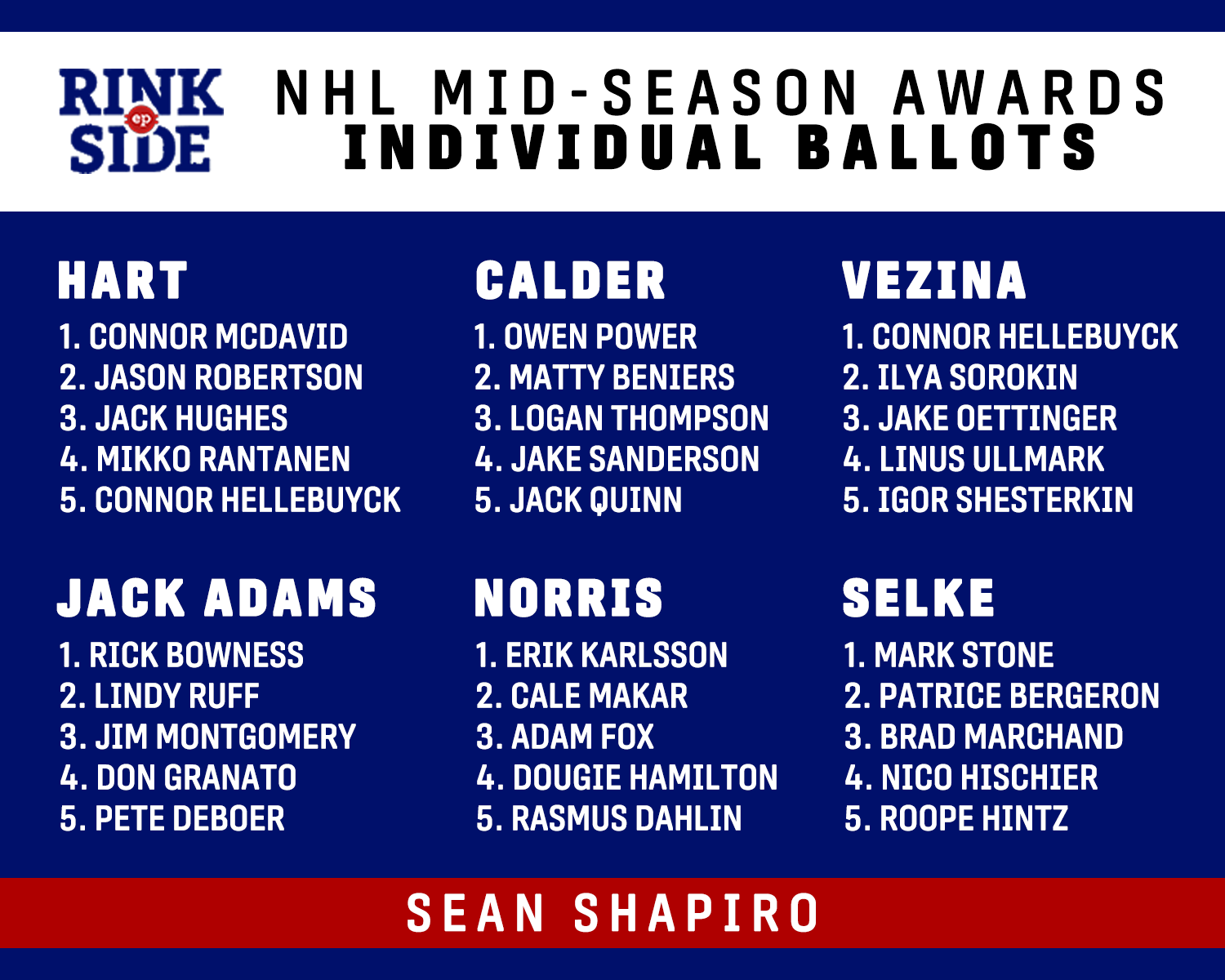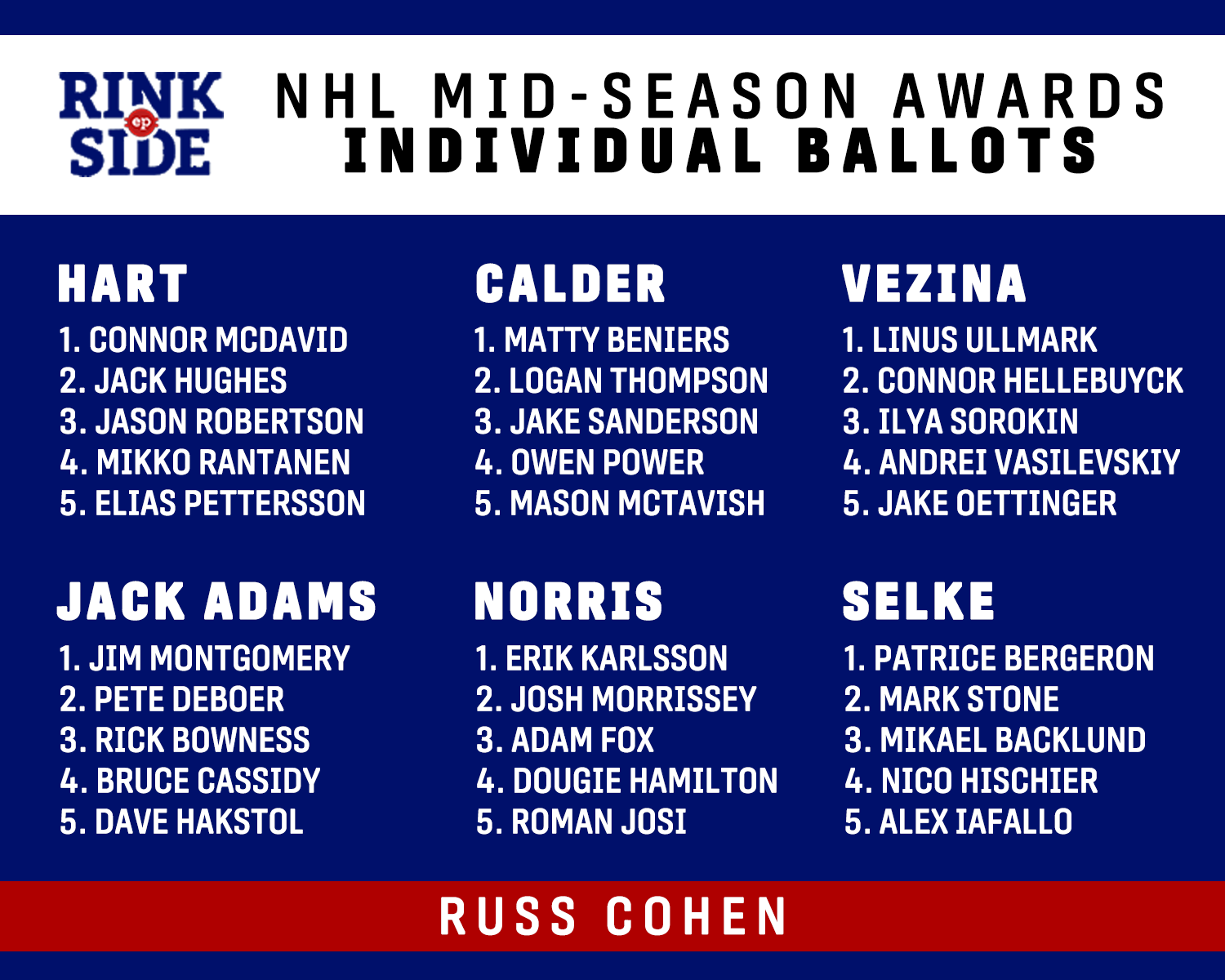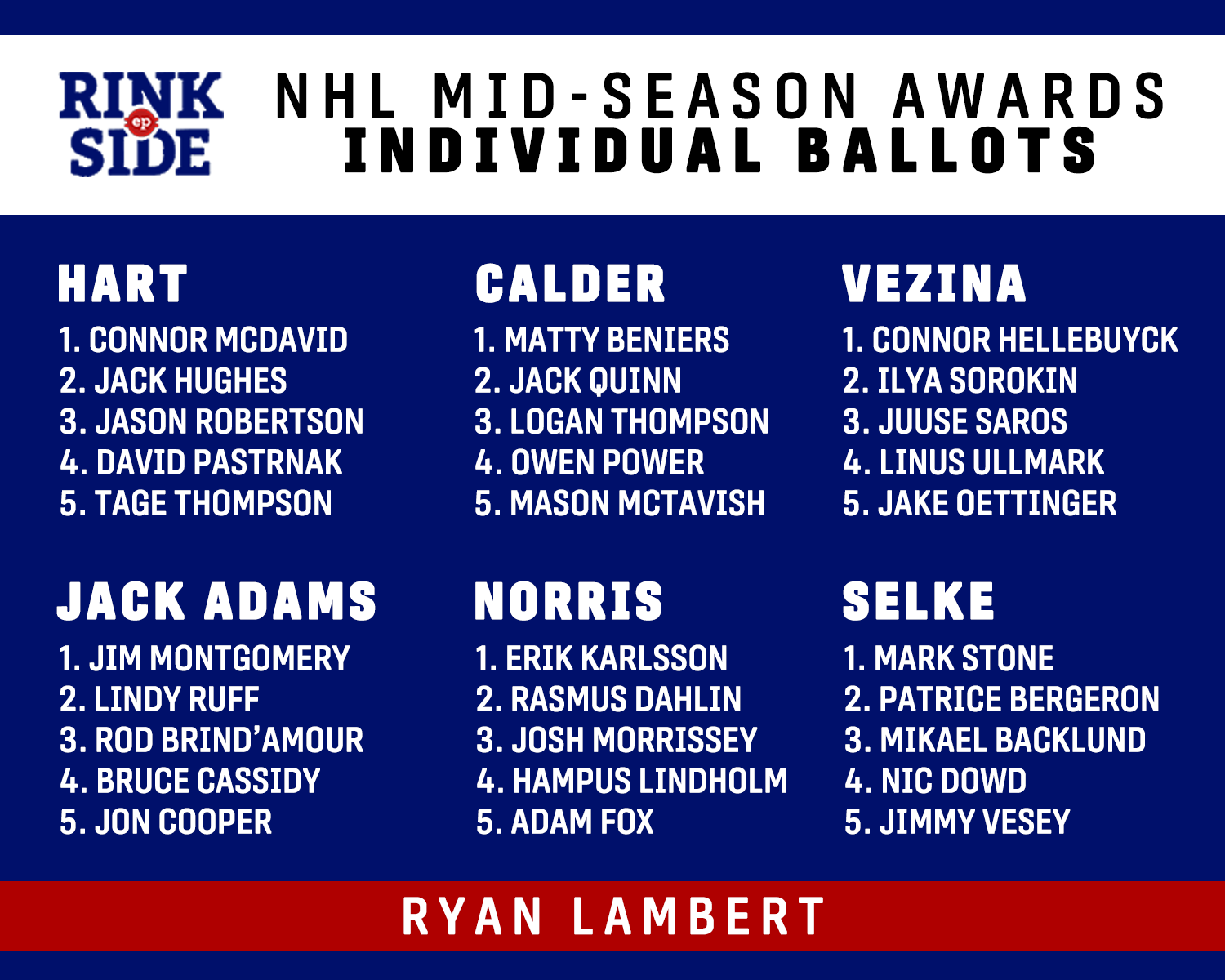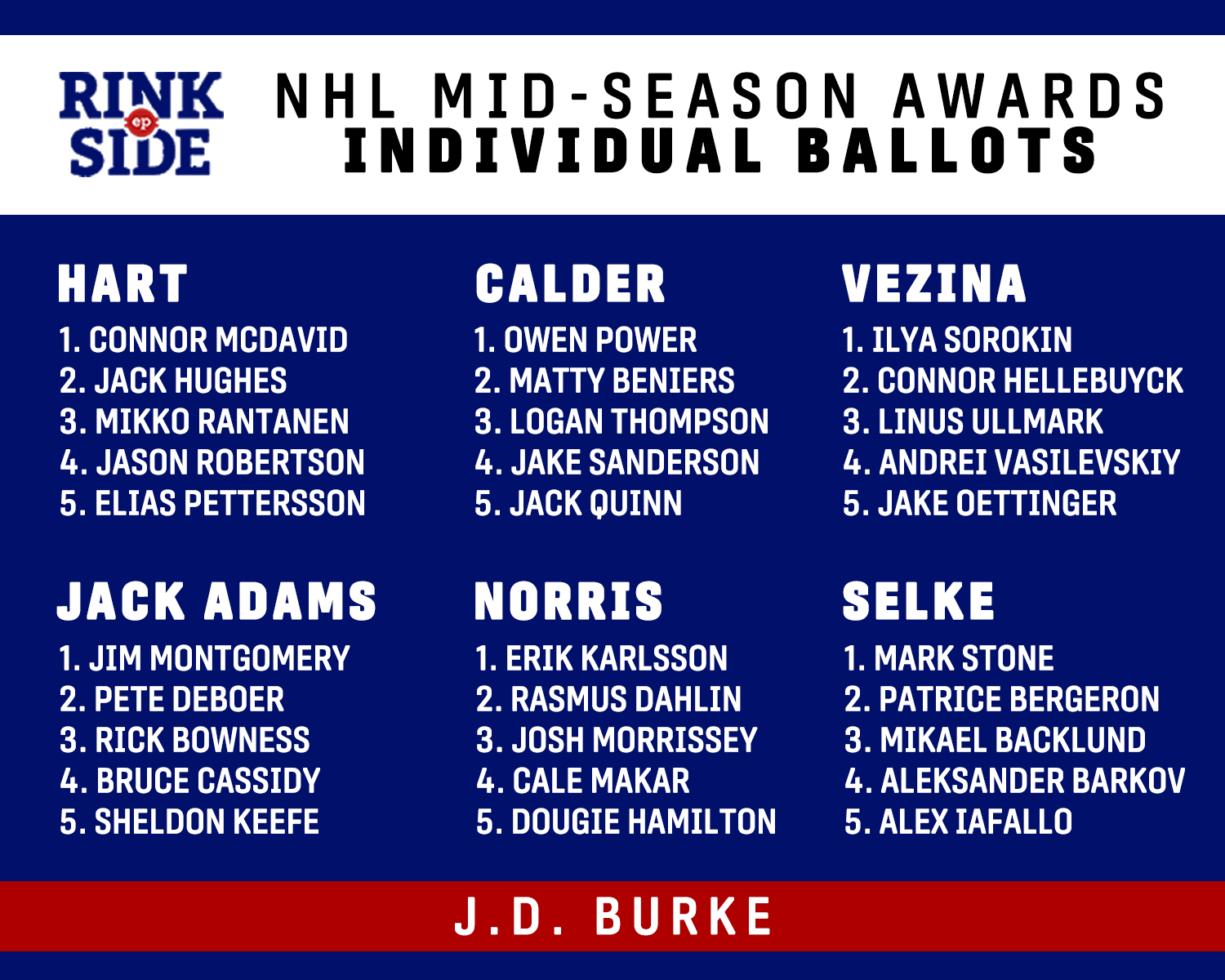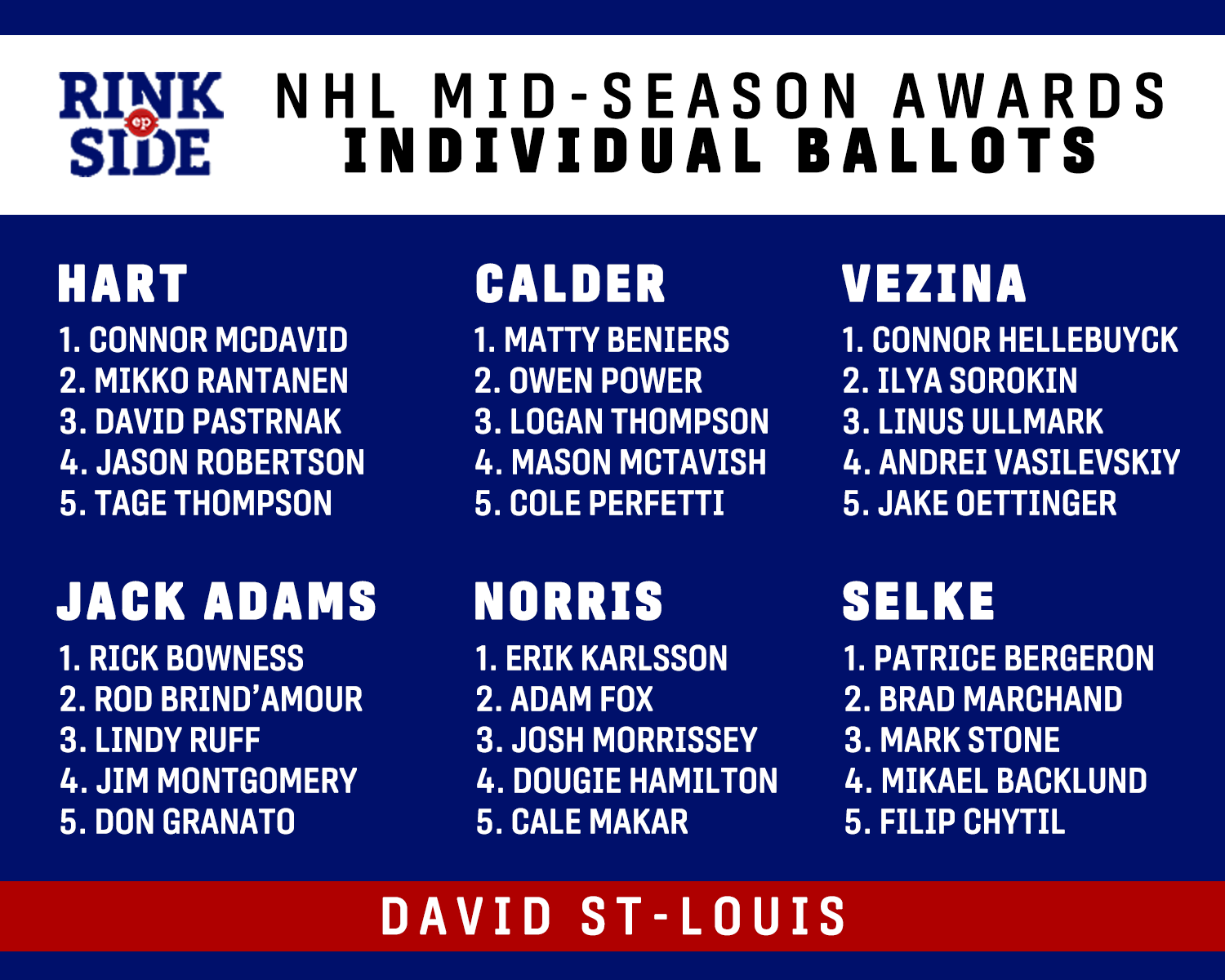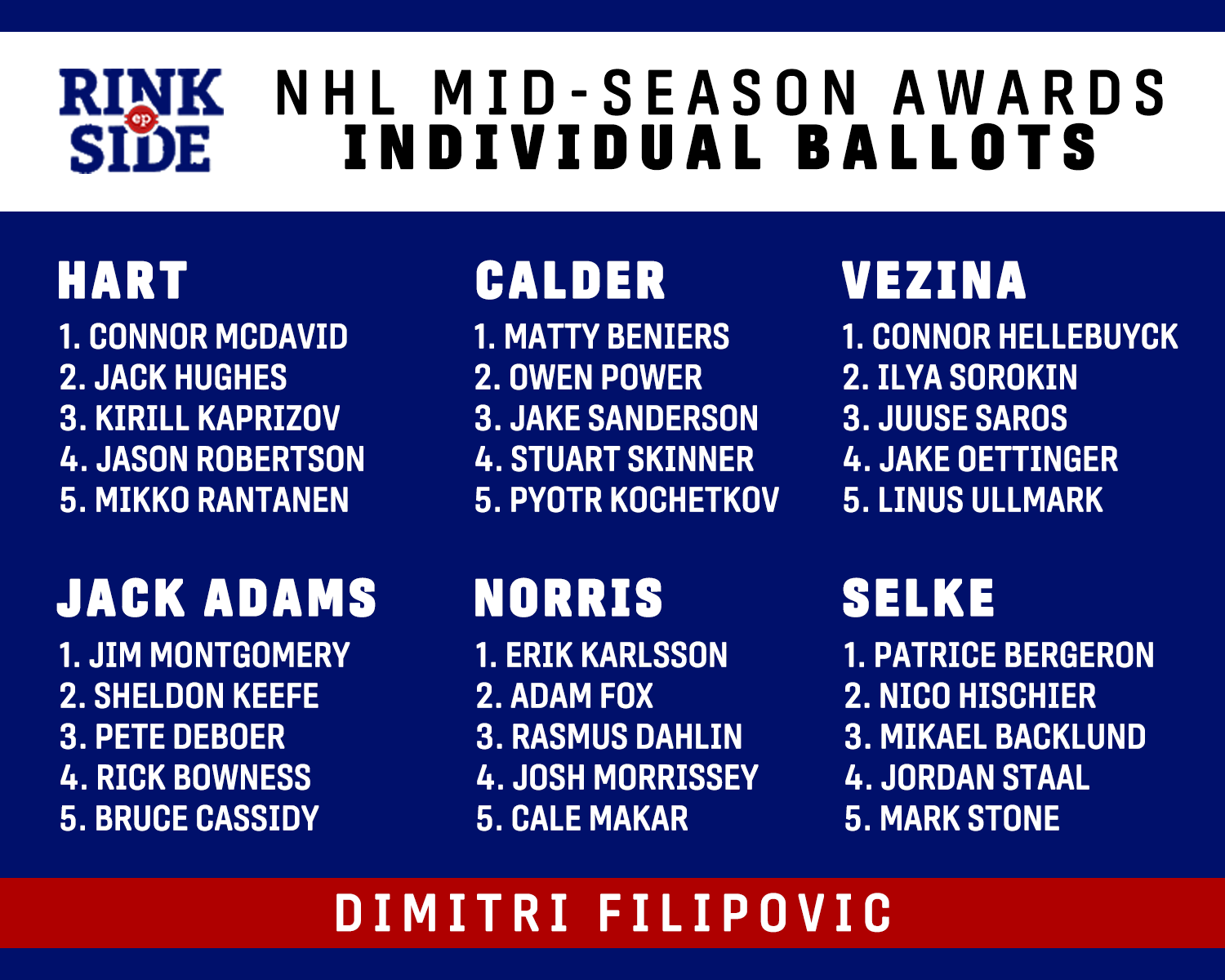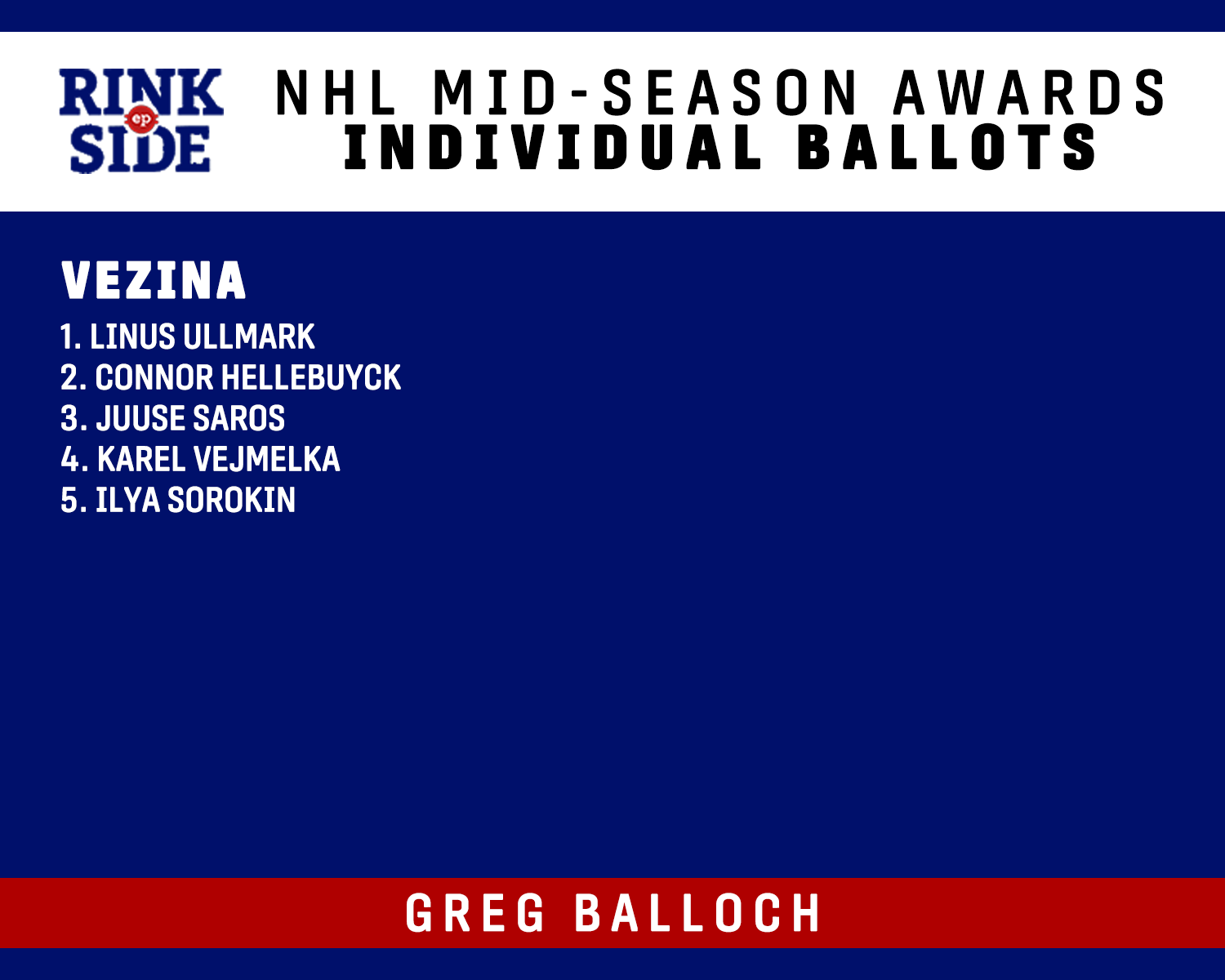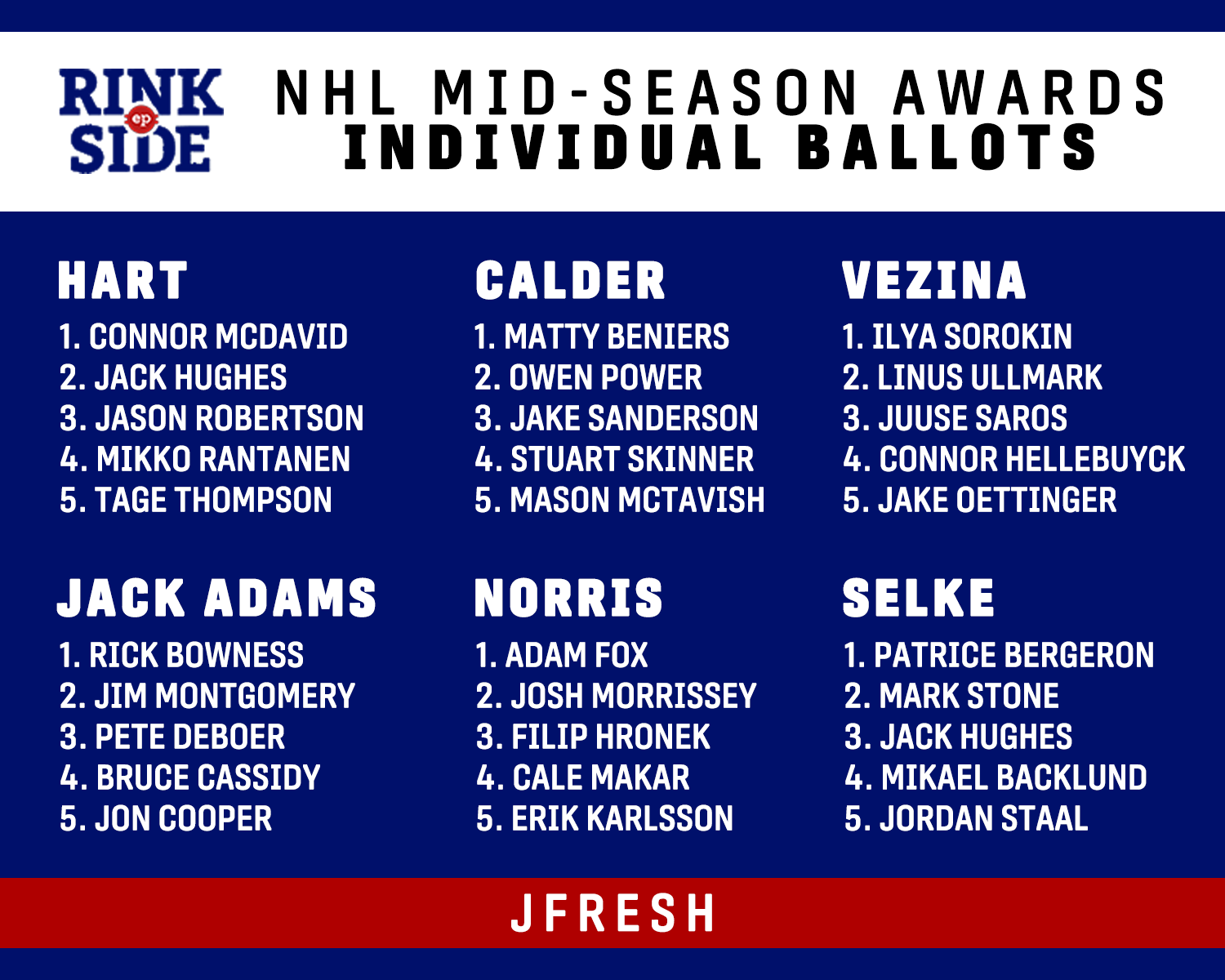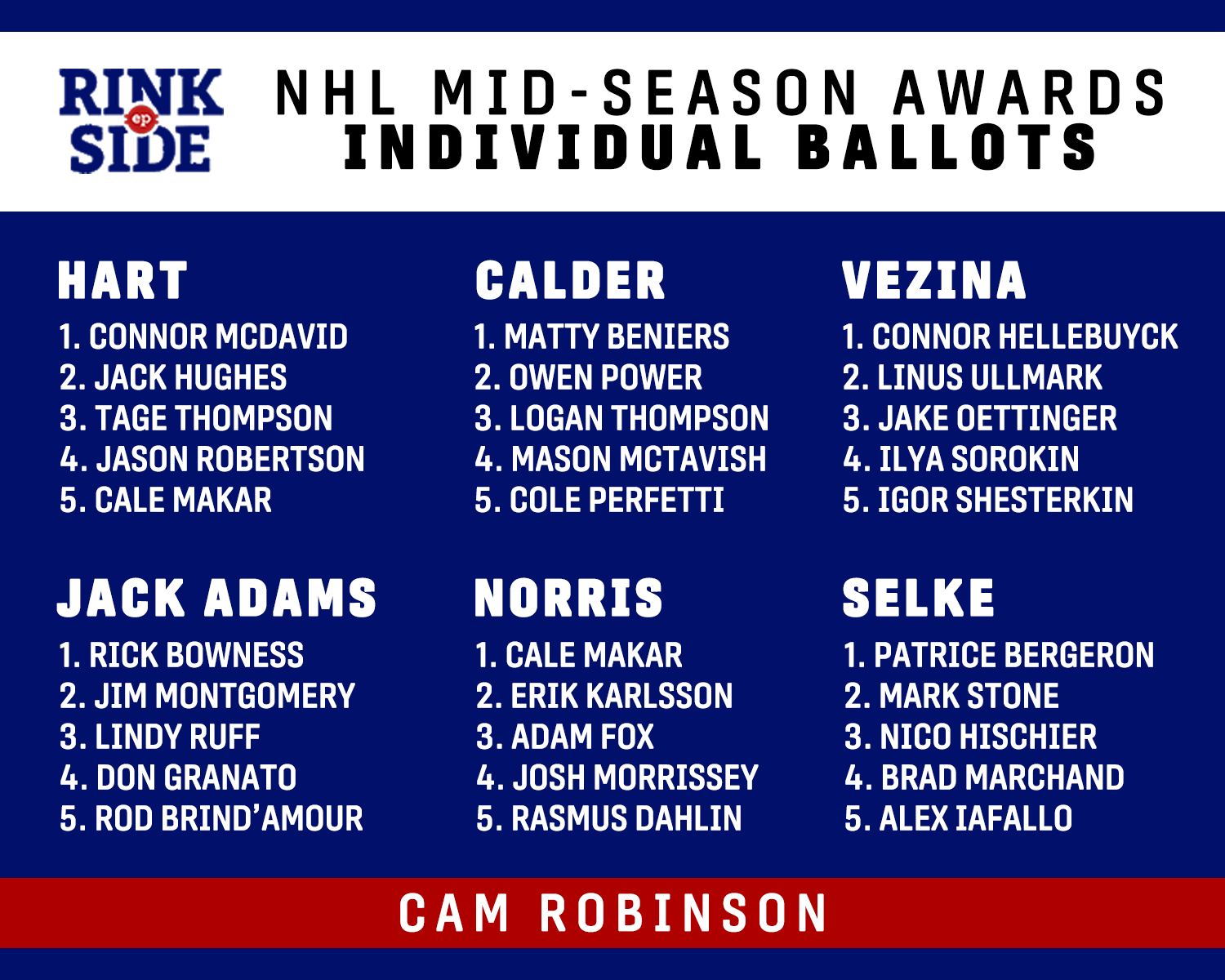 You may also be interested in: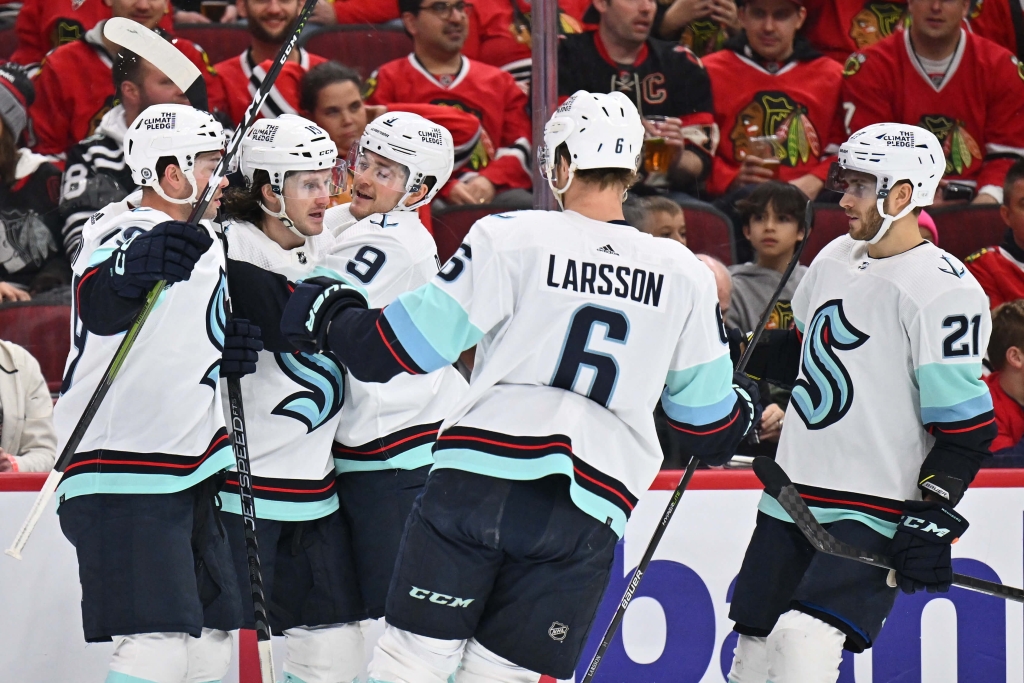 What We Learned: Can Seattle keep it going?
This article is about: