NHL Prospect Report
Sweden Stock Watch: Felix Nilsson a silent riser in the 2023 NHL Draft
This month's Swedish Stock Watch is going to be bringing a lot of first-time draft-eligible skaters back into the mix. They're the players I'm watching most closely after all, right? Before you know it, we'll be getting started on the Elite Prospects 2023 NHL Draft Guide
So, here's a look at some of the players, most of them eligible for this year's draft, who are rising, falling, and holding steady in their development.
Stock Rising
Felix Nilsson, C/F, Rögle BK (2023 NHL Draft)
Felix Nilsson has been a silent riser all season, and now looks the part of a potential second-round pick come June. The Swedish forward has generated offence at better than a point-a-game clip in the J20 and has parlayed that production into a fourth-line role with Rögle in the SHL.
Nilsson is a play-driving two-way centre who chips in with contributions at every corner of the ice. He's an option for his defencemen on the breakout, a play-connector with his linemates, and has shown an ability to move and think the game at a high pace in the offensive zone. He's a capable playmaker and has a decent enough shot. Simply put: Nilsson makes everyone around him better.
The downside to Nilsson's game is that he doesn't exactly have any separating physical skills. He's not an elite stick handler, skater, or physical player. The foundation of his game is his ability to out-think and outwork his opponents.
You can see it when he plays in the SHL, but you also get a sense for the limitations of that approach. He's a smart defensive player positionally, but he needs to leverage that sense and motor to escape more battles with possession of the puck.
Alex Čiernik, F, Västerviks IK (2023 NHL Draft)
Alex Čiernik seems to have taken off after changing teams in the HockeyAllsvenskan and joining Västerviks. The Slovak forward joined them after struggling to carve out much of a role on the league's top team, Södertälje, and is now playing more regularly and in better spots on one of the HockeyAllsvenskan's less competitive teams.
The result? He's playing on their top line and first-unit power play and has put up at least a point in four of his last five games
HockeyAllsvenskan is a good environment for Čiernik's development. His overwhelming physical skills and the advantage they conferred him at lower levels isn't quite there in this league, though he's still one of the faster skaters out there. The hope is that he'll learn how to play a more nuanced, layered game to avoid getting suffocated at this level.
Čiernik plays with good pace and has shown a heightened sense of adaptability, after learning from mistakes earlier in the season. He's got a hell of a shot and isn't afraid to get to the slot to unleash it.
[Read more: Čiernik navigating the "ups and downs" of shifting teams, priorities in his draft year]
Oscar Fisker Mølgaard, F, HV71 (2023 NHL Draft)
Oscar Fisker Mølgaard continues to take steps forward in his development at the SHL level. The coaching staff seems to have taken notice; his ice-time is going up, and he's even getting the occasional opportunity to run HV71's power play from the left flank.
Mostly, he's found success with hard work and intelligent defensive play. Fisker Mølgaard is a very reliable player that way.
HV71 have struggled this season, but Fisker Mølgaard's remained focused, determined to score or turn the momentum in any given game, no matter the score. He's starting to find the scoresheet with some level of consistency at this level because of it – he's a decently skilled handler and can distribute the puck well enough, too.
Fisker Mølgaard is always on the move, constantly surveying the ice. Even though he's younger and less physically developed than most of his opponents, he's relentlessly physical and never shies from a puck battle. His skating, hockey sense, and competitiveness all grade out well. He may not be an elite offensive driver but he can more than hold his own and brings versatility to the table.
Stock Steady
Noah Östlund, C/F, Djurgårdens IF (Buffalo Sabres)
Noah Östlund's trending well and, as a middle first-round talent, his stock remains steady. There's no doubt in my mind that he's going to make the NHL. He's quick, shifty in the small area game, and can score with his wrist shot from distance. He's a manipulative playmaker too, especially on the power play. He works hard, supports the play well, and can play any forward position. He knows his role and plays smart hockey.
The Sabres prospect's production is trending up after a slow start, and he now has a chance to reach 30 points in under 40 games in his rookie HockeyAllsvenskan season, which is okay on a stacked (and struggling) team. Physically, he is getting stronger and more confident in all situations.
Liam Öhgren, F, Djurgårdens IF (Minnesota Wild)
I was a bit concerned with Liam Öhgren's development earlier this season. His skating hadn't come along as I'd hoped with more strength and he struggled to find the scoresheet.
As of last month, though, Öhgren's looked a lot better. Maybe last season's late injury just lingered through the fall? He looks much faster now, with an explosiveness and four-way mobility that wasn't there through the first few months of the season. He still processes the game at a brisk pace and is an enthusiastic physical player, especially effective on the forecheck.
Though Öhgren's play at the World Juniors wasn't particularly impressive, his club play is getting better and better. He recently injured his knee but is scheduled to be back before the end of the season. Crummy timing, too. He was just starting to find the scoresheet more often with Djurgårdens – Öhgren had at least a point in nine of his last 10 games before getting hurt.
His stock is steady, and I still like his odds to play in the NHL.
Stock Falling
Kalle Carlsson, C/F, Örebro HK (2023 NHL Draft)
Kalle Carlsson authored a strong draft-minus-one season and expectations were high coming into this year, at least as a potential second-round pick.
Still, he lacks any separating skill offensively and that's limited his output. He can drive play but has difficulty turning entries into scoring chances. You'd hardly single him out as the most creative player on his line either.
Carlsson is smart, but he doesn't create time or space with his handling or skating. He supports the play well, places himself close to the action, and recognizes passing lanes. He's reliable defensively too, scanning and registering offensive threats. I'm just not sure about his NHL upside, even if he's a pretty sharp player.
Otto Stenberg, C/F, Frölunda HC (2023 NHL Draft)
Many thought of Otto Stenberg as a first-round talent coming into his draft year, but his development has seemingly stagnated as others have taken steps ahead of him.
He's still an interesting player, though. It's just that he's 5-foot-11 and plays like a power forward at the junior level, relying too much on speed and strength to produce rather than skill. Even his skating grades out as good-not-great.
Stenberg's feel for the game and his sense seem to come and go based on the viewing. Sometimes, it seems like he's taken off guard by how much less time and space he has at this level. There's been a steep learning curve.
We see Stenberg as a B-grade prospect at Elite Prospects, someone who can shake it in a middle- or bottom-of-the-lineup role if things break right. His compete level, strength and intensity are there, and he's skilled enough to play professional hockey.
You may also be interested in: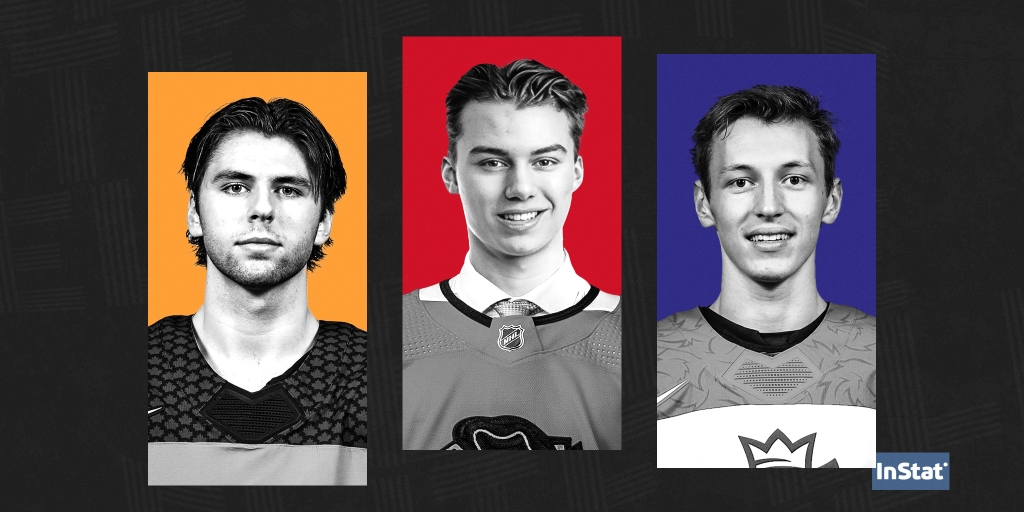 The EP Rinkside post-World Juniors 2023 NHL Mock Draft
This article is about: