NHL Prospect Report
USHL Stock Watch: Daimon Gardner healthy, hitting the scoresheet with Tri-City Storm
We're rounding into the home stretch of the USHL regular season. The trade deadline is only a few short days away, and you just know there's going to be an arm's race among the league's very best teams, looking to put themselves over the top for a shot at the Clark Cup.
Meanwhile, the players keep playing, some en route to college, others looking to build their resumes for the NHL Draft, and everything in between. Let's take a look at some players who have stepped up big-time for their teams and some who will need to find their game before playoff time.
Stock Rising
Quinn Finley, LW, Chicago Steel (New York Islanders)
NCAA commitment: University of Wisconsin
One of the biggest blockbuster deals of the season to this point was the Steel's acquisition of Quinn Finley from the struggling Madison Capitols. If you thought he was fun to watch in that setting, you should see him now on a line with top 2024 NHL Draft prospect Macklin Celebrini and Toronto Maple Leafs prospect Nick Moldenhauer.
An elite shooter, Finley is now the beneficiary of two elite playmakers. He's effective off-puck, finding soft spaces in close support of the puck and floating behind coverage to seek out soft ice for scoring chances. Finley is versatile in how he gets his release off, too. He can curl and drag to fire through screens, rip a one-timer if he doesn't have time, two-touch the puck, shoot out of his hip pocket, release from a mohawk, etc.
The playmaking took a step forward in Madison prior to the trade, and Finley has brought it with him to Chicago. In his limited play with the team so far, he's shown solid instincts off the rush, finding outlets through defensive layers or delaying to hold out for support. The skating still needs some refinement before he's a surefire pro but he's certainly got some exciting tools that will be a huge asset to the Steel for their playoff run.
Daimon Gardner, C, Tri-City Storm (Vancouver Canucks)
NCAA Commitment: Clarkson
It's almost impossible not to root for Daimon Gardner's success. After only getting limited reps with the Omaha Lancers and Tri-City Storm last season, the Canadian centre returned to Warroad High in Minnesota and just went nuclear, earning himself a fourth-round call to the Canucks organization at last year's draft.
There was some speculation that Gardner would go the BCHL route in his draft-plus one, but he returned to Tri-City to give it one more go in the USHL. Unfortunately, he suffered an MCL tear in the preseason that kept him sidelined for much of the campaign. At long last, he's back with the Storm playing a consistent shift in the USHL, and wouldn't you know it, he looks great.
The first thing that jumps out at you with Gardner is his frame. He's a tall, heavy-set centre who moves really well for his size. He's a deceptive handler, using faints and false signals to shift defenders at his will before connecting with his linemates in stride with a well-timed, well-placed pass. When he gets up to full speed through his linear crossover, he's a difficult man to stop.
The physicality is obviously one of the hallmarks of Gardner's game. He leverages his strength in corners and tight spaces to separate man from puck and turn play the other way. He creates space for himself in front of the opposing net with bumps and push-offs to give himself a good chance at rebounds. It's been encouraging to see Gardner play so well off such a difficult injury and he'll be a huge piece for the Storm in the postseason.
Aram Minnetian, D, USNTDP U18s (2023 NHL Draft)
NCAA Commitment: Boston College
Aram Minnetian has been one of my favourite defenders among first-time draft-eligible players in the USHL crop for some time now, and he's been especially impressive of late.
The tools are exciting; Minnetian is an above-average skater with the agility to draw in a forechecker before accelerating into space. That same agility allows him to be proactive defensively, surfing opponents and cutting off long passes where possible. Minnetian's smart offensively too, joining the rush off the puck, floating into space, controlling possession, and attacking defenders' heels with weight shifts and dekes before firing off a pass or shot.
The decision-making in his own zone has improved, too; he's become better at making a pass early before activating for a return, rather than trying to do it all himself as the last man back. Minnetian is the perfect quarterback for the NTDP's power play too. He's exceptional at running their offence from the point and uses deceptive body language to work the puck around the umbrella to open teammates. It's easy to get caught up in all of the offensive talent the U18 squad has to offer, but Minnetian is looking more and more like a legitimate prospect.
William Whitelaw, RW, Youngstown Phantoms
NCAA Commitment: University of Wisconsin
In my first Stock Watch, I slotted William Whitelaw in the Stock Steady category, my concern being that he only generated shots for himself without creating scoring opportunities for his teammates.
It's safe to say that Whitelaw has since put these concerns to rest, proving himself not only as a dangerous shooter but a fantastic playmaker as well. His footspeed and agility are bigger assets than I first gave credit; he has the ability to create in so many different ways because of how talented of a skater he is. Whitelaw has developed an advanced delay game but has the hands to attack head-on with dekes and dangles before sending slips and hooks to adjacent teammates.
The frame is still a bit of a concern but he continues to play with a chip on his shoulder which is encouraging. The tools are all there and the sky is truly the limit with the kinds of talent Whitelaw has.
Stock Steady
Oliver Moore, C, USNTDP U18s (2023 NHL Draft)
NCAA Commitment: University of Minnesota
My decision to place Oliver Moore in the stock steady part of this article is hardly a slight against him. It's more a testament to how he's maintained a consistently high level of play of late.
One of the most dynamic skaters in the draft, Moore does everything at full speed. He churns ice off the rush with his crossovers, pulling defenders one way and burning them the other. He's unafraid to drive to the slot with and without the puck, even if it means taking a beating. Moore's speed makes him a great defensive player as he clogs up passing lanes on the backcheck and can jump passes to start transition from defensive zone coverage.
Speed is Moore's greatest asset, but it can also be a weakness at times. Moore often plays so quickly he runs out of room before he can make a decision. He's more effective when employing changes of pace and weaponizing his speed selectively. Nonetheless, with the gifts that Moore has, he's a likely bet to make it to the next level.
Stock Falling
Michael Hrabal, G, Omaha Lancers (2023 NHL Draft)
NCAA Commitment: University of Massachusetts
Michael Hrabal is clearly a very talented athlete. He's a big, strong goaltender who moves well across his crease and controls his rebounds exceptionally well. He's also already got the frame of an NHL goaltender.
Moreover, Hrabal had a strong showing for Czechia at the U18s, so what's the issue? Well, the team in front of him has not done Hrabal many favours at all. In his last five starts, he's posted a 4.00 GAA and an equally bleak .829 save percentage. Even as a stud goaltender, you can only do so much when the team in front of you is among the weakest in the league. Look for Hrabal to potentially be in play at the trade deadline.
[Read more: "He's got traits that project to being a No. 1 goalie in the NHL": Michael Hrabal has his eyes set on a first-round pick]
You may also be interested in: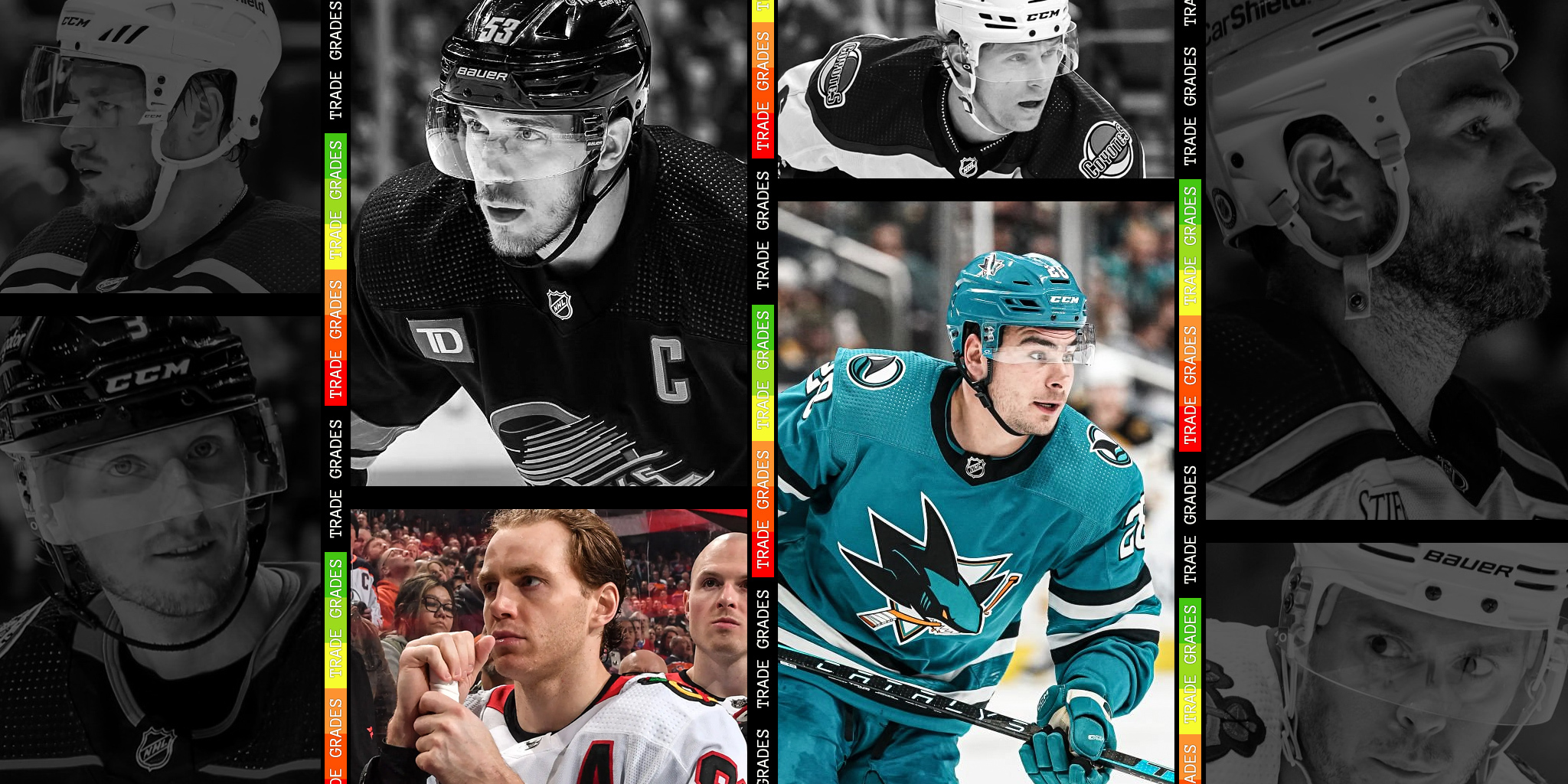 Trade grades for the 2022-23 NHL trade deadline
This article is about: