NHL Prospect Report
Central European Stock Watch: David Reinbacher surging up NHL Draft rankings
We're getting into the stretch run in just about every European hockey league. The last sprint before the playoffs start and the action really picks up.
The players get it. They're aware of the gravity of the moment, and perhaps most important of all, what it means for their stock in this year's draft. They want to show what they've got in these high-pressure situations so that they can walk that stage in Nashville.
So, with that in mind, I'm thinking I won't add to their pressure. There isn't going to be a "Stock Falling" section in this article. Instead, we're going to keep it mostly positive with a handful of first-time draft-eligible skaters.
Stock Rising
David Reinbacher, D, EHC Kloten (2023 NHL Draft)
When the season first started, I viewed David Reinbacher as someone who would make for a reasonable selection in the second round of this year's draft with a chance to maybe sneak his way into the first.
Now, it's clear that he's a first-round talent. Reinbacher made sure of it, playing among his best hockey at this year's World Juniors with all of the scouting world watching. He's carried that strong play over into Switzerland's top men's league; the Austrian defenceman has seven points in his last 10 games, all of them assists.
Reinbacher is a force in transition, active in all three zones, and proficient at generating defensive stops. He's a powerful, agile skater, but where he stands out for me is his commitment and ability to read the play and then react as a quality defensive defenseman.
He's playing massive minutes as a first-time draft-eligible skater in Switzerland's top men's league.
Martin Mišiak, C, Youngstown Phantoms (2023 NHL Draft)
Martin Mišiak is a player to keep an eye on for this year's draft. Especially after the Slovak centre made the cross-Atlantic journey to join the USHL's Youngstown Phantoms.
The Nové Zámky team that Mišiak is leaving has struggled of late, but they remain an excellent example of how development is prioritized in that league – Mišiak was getting regular shifts and not just there to ride pine. To his credit, the Slovak forward was productive in his third-line role too.
Mišiak is a fast, aggressive forward, adept at clogging up passing lanes on the forecheck and in the defensive zone. He's an energy player who brings his all every shift and plays with a strong defensive conscience.
That same battler's ethos applies on the offensive – Mišiak isn't afraid to stand in the crease or at the net-front, seeking out deflections and rebounds. You gotta keep your head up when Mišiak's on the ice too, because he hits like a freight train.
Jiří Felcman, C, Langnau U20 (2023 NHL Draft)
Jiri Felcman is starting to pick things up on the scoresheet, and his team is trending in the right direction as a whole. It's just what you want to see from someone in their draft year.
Felcman is a big, inside-driven centre, who generates decent speed with a crossover-heavy stride in space but is not what you'd describe as hyper-mobile. His stickhandling and puck protection abilities allow him to play between the dots and repel opponents. He's hard to knock off the puck and has a generally interesting skills package.
Simon Meier, F, Kloten U20 (2023 NHL Draft)
Are you looking for a noteworthy 2022 NHL Draft prospect out of Switzerland? Look no further, because Simon Meier is your guy.
Despite being a little on the small side, Meier's been an effective forward in Switzerland's top junior league, where he's played since his draft-minus-two season. This season, he's well over a point a game player, and could see a call-up to Kloten's men's league squad in no time at all – that would unite him with the aforementioned Reinbacher.
Meier is an agile, elusive threat in the offensive zone. He can see the ice well and can get the puck through layers – he's especially potent on the power play. He works his tail off in 1-on-1 battles along the boards and in the small area game, and it's in those spots where he's proven most effective, too.
Opposing players have to watch out for him because he is constantly on the move and is effective in the cycle game.
Stock Steady
Aleš Čech, D, Mladá Boleslav (2023 NHL Draft, re-entry)
Aleš Čech has been spending some time on the road. After winning a silver medal and reaching a new level personally at the World Juniors in Canada, he returned to his club team Kärpät in Finland, where he played over 140 games in various junior categories. He didn't have much time in Finland as a transfer to Czechia was arranged. Kärpät initially didn't want to let him go, but Boleslav's interest was high.
Čech will play a No. 5-6 defender role in Mladá Boleslav, where they're expecting him to play durable defensive hockey in a depth role. Čech is not a productive defenceman, the team will get composure from him in the defensive zone and a willingness to fight for pucks.
You may also be interested in: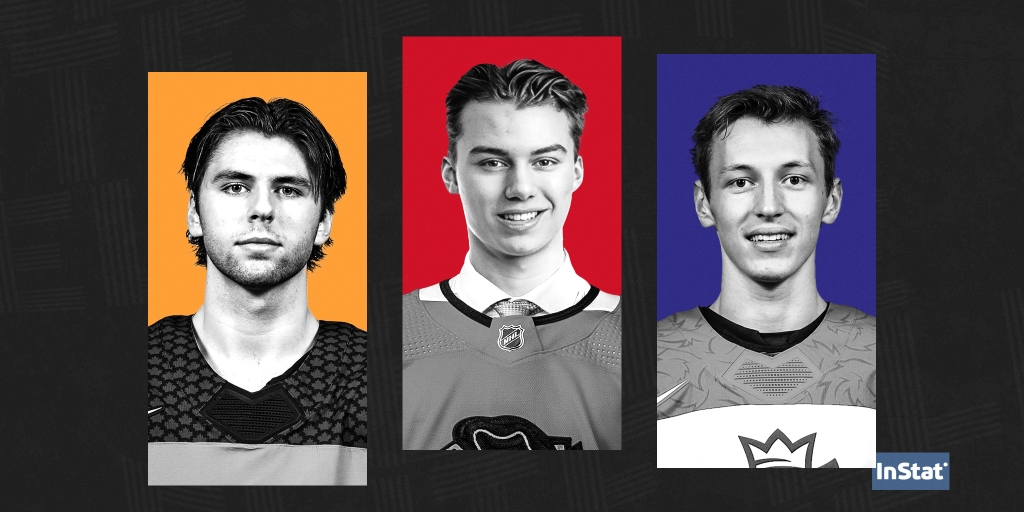 The EP Rinkside post-World Juniors 2023 NHL Mock Draft
This article is about: