NHL Prospect Report
WHL Stock Watch: Nate Danielson becoming an offensive force in Brandon
An eventful trade deadline has only exacerbated the differences between the WHL's top teams and everyone else.
The Winnipeg ICE and Red Deer Rebels have tightened their grasp on the top two spots in the East, while the Portland Winterhawks, Kamloops Blazers, and Seattle Thunderbirds sit atop the West. And how about the Tri-City Americans, winning eight of their last 10 games, including games against two of the top three teams.
It's also crunch time for the many, many draft eligibles in the WHL. Our first two risers are top 2023 prospects who have achieved new heights recently.
Stock Up:
Nate Danielson, C, Brandon Wheat Kings (2023 NHL Draft)
Until recently, Nate Danielson's WHL career has been one of solid impact but not dynamic play. That's changing. He's become more aggressive with the puck, cutting inside on defenders and attacking the net more. The depth of skill he shows is exciting: edges, handling skill, shooting, and vision. As Danielson continues to tighten up his timing and reads, those flashy sequences of individual skill should result in even more offence.
Speaking of vision, Danielson's also become quite the playmaker. He's more deceptive, more manipulative, and completing more advanced quick-possession and one-touch plays. The give-and-go regularly features, allowing him to bypass defenders with a pass before relocating for a scoring chance.
While Danielson's production has slowed just a touch in recent weeks, he still has 43 in his last 30 on a mid-table team. And he is Brandon's offence, shooting or setting up 25 percent of their chances at 5-on-5 in a seven-game sample, a top-20 rate in the CHL.
Zach Benson, LW, Winnipeg ICE (2023 Draft)
Many nights last season, it seemed like 16-year-old Zach Benson was the Winnipeg ICE's play-driver, a team that eventually had three first-round NHL picks. He orchestrated the game with high-pace manipulation, quick passing lanes, and a knack for being in the right place at the right time.
This season, Benson has cemented his status as the motor that powers his team. He's become even more manipulative with the puck, opening lanes with quick moves, head fakes, and deception for himself and his teammates. He piles up scoring chances through impeccable off-puck timing. In quick succession, he piles up three, four, or more touches, controlling the flow of the game. And that's not even to mention his defence: he's one of the best defensive forwards in the league. His stick work might be the best, always closing lanes and stealing possession.
Since December, Benson's produced at a 1.85 points per game clip, a staggering rate. And, as usual, he's far from dependent on the power play to score. His 1.07 even-strength points per game are tied for fourth in the league and tops his star-studded squad. It didn't seem like Benson's stock could get much higher, but he keeps finding new ways to impress.
Alexander Suzdalev, LW, Regina Pats (Washington Capitals)
With the adjustment period out of the way, Alexander Suzdalev's skill has shone in recent weeks. He's averaging 1.9 points per game over his last nine games and 1.6 in his last 24. Sure, he's benefitting from the power play time with Connor Bedard, as well as even strength opportunities, but he's been a play-driver recently.
At least a portion of Suzdalev's successful turnaround has come from playing the 1-on-1 game less. That means fewer dekes and flashy moves, and more passing plays. He still shows the same creativity but has repurposed it to set up teammates, whether spinning backhand passes or deft slip passes through opponents. He connects with the trailer, then relocates for a return pass, in situations where he settled for low-percentage plays earlier.
As such, Suzdalev's steadily shaking low-pace and perimeter player labels that hurt his draft stock last year. Lots of work remains, but it's tough to look at his recent performance as anything other than exciting.
Honourable Mentions: Gracyn Sawchyn (2023 Eligible), Egor Sidorov (2022 Undrafted), Zach Benson (2023 Eligible), Chaz Lucius (Winnipeg Jets), Parker Bell (Calgary Flames), Ben Hemmerling (Vegas Golden Knights), Jayden Grubbe (New York Rangers).
Stock Steady:
Jagger Firkus, LW, Moose Jaw Warriors (Seattle Kraken)
The Jagger Firkus show hasn't slowed down. He's picking corners with explosive wristers, deking through opponents, and nimbly squeaking through traffic. The highlight reel he has assembled this season beats most opponents; there's no denying that he's still one of the sport's most exciting prospects.
But Firkus hasn't taken much of a step this season. He's scoring at roughly the same clip (1.25 points per game), creating chances at roughly the same rate, and bringing roughly the same defensive impact. But he's still prone to getting too fancy or blindly throwing pucks into the slot. Inefficiency lingers.
Given Firkus' skill level and impact, he remains a top prospect. But the flashes of top-line-calibre NHL play that appeared last season have remained just that. As the regular season winds down, perhaps Firkus finds another level.
Stock Down:
Reid Schaefer, LW, Seattle Thunderbirds (Edmonton Oilers)
Through the first 10 games of the season, Reid Schaefer looked unstoppable. He scored 13 goals, flashed an improved playmaking game, and brought physical play every night. He's scored just six goals in 24 games since. Since late November, he's scored just two 5-on-5 goals – that's concerning.
While luck's certainly a factor, Schaefer's struggles are at least partly his own. He settles for perimeter shots in transition instead of finding a teammate and getting open. For a player projected as a wrecking ball, he lacks the finesse and physical skills to pull pucks off the boards and attack the middle regularly.
It's not all bad, though. Schaefer's off-puck reads look tighter in all three zones, leading to more retrievals and chances. In moments, he shows an improved playmaking game to find teammates around the slot. Taking a more proactive approach to passing – drawing pressure, making the early pass, then getting open – will not only help Schaefer get more quality looks, but create advantages for his teammates.
Conner Roulette, LW, Saskatoon Blades (Dallas Stars)
Conner Roulette has one of the most easily appreciable styles of play in the league. He will gobble up every loose puck, fight through traffic, and get the puck to the middle without fail. Over the past two seasons, he's become more of a transition threat, too.
The production hasn't followed. Roulette's scoring just over a point-per-game, falling to a low of 0.67 in his last 15. To be fair, Saskatoon hasn't been the most hospitable environment for scorers lately, save for Sidorov and Trevor Wong. For a player like Roulette, who depends on his teammate to convert what he generates, team effects are a factor.
The Dallas Stars have a decision on Roulette: to sign or not to sign. His retrieval-playmaking skill set should translate smoothly to the professional ranks, provided his skating improves. But the production might be the deciding factor, unfortunately.
You may also be interested in: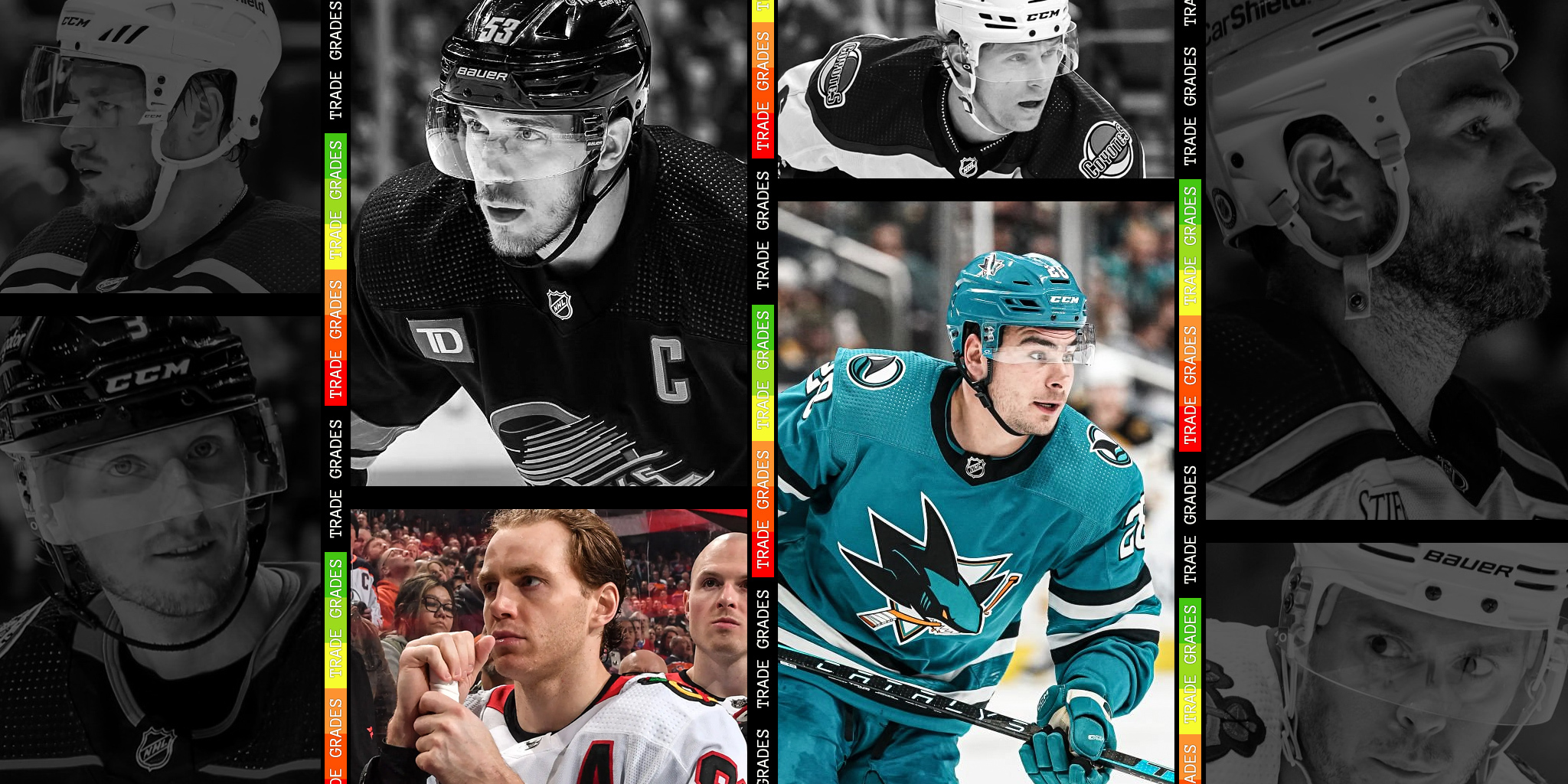 Trade grades for the 2022-23 NHL trade deadline
This article is about: