NHL
Report: David Poile to retire from president of hockey ops and general manager position on June 30
Sportsnet's Elliotte Friedman is reporting that Nashville Predators president of hockey operations and general manager David Poile is set to step down from his position with the team and retire on June 30.
Big breaking story out of Nashville: after 26 years as the Predators' architect — the most consistent presence in franchise history — David Poile is retiring from President of Hockey Operations & GM position, effective June 30. Expectation is he will remain in a consulting role.

— Elliotte Friedman (@FriedgeHNIC) February 26, 2023
Poile, 73, leaves the Predators as the only general manager in the team's history, having been with the club since their inaugural season back in 1997 – a run of 26 seasons. The Predators haven't won a Stanley Cup in that time, but they came within two wins in 2017.
In total, Poile's predators have amassed a 925-708-60-176 record under his stewardship – a strong record for an expansion team that often operated with a strict internal cap.
Poile will leave the sport as one of its better-regarded executives, a reputation he's earned over 40-plus years working in an executive capacity in the NHL with one team or another.
A follow-up report from Friedman indicated that former Predators head coach Barry Trotz will be the one to replace Poile.
Barry Trotz is believed to be Poile's successor. Starting work immediately…although not officially the GM until June 30

— Elliotte Friedman (@FriedgeHNIC) February 26, 2023
Talk about a tough situation to inherit in your first year as a general manager. The Predators sit fifth in their division and eight points out of a Wild Card spot, with an 18 percent chance of making the playoffs, according to MoneyPuck. The future doesn't look all that bright either, with several long-term commitments to players well past their prime and only the NHL's 15th-ranked prospect pool.
This team seems destined for a rebuild, whether they want to or not. It's a new direction for an organization that has steadfastly refused to go that route under Poile's guidance.
You may also be interested in: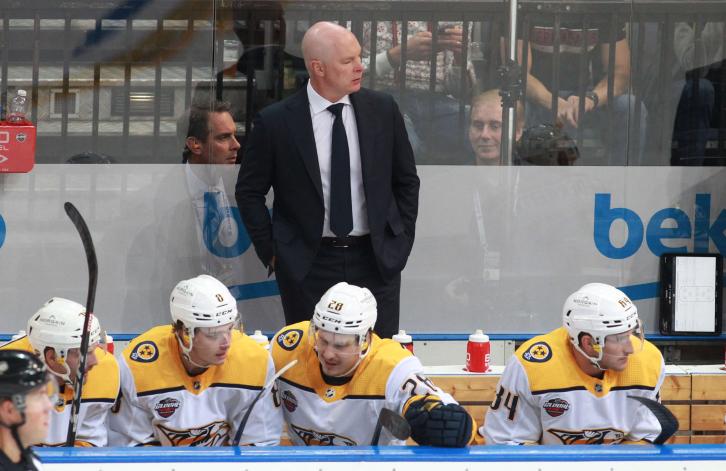 What We Learned: Nashville Predators in perilous position
This article is about: