NHL Prospect Report
AHL Stock Watch: Alex Vlasic inching towards a full-time NHL role
The 2023 NHL trade deadline came like a tsunami. Selling teams emptying their inventory in the service of contenders, further tilting the scales in their favour and boosting their chances at hitting in the draft lottery, all the while creating a ripple effect at the minor level.
AHL teams rapidly lost and gained talent as the depth chart of their parent club shifted. Many call-ups opened up spots, forcing coaches to funnel even more minutes toward their younger prospects, and demotions forced a reorganization of the entire depth chart. A few players who previously enjoyed top roles in their lineup got pushed down by NHLers arriving from overcrowded teams.
Such is life in the AHL. It's all about adaptation.
In this edition of Stock Watch, we will review the performance of prospects who are making the most of their opportunities and others who need to better seize them if they want to come into the next training camp on an upswing.
Stock Rising
Alex Vlasic, D, Rockford Icehogs (Chicago Blackhawks)
Playing for a depleted Rockford Icehogs formation that lost its main scorer after the trade deadline to a call-up, Alex Vlasic has had to step up his game. Often hopping over the boards every other shift, Vlasic is tasked with both organizing the attack and shutting down the opposition's main threats. He carries the puck out of the zone and chips it into space to rushing forwards. He quarterbacks the power play, showing uncommon stickhandling skills for a player his size in the process, and kills plays with his reach on the penalty kill.
The main ingredient missing from the defenceman's game is pace. It's hard to ask Vlasic to empty his tank every shift, considering he plays so many of them, but he could influence the game more with his skating, especially on the defensive side. It's doubtful that he will fill offensive roles for the Blackhawks, as other, shiftier blueliners will likely be more suited for such duties. So for Vlasic, the most important points of his development are the perfection of his shutdown and breakout game.
It's going to take time for Vlasic to learn to maximize his natural gifts, but he's on the right track.
Xavier Simoneau, LW, Laval Rockets (Montréal Canadiens)
It's hard not to root for Xavier Simoneau. His high-event, inside-driven playstyle earned him a lot of fans in the QMJHL. In any given shift, you were just as likely to spot him around the net, battling five opponents for a rebounding puck, or at the half-wall, making deceptive passes to the middle of the ice.
It's the same story in the AHL. His playstyle hasn't changed. He's still frustrating opponents and getting under them to win pucks. And he's still quarterbacking the power play. More than once per game, Simoneau slides pucks right through the opposition's defensive box to teammates in shooting positions.
This season, the diminutive forward is proving to everyone that he can, in fact, play his game against NHL-calibre opponents — and even make them look foolish on occasion. His performances could earn some games down the line with the rebuilding, often-injured Montréal Canadiens.
Stock Steady
Daniil Gushchin, RW, San Jose Barracuda (San Jose Sharks)
After a thundering preseason with the San Jose Sharks that included a four-goal performance, it took a little while for Daniil Gushchin to digest his AHL demotion. He put up only three points in his first 15 games. His scoring pace significantly increased after that, up to a respectable 0.65 points per game clip, but that first cold streak continued to weigh him down the Barracuda's leaderboard.
Despite his down year, Gushchin's scoring ability is not in doubt. We still see many flashes of his high-end stickhandling and shooting ability in the AHL. He can pass and dangle around opponents, find pockets of space to get his shot off, and rush the puck through defensive layers.
With the Barracuda, his mentality is slowly changing, and his tactical approach, too. He plays a more collective game, one that features more give-and-goes and calculated chips to teammates into space. He also pressures better on the forecheck.
If he wants to earn the trust of an NHL coaching staff, however, both his decision-making and risk management will have to improve.
Thomas Bordeleau, C, San Jose Barracuda (San Jose Sharks)
Being 5-foot-10 in a league that is often more physical than the NHL can pose a lot of challenges. Thomas Bordeleau is learning that this season with the San Jose Barracuda. His physical play is coming along. With his stable skating posture, he can slip in front of opponents to win loose pucks and protect them with his body, but he has to stay in movement to avoid being pinned and outmuscled.
The good news is that the forward's playmaking and off-puck defensive game have both translated quite well to the AHL. He reads the developing play well, positions inside lanes, and turns defensive interceptions into quick transition passes. And he's just as proficient at deceiving opponents with fakes as he was in college.
The lessons and habits learned in this first professional year will serve Bordeleau well at the Sharks' next training camp.
Stock Falling
Artemi Knyazev, LD, San Jose Barracuda (San Jose Sharks)
One could easily mistake Artemi Knyazev for a forward. If there is space open in the middle of a defensive formation, Knyavev attacks it. If there is an occasion to rush the puck up ice, he takes it. And if there is a backdoor play open, the defenceman jumps on it.
He's an offensive defenceman at his core, but one who hasn't managed to score up to the level of his talent so far in the AHL. Contrary to most top defencemen, he operates mostly in a north-south manner, not an east-west one. While he does take advantage of the space teammates create for him, he rarely seems capable of creating such space for others. And his tendency to force plays through opposing formations also cut short the offensive presence of his team.
There aren't many roles open for 5-foot-10 defencemen in the NHL. To get a spot in the sport's top league, most of them have to become both above-average puck-movers and playmakers. Knyavez has the speed, passing, and handling skills to earn an NHL spot, but he has to become an even better quarterback, a more poised and creative one before he can aspire to join the Sharks.
Jan Myšák, LW, Laval Rockets (Montreal Canadiens)
We have to be careful not to revise a player's upside too quickly, especially when an injury cut part of their first professional season. But it has been a few years now that Jan Myšák's performance has fallen below expectations. He is no longer on a trajectory to fill the middle-six scorer role that many envisioned for him in his draft year. His playmaking hasn't bloomed and his scoring continues to depend largely on his ability to leverage his tools — his speed, handling and physicality — to go through and around opponents.
Now, it seems much more likely that, if he does reach the NHL, it will be a checking, bottom-line role. The organization is already preparing him to fill such duties by employing him for long minutes on the penalty kill, where he has done admirable work over the last few games, especially when pressuring the opposition up ice with his skating.
You may also be interested in: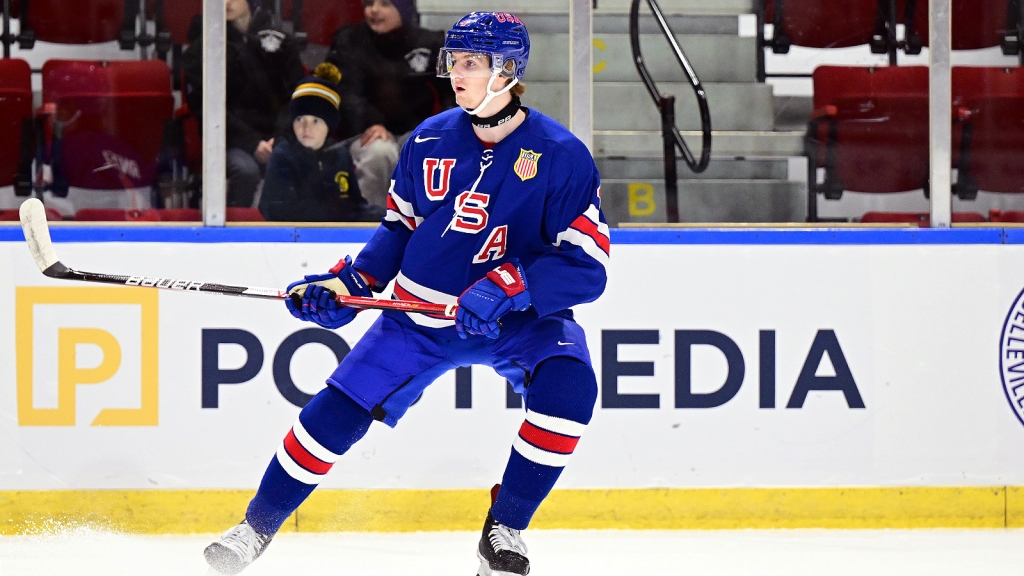 How Blackhawks' prospect Sam Rinzel's in-game transition explains his bright future
This article is about: