NHL Prospect Report
WHL Stock Watch: Olen Zellweger just keeps getting better
February was a good month for the WHL. The best players have been putting on a show night-in-and-night-out.
Many of the WHL's draft eligible continue to elevate their draft stock with performances that build upon the previous. Similarly, many of the league's drafted talent also stepped up in recent weeks.
To make the point, here are just some players that aren't featured in this article. Matthew Savoie's been on a tear. Caedan Bankier, a Minnesota Wild prospect, has nine multi-point games in his last 14 outings. Brad Lambert has been as advertised in the WHL, posting over 1.4 points per game.
Stock Up:
Olen Zellweger, D, Kamloops Blazers (Anaheim Ducks)
How much better can the league's best blueliner get? A lot, actually. The blockbuster trade that sent Olen Zellweger to Kamloops has worked so far, whether that's in terms of production (he's scoring at a staggering 1.8 points per game) or highlight reel moments.
Even on a much stronger team, Zellweger controls the game. He's an automatic in transition, turning tightly contested battles into zone entries in the blink of an eye. As usual, he's been a dynamic shooting threat off the rush. But he's also showing a bit more playmaking. He recovers loose pucks and instantly spins them back into the slot to his teammates. As he shifts across the blue line, he looks for teammates lurking around the net.
There's more improvisation to Zellweger's game in Kamloops, which often leaves him too far up the rink as the opposition clears the zone. That's understandable; he's a top prospect trying to take his game to even new heights. And it's working.
Stanislav Svozil, D, Regina Pats (Columbus Blue Jackets)
If Zellweger doesn't win his second WHL Defenceman of the Year, it'll go to Stanislav Svozil. We highlighted his offensive success at the World Juniors, where he broke down opponents with a combination of deception, handling skill, and quick changes of direction. His offensive success at the World Juniors wasn't a surprise; he was on fire in the weeks leading up to the tournament.
In the second half, Svozil's been among the league's hottest players, with 35 points in his last 20 games, including 22 in his last 11. Alongside the production has come a stronger, more robust defensive game. He's looking the part of a future top-four defender in the NHL.
Ben Hemmerling, RW, Everett Silvertips (Vegas Golden Knights)
Ben Hemmerling has quickly proved us (me) wrong: He should've made our 2022 Draft Board, maybe even inside the top 50. The playmaker has established himself as one of the WHL's best along the boards.
Where many players cycle the puck, Hemmerling looks to escape pressure with a quick pass to the middle. Among his numerous dishes: Backhand through opponents and forehand slip passes set up with a look off. Pressure doesn't deter him; he actively draws it, understanding that the more pressure on him, the less pressure on a teammate elsewhere. And he's a lethal forechecker, anticipating passes, getting the steal, and instantly setting up a chance.
Hemmerling remains a long-term projection, but he's on track to become a top-nine playmaker.
Connor Hvidston, C, Swift Current Broncos (Anaheim Ducks)
The Swift Current Broncos weren't short on breakout candidates entering the season. Connor Hvidston, a Ducks fifth-rounder, was among them. His off-puck game was projectable and refined. He flashed exciting shooting and passing. But his impact with the puck waned. That's no longer the case.
Hvidston has 21 points in his last 15 games, showcasing the full extent of his offensive game. The highlight has been his craftiness as a playmaker. He fakes to open lanes, slips pucks through defenders to hit open teammates, and passes on the heels of defenders, where they can't intercept.
The offence has come alongside the off-puck game. Hvidston skates his routes to completion, pushing back defenders to create space behind him. Proactively positioned, he's always a factor on the defensive end. More and more, he's looking like a potential NHLer.
Honourable Mentions: Koehn Ziemmer (2023 NHL Draft), Matthew Savoie (Buffalo Sabres), Caedan Bankier (Minnesota Wild), Matthew Seminoff (Dallas Stars), Ryder Ritchie (2024 NHL Draft).
Steady Steady:
Sean Tschigerl, LW, Calgary Hitmen (Anaheim Ducks)
Sean Tschigerl was one of the WHL's bubble breakout stars. He potted 13 goals and 21 points in 21 games, showcasing an NHL shot and flashy handling skill. In the two seasons since, his production has steadily dwindled. Now, at 0.86 points per game, his NHL odds are decreasing.
To be fair, the tape's much kinder on the Ducks' fifth-rounder. Tschigerl's morphed into a better passer over the past two seasons. Where he used to take low-percentage shots, he looks inside and finds a teammate in scoring position. And there's some nuance to his dishes, preparing passes with look-offs and fake shots to secure the lane.
The Ducks have a difficult decision: To sign or not to sign. If they elect to pass, Tschigerl becomes one of the CHL's premier free agents, likely to post gaudy point totals as an overager, especially if Calgary sells.
Stock Down:
Josh Davies, LW, Swift Current Broncos (Florida Panthers)
Josh Davies is a menace. He never passes up an opportunity to launch a player into the boards. He's one of the most physical players in the prospect sphere. He's also not short on skill. A booming one-timer, high-pace rushes, and quick hands create offensive opportunities.
But that might not be obvious when looking at Davies' stat line. He's scoring at 0.56 points per game, the same mediocre rate as last year. While most of the Broncos have seen their games improved dramatically, Davies still struggles to get open inside the slot to use his shot, and his supporting skills – transition and playmaking – remain unrefined. To his credit, he has flashed a more proactive passing game in spurts.
Davies' physical style and forechecking give him better odds to make the NHL than most low scorers, but he has to find ways to best use his puck skills.
You may also be interested in: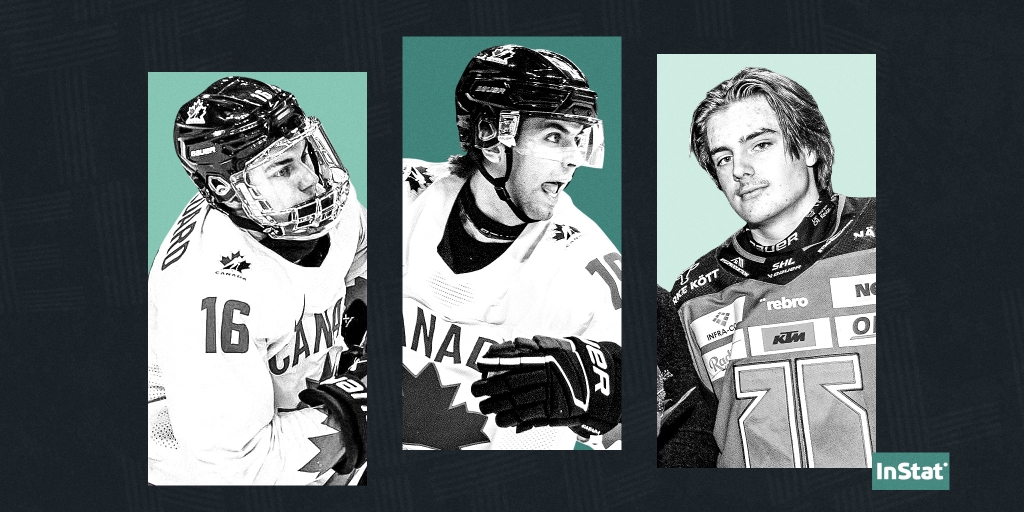 The Elite Prospects January ranking of the top 64 prospects in the 2023 NHL Draft
This article is about: